Today I am launching my first ever competition giving you the chance to win some super animation software from Zu3D.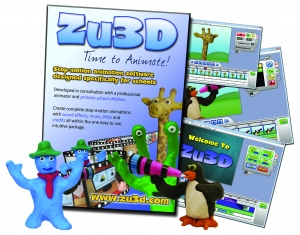 This is animation software designed for use with children from 5 – 500.  Anyone can have a go and make good quality films with ease.  You can try Zu3D free for 30 days by downloading a trial from the website.  You can also watch a video tutorial to see what this software is all about.
If you would like to win a copy of Zu3D then follow this link to find the answer to the question below:
What popular children's book character has been animated in the third film in the Zu3D Gallery?
Just pop your answer in the comments section for this post to be in with a chance of winning.  The competition closes at 23.59hrs on 31st January 2011 and the winner will be selected at random.
For extra entries you can do any of the following
Follow Zu3D on Twitter
Join the Zu3D Facebook Page
Tweet – I've entered to win Zu3D Animation Software at http://nairnnicujournal.wordpress.com/
Want to know more about Zu3D and its potential in schools or at home?
Read on below.
Zu3D is a new stop-motion animation software designed to meet the needs of teachers and children in our schools today.  It is also a fabulous gift for creative families to use at home.  An intuitive, easy to use interface enables children to create high quality films easily and independently.  This software provides a creative outlet for demonstrating knowledge and understanding across all areas of the school curriculum.  Zu3D has many clever features that make animation achievable for all.  Young and young at heart will find something about the house that they can turn into an animated character. 
One of the great things about Zu3D is that it gives children, and adults, the ability to make a complete film within one program.  In Zu3D you can easily create an animated film with titles, credits, subtitles, narration, sound effects and music.  Within one resource you can create all these elements that before have had to be created in separate pieces of software and then collated in yet another.  This makes a complicated process simple enough for young children without sacrificing any of the quality of a professional film.  During the last twelve months we have seen children as young as 5 make a complete film in Zu3D within an hour of being introduced to the program. They have been buzzing because they have found something that they can do well, independently and without fuss.  This software enables children to achieve results they are proud of without having to rely on others.
What is Zu3D?
Zu3D is software for creating stop motion animations.
Developed in consultation with a professional animator and primary school children.
It combines powerful features with a very intuitive and easy to use interface.
Works with any WebCam or DV Camera
Including Digiblues
Play back your animation whilst making it
You don't have to wait until you've finished
Dynamically adjustable frame rate
Slow down your film if you've made it too fast.
Onion skinning
Great for seeing how much you've moved your characters or for putting them back in place if you've knocked the over!
Delete frames
Delete any frames from your animation at any time – in case you accidently take a picture of your hand!
Network Compatible
Works with all Windows networks – you don't have to go back to the same computer to continue working on your film.
Import music and sounds
Zu3D comes with a library of sound effects and music which can dramatically enhance your films. Also import your favourite music from your computer or record your own narration.
Multi-layered audio
Using a very simple drag-drop interface you can arrange your music and sound effects to create your very own audio visual masterpiece.
Cut, copy, paste and reverse sequences of frames
Copy and paste groups of frames to build up sequences of animation. Great for quickly animating repetitive actions such as blinking, waving etc.  
Video Editing
Zu3D provides a 'movie maker' style interface allowing for easy editing of your animations!
Export to AVI & WMV
Turn your animation into a windows video file that can be shown on your interactive white boards, burnt onto DVD and even uploaded onto your website!
Publish on Zu3D.com
At the click of a button you can share you film with friends, family and the entire world on the moderated animation gallery at www.zu3d.com
Who are Zulogic?
ZuLogic originated as a small ICT services company supporting home users, small business and most importantly primary schools. The founder of ZuLogic – David Henley (my fiance!) – finished his MEng in Cybernetics & Computer Science in 2003 and returned to his parents' home in Kent determined to start his own business.  Six years and a lot of hard lessons later ZuLogic now has 3 employees and provides regular ICT support to a dozen or so primary schools  in Kent & Medway.  The company provides services from day to day fixing of PC problems to network installations, high quality low cost web design and more recently software development.
Where did the concept come from?
The core business of ZuLogic was only ever meant to be a solid basis from which more interesting things could unfold. David has always had a love of stop-motion animation and starting making films with his best friend Dicken Franklin when they we're both still at primary school.  Dicken went on to take a degree in animation and from there became a professional animator and has worked on projects such as the Wallace & Gromit Blockbuster – " The Curse of the Were Rabbit" and " Shaun the Sheep".
When David was at University his final year project, or thesis, involved the creation of a stop-motion animation studio.  This combined software for the capture and processing of images from digital cameras and webcams and a robotic track upon which a camera could move, pan and tilt.  Using the software it was possible to program movement sequences which were then automatically played back step by step as the animation was created.  The software also used the technique of chroma keying (blue screening) and the theory of augmented reality to take real plasticine characters and place them in a 3D virtual world.  The synergy of these two worlds was further enhanced by computer generated shadows of the plasticine characters cast across the virtual world.  When demonstrating the software it was possible to place your hand in front of the camera, look on the screen, and see your hand entering a virtual world, casting a virtual shadow across that world – in real-time.  This project was David's passion and obsession day and night for 12 months and it was a cold hard shock when he left University and was confronted with the real world issue of making a living. And so he began, almost reluctantly, the day to day business of ZuLogic ICT support.
Throughout the years of developing ZuLogic as a business David's passion for animation was not diminished, merely suppressed, as he took apart computers and created websites.  However it had a habit of spilling out into the ICT clubs which had become a part of ZuLogic's school support package.  Many a group of children have enjoyed an enthusiastic and exuberant introduction to animation before starting their terms work of bringing plasticine to life.
It was through these many ICT clubs that David developed a thorough knowledge of all the software, and the many combinations of software schools use to create animations and as the clubs went on and the children became more experienced David became more and more frustrated with what they had to work with.
And so he might have stayed….. if he hadn't unexpectedly found himself with a little spare time on his hands. In the Easter holidays of 2008 David and his fiancée were due to visit her parents in Spain. The evening before they were due to leave he went to the drawer he had placed his passport in only to find it wasn't there. After scattering the drawers contents in frenzied search he asked his fiancée if she had done anything with the contents of the drawer… "No" she replied, looking slightly anxious, "Well… I only threw out a few old odd cards and things…."  After many hours of searching the house, and the bins, they admitted defeat.  The next morning the fiancée went to Spain and David stayed at home, for the first time in years with nothing he was actually supposed to be doing….
So he went into the loft… unearthed his project and set it up on the kitchen table.  The next two weeks were spent in a glorious unsleeping, cursing blur as David resurrected the machine and the software.  Soon he had it working again and as he viewed it through eyes tempered from hours of animating with children he started to see the potential.  He lifted the very core from the original software and using the latest technology started to develop something new. Zu3D was born.
Through the regular ICT clubs David was able to test and develop the software specifically to the needs of pupils, teachers and the school environment.  Every time a teacher or pupil asked "can it do this?" if the answer was "no" David would go home and add that feature to the development plan.  When David saw a child get stuck, or not understand something, he work out why and tweak the interface and the software to make it easier.  This process continued for a year before the first version was released, and it is still continuing now.  The list of new features in the pipeline is ever growing and David's passion for animation is ever expanding.  Expect many more exciting things from future versions of Zu3D!
Why not see what you can do by entering my competition????