Over the last few weeks we have been reading and testing recipes from Annabel Karmel's special 20th anniversary edition of her best selling book The Complete Baby and Toddler Meal Planner.
We started with the first and most important meal of the day, breakfast.
David usually takes care of breakfast in our house and assures me that every morning the babies fill up on Weetabix or Cheerios and mashed banana.
During our recent holiday breakfast was more of a family affair and I decided to try a few of Annabel's ideas starting with her Grown Up Breakfast which consists of ingredients we know Esther and William already eat and enjoy, Weetabix and banana.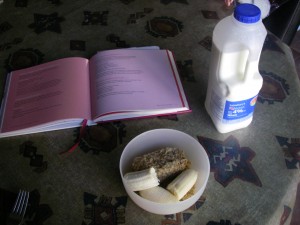 The instructions in the book could not be clearer. The recipe is simple to follow.
Finely crumble the Weetabix and mash the banana. Combine all the ingredients together and serve.
I chose to make the Weetabix with mild natural yoghurt rather than milk. It gave a creamier consistency that I thought the babies would enjoy. They did not and I think that I should have stuck with whole milk. I loved it and think it is definitely a breakfast that this grown up could enjoy.
Sadly on this occasion the babies did not like it but when I am next in charge of breakfast we may try this again as I think it is really rather delicious . Filling and healthy too.
Come back tomorrow for our brunch from Annabel Karmels' New Complete Baby and Toddler Meal Planner.