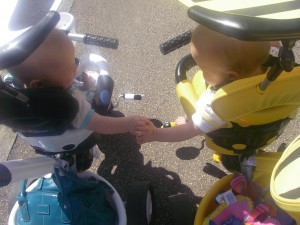 "Oh how wonderful!"
"Look at those wouldn't … love one of those?"
"How smart are they? With a sun canopy too?"
"Twin trikes! Too cute!"
"They are fabulous."
"Stunning!"
"What a great way to get around!"
"I want one"
These are just some of the comments made as we walked through sunny Whitstable with Esther and William on their new Smart Trikes.
The Smart Trike Zoo 3 in 1 comes in a range of bright, colourful, animal designs. We are lucky enough to have been given a Cow and a Bee to review. They certainly do get us noticed when we are out and about, attracting lots of oohs and aaahs and positive comments. Esther and William love the attention and are used to it from being twins. We always allow an extra quarter of an hour when journeying on foot, perhaps we will set aside half an hour for travels by trike!
Esther and William were happy in their trikes from the off. I was worried that they might feel insecure without the boundary of their buggy but they did not seem fazed at all. They loved being able to look around them and most of all they loved the phone attached to the front of their trike!
Before heading off beside the sea we loaded up the trikes with sun hats, suntan lotion and toys. The Smart Trike has lots of storage for a little person. There is the tipper at the back, the drinks holder at the front and a secure zip up bag on the parent handle. Just the right size for Mummy's purse and keys! Esther and William had their shakers in their cup holders and their sun hats in the back. They did not need their sun hats on as the trike canopy offers UV protection and shade though this was often blown away by the sea breeze. The canopy is light and so can get taken up by the wind if at the wrong angle. The canopy is detachable so perhaps when it is very windy we will leave it at home or in the car.
After months of pushing Esther and William in our giant double buggy, the Smart Trikes feel very slim and light. They are easy to push and can go through narrow streets and alley ways, something of a treat for us parents of multiples!
The trikes did seem quite noisy as the wheels are quite hard but Esther and William were comfortable in the seats, staying in them in fact to eat their lunch in the shade of their personal canopy!!
We had such a wonderful day in Whitstable. Esther and William did not complain once, in fact they were smiling, laughing and giggling all the way. They interacted more with us and with each other than they would ordinarily do in their buggy. It was lovely, especially when they tried to hold hands!! Too cute.
The Smart Trike Zoo 3 in 1 is a great way for our twin toddlers to get about. It is a practical but stylish alternative to their buggy and it is fun.
Have a look at the photos and videos from our day.
If you would like a Smart Trike for your little one then you can buy them from Argos, Amazon or Toys R Us and other retail establishments.
Check out www.smart-trike.com for more information.
We were sent two Smart Trikes free of charge for the purposes of this review through Bump PR.