We have been making a splash here at the Nairn Henley Headquarters with our Step 2 Water Wheel Play Table. This product from Toys R Us is recommended for children aged one year and up. Esther and William are almost a year old (almost 9 months corrected age) and they have loved the table of water so far. It is just about the right height for them to splish and splosh with their little hands whilst their adult helpers show them the delights of pouring water into the tower to make the magic wheel turn. I have to say that we all got very wet but what better way to spend a hot summers day. The Step 2 Water Wheel Play Table gets a great big thumbs up here from babies, Mummy, Daddy and Nanny too. One of Esther and William's cousins has also spotted it and will be coming to play soon so when he does we will let you kNow how it is viewed through the wisdom of a toddler's eyes! For now though this is what the Twin Toyologists have made of it so far.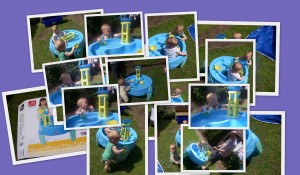 I unpacked the table from the box and have to say I was very impressed with the simplicity of the packaging and the fact that I could put it together without having to read the instructions. It was ready to use almost as soon as it was out of the box. Esther and William could not wait for water so keen were they to see what the fuss was all about. Their Mummy was a tad excited!
We have a water table!! It is a solid, sturdy table that is safe for Esther and William to cling to as they stand and pull themselves up. It takes a lot of water to fill it but it fills easily from our hose. Getting rid of the water after use is not so simple as the table does not have a plug. I think that this would be a very useful addition to the product. Along with a lid! The table is too heavy when filled with water for me to lift it up and spread the water around the garden. I do not want to flood our lawn and so consequently ours is still full in the garden and collectng dead leaves and insects as there is no lid! It will need a good clean before we can use it again.
But we will defintiely be using it again. The babies have had a fabulous time with the Step 2 Water Wheel Play Table already. They love the boats which are small enough for them to hold, play with and chew! They love the pouring cup and are getting very good at filling the cup with water and pouring it out. They also love the water being poured from the cup over their hands. The things we are doing at the moment are very simple. We have added our bath toys to the accessories that came with the table. Esther and William enjoy the feel of the water and making things move. The table has so much potential for future use for years and years to come. Potential for fun and education!
*Puts teacher hat on!*
Playing with water is not just fun for young children (and the young at heart!) it is also educational. Water play gives children the opportunity to learn new skills and explore new concepts. It gives them a chance to be creative and solve problems, to begin to understand cause and effect and how things work. William loves to examine things at the moment and discover what they do and how they do it. He is in to everything and the wheel on the water table was no exception. Even before there was any water he was drawn to the wheel and wanting to make it go round.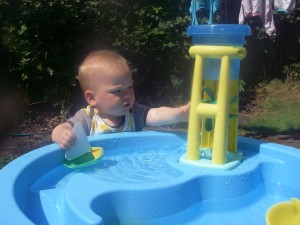 Esther seemed interested in getting in the water table before the water and so we let her. With a swim nappy I think she would have happily sat here the whole time as she could have reached the boats and pots more easily. She is still a little short and unsteady.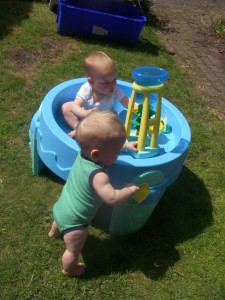 Water play can be used to introduce ideas such as empty/full, float/sink, heavy/light, fast/slow and deep/shallow. Water play can be used to extend vocabulary around these ideas talking about whether a cup is full or empty, for example. Pouring water in and out of a variety of containers can lead to conversations about capacity and size. Even with my two premature twinfants, the conversations have begun.
I must also say, with my Mummy hat back on, that this is a great toy for twins, encouraging them to play together and work together to make things happen. Terrific for Twoddlers!
I am certain that Esther and William could have fun with this table just as it is for many years to come but to spice things up every now and then we are going to try some of these ideas. Bubbles, orange water for Halloween and scented water. Yummy! What great sensory activities!
The Step 2 Water Wheel Play Table is available from Toys R Us for £34.99. For me this would be money well spent as there are so many ways that this table can be used with children from 1 year and up. For more detail about this product please check out the Toys R Us Toybox where you will find reviews from some of my fellow Toyologists including my virtual friend The Boy And Me.
Don't forget to Like the Toys R Us Facebook page to keep up to dte with all the news, views and reviews from the 2011 Toyologist Team.