This year WOW Toys have answered my need for stocking fillers for twins perfectly. This British brand has provided the perfect twin toy for family fun on Christmas Day, and best of all, not a single battery is required!
All WOW Toys, including The Turbo Twins Racing Cars, are durable and safe with no small parts making them perfect for tiny twins.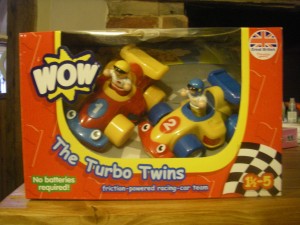 Each WOW Toy you buy comes with a name and a story, a personality that you can use with your children to begin creative and exploratory play. This really appeals to me and makes me as a Mummy want to make up stories about the characters as we play. To help with ideas for stories you just need to check out the WOW Toys website who give you all the information and encouragement that you need to bring fun and creativity into your daily play.
Esther and William are not quite ready for this yet but I know that they will love it when they are ready. And Mummy and Daddy will too!
Over the last few days we have been testing The Turbo Twins Racing Cars. This pack of two cars is perfect for twins to play together and race each other.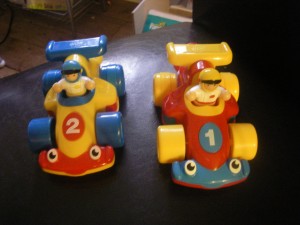 These cars require no batteries and have friction-powered motors that provide realistic engine sounds. William in particular loves the noises that the cars make and pushes them back and forth, over and over again, to try and make the engine sound louder. The cars have moving wheels for easy push-along play. William is obsessed with wheels at the moment and so being given this speedy pair to play with truly made his day. I am hoping that the cars will cause the same reaction again when we bring them back out on Christmas Day.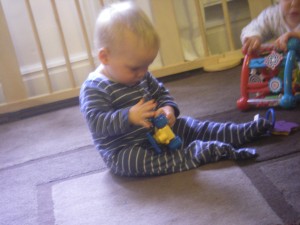 The Turbo Twins are a great toy from WOW. They are perfect for twins or siblings close in age who are learning to play together. The cars work well on all surfaces and are small enough to be tucked into a bag for a day out. We took ours to park this week to test them out on grass. We had a fabulous time.
The cars are bright and colourful; they each come with their very own driver. The drivers are removable and so can be played with on their own. Esther, obviously, enjoys chewing hers and it is safe to do so as the model is not too small and all WOW Toys are free from PVC. So Esther can chew as much as she likes … poor little racing driver!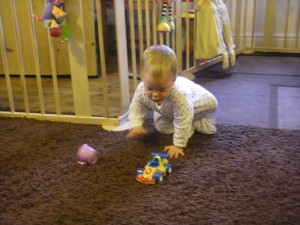 The Turbo Twins have been developed to help children improve their motor skills and to encourage imaginative play. The cars, as with all WOW Toys, grow with your child, providing new ways to play along the way. For each toy that they produce WOW Toys provides a detailed description of how the toy can be used to help a child reach developmental milestones.
The WOW website is easy to navigate and comes across in a positive, friendly manner that makes you totally trust the theories and ideas of WOW. I am definitely their newest, possibly biggest, fan and I am going to fill Esther and William's stockings with little bits of WOW this Christmas and perhaps all their cousins too!
On top of the creativity and the environmental benefits (no benefits) the toys are reasonably priced too. The Turbo Twins Racing Cars are available to buy for around £11. You can find a full list of stockists here.
I have been really impressed with the quality of WOW Toys and I am a little bit in love with the company itself. I love their ethos and the obvious care and thought they put into each and every toy they produce. On the website you can read the steps they take to ensure that their toys really do WOW when they are received by little hands.
We have two more toys to review for you as part of the Edspire Festive Forecast and I am going to have no hesitation recommending to Edspire readers that if you buy one toy for your little one this Christmas, make it a WOW Toy. You will not be disappointed and nor will your little one.
I have my eye on Bella Butterfly for Esther's stocking and Harry Copter's Animal Rescue for William.
Why don't you pop over to the WOW website and choose a stocking filler of your own?
You can also keep up to date with WOW Toys products and special offers on Facebook.
Keep reading the Edspire Festive Forecast for more reviews of these fabulous toys.