This Sunday will be the first Sunday of advent, it seems to have come around so fast.
Last year Esther and William did not really understand Christmas, nor will they this year, but they will feel the excitement and love the feeling of excitement in the air.
I love Christmas! I get so emotional and just love the festive feeling. I want to make it magical for my little family, and it will be down to me, as David is not really a Christmas person. Not yet anyway.
Here are the Christmas traditions I have in store for us this year and every year.
On the first Sunday of Advent we will put up our advent calendars, fill them with chocolate coins and light our advent candle.
Throughout December all bedtime stories have a Christmas theme and every morning we will use an online advent calendar to learn about Christmas around the world. This is something that I used to do with my class when I was teaching and so feel it is a good tradition to continue with children of my own. Especially as we have friends and family all over the world.
The first weekend of December we will put up our decorations, including homemade paper chains, and lights – set up the nativity scene and talk about who all the characters are. We will read from Bible and sing carols together. Esther and William are already practising with their jingle bells!
The night before Christmas, The Magic Robin brings the Christmas Eve hamper. He arrives when the decorations go up and flies around each night and perches somewhere new so the children have to find him each morning. He watches the children to see if they are good for Father Christmas. If they are extra good he gets all the robins in the garden to drop off a present on Christmas Eve (they just leave them on the doorstep). On Christmas Day the children put out some bird food to say thanks. (I read this on Mumsnet last year I think and kept it for our own. Thank you whoever came up with this beautiful idea.) My Mum and Dad have always had a random robin on their Christmas tree which is what makes this a tradition I want to encourage and cherish through the years.
During that first weekend of December we will make, write and send out our Christmas cards. We will also write letters to Father Christmas and pop them in the post.
During the second weekend of December we will take our children to a garden centre to choose their tree decoration for the year that is then put on tree when we put it up and when the children move out they will have a collection of tree decorations to take with them.
In the build up to the big day we will go to at least one Church carol service.
During the last weekend before Christmas we will buy, put up and decorate our tree whilst singing carols and dancing to festive tunes.
On the day of the tree we will also watch a Christmas movie together as a family with popcorn, basking in the light of our lovely tree.
The eve of Christmas Eve will be taken up with baking cookies for Father Christmas! How exciting will that be as they grow older?
On Christmas Eve we will wrap up warm for a walk through the village to the crib service before coming back to the house to find our
Christmas Eve Hamper on the doorstep ready to be opened and explored. Inside there will be festive pyjamas and socks/slippers to sleep in and wear for Christmas morning. Once snuggled up in our Christmas goodies we will watch a Christmas movie together as a family in our new pyjamas with cocoa and cookies, some of the ones we baked!
Lastly before bed we will hang up our stockings, put out cookies, whisky and carrots for Santa and Rudolph on a very special plate. We will read The Night Before Christmas and shut our eyes tight til the morning.
As Christmas Day dawns stockings will be opened in Mum and Dad's bed with tea and crumpets for all!
Only then will we go downstairs to see if Santa has been.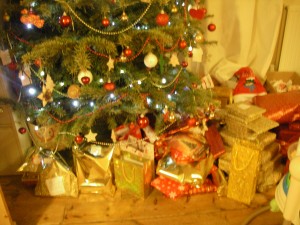 We will wrap up warm and walk to church for the family service before coming home to watch The Snowman and play with our stocking presents.
Then there will be a special Christmas breakfast before the grand present opening by the tree with Christmas music on.
Then it will be time to head to Granny's for presents and play and dinner and family.
Exhausted but elated we will return home in the evening for a last Christmas movie before bed.
Boxing Day is a day for a walk and a tournament of games in the evening.
I honestly cannot wait for Christmas, this year and every year.
What traditions do you have that you are most looking forward to? Which ones hold the most importance for you and your family? Are you starting anything new this year? Would love you to leave a comment below to indulge my festive spirit.
It's beginning to look a lot like Christmas!!!