Today I received the most delightful thing through my letter box.
A beautifully decorated cardboard box filled with wishes for a Merry Christmas and an assortment of quality chocolate.
I felt like the luckiest lady in the world, a little box of happiness all of my own!
The box is so pretty and the chocolate, well, its almost all gone! Delicious Lindor chocolate balls, Lindt chocolate bunnies and two milk chocolate santas. Yum Yum!
Perhaps you know someone this year who deserves a special festive treat, more than a card but less than a present? Perhaps you want to do something to make somebody special smile? Perhaps there is someone in your life who would really appreciate some happiness right now?
Then why not send them some?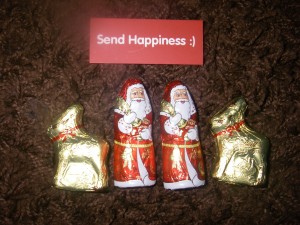 Send Happiness is a very simple idea.

Fun little boxes, filled with treats and gifts that are guaranteed to put a smile on anyone's face.

With prices starting from only £3.99 you don't even need a reason to send a box.

Better than a greeting card.
Guaranteed to fit through a standard UK post box.
The Send Happiness website is nice and easy to use. First you choose your box and then you decide which treats to fill it with. Send Happiness has boxes for every occasion and at the moment has some stunning limited edition Christmas designs.
Send Happiness is an exciting new company with lots of ides for the future for brightening up your day. You can keep up to date with Send Happiness on Facebook, Twitter and their own blog.
I think these little boxes of delight are a wonderful idea and can really help to spread the spirit of this time of year. You can have a message printed inside the box to make sure that special someone knows exactly what they have done to deserve such a special treat.
Who will you Send Happiness to this Christmas?