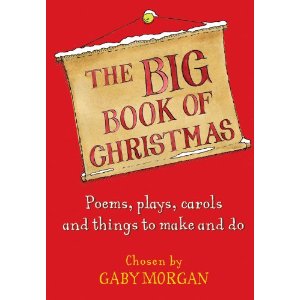 The Big Book of Christmas is a compilation of stories, songs, scripts and rhymes chosen by Gaby Morgan.
I love her collections, Read Me 1 and Read Me 2, and read them to Esther and William every day when they were in NICU.
The Big Book of Christmas is an old classroom treasure that I am now using with my own children. Esther loves to leaf through the pages while I sing to her the carols I know by heart. When Esther and William are eating their lunch I read them different Christmas poems. They love the rhythm of hearing poetry read aloud. Me too!
The Big Book of Christmas includes not only poems but plays, carols, scripts and things to make and do.
It is a superb collection of festive treats for all the family to enjoy.
There are poems of every kind. The shape poems in particular stand out for me and I cannot wait to use them as activity starters for Esther And William as they get older. I also love these two poems about a Christmas donkey and would love to use them as the basis for a nativity play or assembly where for once the donkey is the star!
What the Donkey Saw
No room in the inn, of course,
And not that much in the stable,
What with the shepherds, Magi, Mary,
Joseph, the heavenly host –
Not to mention the baby
Using our manger as a cot.
You couldn't have squeezed another cherub in
For love or money.

Still, in spite of the overcrowding,
I did my best to make them feel wanted.
I could see the baby and I
Would be going places together.

U.A. Fanthorpe

Little Donkey
Little donkey, what did you do,
what did you do on Christmas Eve?
'I carried a woman, her head bowed down.
I carried her into Bethlehem town.'

Little donkey, what did you hear,
what did you hear on Christmas Night?
'I heard the angels, the sky was torn
as they sang out joyfully, "Christ is born."'

Little donkey, who were you with,
who were you with on Christmas Night?
'I was with the ox who stood quite still
as the shepherds ran from the star bright hills.'

Little donkey, what did you see,
what did you see on Christmas Day?
'I saw a Babe in a manger bed,
a heavenly light about His head.'

Little donkey, who followed the Star,
who followed the Star on Christmas Night?
'Three kings of splendour and of pride
who fell to their knees at the Baby's side.'

Little donkey, what do you bear,
what do you bear to remember Him?
'I bear the Cross, the Cross on my back,
etched in velvety brown and black.
I bear the Cross to remember Him.

Marian Swinger
The book is made up of contributions by fabulous poets and writers. I love The Nativity by Pie Corbett!
Each of the carols and Christmas songs has the music written out, great if you have a piano or recorder enthusiast at home!
Here are three Christmas riddles taken from the book. Can you work out the answers?
Three Christmas Riddles

1. Milk-white, mischievious
cluster of pearl,
we hang on your door-frame
or wait in the hall.

Don't try to avoid us
by ducking or rushing
but join in the fun
of kissing and blushing.

2. Big round belly,
cheeks aglow,
scarlet coat –
watch out below! –
Touch-down, landing
on the snow,
with my heavy sack
and a Ho! Ho! Ho!

3. I am the promise
that will not break,
I am the giving
for you to take,

I am the love
and the hope and the law,
I am the chalenge
that lies in the straw,

I am the guest
who has come to stay,
I am the first-born
of Christmas Day.

John Mole
This is a wonderful book for teachers to have on their desk at this time of year. It is filled with festive time fillers and Christmassy tasks. This is a great book for Mummies to keep in their change bag or hand bag to read aloud when the opportunity arises, for us at a coffee shop or on the train.
A treasure chest of Christmas sparkle for people of all ages to enjoy!