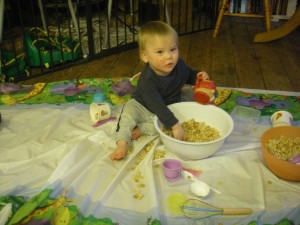 So today we had our first attempt at messy play that was not part of a meal!
I collected together different bowls, cups, plates, spoons and kitchen utensils.
For the mess we used Cheerios as I knew they would be safe if they got eaten which many many of them did!
We all learned a lot through our cereal experience.
Esther and William learned actions such as stirring, mixing, whisking and crunching.
They tried to say the words too but mostly were "Oohing" and
"Aahing" with delight at what they were doing.
They really did have a very good time and they really did make a mess!
I learned these things about messy play.
1. You have to just go with the flow and not worry about the mess
2. You should let children have some free play with the utensils and mess before directing them in anyway
3. It is important as part of this play to model actions and vocabulary.
4. It helps to be organised and have everything you need for play and tidying up to hand.
5. The children should be involved with the tidy up and that should be fun for them too.
6. It is really good fun!!!
Can anyone suggest what we should try next?
Esther and William's attention span for this activity in total was about 25 minutes.
I would love some ideas to try next now that we have made a start!