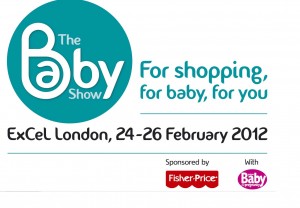 This Friday I am attending The Baby Show at London Excel. I am very excited about blogging from the event and also shopping for Matilda May.
Matilda is due in a little over 10 weeks and so I am starting now to get properly prepared.
I do not have endless funds to spend particularly with having Esther and William to think about aswell and so I need to ensure that any purchases I do make are considered and informed. The Baby Show seems like the perfect place to do some research and snap up a bargain or two!
To celebrate its tenth year the highly anticipated London ExCeL show, running from the 24-26th February, promises to offer the perfect day out for parents to-be. This unique shopping event takes the hassle, stress and confusion out of pregnancy with first class speakers, facilities on hand and all the products you could possibly need. The show will have over 250 must-have brands including Mamas & Papas, Mothercare, Emma's Diary, Bonusprint, Britax, Tommee Tippee and Pregnacare as well as an exclusive baby boutique that offers products unavailable on the high street. The show promises some fantastic money saving opportunities as well as the convenience of it all being in one place. Tickets are available in advance for £12.00 or two for £20.00 and for more information visit www.thebabyshow.co.uk.

The Baby Show in association with Prima Baby and Fisher-Price is a mecca for all parents and parents-to be looking to experience the latest, greatest and exclusive products in food & feeding, pushchairs, nappies & wipes, toys, clothing, furniture, car seats and carriers, from major UK and international brands often with substantial discounts and never before seen show offers that you can't get anywhere else! This year hosts a huge selection of wheeled goods from brands such as Mothercare, Mamas and Papas, UPPA BABY, Babystyle, Britax, Stokke, Mima and O'Baby and parents are invited to speak directly to the brands themselves whilst getting an unrivalled opportunity to test, compare and buy.

Melanie Hall, Show Manager states: "The Baby Show ExCeL is going to be an amazing shopping experience for expectant parents. They can come and enjoy the day with their partners, friends or family and see the fantastic brands, get advice from some great experts and talk to like-minded people. It really is a fantastic shopping opportunity for parents to-be."
I am really looking forward to my day at the show. My wonderful hubby has agreed to have the children and so I plan to make an early start on the road. Yes, I think I am going to drive myself to London Excel as it seems more straightforward from my part of Kent than negotiating the tube and the train. I am hoping to arrive for 10am (traffic permitting) and spend all day at the show. There are some specific things that I am hoping to see, some general product areas that I am keen to research and I will also be on the look out for new and exciting innovations that I can share on this blog. It is going to be a faulous day I hope for me as a Mummy and as Edspire. With my Mummy hat on I am hoping to make the most of some of the super special offers that will be available at the show.
Special Offers
This year's show celebrates a welcome return to Mamas and Papas who are going to be wowing visitors with a fantastic giveaway of a Mylo pushchair every two hours of every day as well as giving away a book with vouchers off high street brands of up to £400! Bonusprint are also offering a £10 off voucher to each and every visitor to capture those digital memories that often lay hidden on a memory card in print or on canvas. Two lucky visitors also have the chance to win £1000 of goodies to keep their children entertained with Fisher Price and get a FREE bottle with MAM. Visit the Prima Baby stand where they will be giving away a free goody bag when you purchase an issue of the magazine or you can subscribe for 12 months and get a free 5 pack Tommee Tippee gift set, all for just £20, saving a whopping £43.60. As if that isn't enough, Mothercare are also offering a massive 10% off all their stock over the weekend so it is well worth stocking up on all those essentials for both mum and baby as well as a few treats along the way!
Friday will be my one day off of the week. I usually have a few hours on a Saturday morning but this week I am swapping for a whole day of 'Me Time' to visit the show. And The Baby Show has thought about mummies like me who are using this event as bit of time for me!
Me Time
The show aims to make visitors lives easier including being able to enjoy a relaxing shop without baby by leaving your little one with the trained supervisors and all the latest toys in the free Fisher-Price crèche and not having to worry about the heavy bags with the Emma's Diary shopping drop-off, collect by car and home delivery services as well as the Mums meeting point which is an ideal place to meet other like-minded mums and share experiences. The Pregnacare Juice bar will be serving fresh juices and smoothies across all three days to quench those shopping thirsts and give visitors a chance to take the weight off their feet. The Tommee Tippee feeding area also provides a private breastfeeding area, bibs, spoons and warming facilities to help make your day straight-forward and enjoyable. For an extra treat head to the Superdrug beauty bar with an exclusive show offer of 25% off all own brand products and the chance to pamper yourself at the Andrea Fullerton Nail Bar or have your eye brows threaded by the expert team.
I have never tried eyebrow threading so I am really hoping to give this a go!
There is so much to look forward to at The Baby Show this year. I am hoping that I find it to be an exciting and educational event and that I will not find it all too overwhelming.
To help me mentally preprare for the show I will be writing a series of posts this week about people I am hoping to meet and things I am hoping to see. I will also then use the blog to recover from my excursion by writing a series of posts sharing my highlights from the show.
So if you cannot be at the show yourself, do join me here at Edspire and I will make sure that you don't miss out!