So today is our final full day at Center Parcs. The sun is shining for the first time and the skies are blue. Everyone seemed to wake up in a better mood ready to start the day. I had booked us into a morning activity which I thought was soft play but turned out to be a cross between a toddler group and Gym Babes.
My overall feeling about this holiday is that we would have had just as good a time if not better at home. The activities we have been to are like the classes we go to at home but not as well organised or well led. The pool is good but there is one not too far from our house that is comparable with special fun toddler sessions. Our house is nicer than the lodge we have stayed in, has all the cooking equipment that we need and, of course, all the babies' toys.
This was supposed to be such a great week. I feel like I have let everyone down because I chose the place and booked the activities. We have not done anything or been anywhere and come away thinking that was great. That was worth doing.
Maybe this all says more about my state of mind than the holiday itself?
This is what I think I have learned this holiday.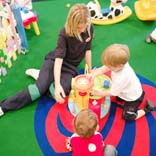 My expectations are too high which is why I always end up disappointed.
This holiday I have learned that I am a sucker for an advert and that I believe good marketing material, build things up to be something that they are not and then end up sorely disappointed in reality.
Today is a prime example of that. I booked Esther and William into what I thought was a soft play centre for a 45 minute session. The blurb and photos on the Internet looked great. When we got there it was a cross between our local toddler group and Gym Babes but not as well planned, organised or led. It was a hall with a range of toys out for babies from 8 months to 4 years to play with, with their parents. It was okay but not what I had thought it would be in my head. Esther and William enjoyed it for a while but after 30 minutes we were all more than ready to leave. William was saying goodbye to everyone and heading for the door! I have been disappointed by all the organised activities that we have attended at Center Parcs apart from Musical Melodies which we really enjoyed.
When a baby has just learned to walk the thing which makes them happiest is having time and space to roam.
The thing that William in particular has enjoyed more than anything else is being allowed to walk around the sports complex at Elveden Forest. There is a wooden bridge crossing the badminton courts and then a circular walk around the courts with lots going on and things to see. William has loved just walking round and round and climbing the stairs. I think because walking is so new for him he is enjoying mastering the skill. Esther also enjoys walking and exploring new places. They are much better at that than taking part in any organised things.
We would have had a much better time staying at home.
I have already said about this. For all the money we have spent, the travel, the packing and organisation etc… I wonder if we would have been better staying at home. Esther and William would have had their own cots, all their toys and familiar things whilst at home and we could have spent the money on going for quality days out in our local area. Esther and William love Leeds Castle for example, we could have gone to the zoo and to a farm. We could have gone to all our usual classes but had Daddy with us too. I wonder if that would have been a better use of our time with Daddy? I feel really bad because I planned this holiday thinking we would all have such a wonderful time and it doesn't feel like that has been the case at all. I carefully planned activities around nap times and just nothing feels like it has gone right at all. Bad Mummy!
I do not know how to deal with toddler tantrums.
Esther and William have decided to use this holiday as a time to start displaying a true toddler tendency – the toddler tantrum. They are very strong minded little things and if they are made to do something that they do not want to do then they will let you know about it. Today has been the worst I think with Esther screaming because she did not want to get back into the buggy. William is just as bad when he does not get his own way. I feel like I should know how to handle these situations but the truth is that I don't and it terrifies me the thought of having to deal with twin toddler tantrums when I am heavily pregnant and on my own. I need to do some reading and come up with some consistent behaviour managment strategies for our little lovelies, especially for when I am on my own. I really thought teaching would have prepared me for this aspect of motherhood. It has not!
Girls and boys really are very different in some ways and yet totally the same in others.
I am going to write more about this when we are home as their is a book I want to refer to as I am writing. But Esther and William though very similar in many ways are totally different in others, ways that I imagine are stereotypical for boys and girls. Esther for example enjoyed playing with playdough for much longer than William who just wanted to run around. This is a whole other blog post though!
Esther and William's prematurity has affected their development in some areas.
At Center Parcs we have been to play dough and messy play sessions for children from 18 months. Esther and William are 19 months actual age and 16 months corrected. They are quite advanced with their language both able to link words to make simple phrases and Esther is starting to be able to count. A new development this holdiay! What they cannot do though is concentrate on anything for very long. Play Dough lasted 30 minutes and Messy Play 45. The sessions were not structured and so Esther and William struggled to stay focused, even with the support of Mummy and Daddy. William lasted about 10 minutes a time, Esther considerably longer but we did not stay for the whole of either session. Ihave to say though that we were not the first family to leave either time so perhaps Center Parcs needs to rethink the planning of the sessions or break down the age ranges some more. Certainly with play dough the equipment we were given was not particularly age appropriate. We did not for example have a rolling pin but did have animal body parts to try and make creature models!?! We also found at these organised sessions found that Esther and William were physically too small for many of the table top activities. They could not really appreciate the messy play as they could not see into the trays of jelly and custard or get their hands properly in. They could not reach the sand pit without balancing precariously on a foot stool and they could not reach the waterplay without being held up by Mummy or Daddy. This has proved one thing to me which I already knew, they are not ready yet for nursery and I am not ready yet to send them. There is nothing I feel that they will do at nursery that I cannot do better myself at home and by taking them to organised classes. How this will all fit in when Matilda is with us as well, I really do not know. My feeling at the moment is that rather than pay nursery fees I should pay someone to come and help in our house a couple of mornings a week so that I can do one to one activities with each baby with the support of another adult. The more I think about this the more I like the idea.
I am not sure that I know how to relax.
I think that I over analyse everything. I think too much about things. I imagine how things will be and I am disappointed when things do not go to plan. I want to make my family happy and feel heavily responsible if I think that they are not having a good time. I am too hard on myself and I just need to learn to let go and go with the flow. To make the best of whatever situation we end up in. I am not sure that I know how to do any of this and so find it hard to really relax.
My waterproof camera is not as waterproof as once it was which may have to mean the end of my 366 project!
Nothing to do with Center Parcs this one but something that has really upset me all the same. My camera seems to have broken. I used it with the babies in the pool yesterday and now I cannot switch it on. I have charged up the battery and nothing. It comes on for a second but will not stay on. I am gutted as any readers of this blog will know I take a lot of photos and have been trying to improve my compositions and skills through the 366 project. I can take some pictures with my phone and hope that this will do until I can afford to replace the camera or it makes a miraculous recovery.
So there we have it. Our not so brilliant week at Center Parcs. Tomorrow we head to The West Bay Club on the Isle of Wight which I am hoping will be much better.
This afternoon, when the Squidgers wake up, we are off to play in the pool. We will not be going to our not soft play Fun Zone activity in the morning. Instead we will have a walk in the woods before heading off in the car to the Isle of Wight.