Friday 9th March 2012
WOW! It has been a long time since I have been somewhere without Internet or phone signal! Does not a productive blogger make! But I am supposed to be relaxing so maybe I should just focus on doing that.
We are at The West Bay Club in Yarmouth on the Isle of Wight. It is very neat and clean here. The staff are all super friendly (I have already met a lovely mummy of 19 month old twins) and there is a relaxed holiday vibe to the site.
Esther and William soon disturbed the gentle peace by tearing around the grass and exploring the decking area of each of the neighbouring cottages.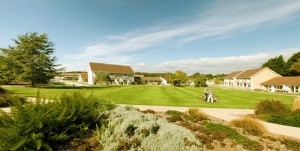 There is lots of grass here for children to play on and a lovely heated swimming pool for all in The Country Club.
I am hoping that we will get to try it out tomorrow but my day is pretty filled with classes, the main purpose for our being here, antenatal workshops.
I am really looking forward to getting some professional tips and advice about pregnancy and what I can expect from impending labour and birth from the very experienced midwife, Nikki Khan.
8 weeks to go!
I am also looking forward to my ESPA prenatal treatment at the end of a long and busy day tomorrow.
David is in charge of the squidgers so I am hoping that they will be alright. I am sure that they will have a wonderful time exploring the club and the Isle of Wight.
We have just had our dinner from The Brasserie. I had Soup of the Day which was tomato and chilli and absolutely delicious. David had antipasto of which I was very jealous. It looked like a meal in itself. For mains I had tomato and garlic fusilli and David had a burger which again was a mammoth portion, The food here, along with the service, is outstanding. We are waiting for our dessert as I type this, Eton Mess for David and a Cammomile Pannacotta for me. Yummy!
The staff are going out of their way to look after us as we cannot make it over to The Country Club for dinner as the squidgers are asleep.
Tomorrow we will have breakfast at 8.30am with the rest of the couples on the antenatal weekend. I do hope that Esther and William are on good form, could be very entertaining if not.
They have gone to sleep well tonight after the excitement of the ferry this afternoon.
I am hoping we are all in for a good couple of days after our disappointing experience at Center Parcs.
First Impression – FANTASTIC!