This weekend just gone was spent at The West Bay Club on the Isle of Wight attending my first ever antenatal classes. I did not have the opportunity with Esther and William as they came 7 weeks before our NCT class was even due to start.
The classes I attended this weekend were something of a treat. They were led by media midwife Nikki Khan who is also possibly one of the nicest people I have ever met though she frequently made me cry throughout our time together.
The antenatal retreat that I shared with three other mummies and their husbands was a very special, unique experience that I will treasure forever. I also learned a lot that will benefit me through pregnancy and that I hope I will be able to share with others so that they can benefit from my fabuous weekend too.
If you would like to find out more about the tear inducing Nikki Khan she has a website here and is also the expert midwife for Prima Baby and Huggies along with many other popular baby brands.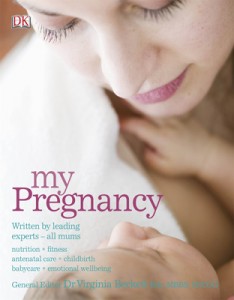 She has also contributed to a book called My Pregnancy written by Dr Virginia Beckett for Dorling Kindersley. This book has contributions from a range of pregnancy experts all of whom are mothers too with children of their own. I will be referring to this book throughout this post about looking after you while you are pregnant, something that I know as a busy Mum of 20 month twins can feel nigh on impossible most days.
One of the main things I have taken away from this weekend though is that I may be a busy Mum of twin toddlers but I am also the Mummy of our new baby and I have a responsibility to her too. Also, I am of no help to anybody if I am not well myself. It is not being selfish in pregnancy, or at any time, to make sure that you are looking after you.
Especially in pregnancy it is vital to be in optimum health so that if anything does go wrong with the pregnancy or birth then you are ready to deal with it. Your body is ready to deal with it.
Pregnancy Diet
The food choices that you make during pregnancy have a direct impact on your baby's health and development, as well as on the way you feel. A good diet can help you to stay fit, prepare your body for the birth and maintain your energy.
Now is the time to ensure that you are eating a wide range of foods. I love the idea of having different coloured foods in your meals and I try to do this especially with our evening meal. Lat night we had seafood pasta with green spinach, orange tomatoes, red pepper and chillies, mushrooms and tricolore pasta. I knw tht with Esther and William they are more keen to try foods if they look inviting, bright and colourful, on the plate.
Do you know that eating for two throughout your pregnancy is not recommended? It is actually only in the third and final trimester that you need to increase your calories intake and then you should only need an extra 200 calories which can be found in a bowl of healthy cereal or a slice of wholemeal toast!
One thing I am finding as I get bigger and my energy levels flag is that eating little and often really helps me to maintain my energy throughout the day and also not feel too uncomfortably full.
I am also now suffering from anaemia and so am trying to increase my intake of iron. We include spinach in most of our meals and have done throughout the pregnancy, now when I eat I also drink a glass of fresh orange juice as the vitamin c aids the absorption of the iron. I am also going to start taking Floradix which is a natural iron supplement that also provides extra vitamin c.
It is important to supplement even the healthiest of diets during pregnancy and through nursing to ensure that you are getting all the key vitamins and minerals that you need. I have found Pregnacare to be brilliant throughout both my pregnancies and am now also taking Osteocare after it was recommended to me during the antenatal weekend. I am going to write a separate post on Pregnacare and Folic Acid supplements later on the blog. I hope that you will come and have a read.
As well as all the vital foods that you need to eat during pregnancy there are also a list of important foods that you need to avoid.
Listeria is an infection that will go straight to the amniotic fluid protecting your baby. This can be avoided by not eating certain foods including blue cheeses, blue cheese sauce, unpasteurised milk and dairy products and pate. Listeria can cause miscarriage, premature delivery and even the death of your baby. Make sure you know the full list of foods to avoid.
Salmonella poisoning is unlikely to harm your baby but can make you very ill indeed. Stomach problems, sickness and upset stomachs can all trigger premature labour so best to avoid raw eggs, undercooked meat and again unpasteurised dairy.
The soil on unwashed fruit and vegetables can cause Toxoplasmosis so ensure that you wash everything before you eat it. It is better to be safe than sorry as this condition can cause miscarriage or serious health problems in your baby.
These are just a few of the main food products to avoid and a glossing over of the reasons why. For more detailed advice please consult with your midwife or read a pregncy bok such as My Pregnancy by Dr Virgina Beckett.
The book covers eating at home, eating out, special diets, food hygiene, environmental hazards and much more. It is very easy to read and the text is broken up with beautiful colour photographs. It is packed with expert advice from a range of professionals who are also Mums.
As well as eating well throughout your pregnancy it is also important to ensure that you are drinking enough fluids. Preferably water. However, if like me and Nikki Khan(!) you are not a fan of ater you can drink squash or flavoured water to ensure that you are getting enough liquid on board. You should aim to increase your intake by 1.5 litres right through pregnancy and breastfeeding. I am going to start having a 1.5 litre bottle of flavoured water with me all the time and ensure that I finish a while one each and every day, on top of the other fluids that I would ordinarily consume. This was one great tip among many many from Nikki during our antenatal weekend.
If you think that you might like to enjoy a relaxing antenatal spa weekend with an expert midwife then you can click here for more information. Also please keep an eye on the blog as I have much more to say about our weekend away and all that we experienced and learned as part of our antenatal retreat.
For now, I am off for a refreshing glass of lemon water and a satsuma (bursting with folic acid you know!)!