Today I had a lovely, relaxing morning with Karen from BoobieMilk and her very smiley daughter, Ellie.
I contacted Karen at the weekend to find out about her maternity and nursing bra home fitting service.
BoobieMilk is based in Sevenoaks, Kent (conveniently local to me!) and offer a nursing bra fitting and sales service in the comfort of your own home. This really appealed to me as a Mummy of twin toddlers who do not want to wait in a store while I am measured for nursing bras and also with my operation scar I am not that body confident so much prefer stripping off in my own home than in a brightly lit shop dressing room.
If Sevenoaks is not local to you but you would still like to benefit from Karen's advice and expertise then you can contact her online. She offers one to one contact through her website and she also writes a fabulous breastfeeding blog full of product reviews and advice. Karen only recommends products that she has used herself and she really believes in the items she sells and that they will help mummies wanting to nurse in comfort and style.
What I love about Karen of BoobieMilk is that she is a breastfeeding Mummy herself. She has a wealth of knowledge, experience and training that make her easy to talk to about all things nursing not just clothes and accessories. I found her very easy to talk to and be with and feel that I have gained new information and advice as well as a new top and new nursing bras!
I have never been measured for a bra and guessed my way through my last pregnancy, nursing the twins and most of this pregnancy. I wanted to have an expert cast an eye over me and my choices and see if I was doing what was best for my body and for my milk. Karen was able to size me just by looking at me. All bra brands size slightly differently and Karen is so familiar with the products that she sells that she knew which ones to give me to try on. She instinctively knew what would fit me and work for me and what would not.
I know that ill fitting bras can be detrimental to both boobs and milk supply. I want to avoid that at all costs as I am so keen to be able to feed Matilda Bump for at least a year, to give her the same start that I was able to give Esther and William. BoobieMilk has given me the positive kickstart that I needed and my nursing bras are ready to be packed into my hospital bag for when Matilda Bump arrives.
After my initial contact with Karen we exchanged emails and she asked me questions about sizes and styles.
I browsed the Boobiemilk website and decided that I needed a nursing bra for day to day use, a sleep bra and also, as it seems summer is upon us, a camisole or vest top that faciliates feeding in warmer climes.
Karen arrived with a pink case full of example products from a range of brands and she talked me through the different ranges, products and styles. Esther and William were very helpfully modelling bras as hats and taking pants for walks around the dining room. Karen was very patient and really put me at my ease as my toddlers explored her lovely products and accessories in the way that only toddlers can.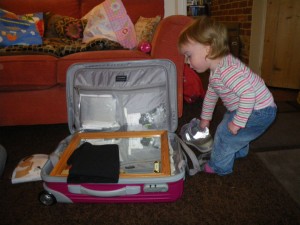 After our initial discussion I tried on a number of bras in different sizes though Karen knew from discreetly looking at me as we spoke what size I would be. As I suspected I have been wearing the wrong size of bra and now thanks to BoobieMilk have a selection of proper fitting, super soft but super supportive Carriwell Seamless Nursing Bras suitable for both day wear and sleep. These are bras that I actually already owned but in the wrong size.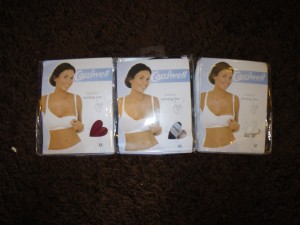 The other product that I fell in love with and now own is a Hot Milk Shine Nursing Vest in Black. This is a beautiful A-line vest with a supportive band below the breasts meaning that I should be able to wear it without the need for a bra. What I love about this vest though is the flared shape. It is both flattering and forgiving of any mummy tummy at the same time. It will look great with jeans or a maxi skirt in the summer. I have noticed on the BoobieMilk website that it also comes in Beaujolais so may have to get me one of those too!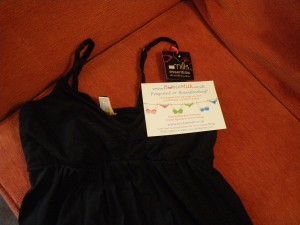 If you fancy any of the nursing vests on the BoobieMilk website then Karen is offering 10% off until the first of April, so get buying now!

The home fitting service with BoobieMilk was a wonderful experience and I cannot wait to share it with all the ladies in my NCT Antenatal Classes and at Bumps and Babes. This is a great service for pregnant ladies and nursing mums. I am really looking forward to seeing Karen again once Matilda Bump is born when I may just treat myself to a Hot Milk matching set in time for my birthday and some briefs to match my Carriwell Bras. I am also looking forward to seeing BoobieMilk exhibit at The Kent Baby and Toddler Show on the 20th May when I will be able to introduce Karen to Matilda Baby and not just Matilda Bump!
If you are interested in BoobieMilk then you can follow Karen on Twitter, Facebook or through her fabulous breastfeeding blog.
I received my Hot Milk Nursing Vest for free in return for this review. All opinions are true and my own.