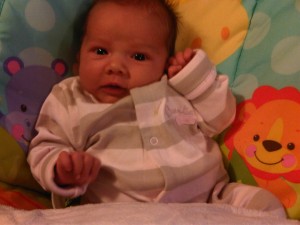 When you hold your beautiful new baby in your arms you are in awe of what you have created, you drink in her fresh, sweet scent and fall in love through the depths of her eyes. You caress her warm, soft skin and revel in the wonder of what you have done.
Babies are precious, they are gifts, they are a part of us that is better than us. So innocent, so pure.
As a parent you want to protect them and nourish them, provide only the very best for them, for they are the one (or sometimes the two!) that make your life worth living. They are your son or daughter and they mean the world to you.
Because we want only the best for our babies I have no hesitation in recommending to you the beautiful newborn clothing from The Essential One.
The Essential One is a company specialising in essential clothing items for babies aged 0 – 12 months.
At The Essential One we focus our ranges around new baby clothes which are essential to you, making life much simpler and shopping and baby changing stress free! We will guide you through essential new born baby wear so that you are only buying what you truly need.
When Matilda Mae was born The Essential One asked if they could send a few items for her to try. How could I refuse such a kind and generous offer. Since my own email I have discovered that The Essential One have been sending gifts to lots of new mummies and mummies to be. I think that this is wonderful of them and though I know it is promotion for their company what a fabulously friendly way to go about it.
For Matilda Mae The Essential One sent two sleepsuits for her to try and three short sleeve bodysuits. Each of these items came from the pink range. The pink used in this range is a muted pink that is not too girly and reminds me of lovely sweet things like marshmallows, strawberry ice cream and candy floss. This soft colour suits Matilda perfectly and she looked adorable in her special clothes.
The clothing from The Essential One comes in cute designs with small details such as motifs and buttons. The clothes are made from 100% supersoft cotton that feels gentle against the skin. The clothes are well made with babies in mind.
The sleepsuits
are fully poppered including all the way down each leg for ease of changing and have integral scratch mittens which can be turned back to cover baby's hands.
The Essential One sells all the items you will need with a newborn. You can purchase items individually or buy one of their essential packs.
An outstanding pack with all you need to welcome your baby into this world. Our 3 pack of sleepsuits with turn back scratchmitt cuffs for day or nightwear with full popper opening for easy changing , a pack of 5 bodysuits with envelope neck for ease of popping over baby's head, a 2 pack of hats to mix and match and a pack of 4 mittens to complete the head to toe outfit. Made from 100% superfine cotton, these are so soft against baby's skin. All items come with a complimentary jersey bag- ideal for nappies / cotton wool or any other essential items. Ideal to take to hospital or to form the basis of your baby's first wardrobe.
The clothes that we were sent came in a beautiful cotton bag which we now use for keeping Matilda's spare clothes in when we are out and about. The bag is made with the supersoft cotton as the clothes and makes a really very special gift.
The other thing that makes packages from The Essential One a true treat is their exclusive new baby scent that fills a room as soon as you open your parcel. It really makes receiving practical items a special sensory gift.
The Essential One provides an excellent range of clothing and accessories for new babies (I love their blankets!). Their attention to detail and customer service is outstanding. Their clothes just perfect for that special new arrival in your world.
Please check out their website, like them on Facebook or follow them on Twitter. The Essential One not to be without when you or someone you know is expecting!
We were sent two sleepsuits and three bodysuits for the purposes of this review.