When Matilda Mae was just two weeks old our little family of five got struck down one by one with a sickness bug.
It was awful for all of us but it hit me the hardest and I am certain it was because I was breastfeeding Matilda Mae and I refused to give up.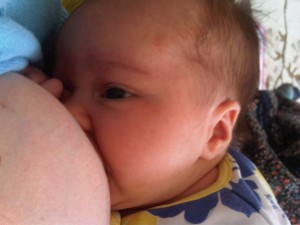 When I had not eaten a morsel for 48 hours and was weak with fever I still continued to feed her. There was one moment of weakness when I thought I might have to admit failure and get Daddy to go and buy bottles and formula but having her there in my arms pulled me through.
At times I was literally throwing up whilst having Matilda on the boob. It was not a pretty sight and as always my husband was amazing and made sure that we were all alright.
Breastfeeding made the illness worse for me but my antibodies made the sickness significantly less serious for Matilda and I will always be grateful for that.
At 22 months old it was Esther and William's first ever tummy bug and again I think we have the powers of breastfeeding to thank for that.
But what can you do when you are ill but still need to be nursing a newborn babe?
Here are my top tips:
Keep feeding! Breastmilk will provide Baby with antibodies and ensure they are hydrated. Continuing to feed will help to ensure that your milk supply is not affected.
Keep drinking. It is important to keep yourself hydrated to help your body produce milk and because everything feels worse when we are dehydrated.
Eat some dry toast or crackers as soon as you feel able to give yourself a little energy. I was so lifeless when I was ill because I could not bring myself to eat, as soon as I did I began to feel better.
Be extra careful with hygiene. Wash hands regularly, change clothes on you and Baby, change bedding especially if you are cosleeping.
Try to limit close face to face contact with Baby. This is easier said than done when breastfeeding.
Rest as much as you can.
I found that keeping Baby with me helped. We took to bed for 48 hours and both of us just slept and fed our way through.
Accept help. My husband was amazing taking care of our twins and our house to allow me time to sleep and recuperate and focus on feeding Matilda.
I do know that for some women being ill in this way can reduce their milk supply for a few days but on the whole things do go back to normal. Again the advice would be to keep on feeding as long as Baby is happy to suckle she will be stimulating the production of more milk.
Aren't our bodies wonderful things?
This week BoobieMilk's Breastfeeding Scavenger Hunt is all about Mum to Mum sharing. This is my main post for this week but I will also be bringing you a Mama Jewels review, a Mama Scarf review and a Baba Sling review and giveaway. I will also be sharing with you how other mums helped me when I was breastfeeding the twins and sharing tips on amusing toddlers whilst feeding a newborn. I do hope that you will follow the blog and enjoy the posts.
Please also follow the main Scavenger Hunt site in order to read all the posts, get all the tips and be in with a chance of winning some fabulous prizes.
The hunt is supported by lots of lovely companies including the fabulous Baby's First Calendar. Next week will see a review and giveaway of this super product here on Edspire.