Very often when I write a review on the blog it is of a product that I have been given free of charge in return for an honest and unbiased review.
Every once in a while however I will review a product that I have bought because I am so impressed with it and what it does. This is the case with this review. It is a product that I would recommend to any and all breastfeeding mamas anywhere.
One of the things I am learning about successful breastfeeding is to keep it simple.
I think that all of my favourite baby and feeding products are chosen because of their simplicity. I like things to be easy to use and to do the job they say that they do. I like a product that without too much effort or energy on my part makes my life a little easier.
Mama Scarf I believe is a simple breastfeeding accessory, a scarf for mummies, that enables us to feed discreetly.
Rather than having a muslin over baby, that often falls off exposing me, the Mama Scarf ties around the neck and can be worn as a normal scarf and then adjusted for feeds.
Place the scarf around your neck with the centre point at your tummy and the pocket on the inside.

Tie the two ends of the scarf at the back of your neck. The larger you require it to be, the further to the end you need to tie it. Tie a double knot.

Once your scarf is tied, loop your arm through the opening. Use your right arm to feed on the right or your left arm to feed on the left side.

Once the Mamascarf nursing cover is in place you can adjust your clothing as required, now you can slip your baby into the opening, and feed as normal ensuring you are holding your baby at all times (PLEASE NOTE – Mamascarf is not designed for carrying your baby).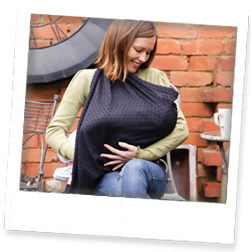 A simply stunning idea that can complement an outfit as well as keeping baby covered during a feed giving Mummy confidence and taking away any distractions from baby.
Matilda loves the Mama Scarf and often falls asleep inside its protective layer.
If you would like a Mama Scarf to make breastfeeding in public a little easier for you then they cost £17.99 and can be bought through the website.