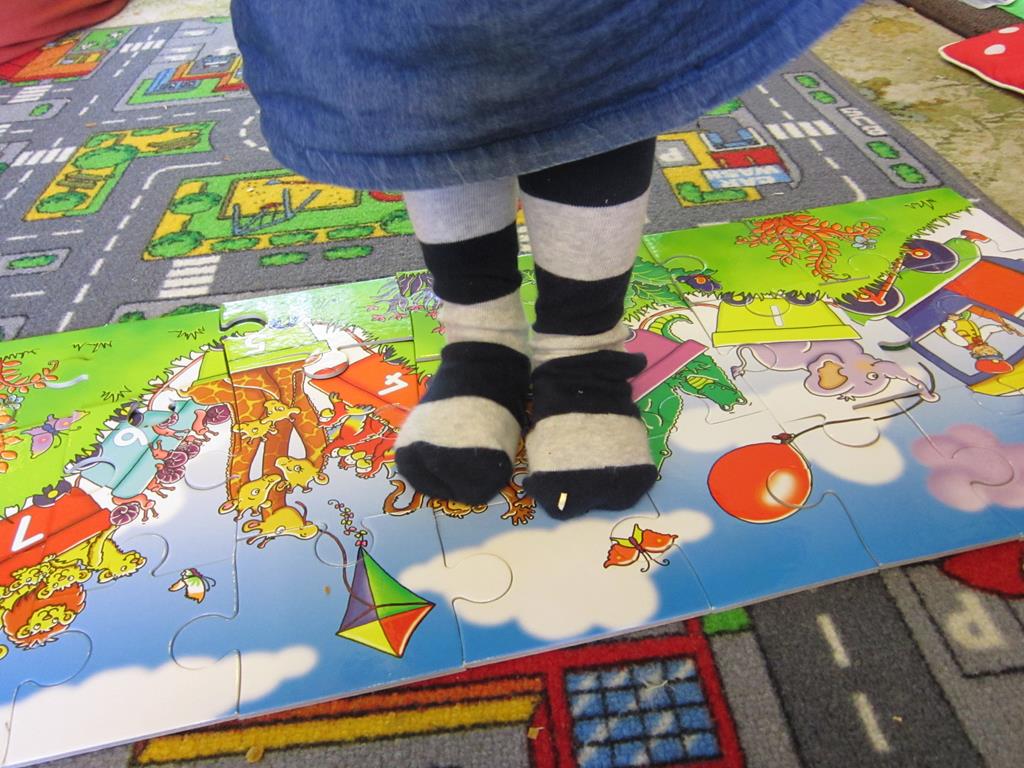 In the summer we were sent a puzzle to review by the awesome Orchard Toys. This review is well overdue but we have been thoroughly toddler testing the Jungle Express Jigsaw.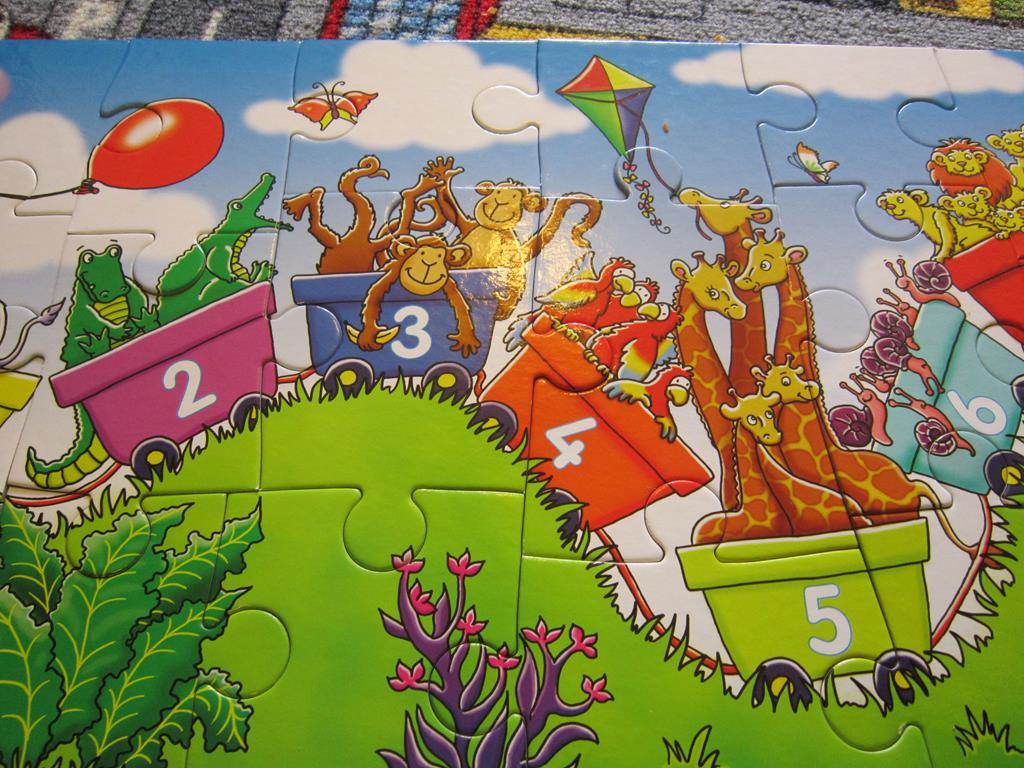 Esther and William adore it and we have completed the puzzle so many times.
On very cold mornings we sit together in front of the fire and put the pieces together and then talk about the wonderful picture.
If you visit our house you will undoubtedly be asked to put your puzzling prowess to the test with this animal train number puzzle.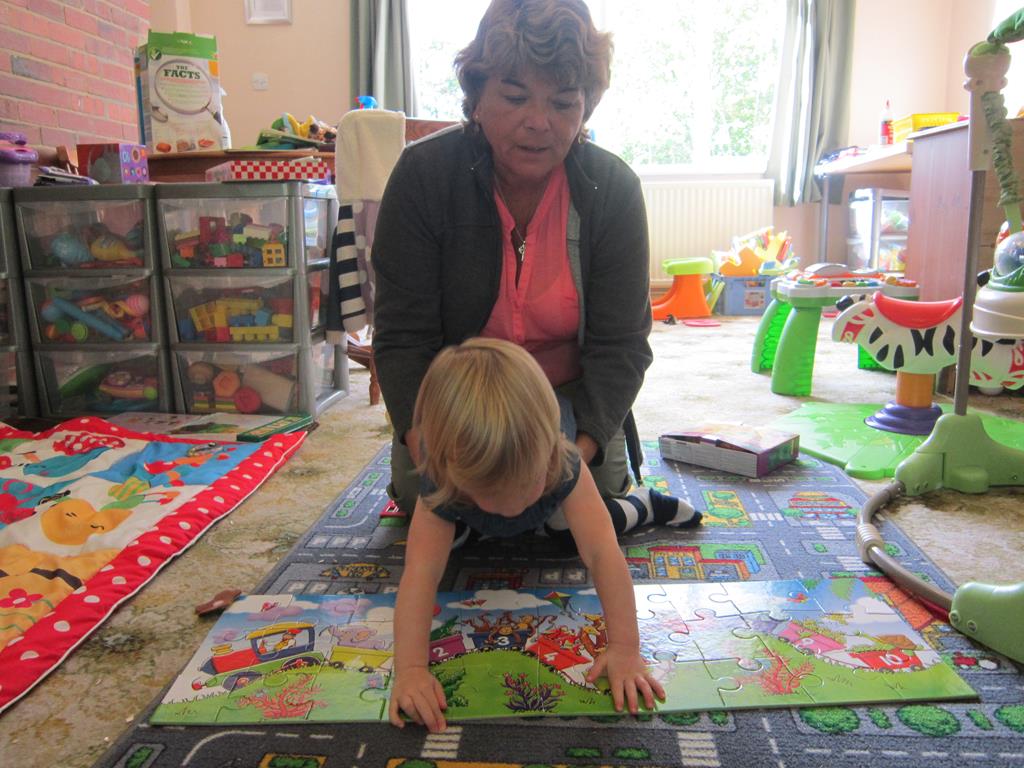 When we first recieved the puzzle Esther and William were just too young. They understood very simple jigsaws but did not have the stamina or skill for one of this size and complexity. So to begin with different adults made the puzzle and then Esther and William talked about it, pointed to the animals they recognised and began to learn about numbers and counting. As each adult made the puzzle they talked to Esther and William about what they were doing and gradually Esther and William have been able to help more and more.
Due to an obsession with Thomas and numbers this puzzle is now a firm favourite in our house.
It features a train with numbers on. At this point in our house there is nothing, and I do mean nothing, better than that!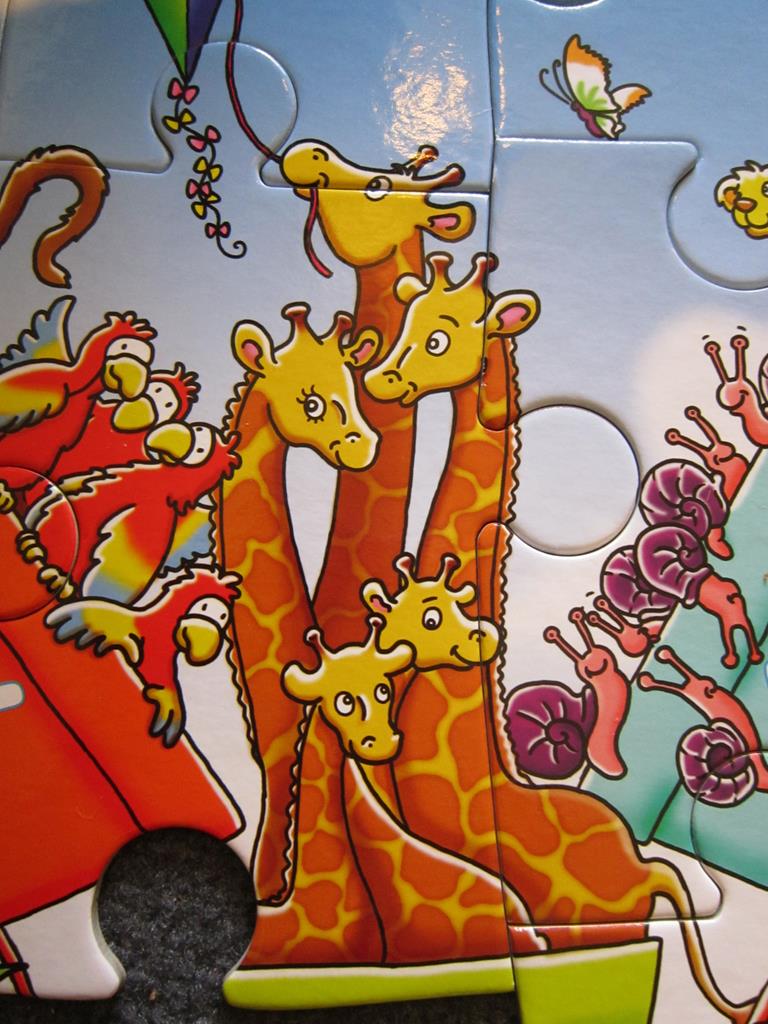 The Jungle Express from Orchard Toys is a wonderful puzzle. The pieces are chunky and bright. They are sturdy and perfect for toddler fingers and gummy baby mouths! Together the pieces create a picture of a train with numbered carriages and a corresponding number of animals in each carriage. It is a great way to get children thinking about numbers and counting.
It is a 30 piece jigsaw that is made up of 3 rows of 10 and so it is very long and thin. Like a train!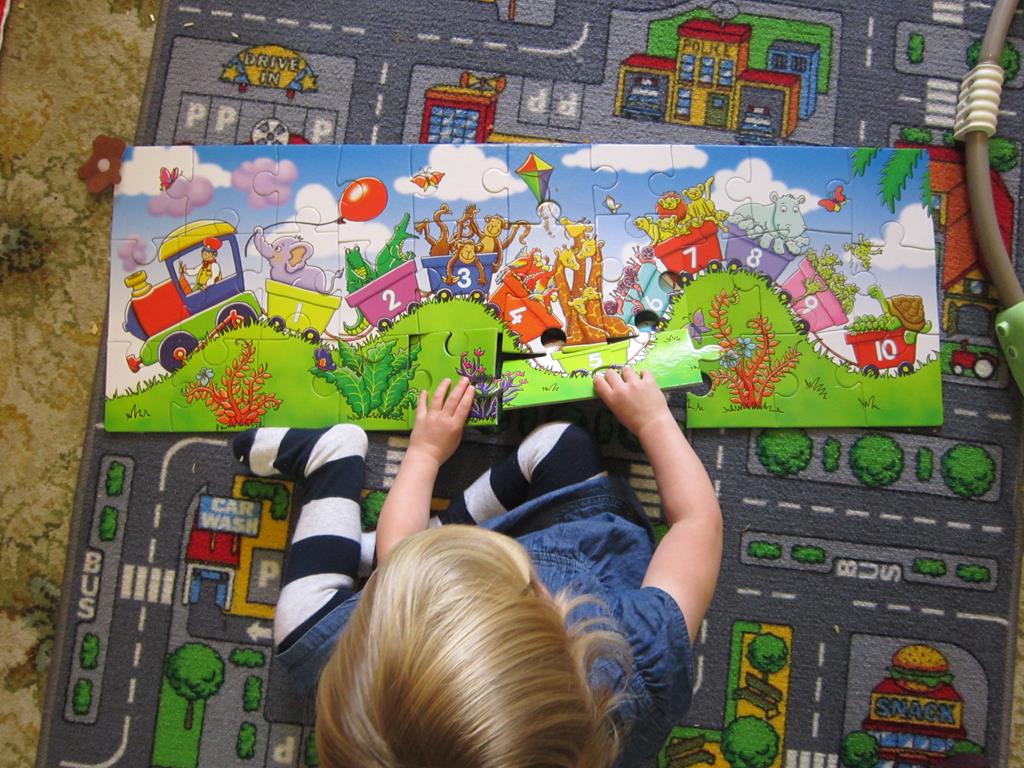 Esther and William now love helping to put the pieces together looking for clues in each of the segments. We often begin at the top and so seek out pieces that show the sky and things we might find there such as clouds, balloons and kites.
Once the picture is complete we talk about the colours and then play games using the picture.
Because of the size of the puzzle we play a Twister type game where I say; 'put one hand on the elephant' 'put one foot on the number 4′. It is great fun.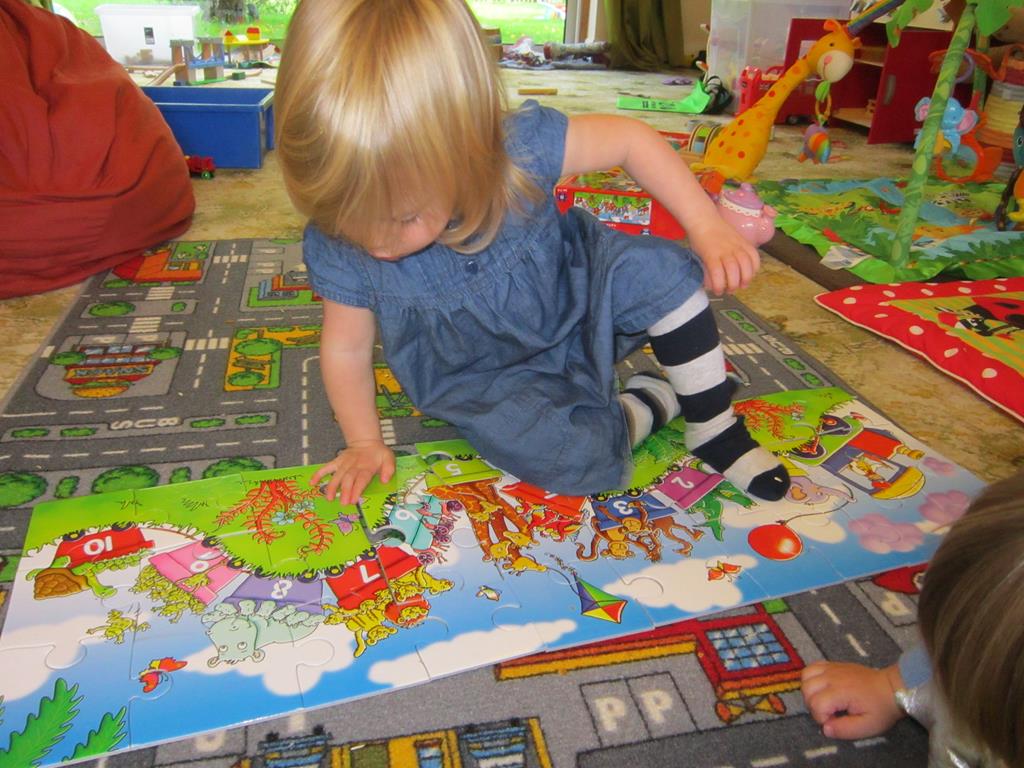 This is a puzzle that can be used in lots of ways as well as being a stand alone jigsaw puzzle.
The picture is fun and leads naturally to discussion about numbers, colours and size. We talk lots about the size of the animals. Esther and William also link the animals to stories that they know like Dear Zoo which means they always tell you that the elephant needs a carriage of his own because he is 'just too heavy'!
Jungle Express is available from Orchard Toys and costs £9.75. I think this would make a great Christmas box for any little boy or girl. Especially if like mine they love trains, animals and numbers. What a winning combination!
And speaking of winning … if you would like to win your very own Jungle Express puzzle then you can do so right here!! Just in time for Christmas.
All you have to do is this:
Leave a comment below saying which other Orchard Toys game or puzzle you would like for your little one's Christmas stocking this year.
We love the fairy tale puzzles!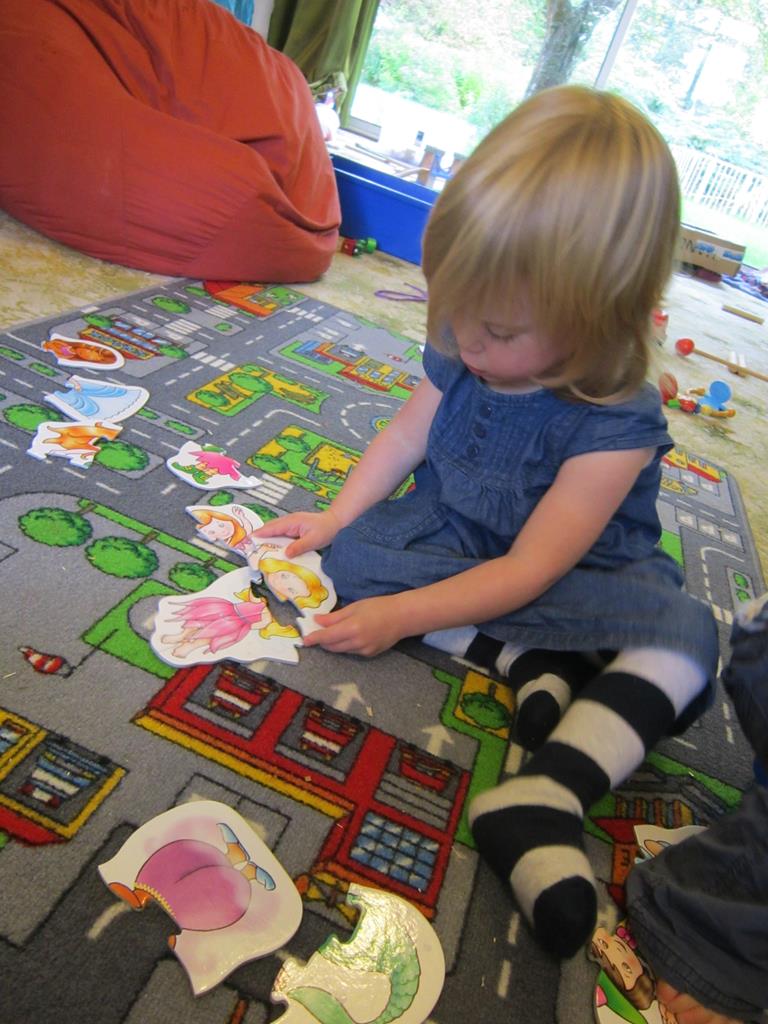 The competition is open to UK Entrants Only. The competition will close on Friday 30th November at 8.00pm.
Winners will be notified by email.
Good Luck!