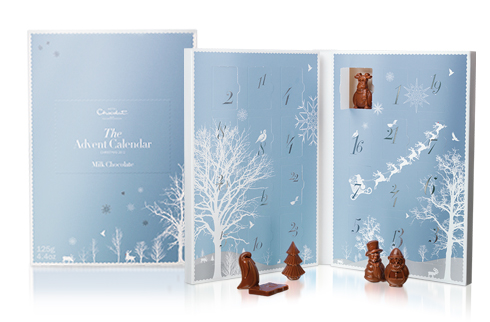 Dear Father Christmas

This year I have tried so very hard to be good but there is one thing I just cannot resist and that is chocolate. I am hoping that just this once, Father Christmas, you will be able to over look my naughtiness when you see it was for the good of all mankind!!
The festive season will soon be upon us and what better way to count down than with a Hotel Chocolat advent calendar.
At £12 each they are not a cheap treat but oh my goodness!!! They are delicious! I have been testing the milk chocolate calendar and shared a few of the chocolatey sculptures with family and friends, but frankly they were really too good to share and I did eat most of the 40% milk chocolate pieces by myself.
The calendar is very pretty and free standing so would look lovely on the fireplace or window sill as December wears away. I think I would have mine on my bedside table. There is something deliciously naughty about chocolate before breakfast at advent time!!
This is an advent calendar for grown ups and I cannot recommend it enough. The chocolate sculptures are very pretty featuring all the traditional things like Santa and angels and trees. The box is pretty and ornate. It opens up like a card so would make a great pre Christmas present for someone that you love. Or for yourself!
I am quite tempted now by the dark chocolate one!
If you would like to win yourself a milk chocolate advent calendar from Hotel Chocolat, or win one for someone that you love, then all you have to do is this …
Leave a comment below telling me what you would like most for Christmas this year.
The giveaway will close on 26th November 2012 at 6.00pm. It is open to UK Entrants Only.
Good Luck!
We received one milk chocolate advent calendar to taste for the purpose of this review.