This last month I have been writing about Esther and William's journey through NICU. How I kept vigil by their bed sides for 59 long days. I cannot imagine how my children would feel if things had been the other way around. As Multiple Daddy puts so well, you are never entirely sure what goes on in the mind of a toddler.
But still we try.
How must it feel for children to hope that their mother will wake? To hope that one day their mother will be able to come home? How do they rationalise the fact that their mother is not at home with them where she and they and all long for her to be?
I am a fully grown adult and I struggle to think about how this can be. My heart goes out to Multiple Daddy and the beautiful Multiple children.
Tonight I join with Kerry's family, friends and fellow bloggers to share a prayer, a whisper of hope that she might one day soon be home in the heart of her young family. Back where she belongs.
I have not yet had the chance to meet with Kerry but I hope that I will have one day in the future.
She is someone who has helped me so often through Twitter and Facebook. One of those wondrous online companions that seems to know me better than many of my real life friends do. Not because she has spent time with me but because our lives have parallel lines. We have experienced so many of the same moments in life.
Kerry like me is a multiple mummy. She is in fact THE Multiple Mummy. Hers is the blog I turn to when things are tricky with the twins.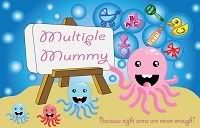 She directed me to Home Start when I needed an extra pair of hands. She knows all too well that there are never enough arms as a mummy of three very young children.
This post about having three children under three being hard but also great is one I return to time and time again when things are tough.
Now when I am feeling frustrated or the children are getting me down, I stop and think of fellow multiple mummy Kerry and it puts the world into perspective.
I am at home with my babies. How wonderfully lucky am I?
It is the wish of every mother, to be strong for her children and to hold them in her arms.
I hope that wish comes true for you soon, Kerry.
I am sending prayers and healing wishes for you this night.
Be strong. Fight on. The world wants you back!
I have eaten a Whole Nut in your honour.
Liska at New Mum Online has asked that bloggers hand over their blogs tonight to enable thought of Kerry, aka Multiple Mummy, ripple through the cyber waves.
She asks that we all say a coordinated prayer for Multiple Mummy tonight at 10 p.m.
This is my prayer, my wishes for healing for a beautiful lady and I hope a future friend.
God Bless You, Kerry x