I have not been looking forward to writing this review. I stalled and stalled because I thought I was going to be disappointed by the Little Tikes Trike. I was wondering how I could review it honestly without comparing it to the wonderful Smart Trikes that we have already tested, reviewed, owned and adored.
I should not have worried and I should have tested this product weeks ago when it first arrived because if you have not yet bought a main Christmas present for your little one this year then this should definitely be it.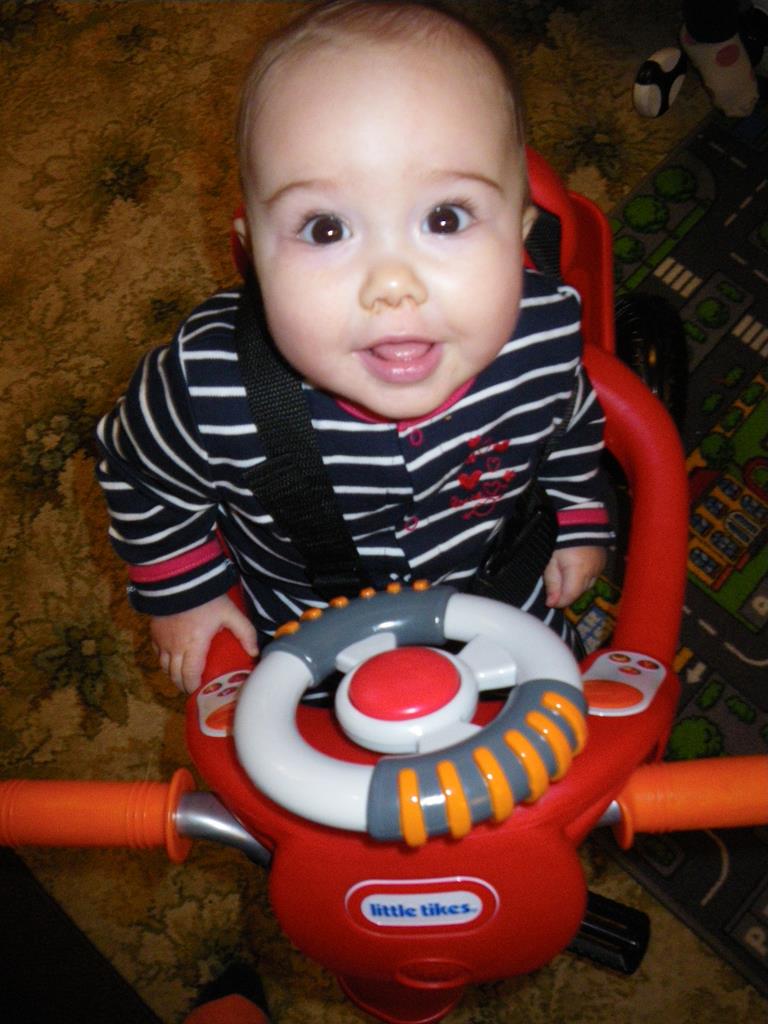 The Little Tikes 3-in-1 Trike is brilliant!
Matilda Mae loves it and loves being on it when we can wrestle it away from the toddler twins, especially Esther who would very much like the trike to be hers!
This is a trike made by Little Tikes to grow with your child. It can be used with Baby as soon as they are able to confidently sit for long periods without any support. For Matilda Mae this time is now. She is 7 months and is a beautiful sitter. She is quite big for her age and she is strong. When we unpacked the trike for her this week she was more than ready to use it.
My husband put the trike together easily and in very little time. He has been very impressed with the Little Tikes trike though cannot help comparing it to the other two we have. He feels that the Little Tikes trike was a little harder to assemble but that overall it is a better trike. The Little Tikes 3-in-1 Trike has more interactive features for the toddler to use and though it feels like it is made of cheaper materials than the Smart Trike it's overall functionality is better.
This a review of the Little Tikes 3-in-1 Trike however and not a direct comparison between the two and so I will only share our honest opinions of the features of the Little Tikes trike. (We still love our Smart Trikes too!!)
The Little Tikes 3-in-1 Trike grows with your child through three stages. Little Tikes calls these stages: Guided, Learning and Independent.
Matilda Mae is at the Guided stage. She sits comfortably on her trike, held in safely with the side bars and also the harness style straps. Matilda Mae grips on to the steering wheel in the centre of the interactive dashboard. She smiles sweetly as she is pushed along oblivous to the fact that one day she will be able to steer and power the trike all by herself.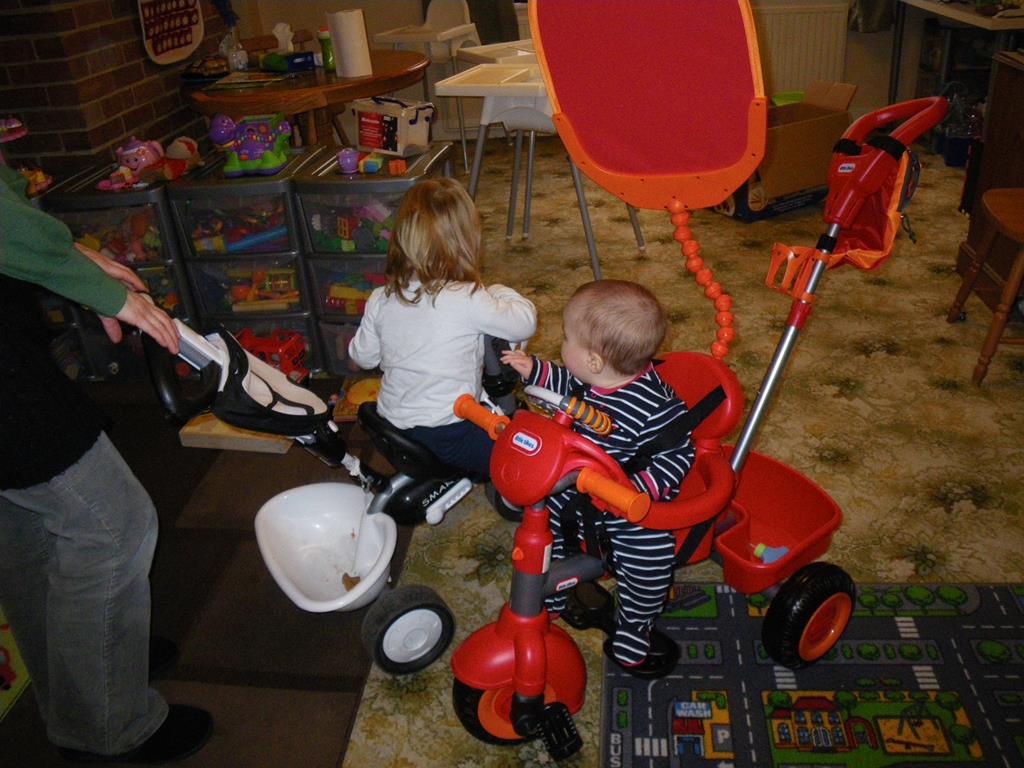 Esther and William are at the Learning stage. Though Esther and William are two and a half in January they are not yet able to pedal a trike as their legs are just not long enough. Esther's feet only just reach the pedals on any trike she tries and William's cannot reach at all. They are however keen to learn all about steering and one great feature of the Little Tikes trike is that they can steer for themselves if you want them too or if you are in a busy or enclosed area then you can lock the steering so that uo point them in the direction you want them to go. This stops any steering battles that believe me do happen as you are walking along pushing a willful young toddler on their trike!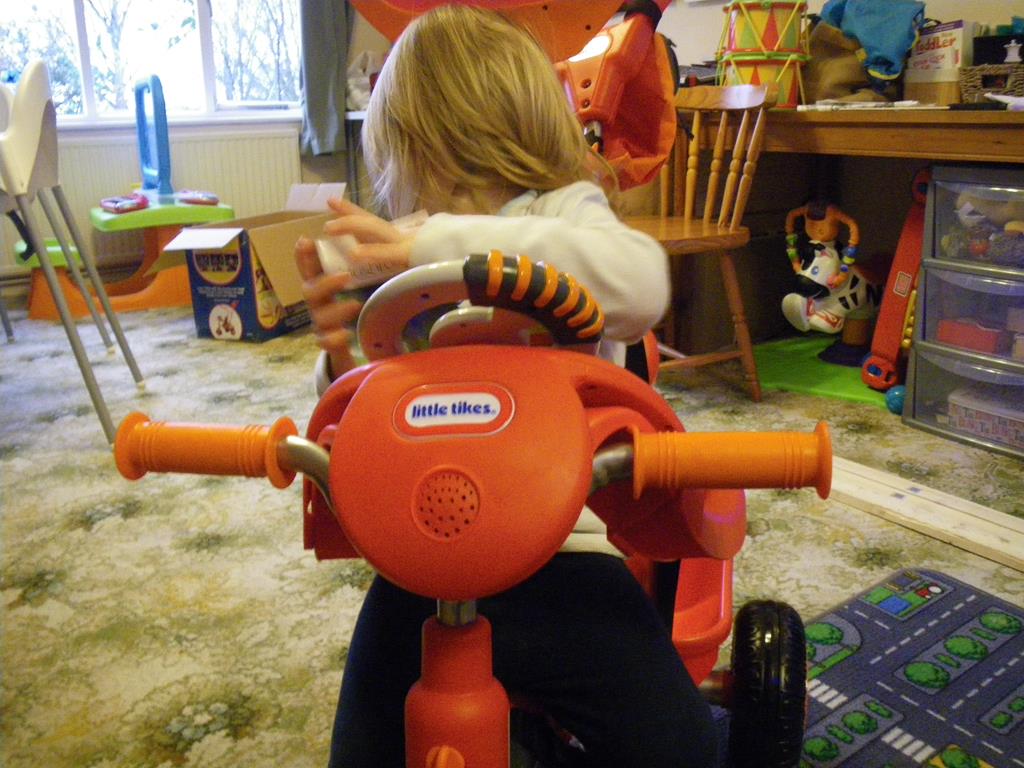 The Little Tikes 3-in-1 Trike has an interactive lights and sounds dashboard to keep toddlers amused or distracted from the steering! There is the steering wheel to try and lots of buttons to press that make engine noises or siren sounds. I am glad that only one of our children has this addition to their tricycle rather than all three. Though if the beeping and revving does get too much during a quiet walk in the park the dashboard can be removed and saved for more appropriate times. It can also be played with independently providing hours of driving fun on or off the road.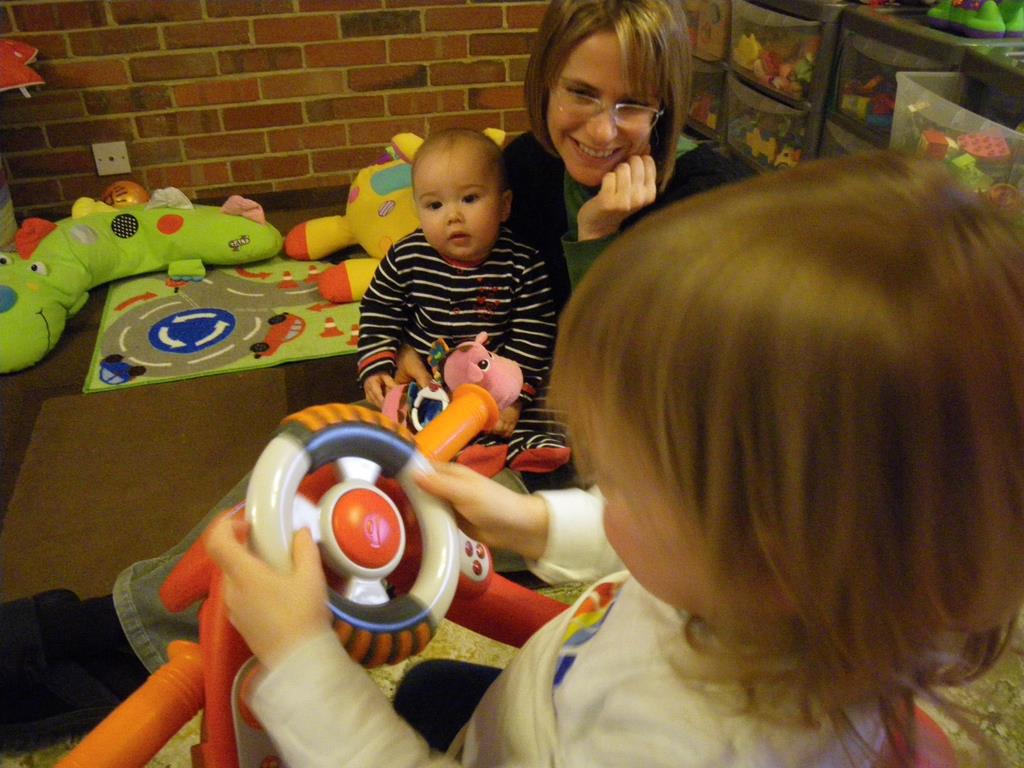 The 3-in-1 trike has a large storage basket on the back for toys or sandwiches or books about mushrooms!!!
The trike also has a strong and flexible sun shade to protect little heads from harmful rays. This is on a very funky bendy arm which Esther and William are enjoying exploring.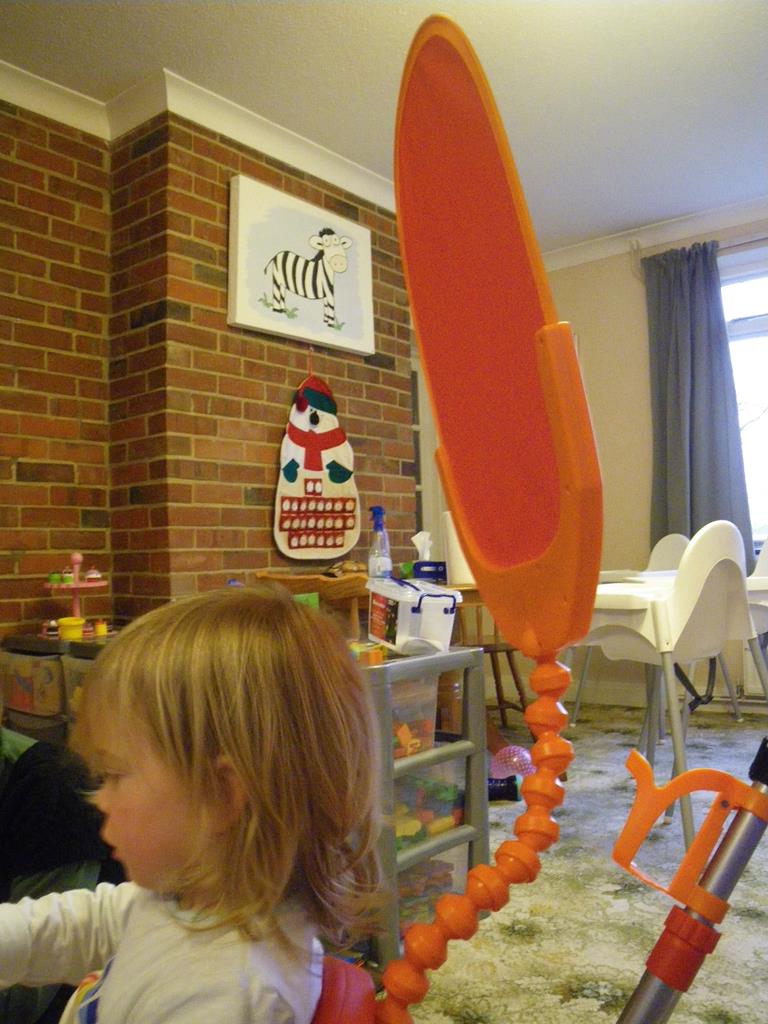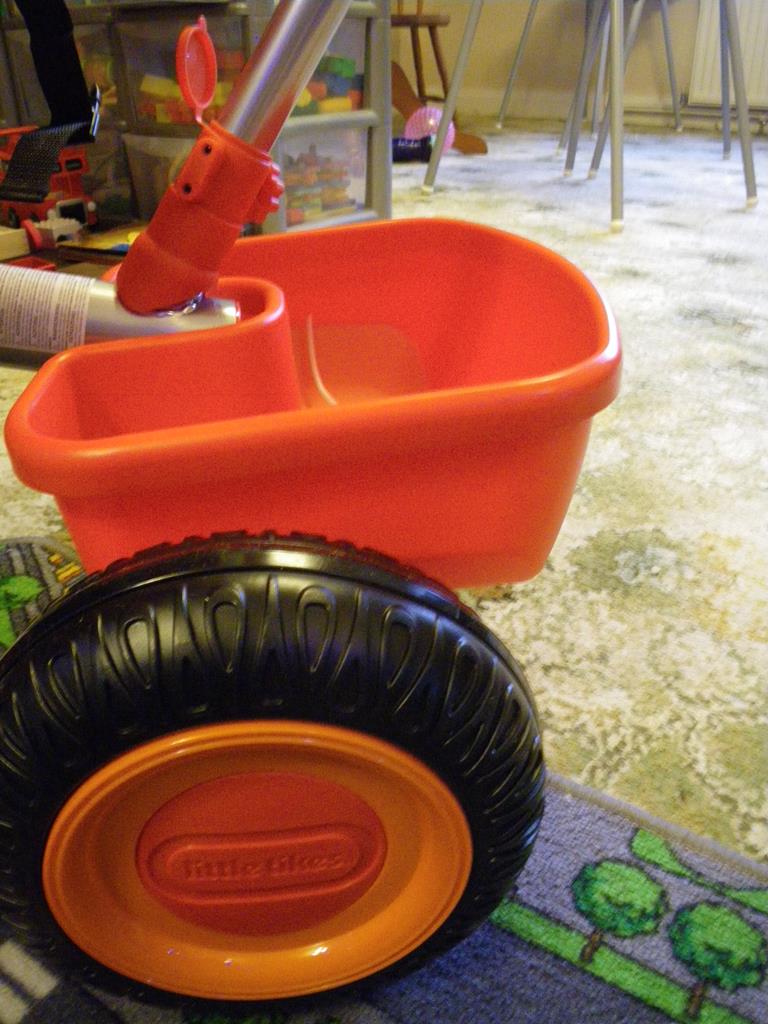 For the Guided and Learning stages where the trike is being pushed by an adult there are deep and wide foot holds for tiny feet to protect them and shiny shoes from pedals and the floor. They have a fun animal footprint on them. A fun added extra that I like.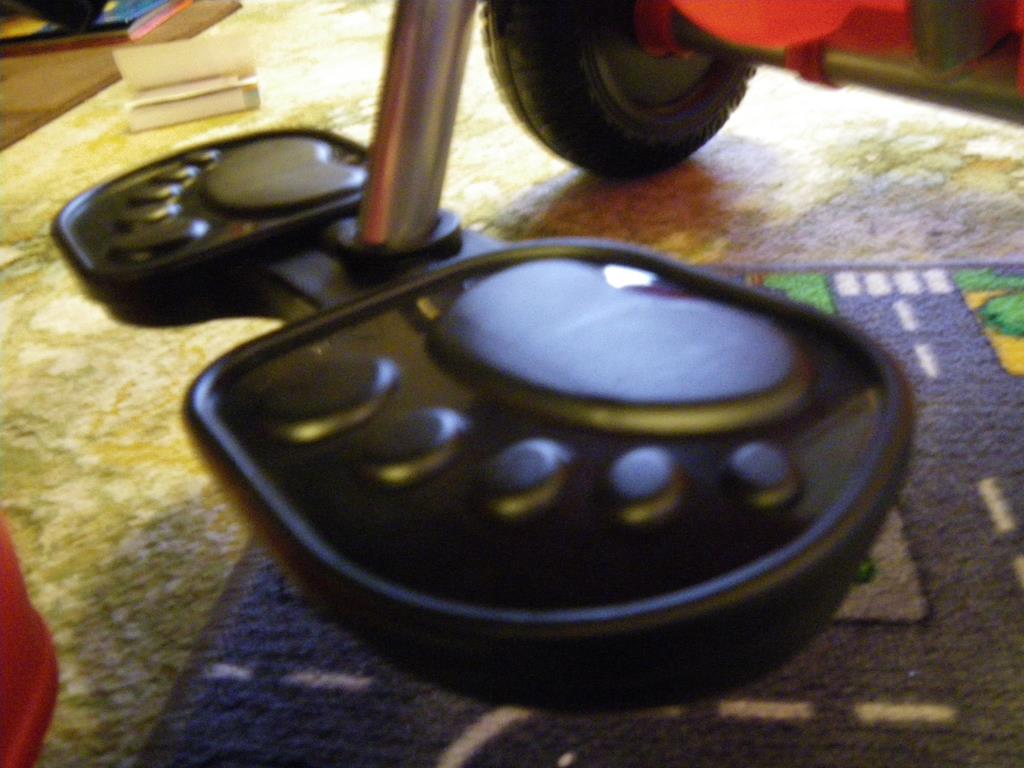 The pushing handle can easily be detached when your child is ready to try some triking independently but when it is in use it has a good sized bag for snacks, wallets, keys and so on. It also has a drinks holder for a toddler drink or even a small hot chocolate!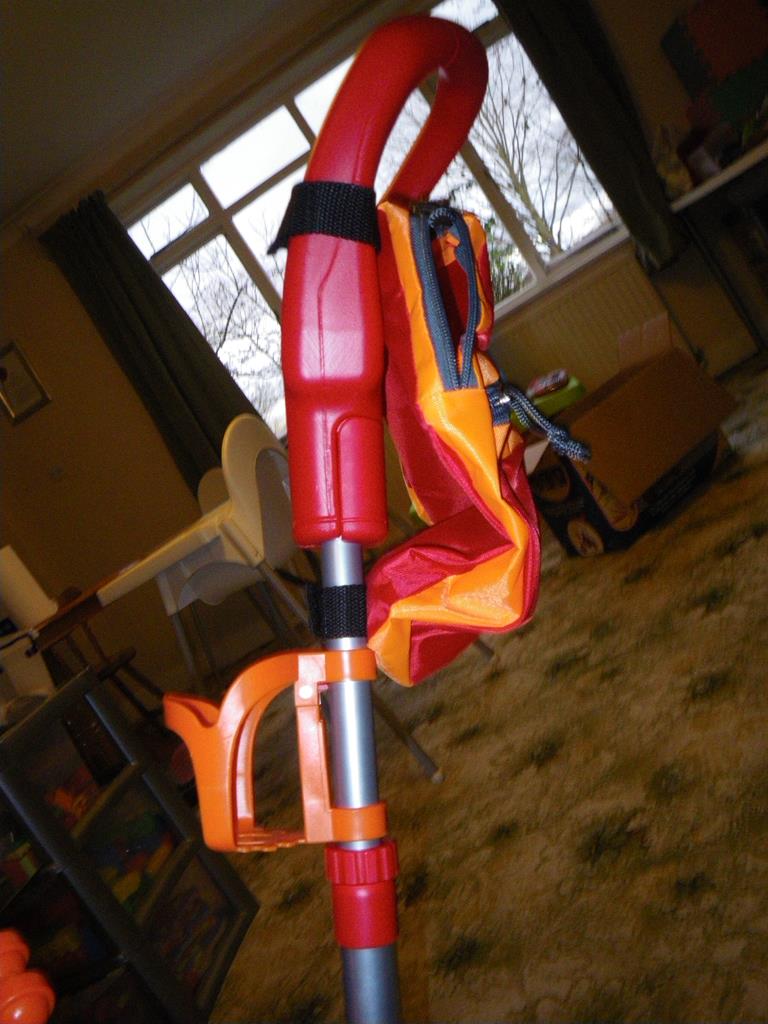 This is a fun and funky ride for any toddler. Esther, William and now Matilda are all triking fans. I think because they are more open to their surroundings and so it allows them to see more and to interact with people and things around them.
I am looking forward to taking Matilda out and about on hers while the twins are at preschool. It is nice alternative from a buggy or being worn. It is a nice way to get out for some fresh country air.
My children also just enjoy being pushed around the playroom or sitting in their trike for a snack or to watch TV.
The Little Tikes 3-in-1 Trike retails for around £90. This is what they say about it (in case there is anything I have missed!)
This trike has three stages to grow with your child:
– Stage 1: Guided
– Stage 2: Learning
– Stage 3: Independent
• Removable shade canopy adjusts to any angle
• Durable, quiet-ride tyres
• Real working steering wheel
• Dashboard can easily be removed and played with separately
•Dashboard features fun lights and sounds
• Sounds include engine start, engine revving, police and fire sirens
• Turn signal with LED lights
• Convenient beverage holder
• Extra large rear storage bucket with dumping feature
• Zippered handypack with two pockets
This is a ride fit for any young toddler from sitting to needing a bike. It is safe and sturdy, it is funky and bright, it is practical, durable and long lasting. It encourages imaginative play and physical development. I think this is a buy that is great value for money and I am sure would make a welcome gift this Christmas or birthday if you have a little one longing to move.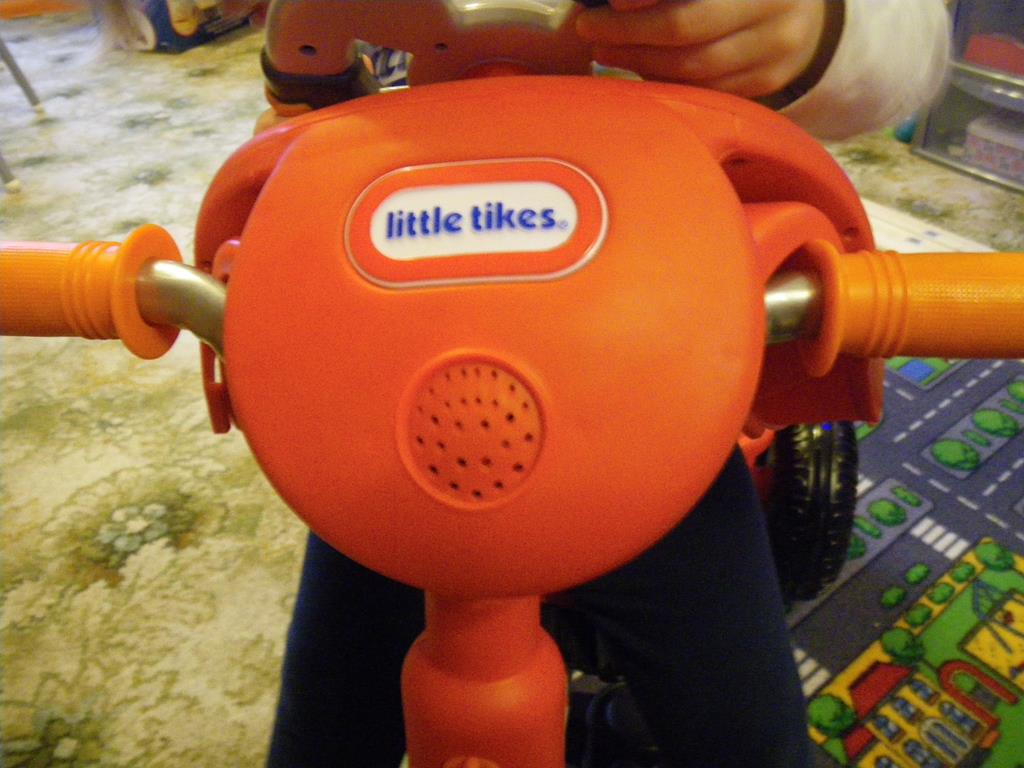 The Little Tikes 3-in-1 Trike is available in a range of colours and can be bought through various stockists online.
Matilda Mae is going to look very much the part this festive season with her bright red trike and her Chilli Red Graco Evo. What a lucky baby girl on her very first magical Christmas.
We were sent one Little Tikes 3-in-1 Trike, free of charge, for the purpose of this review.