For The Stour Centre
Thank you for an absolutely shocking inconvenience and massive waste of time!
I am a mummy of three young children. My twins are two and a half years old and their little sister is just 8 months.
As a busy mummy of toddlers I am always looking for ways to get them out of the house and to keep them active.
One thing that the twins, like most toddlers, like to do is bounce and because of this I thought that a trampolining course might be the perfect thing for them.
I asked them if they would like to try trampolining and they both said that yes they would.
As a mummy of twins I am used to being told that we cannot partake in some classes and activities for health and safety reasons. Because of this I am careful in activities I plan. With this in mind I phoned The Stour Centre to talk to them about booking the course. The Centre had to ring me back and I had a lovely chat with a lady who said that yes I could bring twins to trampolining as the course is run by a lady who bounces with the children. I have to be there and sit and watch. I expressed concerns about this as I was not sure how my 2.5 year old children would react to doing something without mummy. She said that the instructor was very good with and used to young children and she would support them and encourage them. She said that I could come along that Tuesday to see what I thought. She said that I would have to register the children to the Stour Centre and then I could sign them up to the course after I had attended this initial session assuming the children were happy and confident enough to take part, and I was happy that the class was appropriate for them.
Having made this phone call I was feeling happy that we would have a lovely afternoon watching other children bounce and perhaps Esther and William having a first go for themselves. I wanted to make it sound exciting for them and so I began talking to them lots about trampolining and bouncing and jumping. I talked to them about the special lady who was going to teach them how to bounce properly on a giant trampoline. Esther and William began to get very excited.
On the day of the class we drove to Ashford. We arrived at The Stour Centre and went into the reception. I explained that we were here for trampolining and as I had been told was asked to register the children to the leisure centre. I completed one form for each child. Esther and William wondered why we were waiting and so I explained that the lady was typing their information into the computer so that we could be allowed into the trampolining club. She kept us waiting for quite some time. Other customers kept coming to the desk and she would serve them all the while not transferring our details to the computer. Esther and William begun to get restless. Other children started arriving for trampolining. Esther and William were commenting on the other children and how they would be jumping with them.
The lady behind the reception desk suddenly looked up at me and said, £85.50. I was totally shocked. What?
I said, I thought it was £3.80 a session. She says yes it is but you have to sign up for a whole term through to March. I said, but what if they don't like it? She said that would be tough. She did not use the word tough but that is what she meant. You had to sign up for the whole term without having ever met the instructor, seen the sports hall, the trampoline or what happened in the class. I explained to the lady about my telephone call with someone at the centre who had reassured me and said we could come along and try the class before committing. She said that the centre does not offer taster sessions.
Not even for toddlers?
I was furious by this point. We had been kept waiting for ages after filling in our forms and then expected to pay up front for a term of classes that we had just come to find out about.
There was no offer to find out who I had spoken to and no real apology. I had two children in the buggy, I was wearing the baby and I had enough bags to convince passers by that I was moving into the centre not only attending an hour long class.
I then had to explain to my children that we were not allowed to go into the trampolining class that I had promised them. They would not be bouncing with the special lady on the giant trampoline. In fact they were going to have to go back into the car for another long journey to go home having done nothing at all. I was furious and my children were heartbroken with disappointment.
The whole affair has left a very 'Stour' taste in my mouth.
Not offering a taster session for toddlers is craziness. Especially when the classes are advertised on their own website as £3.80 per session for non members. Implying you can come without being registered and that you can pay per session!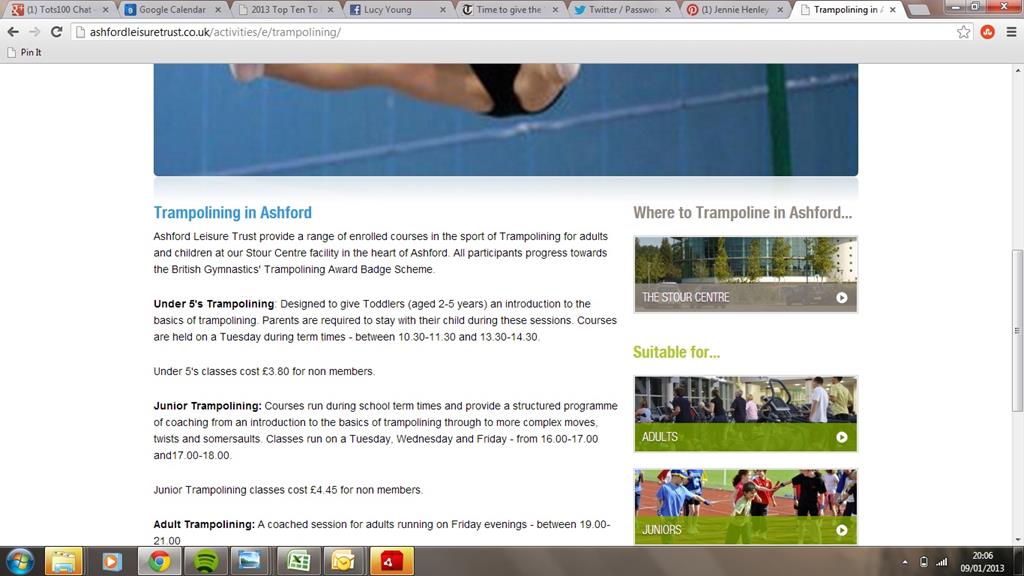 I would have been more than happy to pay £85 a term for the trampolining course just as soon as we had trialled it and been sure that both Esther and William were going to enjoy it.
If an establishment is going to offer services for toddlers then it needs to understand toddlers and mothers of toddlers. We like to be sure of our children's safety, health and happiness. We like to see what we are signing our children up to before we commit to any length of time.
I think what happened to us on Tuesday was outrageous and I have not expressed very well here how angry I felt and how upset my children were.
Now we will be looking elsewhere for our trampolining training and the loss is the Stour Centre's, not ours.