Yesterday I decided to reuse our messy play materials from the week in a new way.
It was my intention to throw them away afterwards as I have no suitable containers to store them in.
Thank goodness that was my intention.
Though the different materials started out in separate containers they, of course, did not stay that way.
And secretly, I had been hoping that they wouldn't.
So I was quite please and not at all surprised to see William doing this!
I used our Tuff Spot to create an island. Using different materials and ingredients to create different habitats to explore and textures to feel.
I had two plastic flower shaped trays that I filled with plastic minibeasts and covered with moon sand. Esther and William had plastic spoons, cups and colanders to search through the sand for the hidden creatures. They also had magnifiying glasses to examine their finds.
I used some shredded card from our Big Jigs Play Patrol delivery to create another habitat where I hid a few creatures for Esther and William to find.
I reused the oats and pasta from last week to create the main land of the island nestled into this were the moon sand beaches and two pools of glittery water filled with fish and sea creatures.
To go with the water there were some fishing nets but Esther and William were not really interested in any of the accessories they just wanted to get on, get in and explore with their hands and feet.
So they did!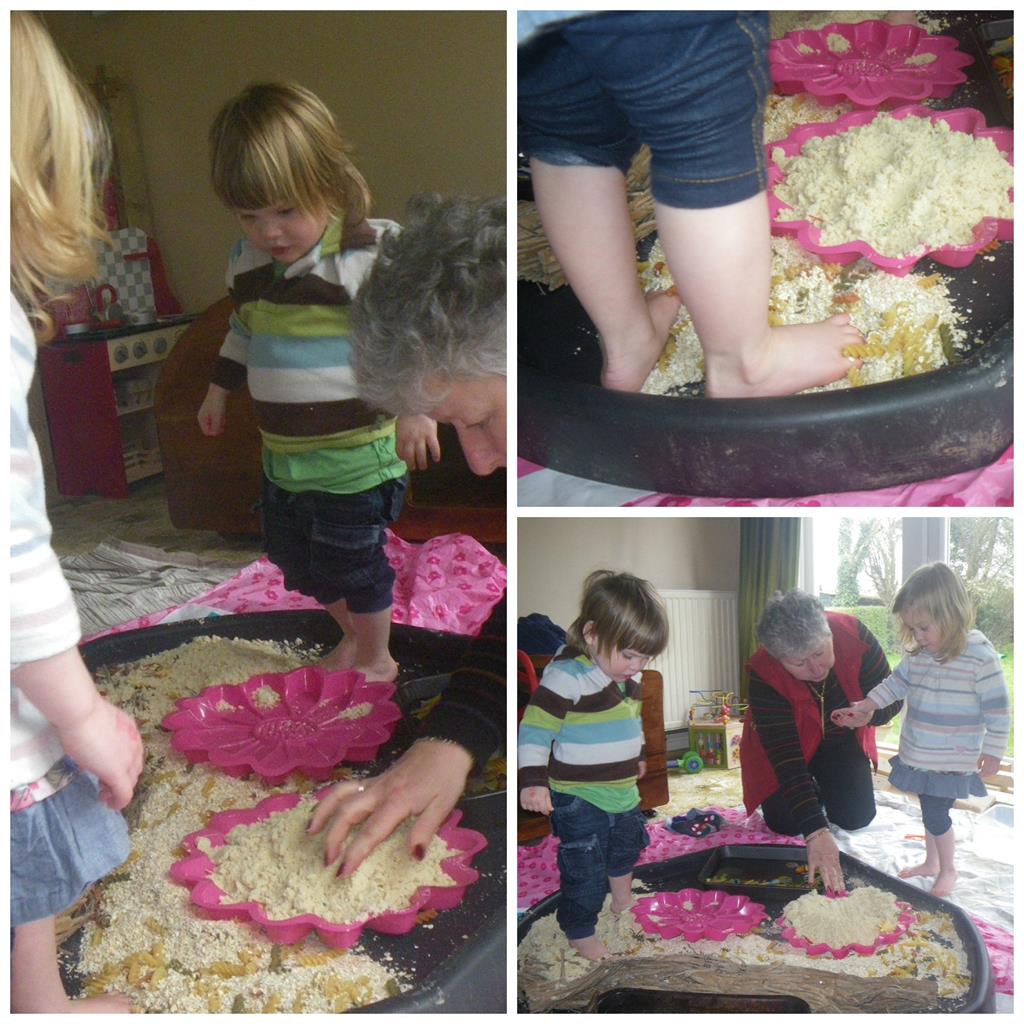 William tipped his moon sand onto the oats and pasta straight away and was keen to get his toes buried in the mix. He liked the fluffy feel of the sand between his toes.
They were both intrigued by the gooey stickiness of mixing the other materials with water.
Their hands and feet became caked as they played.
They talked about mixing the materials and making yucky, cloudy water.
They loved swishing and swirling their hands in the water.
They loved sprinkling the oats and the sand onto the surface of the water and then plunging their hands into the warm murky depths.
They had fun, feeling and talking, sensing and speaking, sometimes squealing with delight.
This was messy, sensory play at its best and full of surprises as they discovered a spider or a seahorse in their play.
Esther and William love playing with water. Today they could reach into the water and pull out a plastic fish or other animal. They could see the effects of glitter in their water and how the consistency of the water changed with the different ingredients they added to it. We also poured some water into the mix on the Tuff Spot and created icky sticky goo. It was great fun.
I love listening to Esther and William talk as they play with our different messy and sensory set ups. They are learning so much. Today they were really thinking about how things change. When the water mixed with the sand it became cloudy or yucky, when the shredded card got wet it became sticky and soggy. The water made the oats sticky. The pasta was hard but the sand was soft. The water was warm but became colder the longer we played.
Esther and William also act out stories through their play, mostly to do with Thomas and the trains.
It was not long at all during this messy mash up before the asked for their engines to be added to the mix.
Today the engines were splashing in the water and were stranded in the sea like Victor in Blue Mountain Quarry. We talked about how, like Victor, if they stayed in the water too long they might need a new coat of paint.
Both Esther and William enjoyed lining up their engines in the water and pretending they had fallen into the sea. They acted out rescue scenarios with Thomas, and sometimes Emily, as the hero.
As the ingredients continued to mix together Esther and William started to explore them again and really feel the mix with their hands and their feet. By the time play was drawing to a close they were caked and covered in our messy mash.
They loved splashing their feet in the water and washing off the mix then burying their feet to get covered again.
This was a great messy activity that Esther and William really enjoyed.
As play partners Esther and William are really starting to find their feet!
We love messy play in our house and are doing more and more of it all the time. This quote explains why we feel this type of play is so important.
Children are active learners. They learn through play. Play allows them to make sense of the world around them. Through play, children learn to make choices, solve problems, and make plans. Learning processes grow and concepts develop. Play makes learning exciting and interesting. It ensures that children remember what they learn. Messy play is particularly attractive because it stimulates many of children's senses at once and because of the variety of materials available.

Messy play offers an outstanding opportunity for children to grow and learn. Young children of all ages can enjoy and benefit from messy play. Infants and toddlers may simply explore the materials and enjoy textures and smells. As preschoolers grow, they will begin to ask questions and experiment with the materials to find answers. Each child will benefit in his own way. Messy play helps children to develop concepts. These concepts are the basis for later learning. As children roll and mold play dough, they learn about cause and effect—what happens when they squish it or roll it in their hands. They may practice counting, sorting, and grouping with the things they make with the dough.

As they fill and empty containers and choose objects to use in the water table, they experiment with math and science concepts, like more and less, full and empty, float and sink. As they pour sand from cups, build sand castles, and add water to sand, they learn about physical concepts like the pull of gravity and the behavior of liquids and solids. Messy play activities support problem solving and prediction. As children talk with each other and with adults while they participate in messy play, their language skills and vocabulary grow. In addition, messy play helps children develop large and small motor skills and eye-hand coordination as they dig in sand, pound and squish dough and clay and paint with brushes and fingers. Messy play also lets children express their feelings. As children squeeze and pound clay, they release tensions and relieve stress.
Quote from http://center.serve.org/ss/toddlersmessy.php
We love messy play because of all of this and because it is so much fun.
What will your Tuff Spot become today?