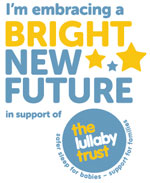 If you read this blog you will know that we talk all the time about Baby Tilda up in the sky, playing with the stars, chasing the moon, bouncing on the clouds and sliding on rainbows.
We blow bubbles up to the sky most days as our Baby Tilda loves bubbles and we believe they carry love, wishes and kisses up to our Baby Girl.
The music at Tilda's funeral had a definite starry theme.
She is our shining star.
We love and miss her every day.
We remember her in all that we do.
In the weeks and months since we found Baby Tilda sleeping we have been working closely with FSID who today have changed their name to The Lullaby Trust.
The Trust work with families like ours who are dealing with the loss of a baby and they also raise awareness of SIDS.
They have changed their name in the hope that it will encourage more families to approach them and access the services and information that they provide.
We have chosen our new identity to help us raise our voice, to ensure that sudden infant death is not ignored or considered to be an issue of the past.

Across the country, over 600 apparently healthy babies continue to die suddenly and unexpectedly every year. This is unacceptable and we want to do all we can to prevent these deaths.
We believe that our new identity will help us to reach even more parents with our expert advice on safer sleep for babies. Through greater engagement with families and also with policy makers we hope to achieve our ambition to halve the number of babies dying by 2020.
Together with Susanne aka Ghostwriter Mummy I have launched this lullaby linky to celebrate the relaunch of their charity and promote their wonderful new name.
Once again the power of the blogging community is coming to the fore, as in memory of my beautiful daughter, cruelly taken from us by SIDS, parenting bloggers across the UK and the world come together to make a difference.
These past weeks and months I have been so proud of my blog, the blogging community and the bloggers I am absolutely honoured to call my friends.
Today we come together as one to tell you about The Lullaby Trust in memory of a beautiful baby girl taken from her family, our family, far too soon.
My theme for today is messy lullabies and, of course, stars.
For our messy lullaby play we have chosen the one that Tilda loved best and the one that most reminds us of her.
Twinkle Twinkle Little Star.
We had the GiggleBellies version of this traditional lullaby playing as we entered the church for Matilda's funeral.
It will always remind me of Baby Tilda and of my husband carrying our daughter's tiny white casket in his arms.
Twinkle Twinkle means so much to us as a family and we sing it all the time.
Esther and William often watch this video as part of their bedtime routine.
They often ask me to sing it as we put them into their cots and turn off the lights.
We often play it as we project stars onto our playroom ceiling and think of Matilda Mae.
Today we had it playing in the background as we embarked on some star themed sensory play.
For today's sensory play, I filled two of our big bowls with clear water beads.
I then added some marbles of different colours and sizes.
I sprinkled silver glitter over the beads and marbles.
I then sprinkled tiny gold stars.
Then I added glow in the dark stars and little glowing 3D planets.
I added some of our painted stones, (Very messy stone painting post coming tomorrow!!)
I added some of our plastic Easter eggs and a few spoons and shallow bowls.
I then set the bowls in the centre of our Tuff Spots and invited Esther and William to come and play.
They did not need to be asked twice.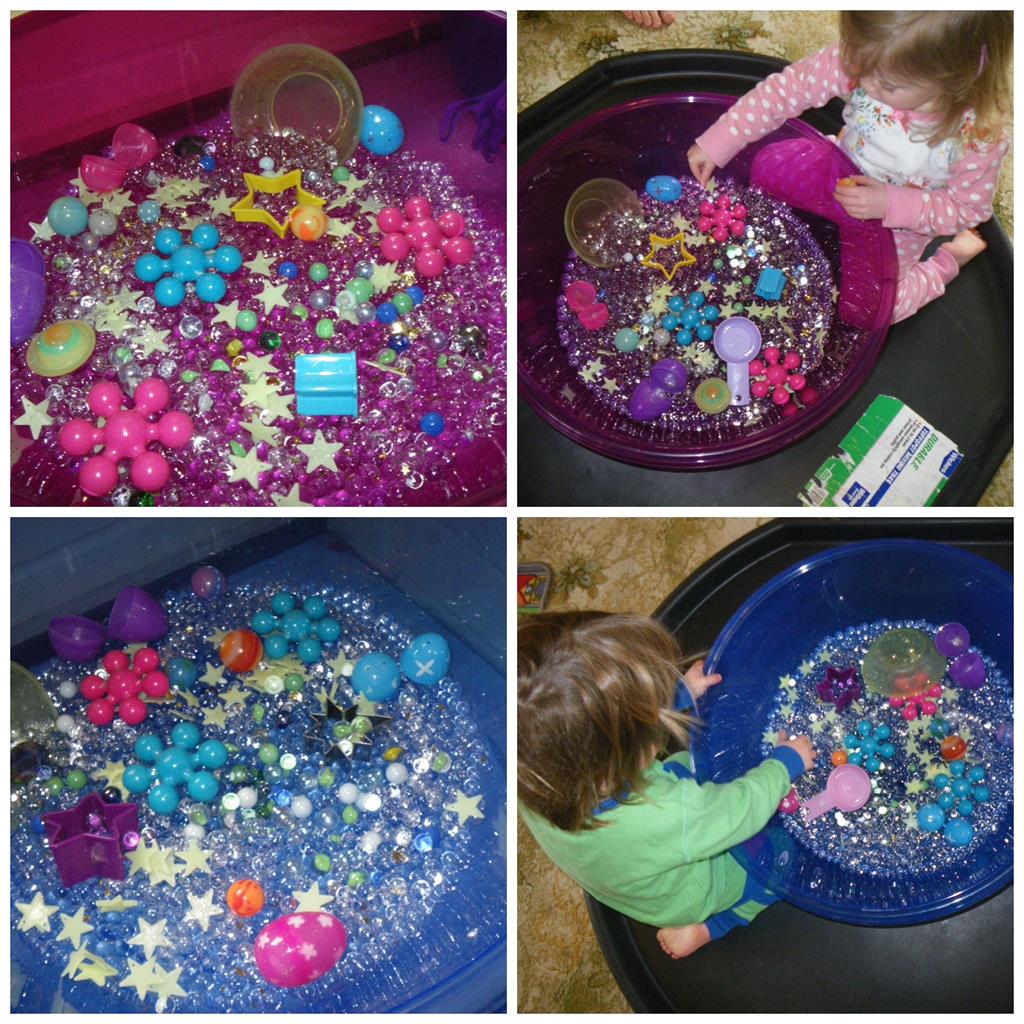 I let them explore the bowls as they were and then after a while I added some space craft and some astronauts to extend their play.
We also lowered the lights and projected stars onto the ceiling to give a new atmosphere to our play.
It was really quite magical.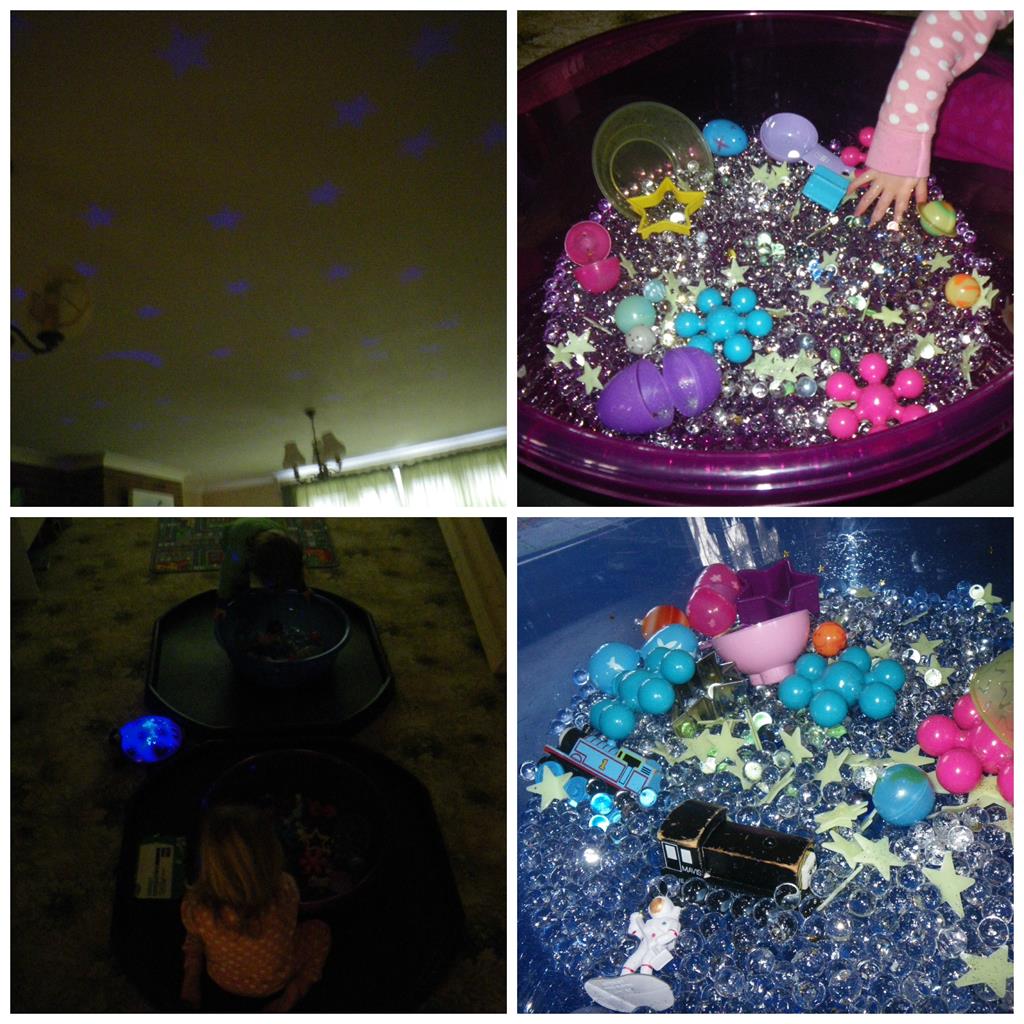 The real awe and wonder though came when we added submersive lights. Some white lights and some that changed colour. Esther and William were mesmerised. They ooohed and aaahed as they watched the effects of the lights in their bowls. The beads glimmered and shimmered and glowed. We put lights inside plastic eggs to make colour changing space eggs. The whole sensory experience was calming and soothing and just beautiful.
When Esther and William could stand it no longer they both stripped off their pyjamas and jumped into their bowls. Seeing how their bodies changed the look of the light and the beads was wonderful again. Watching their faces as they learned from their play was just amazing. We had such a lovely time with our messy lullaby and thinking about Matilda Mae.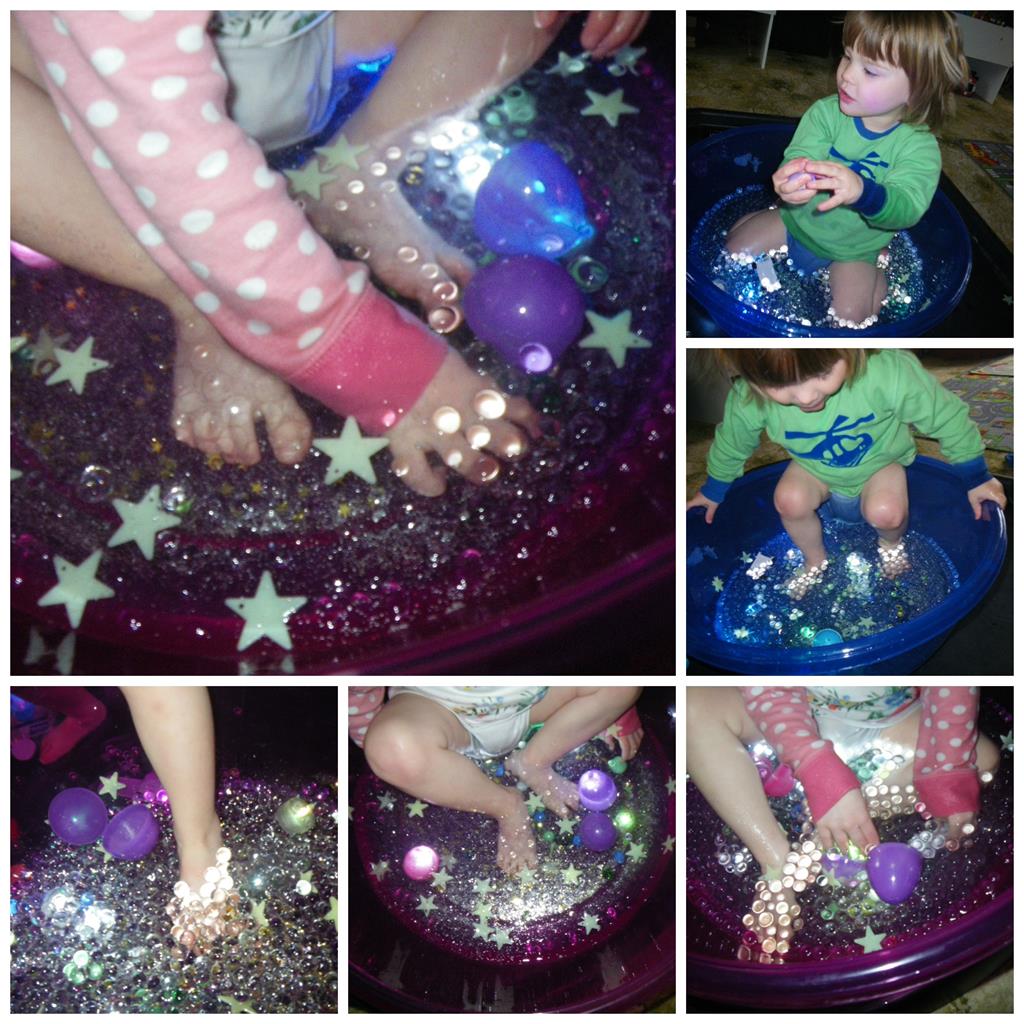 I am going to write much more about our Space Sensory Play for my next Tales from the Tuff Spot post so please watch out for that.
Tonight though here are my two little treasures playing with their Messy Stars and making mummy sing them lullabies.
If you would like to find out more about the work of The Lullaby Trust then please visit their website.
You may be able to help save a baby's life x
If you would like to link up for The Lullaby Trust you can grab the badge code below. Thank you x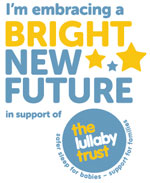 Matilda Mae
The Lullaby Trust