You know that the product you are reviewing is a good one when your family are literally queuing to have a go.
Esther, William and their great aunt and uncle, and their mummy(!) have never had such fun with a funnel!
When I first saw this sand toy from Haba I thought, 'Oh'.
I did not see very much potential for fun but I was absolutely wrong.
This sand toy, sent to us by The Toadstool, is actually quite fabulous.
It is great fun and can be used in a variety of different ways while developing a wide range of skills.
I like it.
I like it a lot.
I am talking about the Haba Sand Spilling Funnel and Sieve.
This is a small funnel with a handle. It has two compartments. One that you fill with sieved dry sand and one that you fill with water. The two materials then mix together as they come out of the funnel.
To fill with water once the funnel is heavy with sand takes concentration and control. Esther is so careful when she loads the funnel and so focused on the job in hand.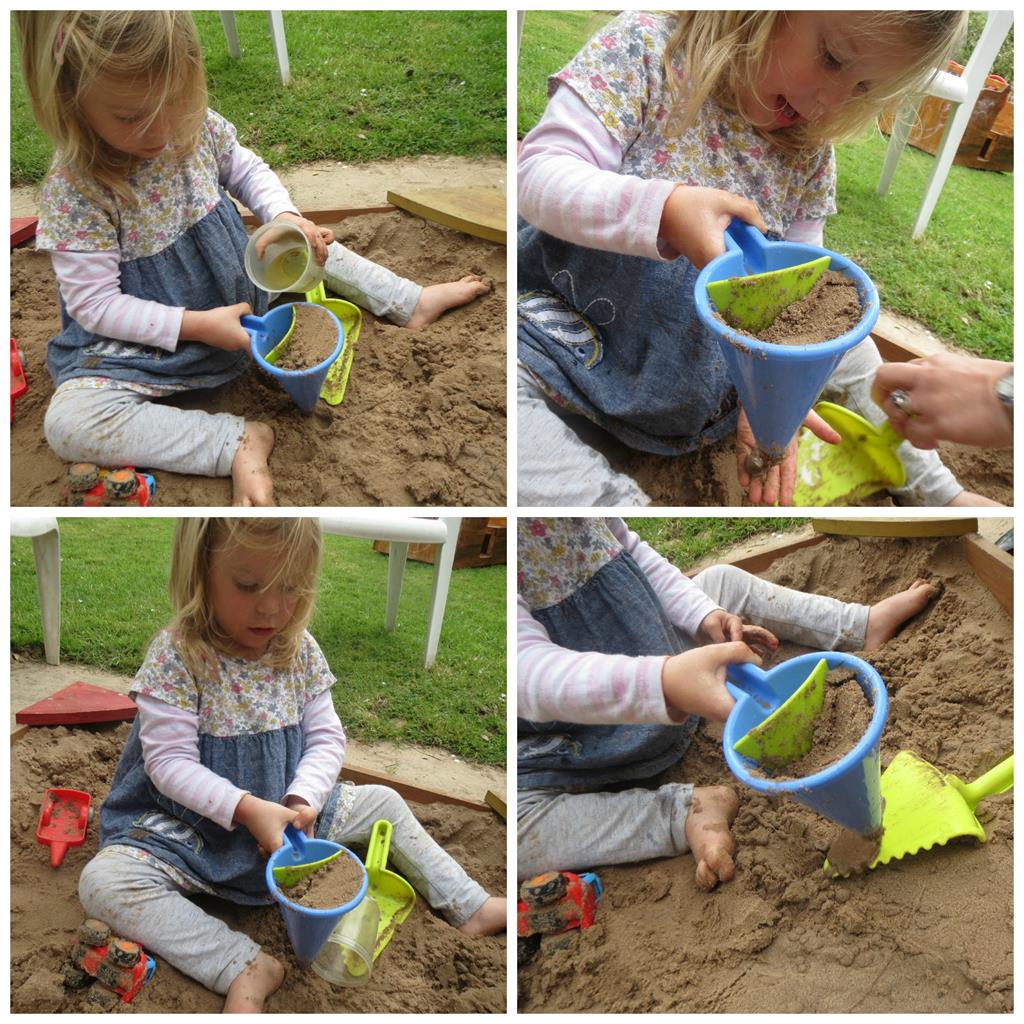 Sadly our sand is very wet and so the funnel is not able to create wonderful structures as shown on The Toadstool's website. And we have not been able to use the sieve.
But neither of these things have stopped us having lots of funnel fun.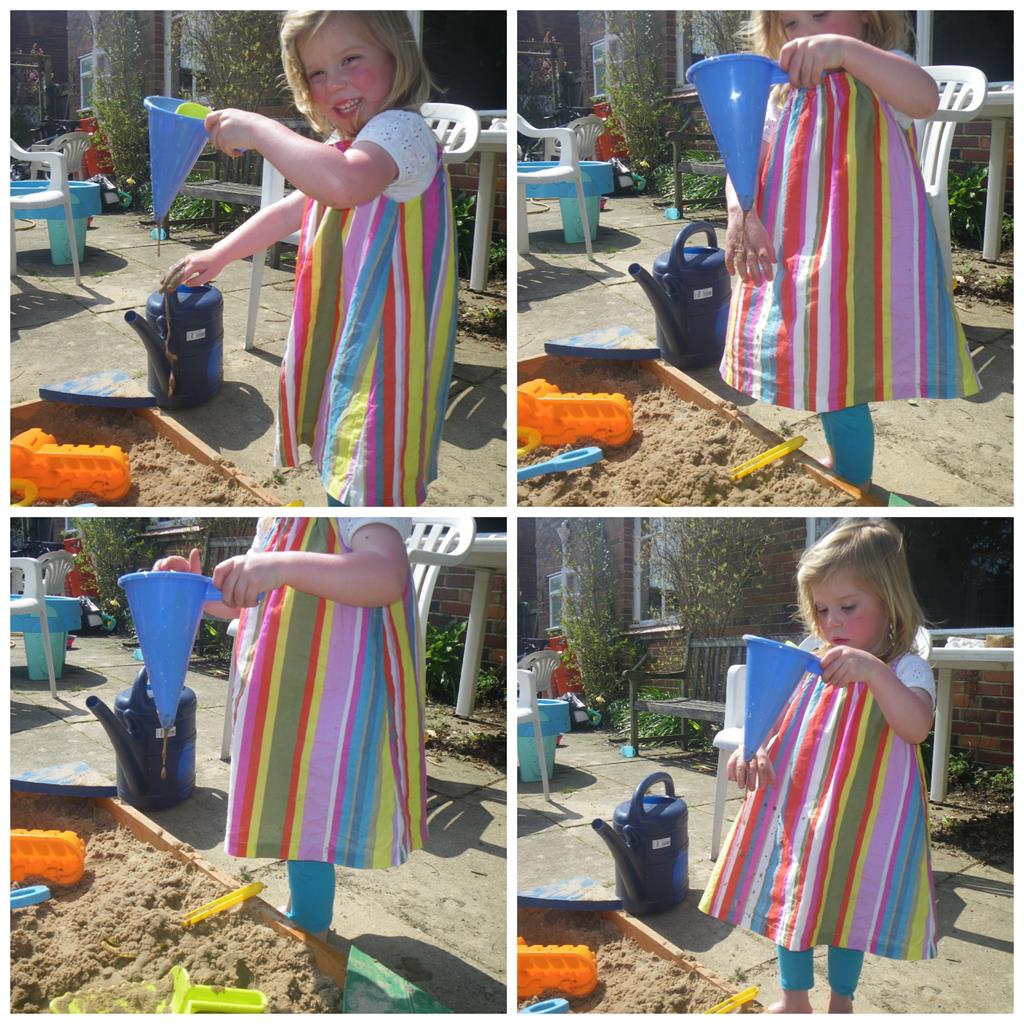 Esther is the person who uses the funnel most and if anyone else has a go she does not do anything else, she sits and watches and waits for the funnel to be passed back to her.
She likes the anticipation I think. Filling the funnel to the brim then waiting. Waiting to see what will come out the other end. A drop, a plop, a drip, a gush? A worm, a snake, a curl, a button? We have made all of these things!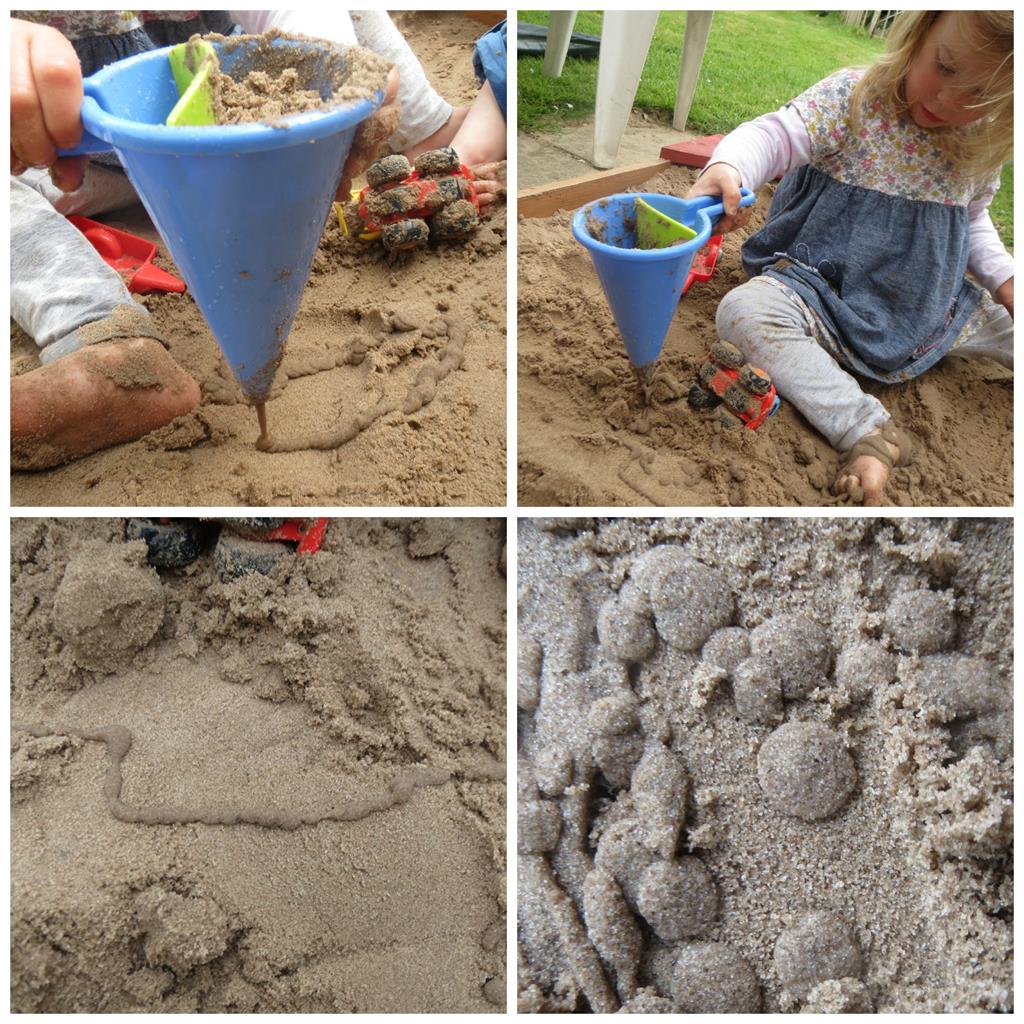 Esther and William like making roads and tracks. They also love trying to pick up the buttons of soggy sand. Perfect little sand circles, like coins to be collected.
This is a great tool for making marks and we have tried making shapes and letters.
This is also a great tool for decorating yourself, and each other!!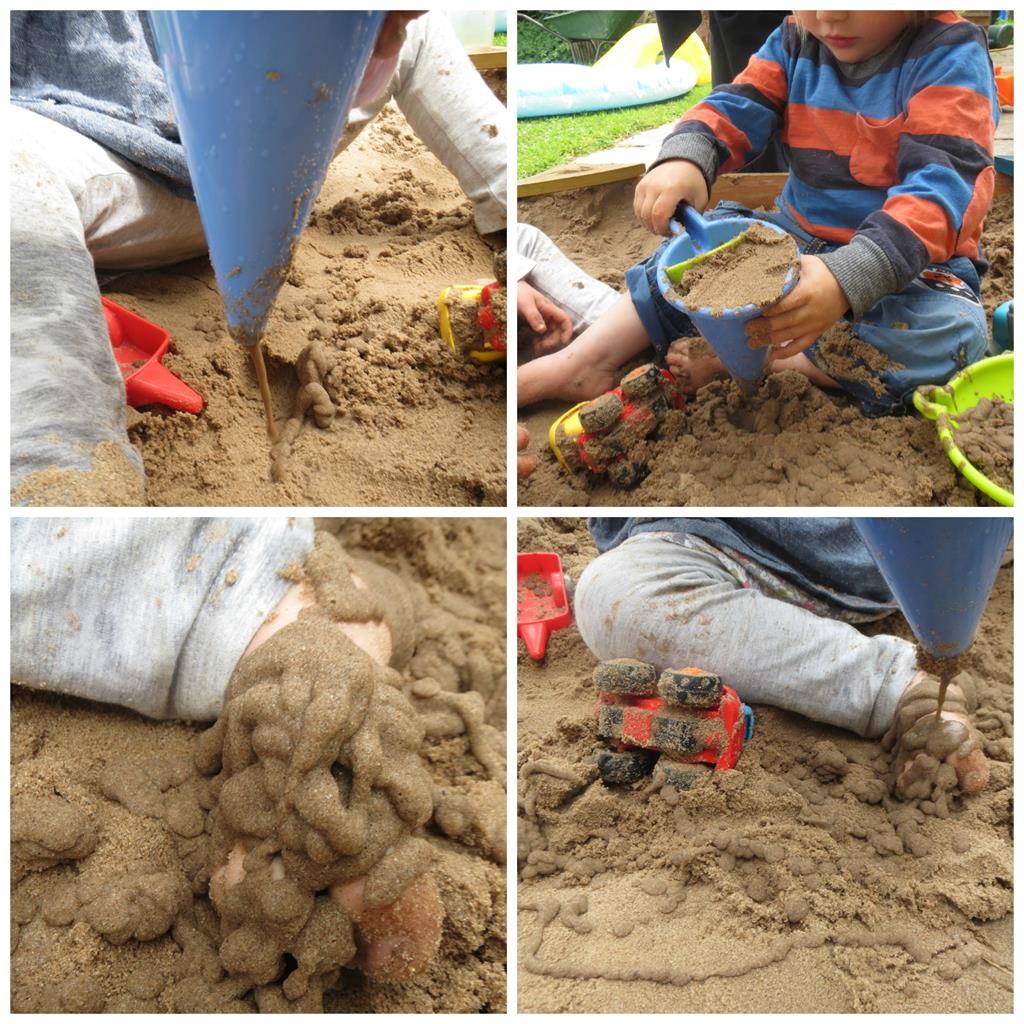 My children are very creative and everything becomes a dramatic scene or a story with them. Anything that can be sat on becomes a train, anything that can be stood on becomes a stage. Every little mark they make can be interpreted as something. A worm, a snake, a snail.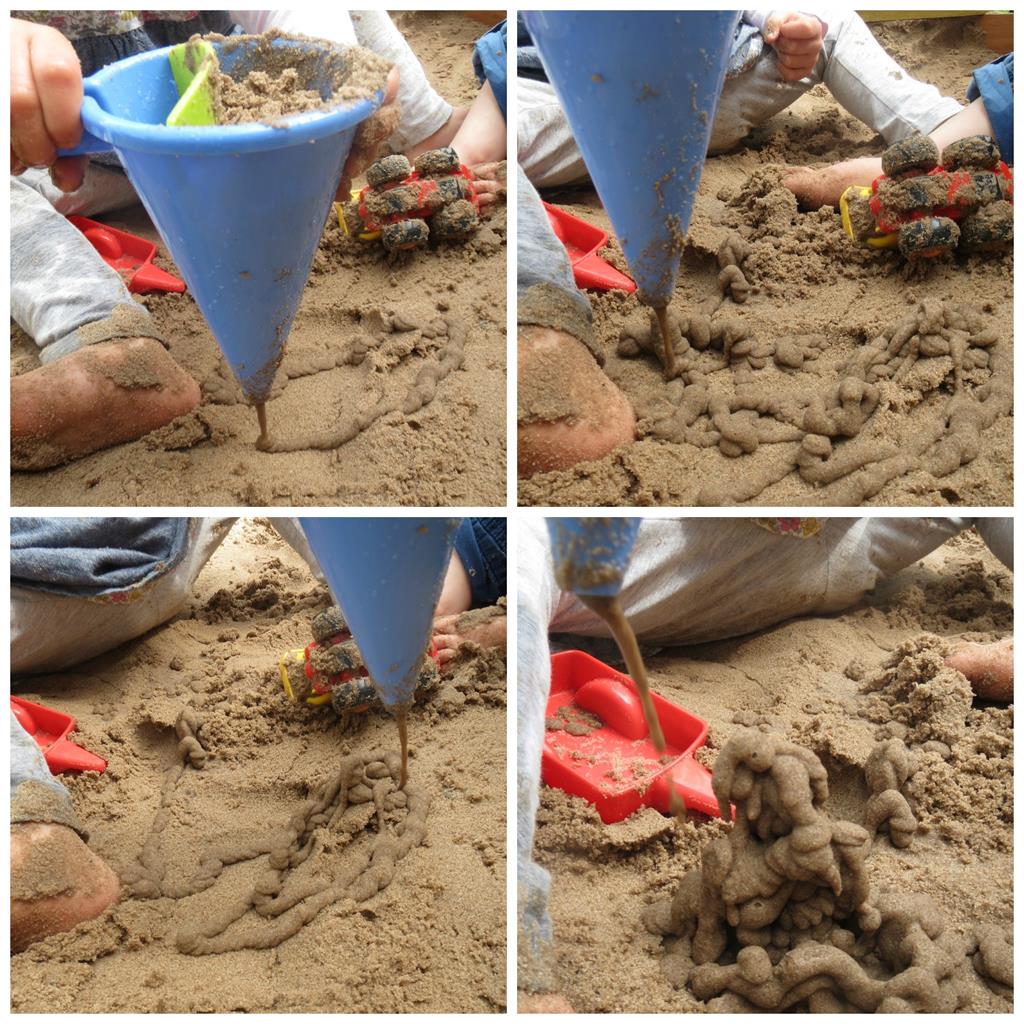 The funnel allows them to make 3D creations and talk and laugh about what they have made. I was quite surprised that there were no poo references but I am sure that they will come.
Because of our wet sand I am sure we have not yet made the best building material with the funnel though not for want of trying. Wednesday afternoon there were five of us clambering to have a go and get the consistency right. Two children and three adults, all wanting to try their hand.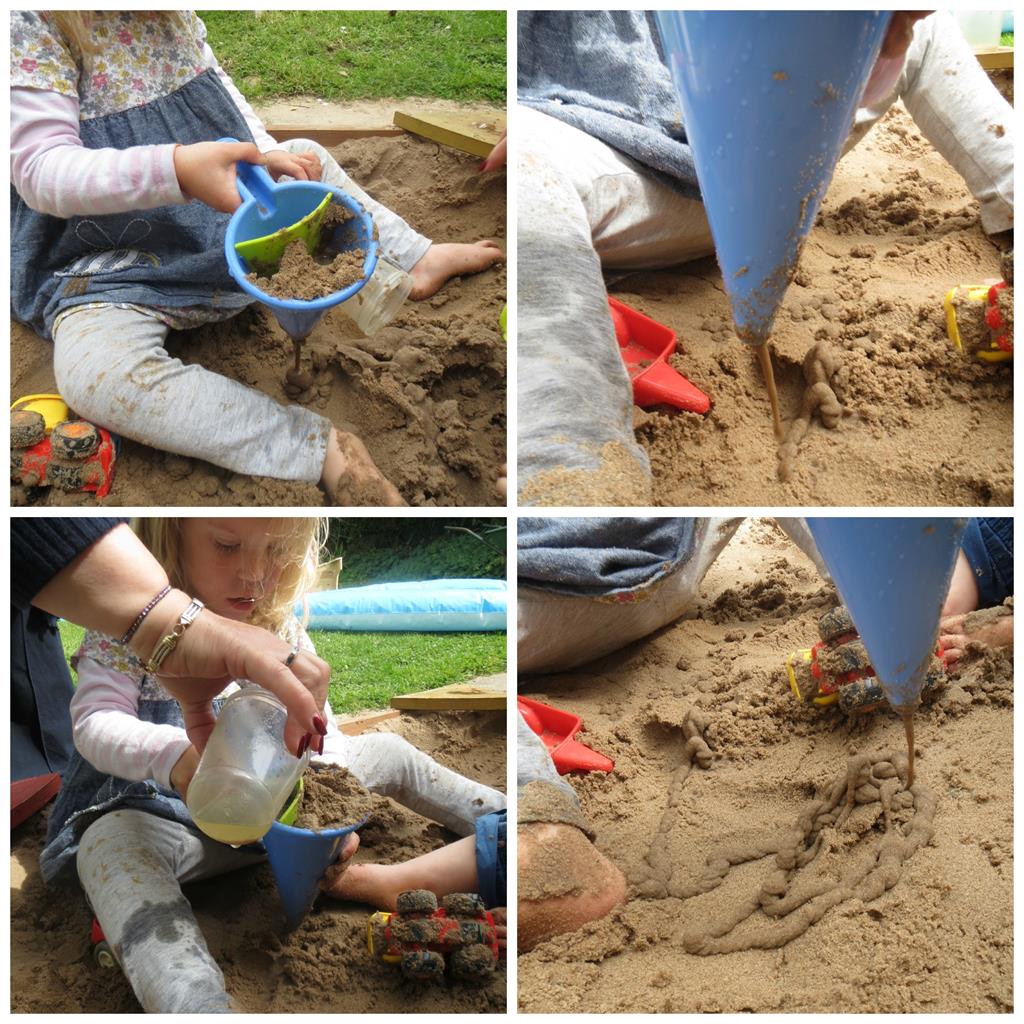 This sand toy is great for teaching cause and effect. It shows that depending how much of each material there is affects what new material is made.
Mostly though it is just good fun and allows children to explore sand and water in a creative way.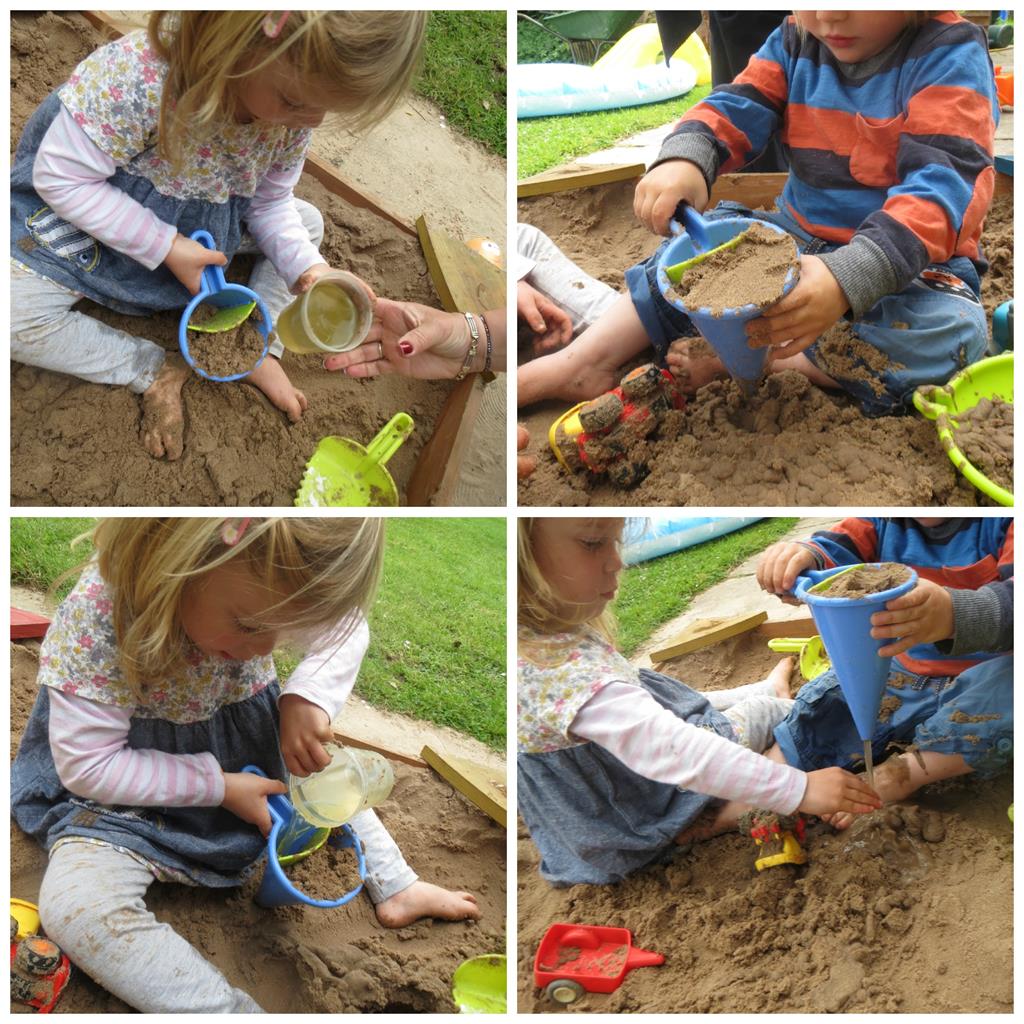 It requires some concentration and skill to handle it well and for a toddler mind this is a great challenge.
The funnel can be used for writing letter in the sand, making shapes.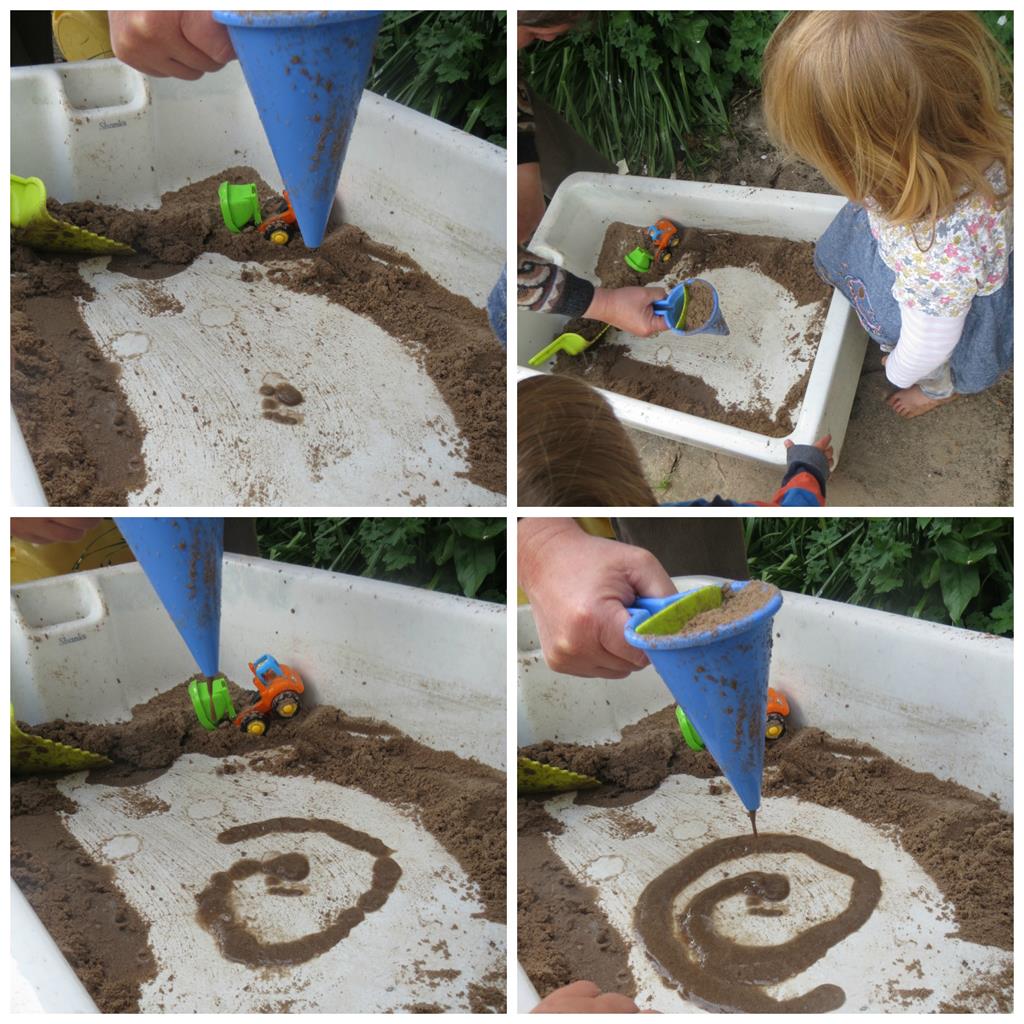 We used the funnel over an old Belfast sink and drew sand patterns on the smooth ceramic surface. Esther and William liked this a lot especially when Uncle Steven drew them a spiral that became a snail. They were desperate to trythis themselves.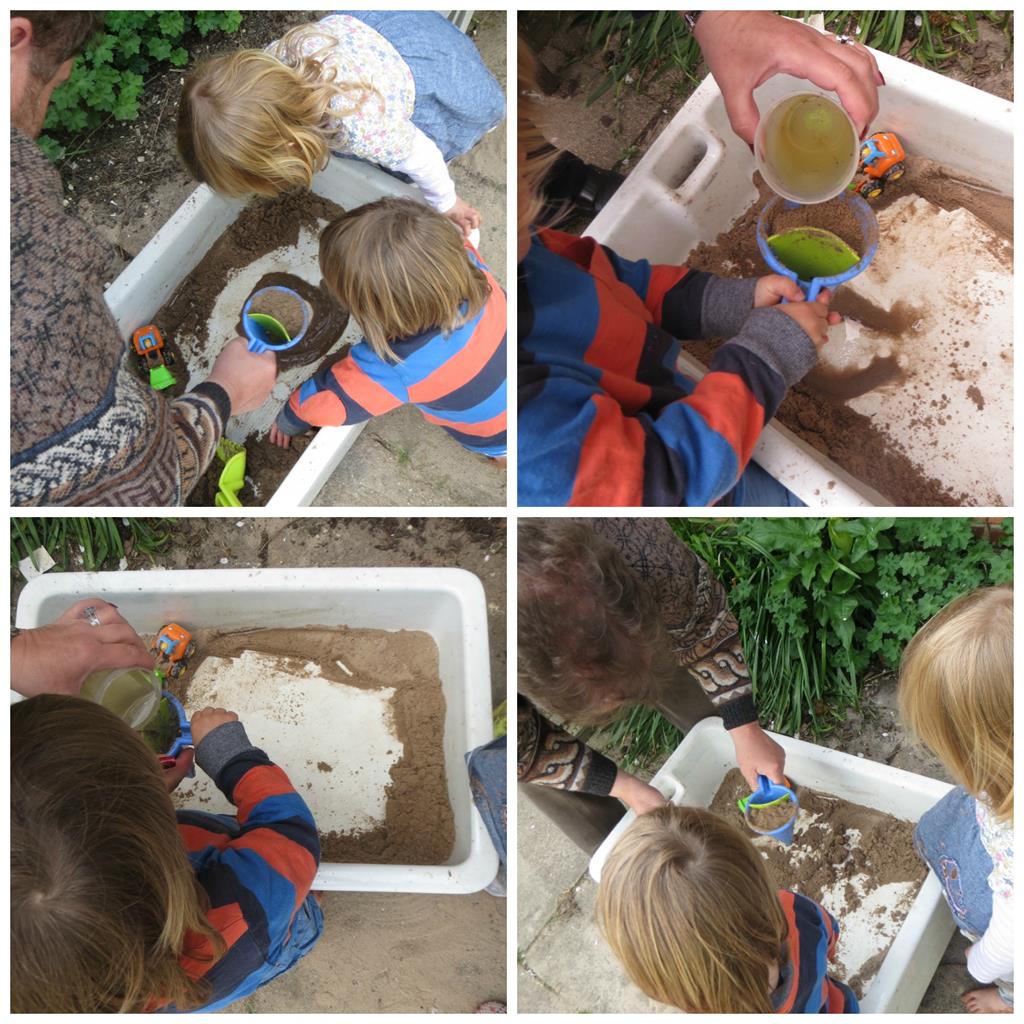 For an added dimension to your sand play this summer the Haba Spilling Funnel is a good buy at £7.40 from The Toadstool.
We are looking forward to much more family funnel fun.
We were sent one of the Haba Spilling Funnels by The Toadstool for the purpose of this review.