Today I have a lovely chocolatey mess for you from Single Mother Ahoy.
Enjoy!
We love to make mess in this house.
We're good at making mess. In fact, the first word into one's head upon entering the house is most likely to be "mess."
I was really excited to have the opportunity to write a "Messy Play for Matilda Mae" post for Jennie. I love reading her blog and seeing what her children are up to, and I think the messy play is a fantastic way to remember a beautiful little girl.
My daughter, S, is 16 months old. She is a dab hand at making a mess. You could probably refer to most of our meal times as "messy play." She loves to play with her food, to feel the texture of it in her hands, to experiment with the patterns it can make on the high chair tray.
But whenever we try to do "messy play" or any sort of sensory play with dough, sand etc, she eats it. I made bubble dough; it went in her mouth. I made play dough; it went in her mouth. I made salt dough; it went in her mouth. I took her to the beach; she ate all the sand she could fit into her mouth. Her keyworker at nursery tells me she spends half the day saying "Don't put the sand/soap/whatever in your mouth S!"
I was happy, then, when I found this post about cake dough.
Cake dough is basically cake mix. You can get it in Tesco really cheaply. I am an idiot, and I bought a £1 vanilla cup cake mix, so it was a boring colour. Being clever(!) I decided to add some colour by mixing some cocoa powder into it. I wanted to add some exciting toys for her to dig around and find in the mix, but because of what she's like, they had to be edible. So we went to Sainsburys and bought some little sugar love hearts, some butterflies, and some cup cakes. And I threw some hundreds and thousands in there too. I put some cookie cutters in there too, so that she could play with the mixture…
Guess what…
It went straight in her mouth!
I thought perhaps if I added some water to it, it would become more "doughy" and she might want to play with it…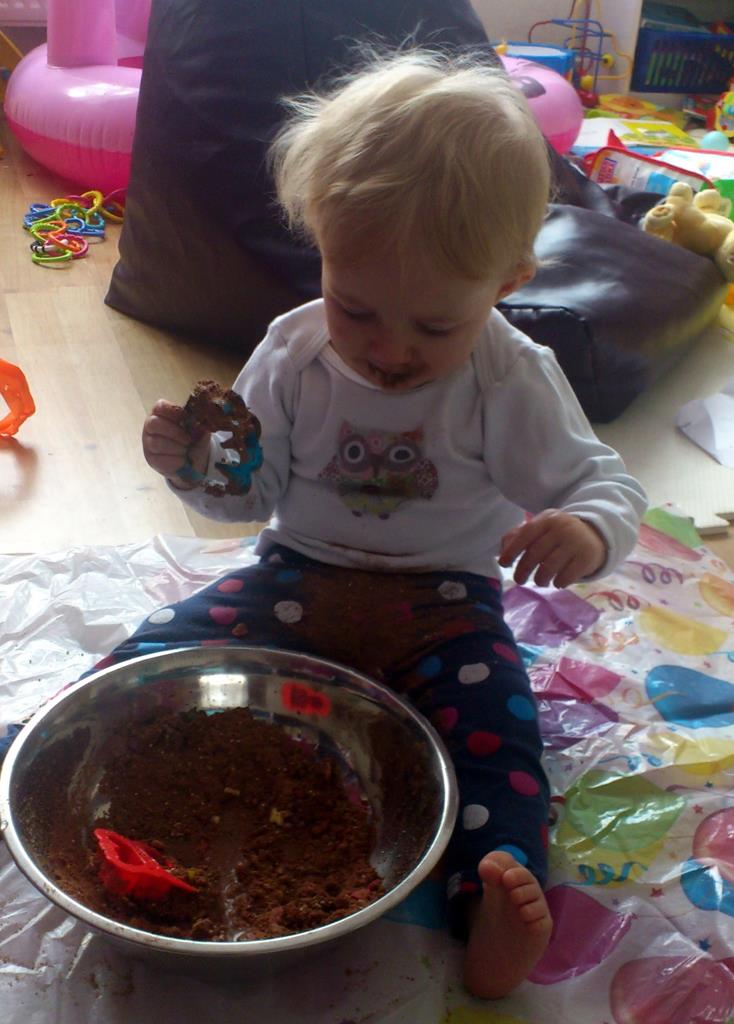 Turns out that just made it easier to scoop up with the cookie cutters and eat it!
Then I thought, perhaps if I put my hands in it and demonstrate how gooey and fun it is…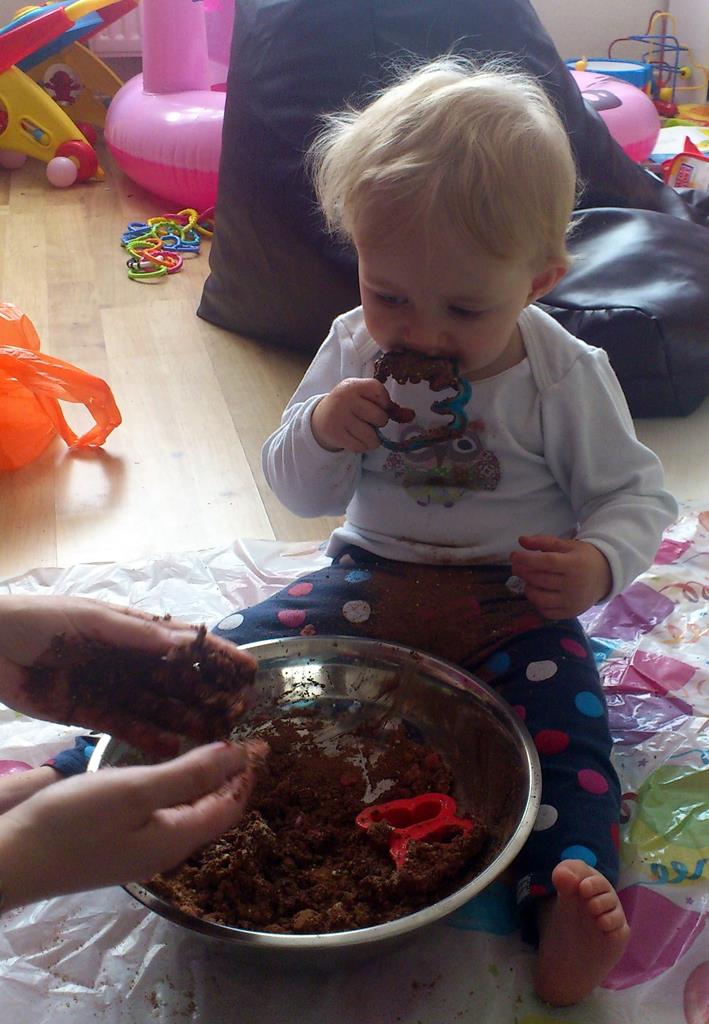 As you can see, that worked really well. Now I was plastered in it as well as S.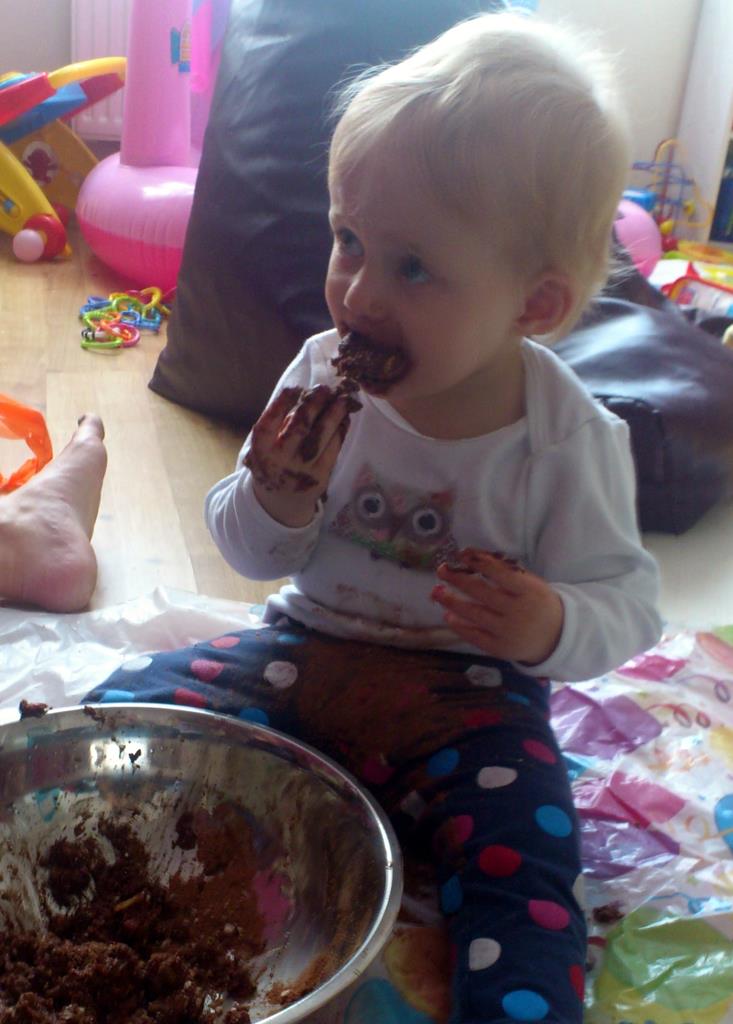 It did taste quite nice though!
In hindsight, I think perhaps putting it in a bowl didn't help matters – but then, the sand at nursery is in a Tuff Spot, and she still eats it! I think perhaps she's just going through that stage, where everything goes into her mouth.
The cake dough was fun though, and we'll be using it again. I've already been out and bought a strawberry flavoured, pink mix for next time. I'm going to put it on a tray, and see if I can find some larger decorations to put in it.
If anyone has suggestions for other edible messy play I'd love to hear about them!
What a great post! I love the idea of cake based messy play and think this would be a great thing to do on special days such as birthday.
Messy cake! Just wonderful!