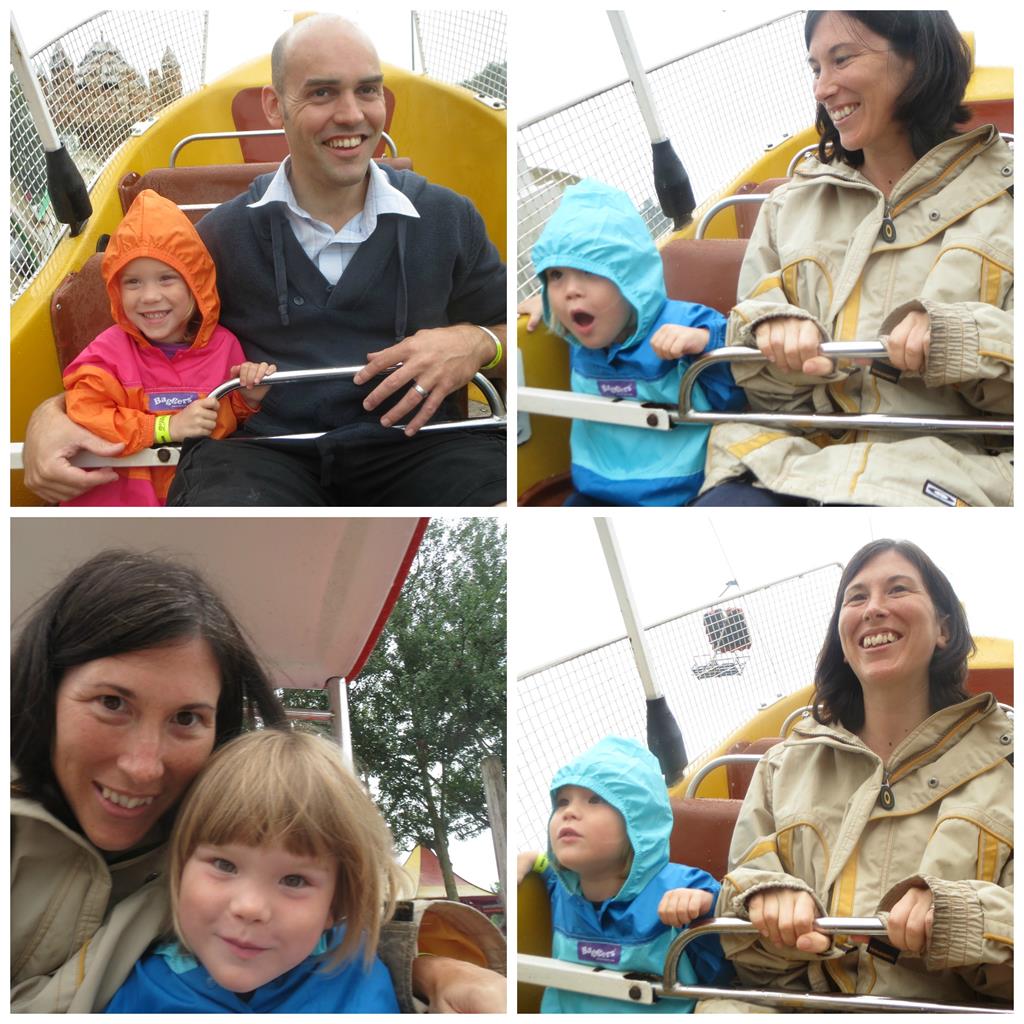 I think that Esther and William's faces in the photos above review Pleasurewood Hills family fun park better than any words I can write.
They had the most wonderful time.
And so did we.
A traditional, retro, fun, family day out at Pleasurewood Hills.
We can't wait to go back again!
We visited the park on a rainy Saturday. It was not particularly busy but busy enough that we were unable to get push along Little Tikes cars for Esther and William to ride in. They had been really looking forward to those!
They mostly forgot about the cars as we discovered the rest off the park and found lots of things they could ride on and in and drive!
For vertically challenged toddlers like mine Pleasurewood Hills is a great place to be as there are exciting rides designed with little people in mind.
In one section of the park many of the toddler rides are grouped together.
Esther and William loved the flying elephants and the mini pirate ship. We went on these rides time and time again.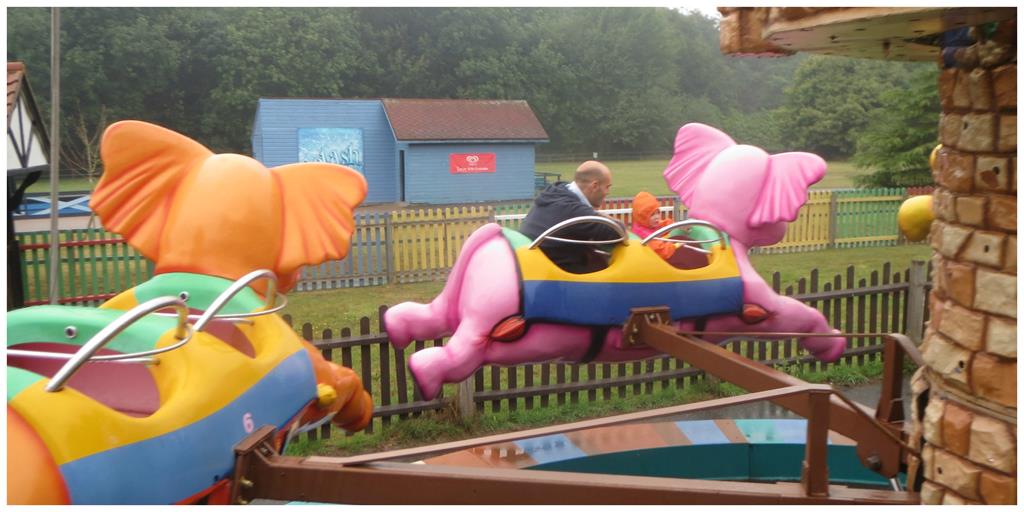 And the spinning chipmunk wheel?
Esther and William loved driving the vintage cars and because it was quiet we were able to keep going round and round the track.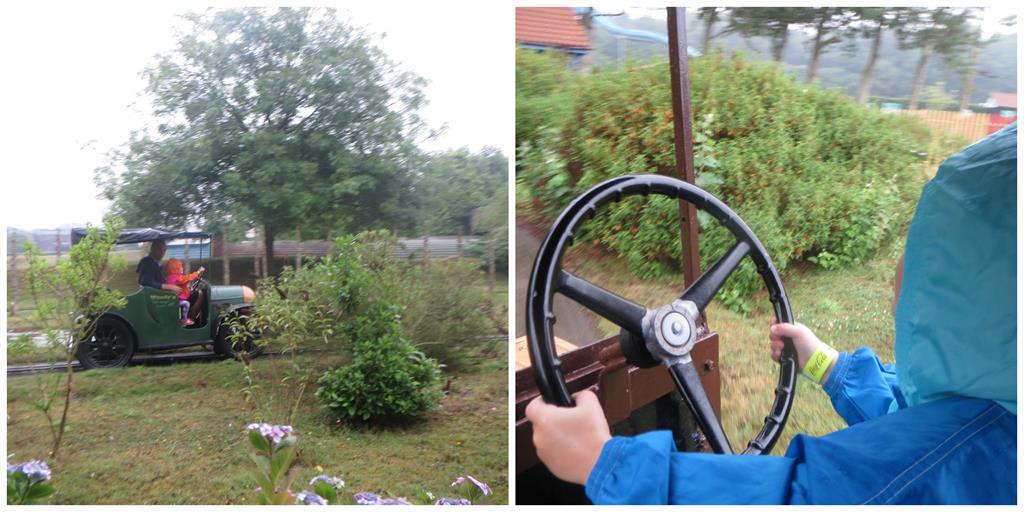 They also loved the carousel. We seem to have ridden lots of traditional carousels recently and Esther and William love choosing what they are going to ride. Today they both chose horses on the upper level.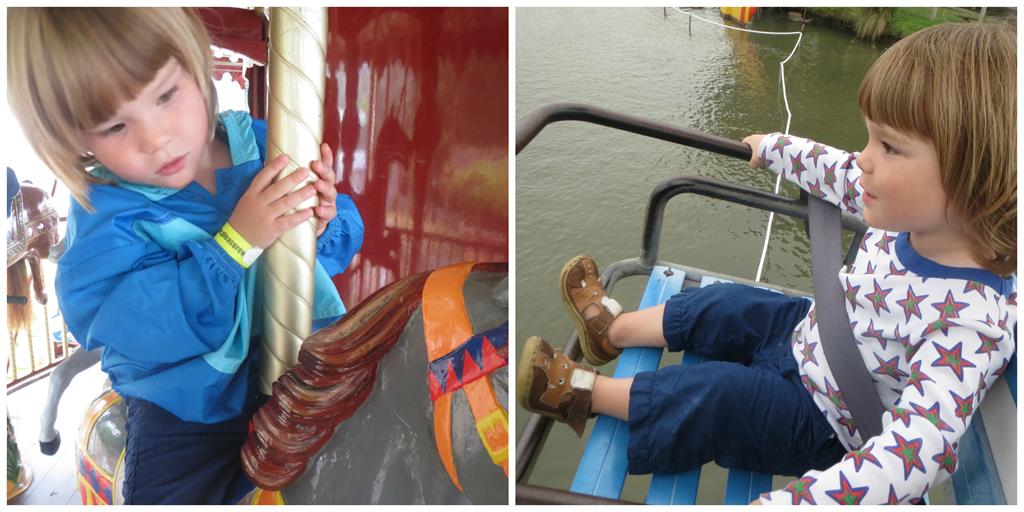 We all rode on the chair lift which was a lovely slow glide above the park. William and I went on twice as it was quiet, up the park and down the park. William was so good and not at all scared at being so far from the ground on a little seat. We talked about all that we saw below us and particularly enjoyed flying over the tops of the trees.
Esther and William love all things pirate at the moment and Esther especially likes bad pirates. She thinks that if you find a bad pirate you must cuddle them and turn them into a good pirate. One ride at Pleasurewood Hills was a myths and legends boat ride that featured a nasty pirate. We went on this ride many times and because it was quiet and there were no queues we were allowed to keep on going round and round. Esther and William thought this was just brilliant!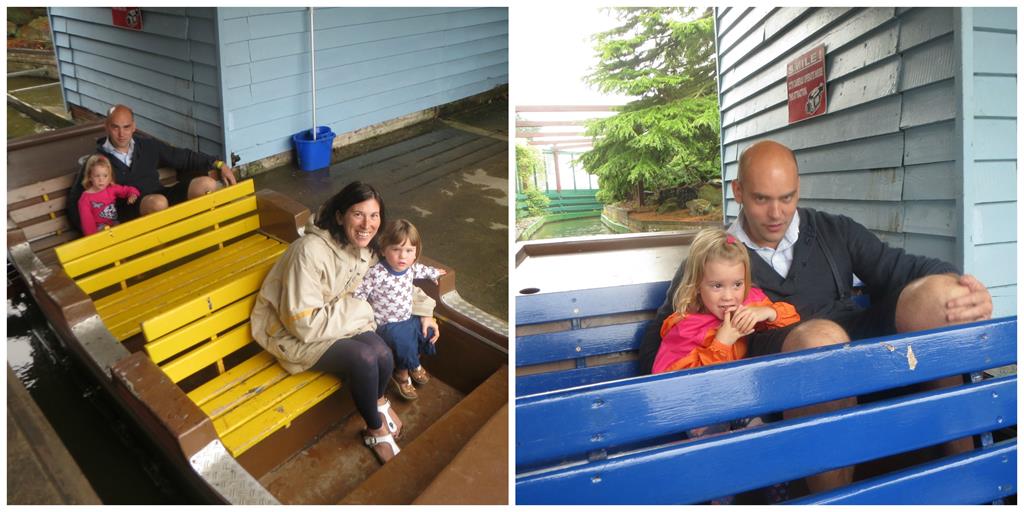 This park is not all for tiny tots there are lots of attractions for older children and for adults too. Daddy tested the rollercoasters for us and Esther and William loved watching him and waving at him.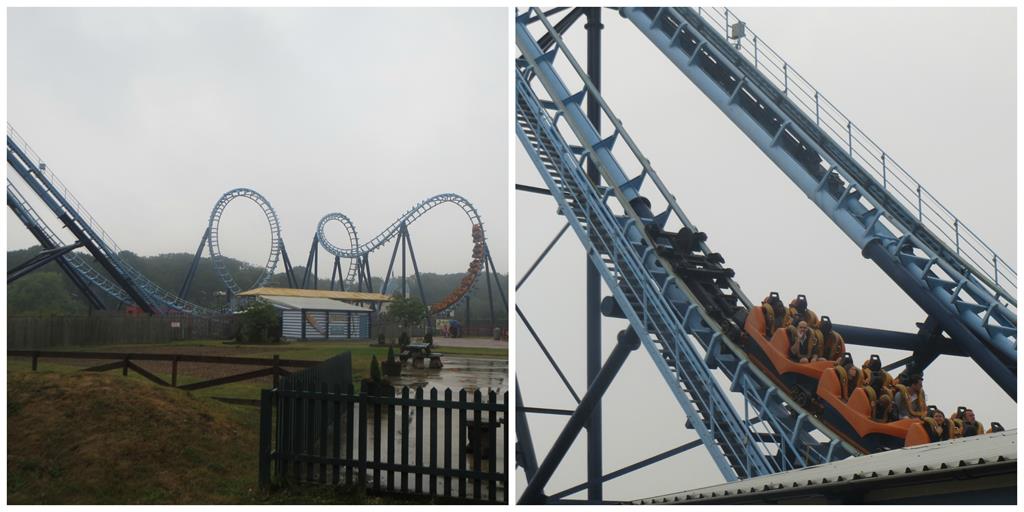 Esther and William liked watching the adult rides too particularly the big pirate ship and the Splash! Water slide. And they did love the rollercoasters. The super fast sky trains. We have a sky train at home. Bought and positioned by my aunty and uncle but Esther and William truly believe that it has chuffed down from the sky, sent for them by their sister Baby Tilda. I have not the heart to ever tell them otherwise.

Pleasurewood Hills has two trains. A large train and a mini narrow gauge train. I think the mini train track was one of the best we have been on. It had tunnels and bridges and went through the park and through the woods. There were lots of things to spot and talk about all the way round. We ride a lot of trains and I think this route was one of the more interesting we have tried.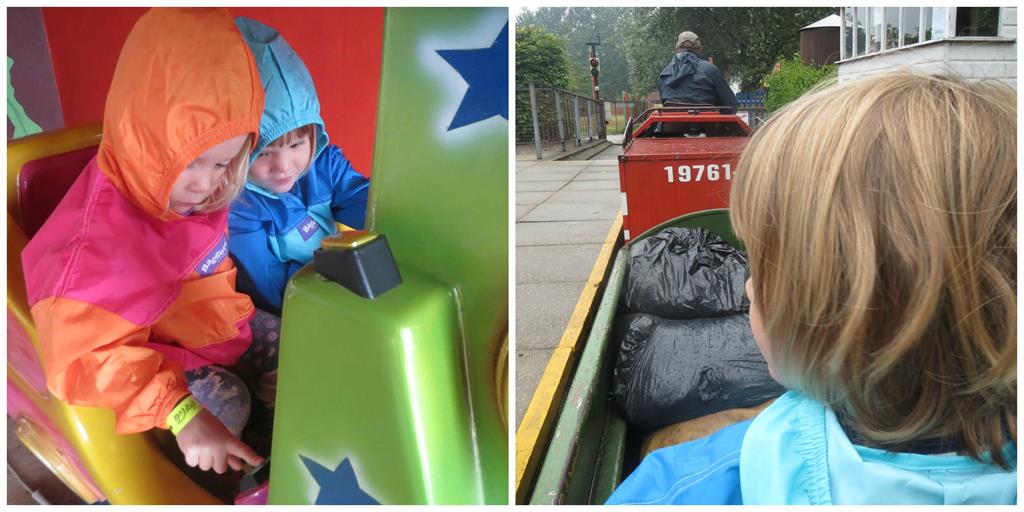 The larger train went around the park and stopped at stations so that you could use it as a way of getting from one part of the park to another.
We loved Pleasurewood Hills and were there all day apart from about an hour at lunch.
The highlights for me were the chair lift and the sea lion show. What a wonderful surprise the sea lion show was!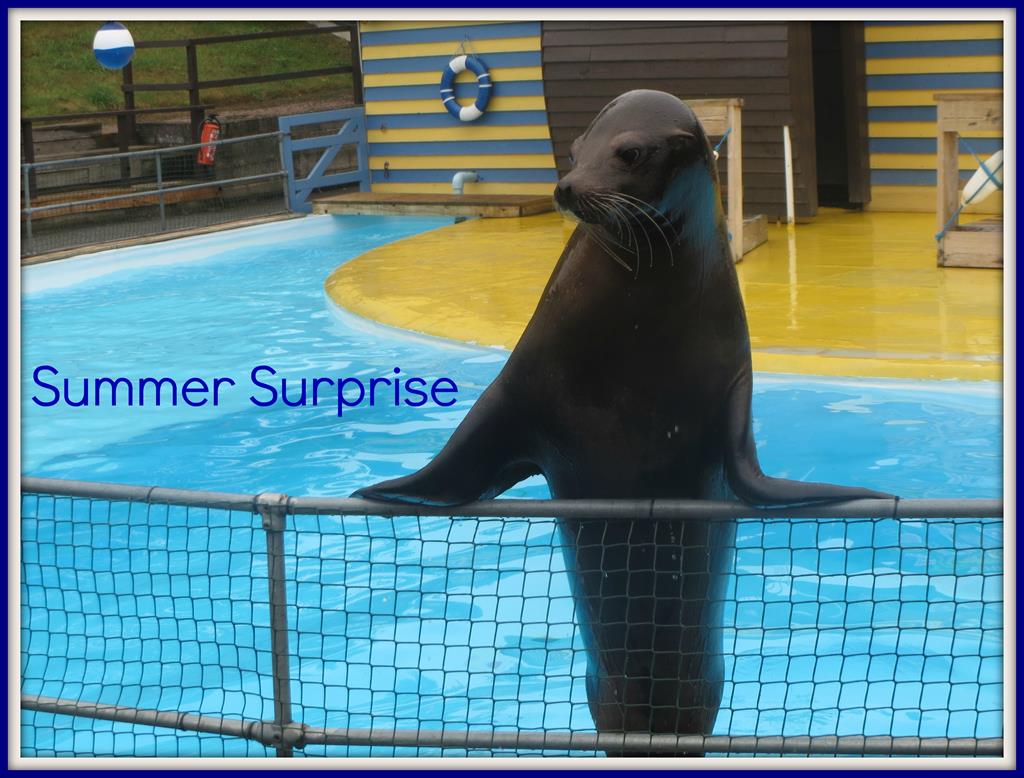 The sea lion show was amazing and I am so glad that we did not miss it
Claude and George were both very clever and very funny, they totally captivated their audience, young and old alike.
Their trainer was also excellent and the whole thing was wonderful to watch and had us all, even Daddy, laughing and smiling.
A little escapism for a while.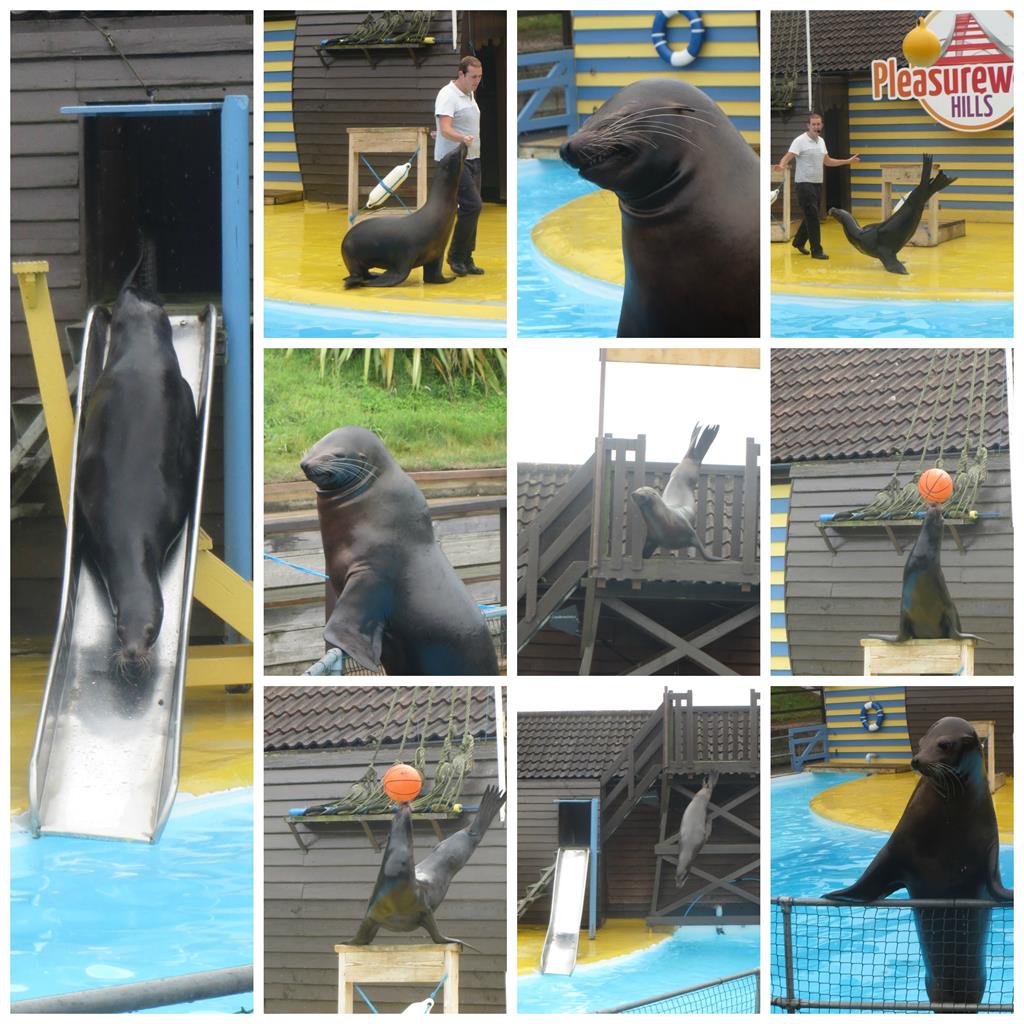 The park was lovely and even on the rainy day we were there it had a really magical feel.
It is a traditional theme park with something for all the family.
Before we knew it it was 5pm and we had not even thought about tea.
It is always the sign of a good day out when Esther and William refuse to leave.
We all had a wonderful day.
Pleasurewood Hills is just off the A12 between Great Yarmouth and Lowestoft.
It costs £19 for an adult to enter the park and £16 for any child over 1m tall.
Esther and William are less than 90cm tall so this was a brilliant free day out where they were still able to access many of the attractions and rides.
Thank you Pleasurewood Hills for a wonderful day making memories. We will definitely be back.
We were given free entry to the park for the purpose of this review.