This week I am going to link to my own linky with a shopping list for messy play but first I would like to share with you a popular Play Doh activity from this weekend.
I know a play idea has been a success when the first thing Esther and William do the following morning is ask to do it again.
This week we have been playing with shop bought Play Doh.
We do not do it very often as we love the process of making our own but sometimes something quick and easy is what we need.
Also the colours of Play Doh are vibrant and fun and this week were perfect for our needs.
We have been playing with pink and purple Play Doh.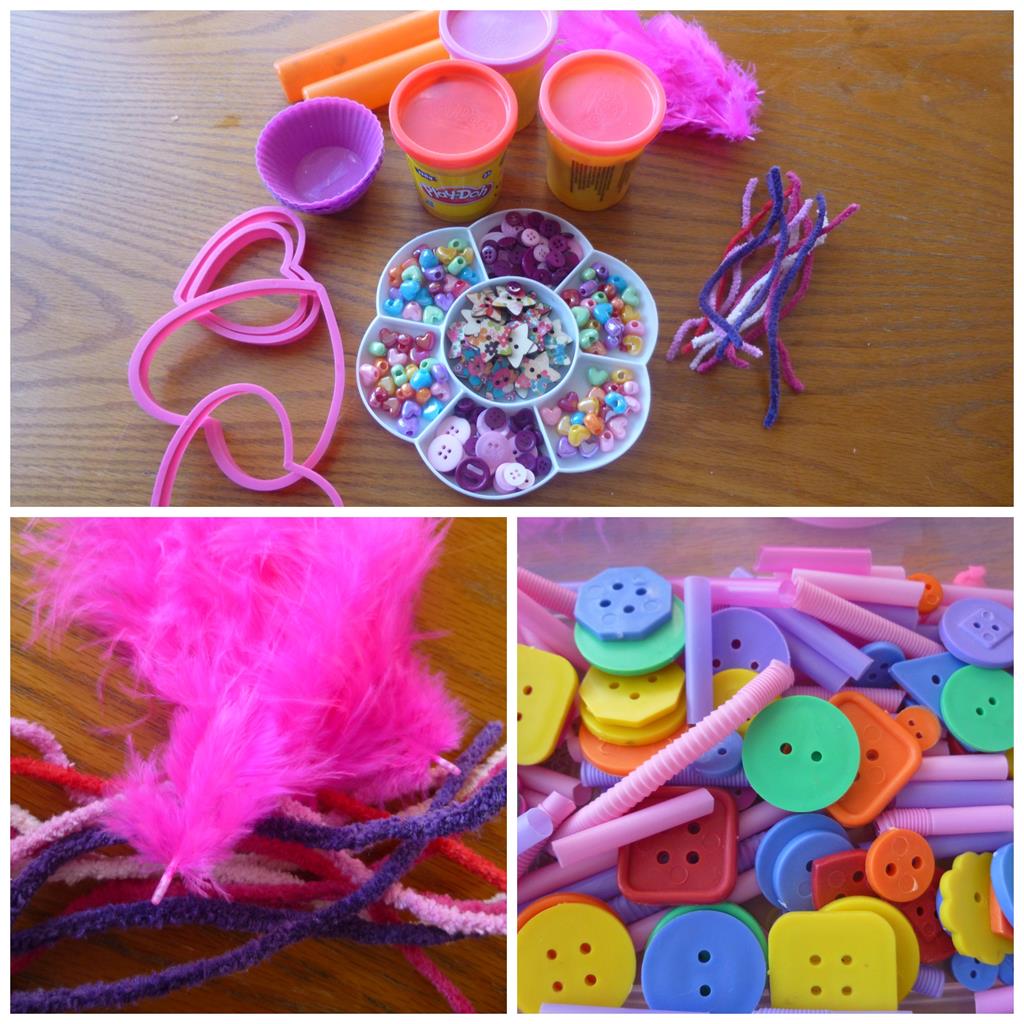 I set out an invitation to play on the playroom table. Pots of brightly coloured Play Doh, cookie cutters, plastic knives, beads of different colours, shapes and sizes, cut up straws, pipe cleaners and feathers.
I wanted Esther and William to come and create, anything they liked with the materials provided.
William was too busy with trains to play.
But Esther, Ami and I got stuck straight in exploring the materials, implements and accessories.

We started out by rolling balls of dough and then rolling them out with the rolling pins. Esther and I each made a heart shape to decorate with buttons and beads. This was a bit of a practice run at decorating shapes as I have bought some Fimo to make special love tokens and gifts for family and friends. Esther did really well actually carefully choosing her decorations and trying to space them out.
Ami made a rather splendid coiled cupcake, a pink peacock and a striking Play Doh and pipe cleaner butterfly to which Esther delared, 'I like the wings'. Esther and William are both getting a very strong sense of what they do and do not like. Ami's creations were a hit.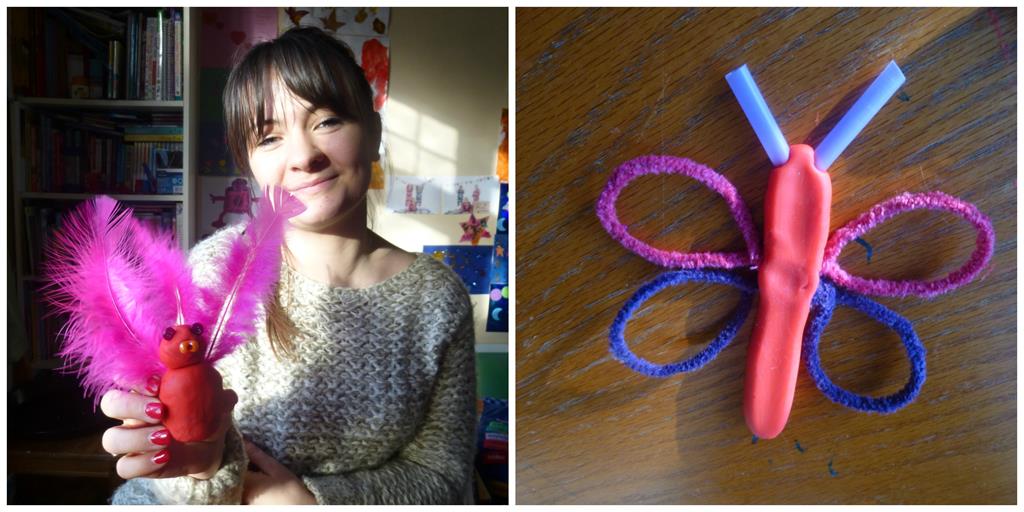 I love playing with Play Doh and made lots of little things. I love the feel of the dough in my hands. I love rolling and squashing, patting and stretching, shaping the dough into different things. I made some rather cute little creatures today.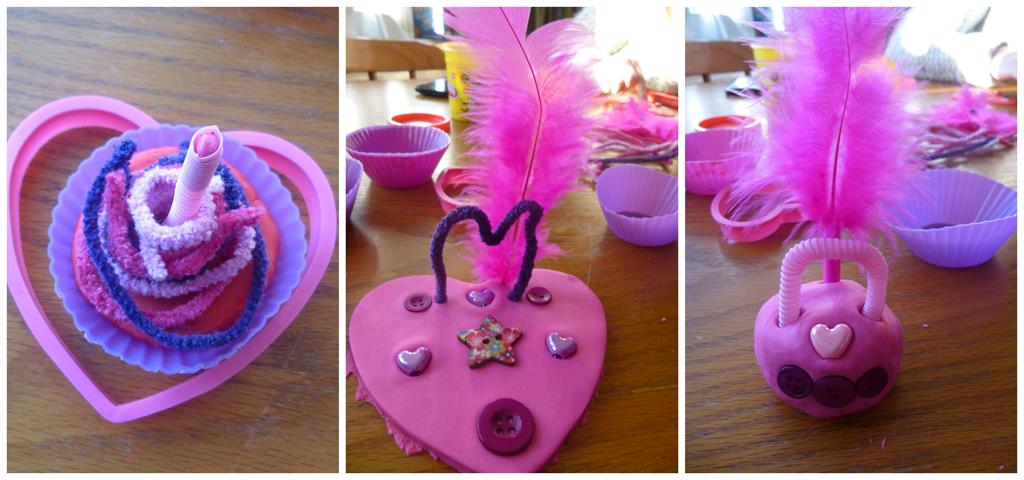 The hearts were definitely the prettiest things that we made and I think that we are ready now to progress to Fimo.
And I think Esther and William will enjoy being able to make things that they can cook in the oven and keep.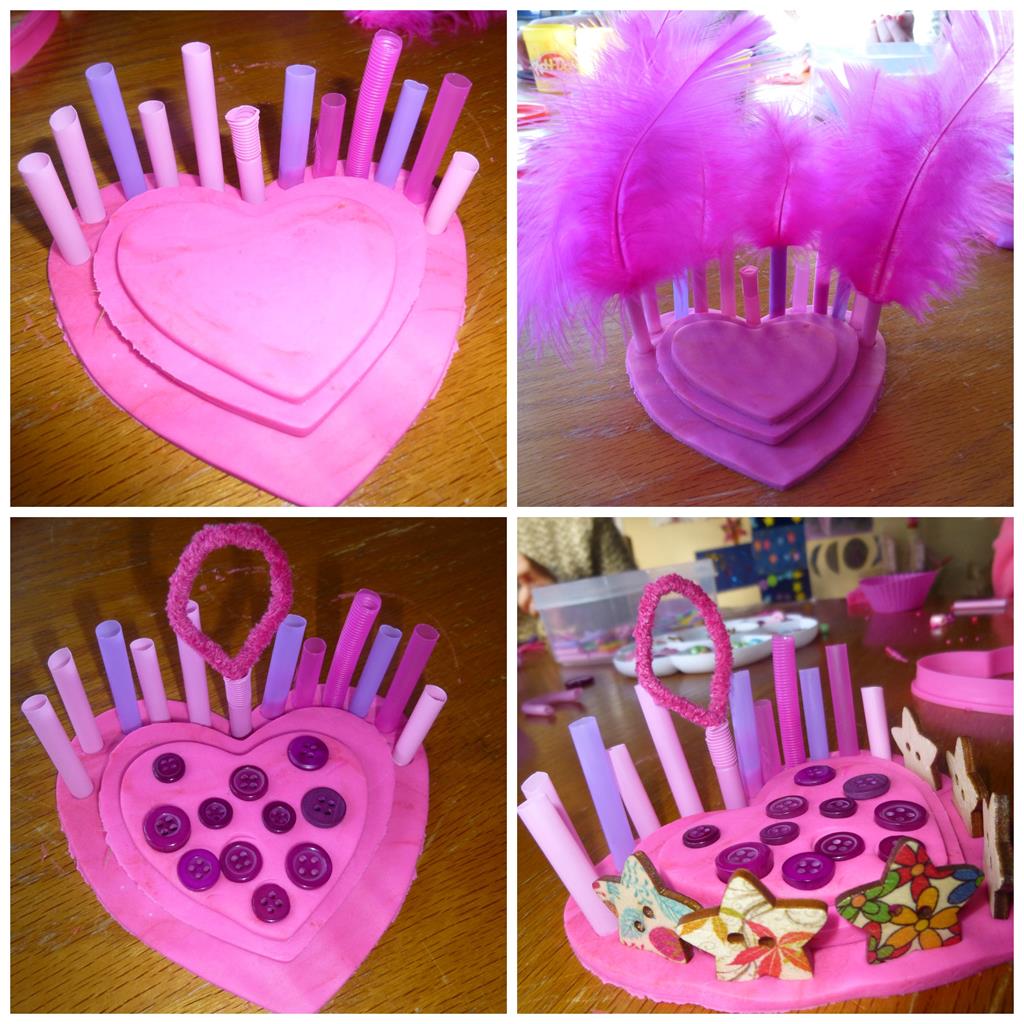 We experimented a bit today with ways of layering dough shapes and decorating in different ways. I loved sticking straws into the dough and then pushing feathers through the straws. It looked stunning and was also just great fun to do.
When William plays with Play Doh the play is very different. He loves to pull and stretch and shape the dough but he also loves to cut it. Cut, slice, chop, saw! He has a very different way to play than Esther.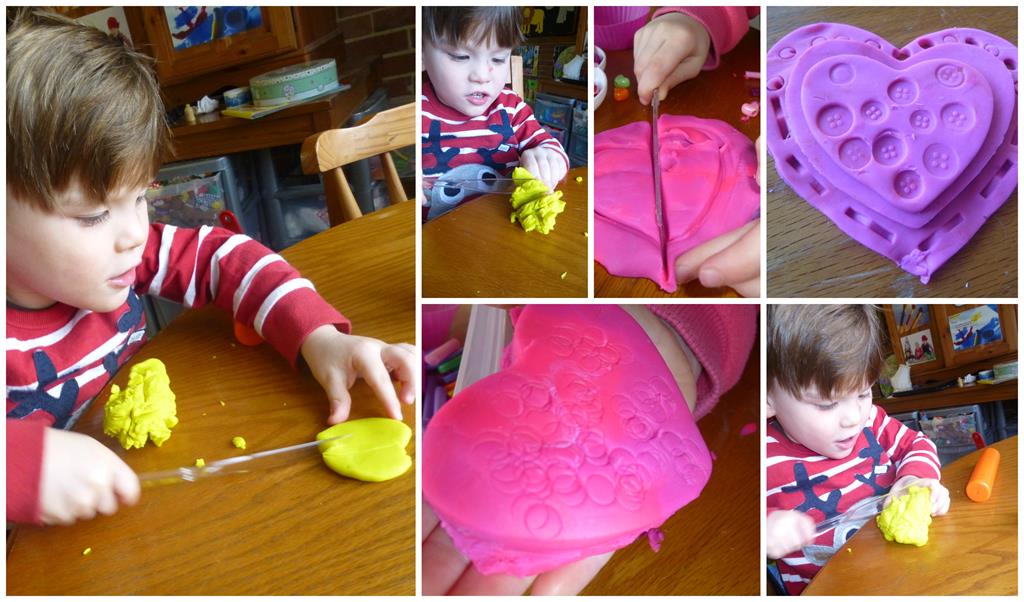 When Esther does use a knife with dough it is to carefully slice shapes in half or to divide up food for her toys. William just likes to chop and saw and slice and cut.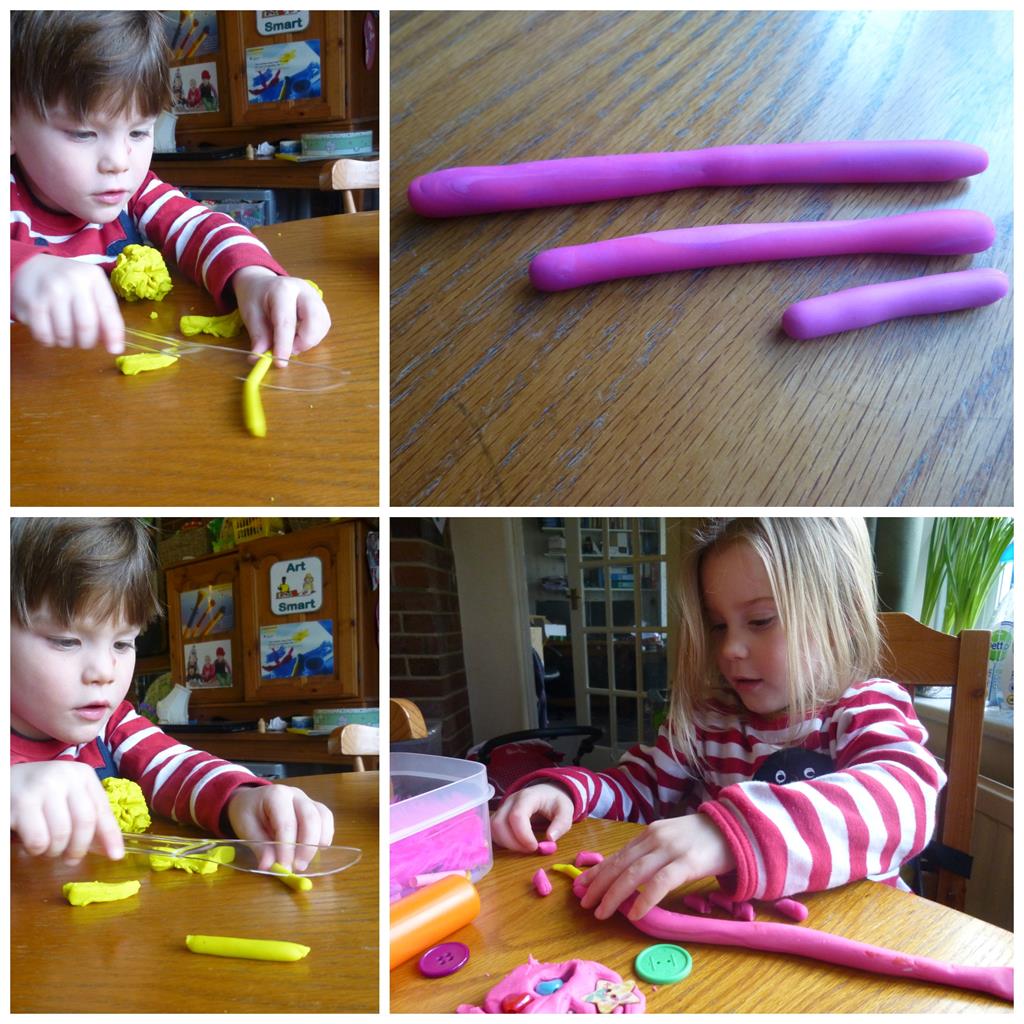 Esther and I made families of snakes and worms to play with. Esther loves to make the worms chat to one another and move around the table. William? Well, he likes to chop their heads off. Esther carefully coiled her snakes, made them beds, nests with eggs and William? Well, he chopped their tails off! I give Esther and William the same tools and materials, the same invitations to play but they always find their very own way to explore and play. And I think that is rather magical.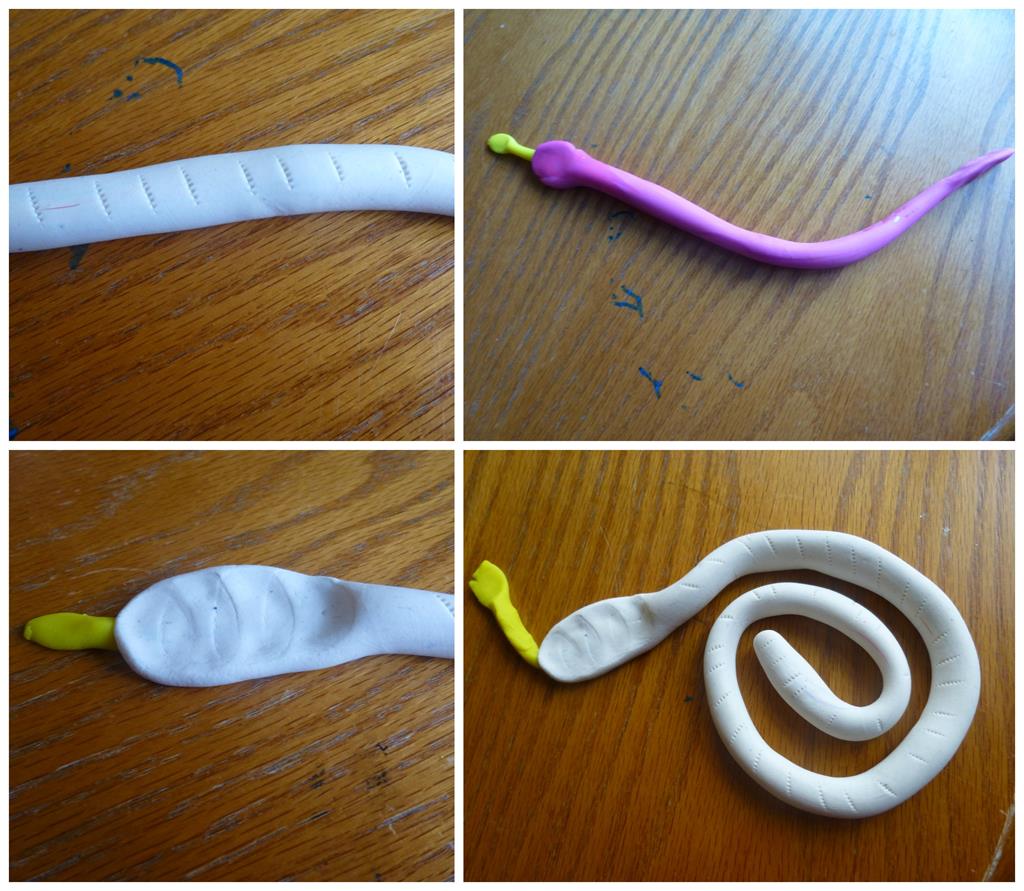 What a privilege raising boy / girl twins can be!
Whenever I set up a play activity like this I do try to have an idea of a concept or an idea I might teach through our play. This time I decided to have a look at colour mixing. It is really simple and effective with branded Play Doh. We have looked at colour mixing before with paint and through water play. But this was a really physical way of mixing colours and seeing the results.
We mixed pink and yellow to make orange and added white to make peach and kept adding more to make a skin colour.
We also mixed bright yellow and white to make a lemon yellow.
With our newly mixed colours we made an array of stars for stacking.
We stacked from the darkest to the lightest and then lightest to darkest. We talked about dark and bright, pale and pastel. We talked about mixing, brightenng and lightening. We had a wonderful time and this was true learning through play.
Learning through messy, sensory play.
Have you done any messy or sensory play that you would like to share in memory of Matilda Mae?
We love to read all about new and tried and tested ideas.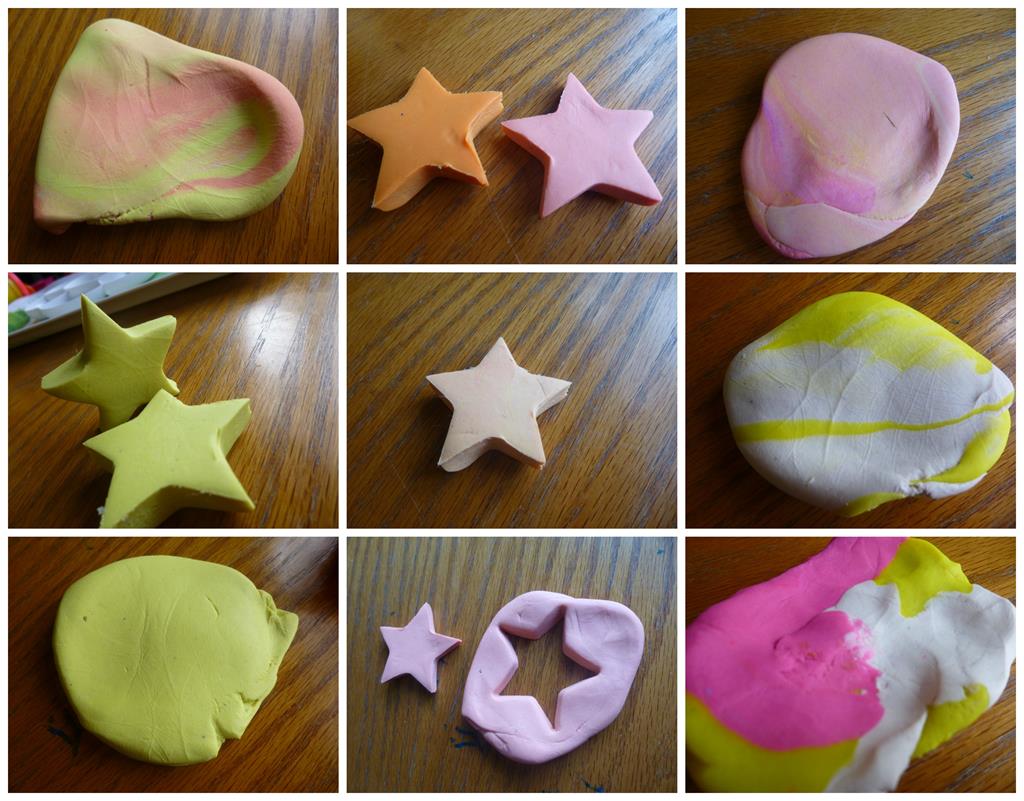 Please do link up any messy or sensory play posts. Thank you x