My bags are packed
There are still a few things to be added
But my bags, our bags, are basically packed
I would like to tell you about them
I am going to do this in a series of posts
Starting today with my labour bags
Things for Rainbow Baby and me
As I labour, give birth and immediately after the birth
Here is what I have packed into each bag
My Labour Bag
The first thing that I packed was something comfortable to labour in. As I am hoping to have a water birth I have packed the same floral tankini from Mothercare that I wore when Tilda was born.
Because things do not always go to plan and because there may be a time I am labouring before the pool is ready I also have a pink and white stripe nightdress from The Essential One.
The nightdress is also something that I can put on immediately after the pool. It is super soft, has easy access for feeding baby and to allow skin to skin contact. I also have a BOOB pink nursing bra and breast pads at the ready just in case. I have some lovely silk washable BOOB breast pads that I cannot wait to try!
To dry myself on coming out of the pool I have an Eco Towel from Devon Road Babies.
If there is ever a time you need a disposable towel it is after having a baby…we think these disposable towels are best described as a giant, dry wet wipe. Perfect for your hopsital bag because they take far less space than a conventional towel, EcoTowels are great because they are made natural viscose fibres, contain no nasty chemicals and are both biodegradable and recyclable.
I have also packed some maternity pads and disposable pants for after the birth.
During the birth I know that I will need to drink to keep hydrated. I am not good at drinking water unless it is ice cold and so I have packed some sugar free Vimto cordial to add to tap water. I have also packed some Jelly Babies, energy sweets, strong mints, throat sweets and boiled fruit sweets. Just a hint of sugar and energy for during established labour, David will have more substantial snack foods in his bag should the need arise particularly for during early labour if we are not able to be at home.
I have some paper drinking straws from Devon Road Babies to make drinking easier while labouring.
Also in my labour bag I have some Balm Balm lip balm from Devon Road Babies as I know that using Gas and Air can leave your mouth and lips really dry.
I also have some hair bobbles in the bag for tying up my long hair and a water bottle so that I can spray my face with cool water if I need to.
My labour bag contains only the essentials that I think I will need for delivering baby. Everything else will be close by in my main hospital bag. I will write tomorrow about what I have in my main hospital bags for Daddy, Baby and me.
Baby's Birth Bag
Inside my labour bag I have a birth bag for Rainbow Baby.
It contains an Aden and Anais towel to wrap her in and dry her in if she is born in the pool.
It also contains two newborn nappies and a small bag of cotton wool.
It contains a super soft organic lightweight summer blanket from Little Green Sheep to wrap Rainbow Baby in once she is dry from the pool. And a second blanket, just in case, a pink cellular one also from Little Green Sheep.
And of course a very first outfit, a vest, sleepsuit and hat from The Essential One. The vest and sleepsuit are both white and the hat is pink and white.
Oh, I cannot wait to meet her!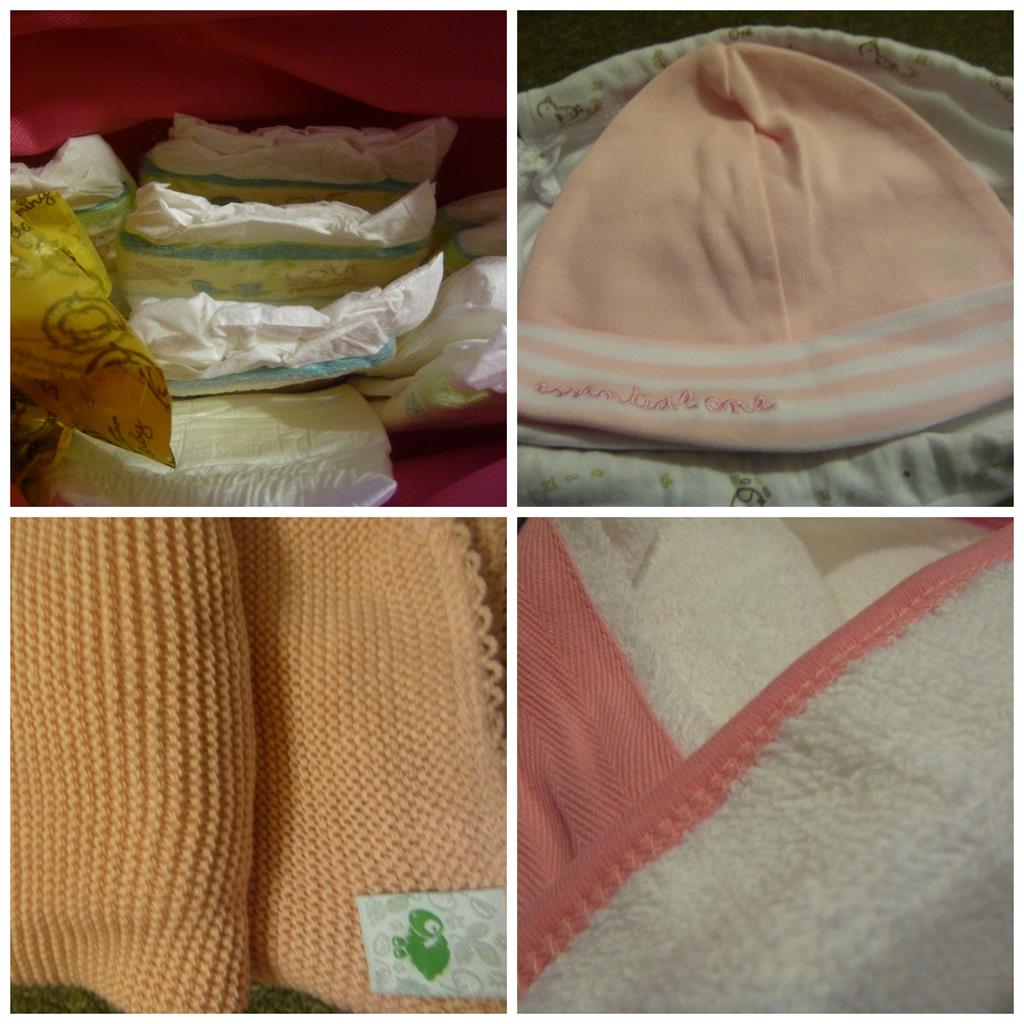 It is all starting to feel very real now.
We have our final scan and Consultant appointment on Monday, midwife on Wednesday at 37 weeks and then my hospital notes and birth plan will be added to my bag, and we will be ready to go.
We will be ready to meet you, Rainbow Baby.
Ready to love you more than you know.