On Saturday we got up bright and early
To head to London on the train
Not to go shopping
Thanks to PayPal this year I am doing all my shopping online
We were not going shopping
We were on our way to Sadlers Wells' Peacock Theatre
To see The Snowman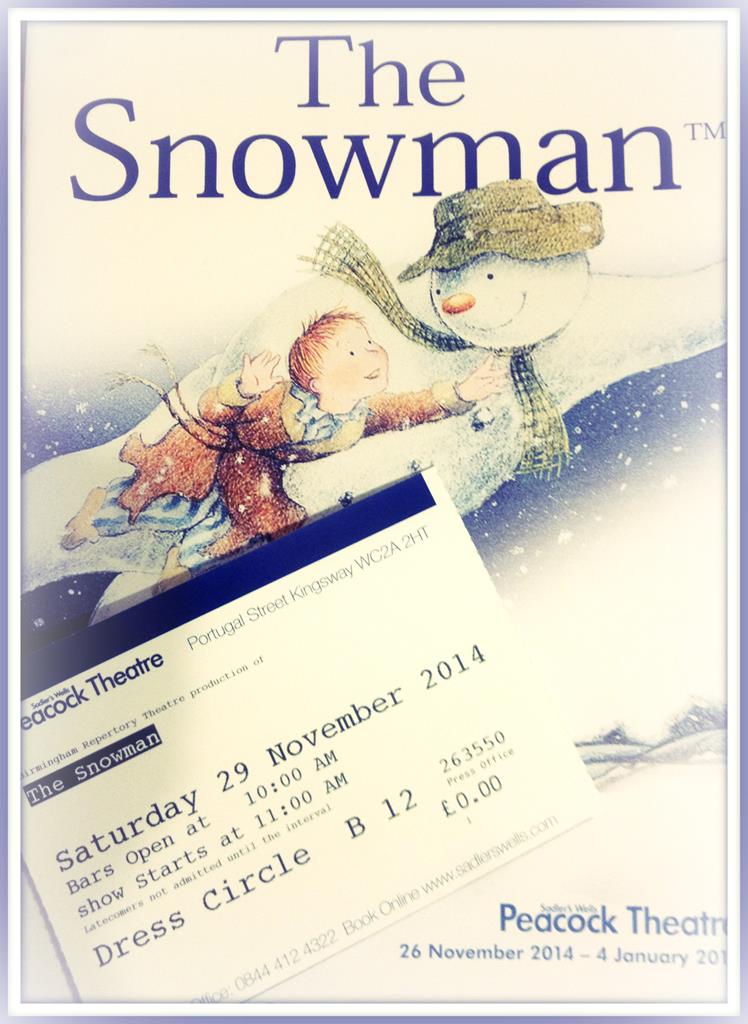 The Snowman is very special for us as a family
I watched it with David on our very first Christmas together
The second year we went to see a special screening with the music played by a live orchestra
And now we watch it every year with our children
We very nearly had the music from The Snowman and The Snowdog
Played at Tilda's funeral
The music from both films will always remind us of her
We arrived at the theatre early and were well looked after by the staff there
We got Esther and William each an inflatable booster seat for £2
They love them because they have a snowman on
We settled in our seats and watched the snow falling on the stage
I showed Esther and William the pit where the musicians were
As the house lights went down and the stage lights came up
I felt the emotion that I feel when I perform
I miss acting very much and going to the theatre always makes me emotional
So with this being such a special show …
The first set was the house
It was brilliantly done and cleverly used
By James, his Mum and Dad
The wonderful dance set to familiar music
Told the story we know so well perfectly
Esther and William loved the rolling snow balls
That got bigger and bigger across the stage
William and I were telling the story to each other as we watched
William narrates real life so was not unusual for him to narrate the show
And to ask questions
It was wonderful watching Esther and William's faces as the magic began to start
As The Snowman came to life
The exploration of the house by James and The Snowman was brilliantly done
Esther and William loved the nose testing scene
And we were all taken by surprise by the dancing fruit coming out of the fridge
I think the bit that Esther liked best was when the ballerina from the playroom music box
Came to life
Esther wants to start ballet
I am going to take her in the Spring
She loved the beautiful ballerina
For William it was all about the motorbike
There was a real motorbike on the stage!
William thought it was wonderful
And now all that he wants for Christmas is a toy motorbike
And a real one that he can ride!!
For me the highlight was the flying sequence
And hearing that familiar music
That to me means Christmas
Memories of magical Christmases past
Hope for Christmases to come
As the music began to play
As James and The Snowman leapt into the sky
I cried
I was standing at the back rocking Bea
And the tears just fell
Such beauty in a story
So many memories
So much meaning
It was beautiful and I smiled as I cried
I am sad now that I did not hear William asking Daddy
'Why are they on ropes?'
My children were not as moved and inspired by the flying as I was!
The second act was as spectacular as the first
Father Christmas was awesome
Such great moves!
We all loved the anticipation of the arrival of Jack Frost
And how he tried to woo the ballerina
And spoil her beautiful friendship with The Snowman
We all loved the penguins
Who bumped bellies as they danced
As James and The Snowman began their return home
I knew that William was going to find the ending hard
My beautiful son cries at sad stories and unfair situations
I knew he was going to struggle with The Snowman melting away
The ending was handled so sensitively
James curled up in bed
Dreaming of his amazing journey
As silhouettes danced back and forth across the stage
We were naming the characters that we recognised
As they appeared in James' dreams
We did not notice The Snowman fading
Only that he was gone
James was sad a moment
But then the snow began to fall again
And our hearts were filled with hope
And we were able to dry our tears
Knowing that one day
James would meet his Snowman again
The show was wonderful
Beautiful
Magical and memorable
I am so so glad that we were there
And I think the experience will stay with us for always
Or until next year
When I hope we might go and see the show again
If you only see one festive performance this Christmas
Make it this one
Make it The Snowman
It is the stuff childhood dreams are made of
We were given free tickets to The Snowman for the purpose of this review. All words and opinions are my own.