Esther, William and Bea are all very very excited
They are going to have a baby sister!
I need to find a way of managing their excitement
Or the next 15 weeks are going to seem so so long
I have decided to try and do one baby related thing with them a week
Starting at 30 weeks
I got the idea from a book we have been reading
Waiting For Baby by Rachel Fuller
This is a simply illustrated board book
With less than 100 words
But it tells so much
About waiting for baby
And having a new baby in the family
Through questions and bright illustrations
It starts conversations
And gives ideas for how to prepare the whole family
For a new baby
This book has encouraged me to ensure that I talk to Esther, William and Bea
About our growing baby
And to include them in lots of the preparations
Before baby Sprinkle arrives
Sorting through old clothes and toys
Shopping for new baby things
Setting up baby areas in our home
Coming along to a growth scan
To a midwife appointment
Choosing a present for their new sister
Planning what they might do with Granny
While mummy and daddy are at the hospital
It has also reminded me to ensure that we have talked lots
About what life might be like
Once their baby sister is here
And to help with all of that
We are going to read more books
Books about pregnancy
Books about babies
Books about growing families
And I am going to share some of those books with you
In case you would like to read them
To your little ones too
Here are the books that we have been reading today

What's In Your Tummy Mummy? by Sam Lloyd
This was Esther's favourite read today
It is a funny
Lift the flap book
The cartoon style illustrations
Are bright and colourful
The text gives a clue as to what might be in mummy's tummy
Children can guess a rhyming reply
Too small to see?
Flea
Of course
A horse!
This is a fun book
About mummy's growing tummy
Ending with a pop up celebration
That there is a baby on the way
There's a House Inside My Mummy by Giles Andreae and Vanessa Cabban
This is a very popular book
And one that we have owned for years
I bought it for Esther and William
When I was pregnant with Matilda Mae
You can read my thoughts on this lovely book
This is a lovely book to read aloud
And creates a warm feeling of wonder and excitement
It is a story that never gets old
Esther, William and Bea all adore this story
Before You Were Born by Jennifer Davis and Laura Cornell
William is a boy who likes facts
He likes to know things
He likes to ask questions
Lots of questions!
This book gives some facts
Answers some questions
In a fun, simple way
Perfect for young enquiring minds
This lift the flap book
Counts down the months from nine to one
For each month it gives details of the mummy's symptoms
And how baby is changing and growing inside
Today we learned that Sprinkle
With a little over 3 months to go
Until her due date
Can now open and close her eyes
And is starting to hear sounds
From outside of the womb and of mummy
This book answers questions
But also prompts many more questions
About what is happening inside mummy's tummy
I like this book
Much more than my children do
We all love the next book
You Are Stardust by Elin Kelsey
Not strictly about pregnancy or babies
This is a book about creation and connections
This is a book to inspire awe and wonder
This is a book that tells how we are all made of stars
The simple poetic text is easy to read
And a joy to read out loud
The illustrations are stunning
A perfect book for sharing
And introducing the idea
That we are all connected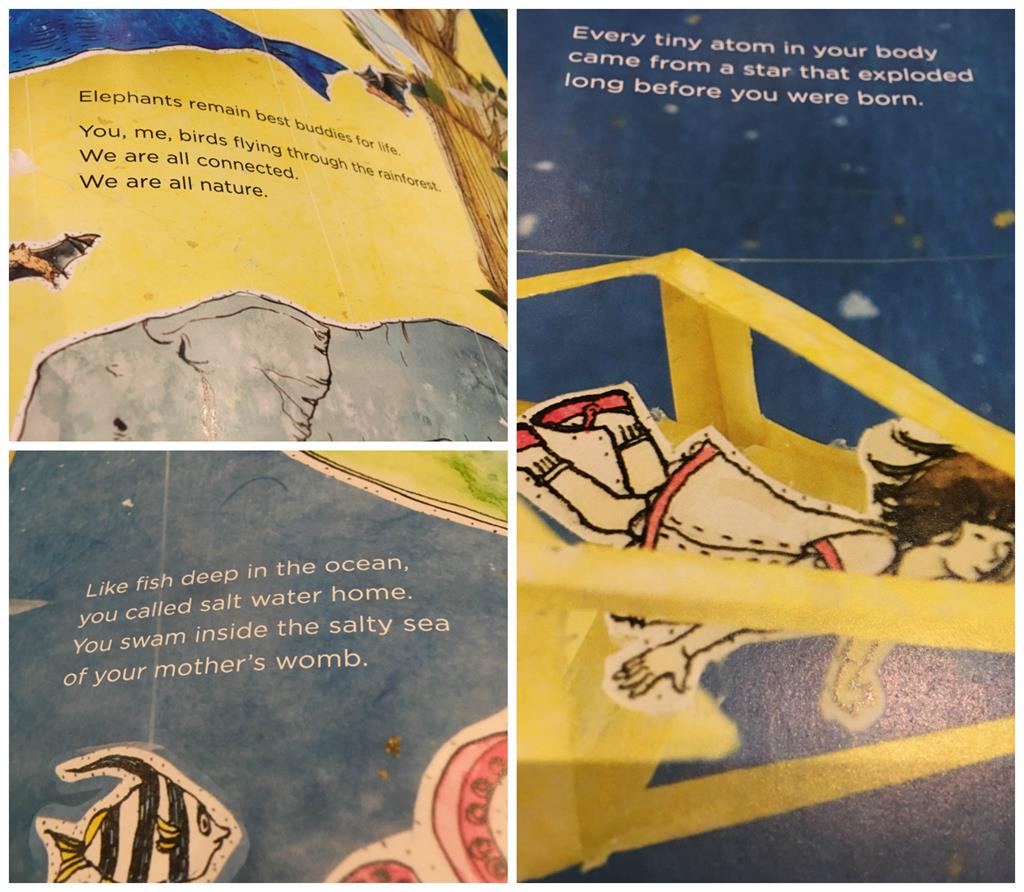 I'm Going To Be a Big Sister by Brenda Bercun
This is a book for children the age of Esther and William
This is a book that talks about what it truly means
To be a big brother or sister
It talks of the honour of being an older sibling
The pride and joy
The responsibility
The excitement
The love
Reading this to my soon to be older siblings
Brought a tear to my eye
This book has hints and tips for parents
For introducing a new baby to the family
And to make sure that sibling relationships
Have a positive beginning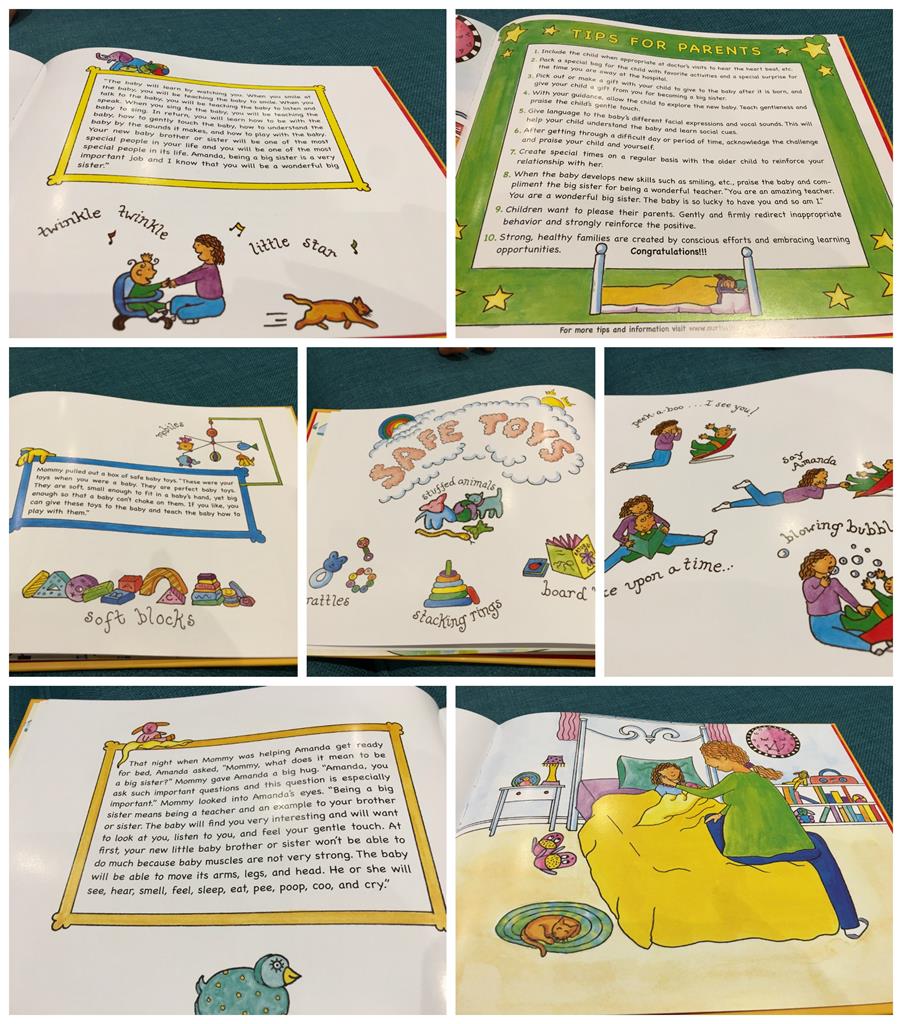 This last book
Was Bea's favourite today
She is so happy that she is going to be a big sister
So excited that she is going to have a little sister to look after
And eventually a playmate of her own
Her smile when reading this book is such a delight to see
Even when it points out that babies are not always cute and cuddly
They cry and wee and poo
They can pull hair
And take your toys without asking
This book gently introduces the idea
That sometimes mummy will be busy with the baby
And that this never means that you are loved any less
It makes the big sister feel important
And valued
By making the big sister feel special and clever
And explaining her important role as teacher and guide
And role model
This is another simple book
With an important message
And a definite tug on the heartstrings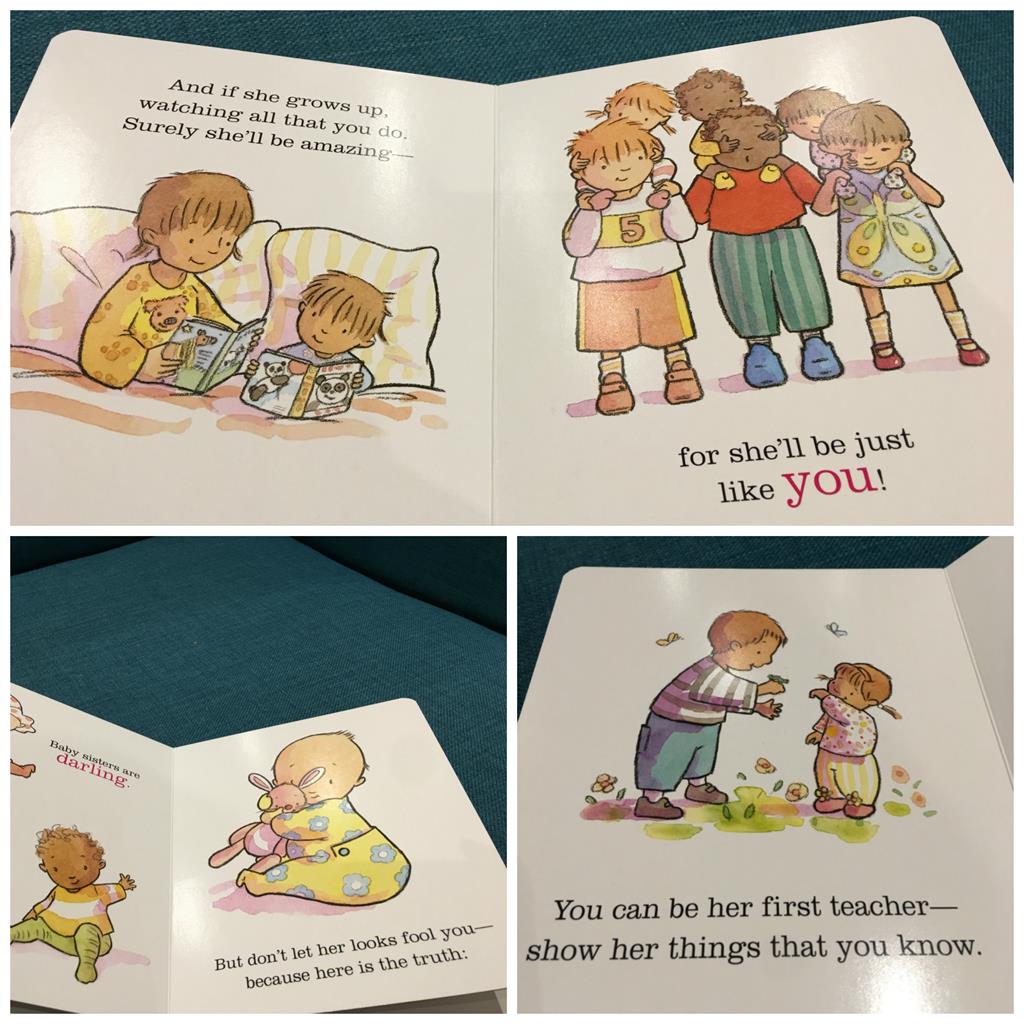 I think we will be reading this one most days
Over the coming weeks
As we get ready for our new baby
With the help of these wonderful books

#