Have you heard of Group B Strep?
I am 40 years old
Weeks away from giving birth to my fifth baby
And I had not heard of this until the last few months
My best friend
Had Group B Strep
When she gave birth to her son
Almost 16 years ago
So I must have heard of it
I just wasn't listening
But now thanks to a vigorous campaign by
GBSS
And thanks to private testing companies
Such as Strepelle
Awareness is being raised
And more women are being tested
But why?
What is it?
What is Group B Strep?
Group B Streptococcus (GBS) is a normal bacterium which is carried by 20-30% of adults, most commonly in the gut, and for up to 25% of women, in the vagina, usually without symptoms or side-effects.

GBS can occasionally cause infection, most commonly in newborn babies, sometimes in adults and, very rarely, during pregnancy and before labour.
How can Group B Strep Infection affect newborn babies?
There are two types of GBS infection in newborns: early and late-onset.

Early-onset GBS infection is more common (2/3 of cases in babies) and occurs when the baby is up to 6 days old; a key symptom is the rapid development of breathing problems, associated with blood poisoning.

Late-onset GBS infection – usually presenting as GBS meningitis – occurs between age 6 days and 1 month and, more rarely, up to age 3 months. After 3 months' old, GBS infection in babies is extremely rare.

GBS is recognised to cause preterm delivery, maternal infections, stillbirths and late miscarriages; and preterm babies are known to be at particular risk of GBS infection as their immune systems are not as well developed.

Overall, approximately one in every 1,000 babies born in the UK develops group B Strep infection.

On average in the UK, at least

two babies a day develop a group B Strep infection
one baby a week dies from their GBS infection, and
one baby a week survives with long-term disabilities – physical, mental or both.
How can I get tested?
In the UK routine antenatal testing is currently not offered by the NHS. This is in sharp contrast to many other developed countries who provide GBS screening to all pregnant women.

Health services in the UK rely upon a 'risk factor' system to determine which newborns are more likely to be at-risk of developing GBS infection. The system looks at factors such as high temperature during labour, labour starting preterm or waters breaking early. Intravenous antibiotics given in labour to women carrying GBS have been proven to dramatically reduce the risk. This 'risk factor' system could be significantly improved upon as the rate of GBS infections in babies is not going down.

Strepelle can change this, it is an accurate and easy to use home to laboratory test for use from 35 weeks onwards into pregnancy. The test allows you to take control of your unborn baby's future health.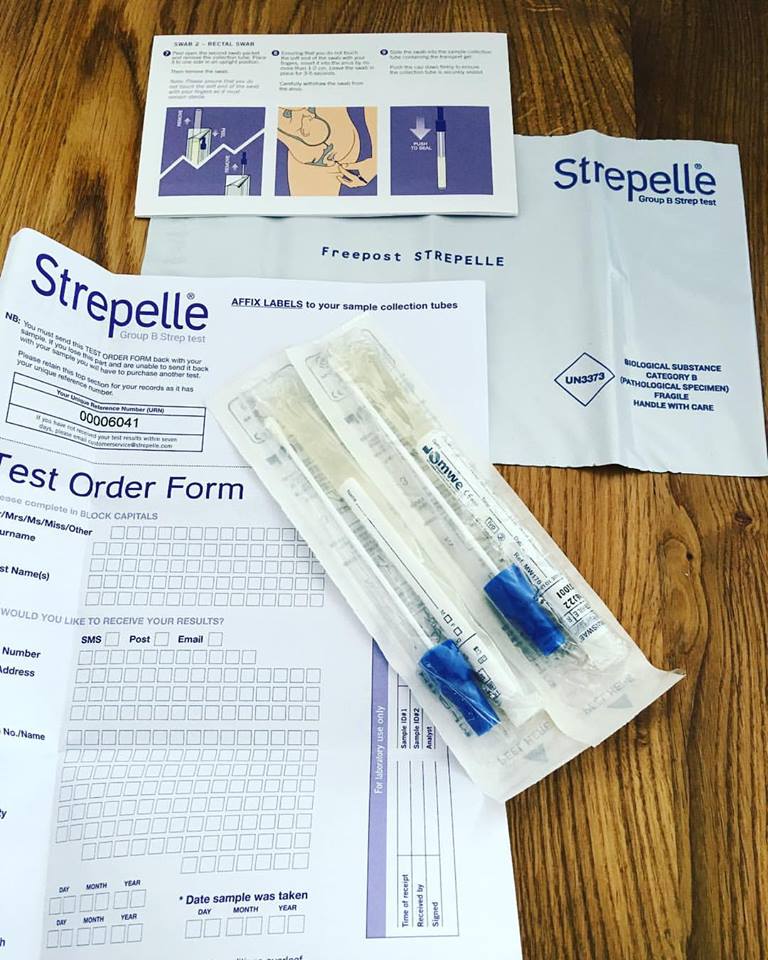 How does the test work?
Strepelle very kindly offered to send me a home testing kit
After seeing me share lots of tweets about GBS over the past weeks and months
It has really worried me that this is something all pregnant women should be aware of
But until very recently it has not been something on my radar at all
Even though I have had preterm babies
And lost a baby in infancy
Once I was made aware
I knew that I wanted to be tested
Before giving birth to our fifth and final baby
Strepelle provides a home testing kit
That is easy to use
And offers fast results direct from the laboratory
To your email inbox, post box or phone
The test costs around £40
And could save your baby's life
The test needs to be carried out
After 35 weeks of pregnancy
I tested just before I hit 37 weeks
I would have tested earlier if it had not been for the long Easter weekend
You have to send your test the day that you use it
For the best chance of a true result
You can buy the test direct from Strepelle
Through their website
But what exactly do I do?
What does the test involve?
The test is made up of two swabs
Vaginal and anal
There is a simple form to fill in with your details
Then you take the swabs
Secure them in a test tube filled with special gel for transportation
And free post back to the lab
I was nervous about carrying out the test
And so asked David to help me
We both washed our hands
Followed the written and pictorial instructions
Very carefully
Aiming to keep the swabs sterile
The vaginal swab was easy to do
The anal one was more tricky
More uncomfortable
And I am not very confident that we collected what we needed to
But we did try
One important thing to note
Is that the instructions fail to mention
That there is a second cap on the test tubes
I am guessing that protects the carrier gel
This cap is not mentioned
So we got quite stressed trying to firmly push
The first swab into the first tube
Once we realised about the cap
The remainder of the process went smoothly
But I do wonder if this will have adversely affected our sterile swabs
And so the test result
I am certain that we cannot be the first testers to come across this anomaly
And so am equally certain that Strepelle will be updating their instructional information
The test
With all the paperwork
Took less than 10 minutes
And now we wait 7 days for our results
And whatever the result I will be glad to have taken the test
If I do prove to be a carrier of Group Strep B
Then I can make my midwife and Consultant team aware
So that the appropriate action can be taken
When labour starts and when our baby is born
If you would like anymore information about GBS
Or need any additional support
Please do check out the GBSS website
And follow them on Twitter @GBSSuppport
For more information about the test
You can contact Strepelle through their website
Or on Twitter @Strepelle1
Whatever you do
Be #GBSAware
We were sent one Strepelle Testing Kit for the purpose of this review