Today Edie Mae is 3 months old
And we are three months
Into our breastfeeding journey
I am three months into my nursing adventure
With baby number 5
In the last 13 weeks
I have had mastitis twice
Edie has had suspected bronchiolitis
And a possible tongue tie
I thought with my fifth baby
Nursing would come easy
But it really hasn't
It has been and continues to be
An emotional rollercoaster
And Edie
Though clearly a happy and healthy baby
Is slipping down the weight centiles
As we struggle to get to grips with feeding
Being a multiple mummy
The wrong side of 40
I am finding breastfeeding exhausting this time around
And it is just one of the many things in my life
That I cannot devote enough time to
Struggling with the one thing you have always been good at
The one aspect of parenting you have always found easy
Is really hard to accept and come to terms with
But I am determined to continue feeding Edie
For as long as I can
For her sake and for mine
Edith Mabel is our last baby
And I really want to enjoy these feeds
Make the most of these cuddles
Breastfeeding is what I do
I would be lost without the connection that I have had through nursing
I want to give Edie the same start that I gave the others
Though perhaps not for quite so long as I fed Bea!
I would love to feed Edie for a year
Being an experienced breastfeeder
I have my go to products
My breastfeeding essentials
And in a belated World Breastfeeding Week post
I would like to share my essentials with you
I hope that someone somewhere might find them helpful
Bravado Bras
I love Bravado Nursing Bras
I was introduced to them when pregnant with Matilda Mae
And have never looked back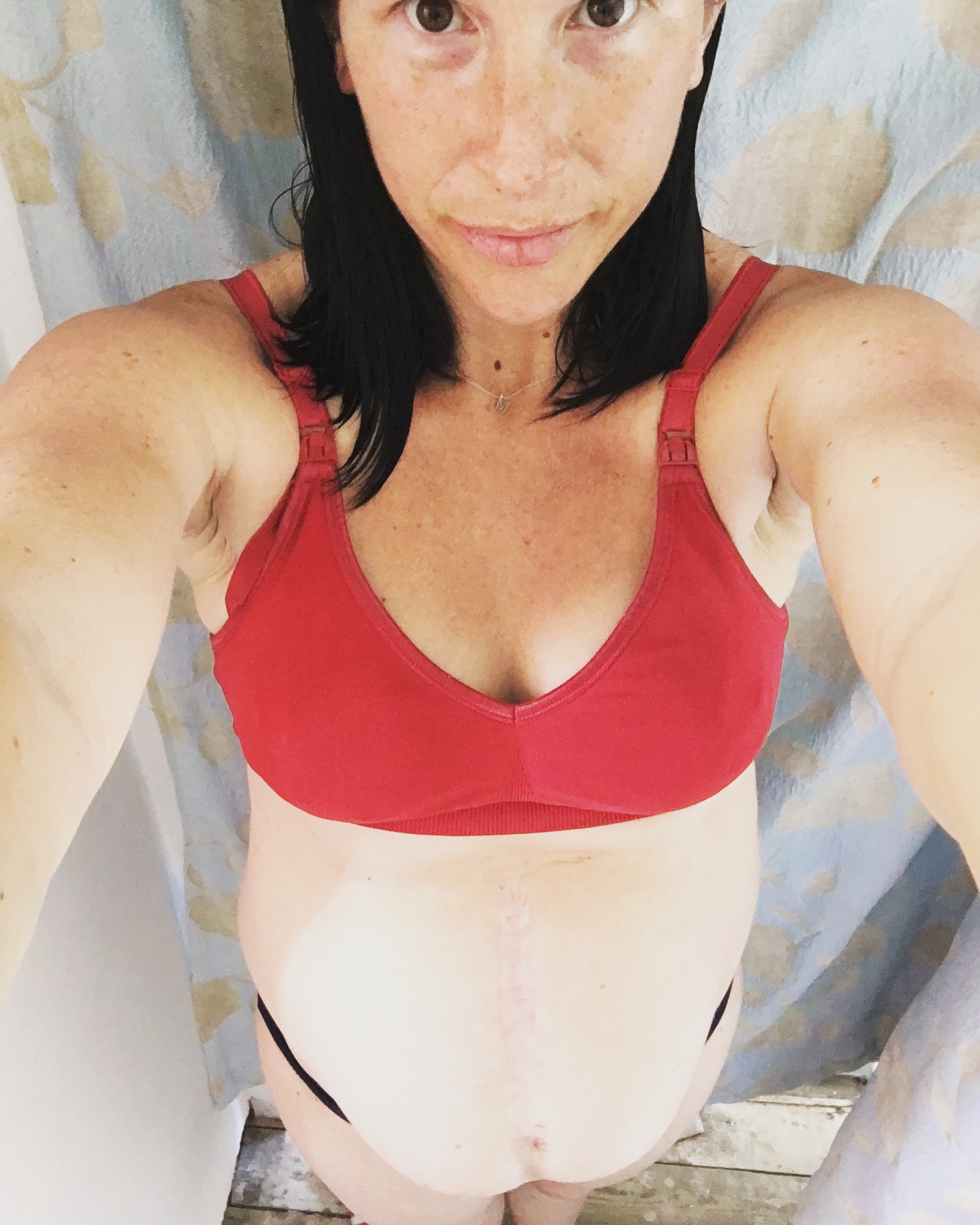 My bras are all a bit tired now
Some of them are over 5 years old
But they still look good
They wash well
And they are super duper comfy
The material the Bravado Body Silk Seamless Nursing Bra is made from
Is so soft and stretchy and seems to be growing perfectly with my ever changing chest size
The bra is gentle enough to be worn all day without leaving marks or causing any discomfort
It seems to caress tender breasts and keep them safe and supported right through the night
It is really very comfortable for sleeping in which is important when pregnant and breastfeeding
When you often need that extra support
I love the fact that the bra has a low back
So that when I am nursing through the summer months I can wear it with some lovely vest tops and summer dresses
I not have to sacrifice style for the practicalities of breastfeeding
I find this bra makes a great, flattering shape under my clothes.
It comes with extra padding if I feel I need a bit of oomph or nipple discretion
Bravo Bravado and thank you for the 'support' these past five feeding years
Frugi Feeding Range
I have really struggled with clothes this time round
Nothing seems to fit me as it should
13 weeks post partum and I still look about 5 months pregnant
Though I am generally slim and I do not weigh very much
I have a big bump that I am starting to think I may now never lose
Pretty clothes with feeding access are not always easy to come by
I fall back on one brand most days
That brand is Frugi
I have worn their Mother range since having Bea
And I love it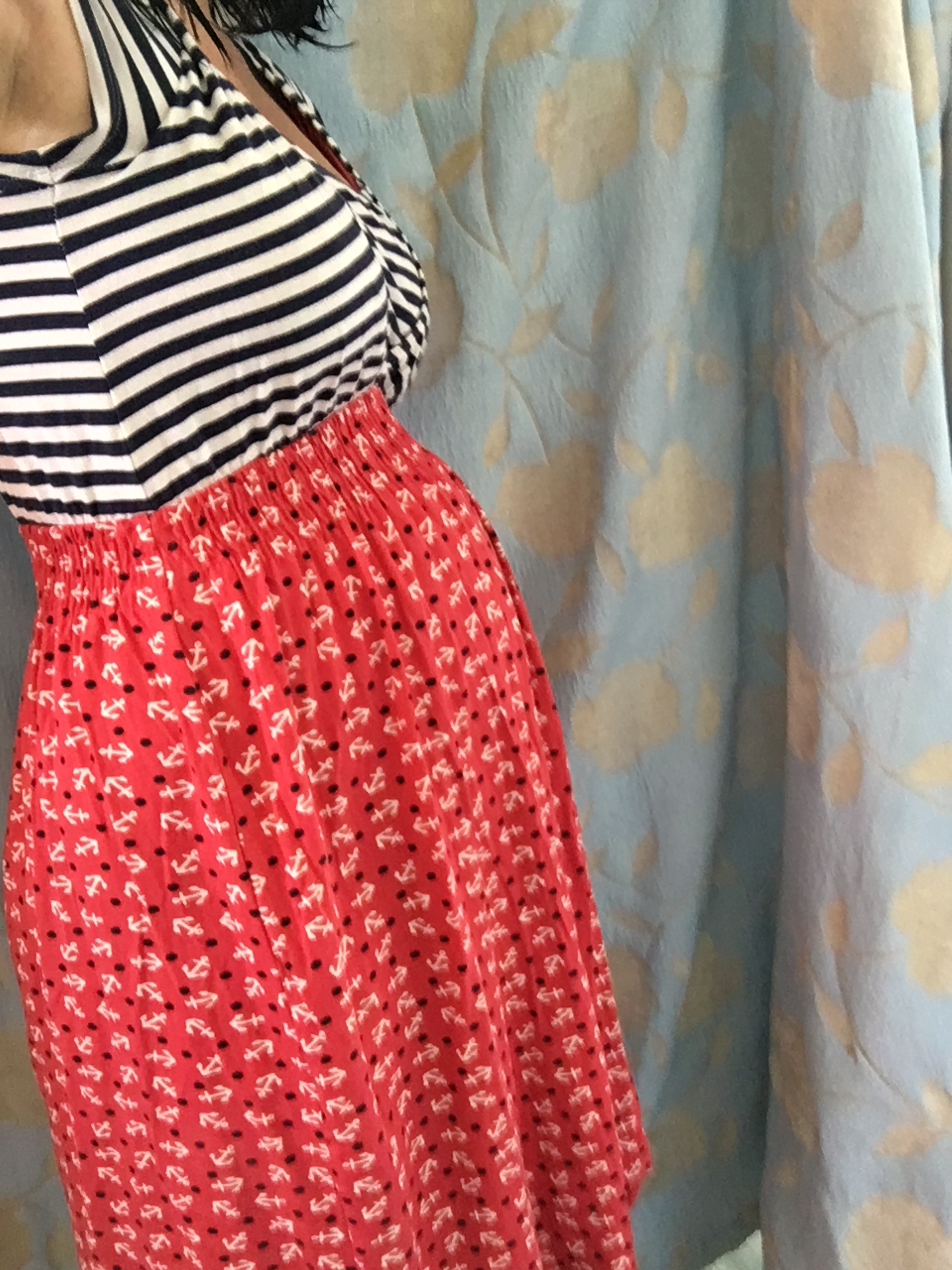 The clothes are so incredibly well made
The company has a generous ethical ethos
And their clothes make me feel good about myself
I would buy their entire range if I could
And would happily never wear anything else
Meelight
I have slept with the light on
Ever since Bea was born
Which I loved
But after awhile it disturbed David's sleep
With Edie Mae
I have been using a Meelight from Cheeky Rascals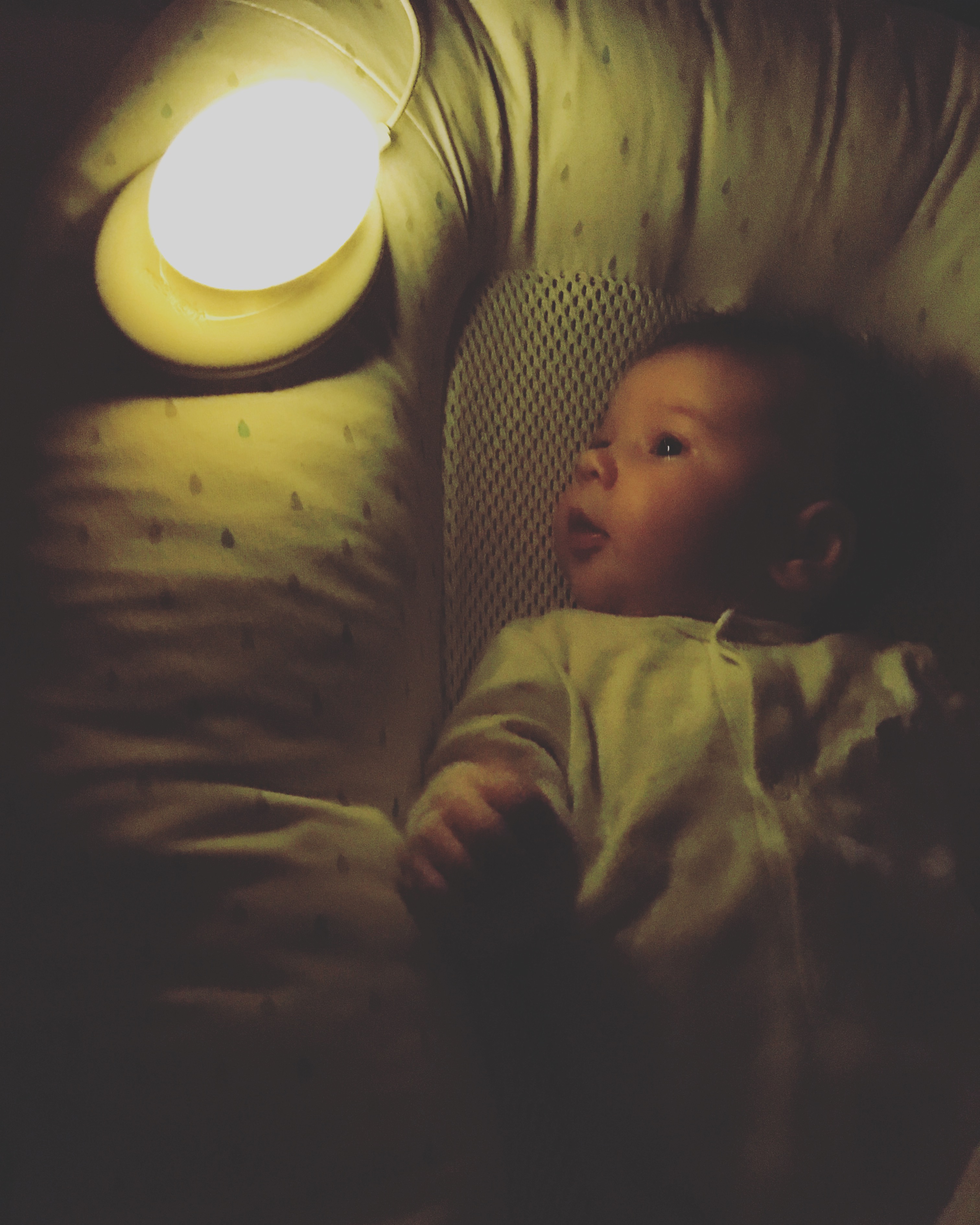 This night light is my most used baby product
This time around
When I go to bed I turn it on
It has three settings
I use the lowest setting all night
Use the middle setting for settling into bed
When I am checking Edie is where she should be
And breathing as she should be
The third, brightest setting
I use for latching Edie on to feed
And for night time nappy changes
This pebble shaped light does not get hot
So I can hold it up close to Edie to check her
I can carry it to the loo
Use it to check on my other children
It has a clip which allows you to wear the light
This is an incredibly innovative product
That every mother should own
I cannot ever imagine being without mine now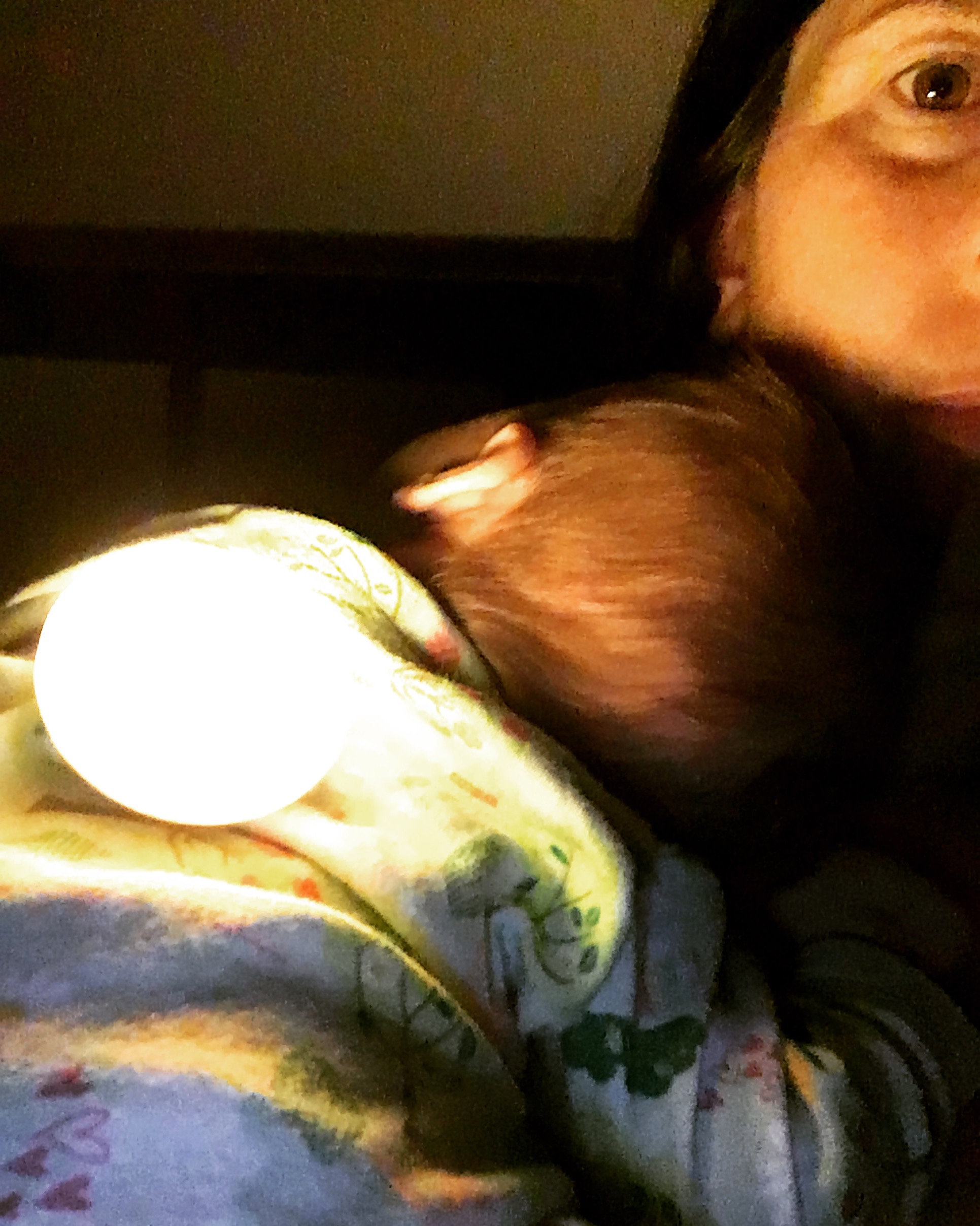 Essential One Sleep Bras
My sleep bras from The Essential One
Are perfect for comfort and support over night
These soft bras have been perfect
For wearing when my breasts are engorged
Or have been throbbing with infection
They are gentle against sensitive skin
I love them
And have been known to wear them
Even when not sleeping!
Close Fabric Breast Pads
I mostly wear disposable breast pads
Often from Sainsburys or Tesco
But recently I have been introduced to
Pop-in breast pads from Close are ideal for nursing mums
Reusable and machine washable
They are incredibly slim with a hidden waterproofing layer and added protection against leaks
They are also supremely comfortable to wear
I love them
And will be stocking up on them
To see me through the remainder of my feeding journey
Muslin Swaddles
A mummy can never have too many muslins
The list of uses for these brilliant
Often beautiful cloths is endless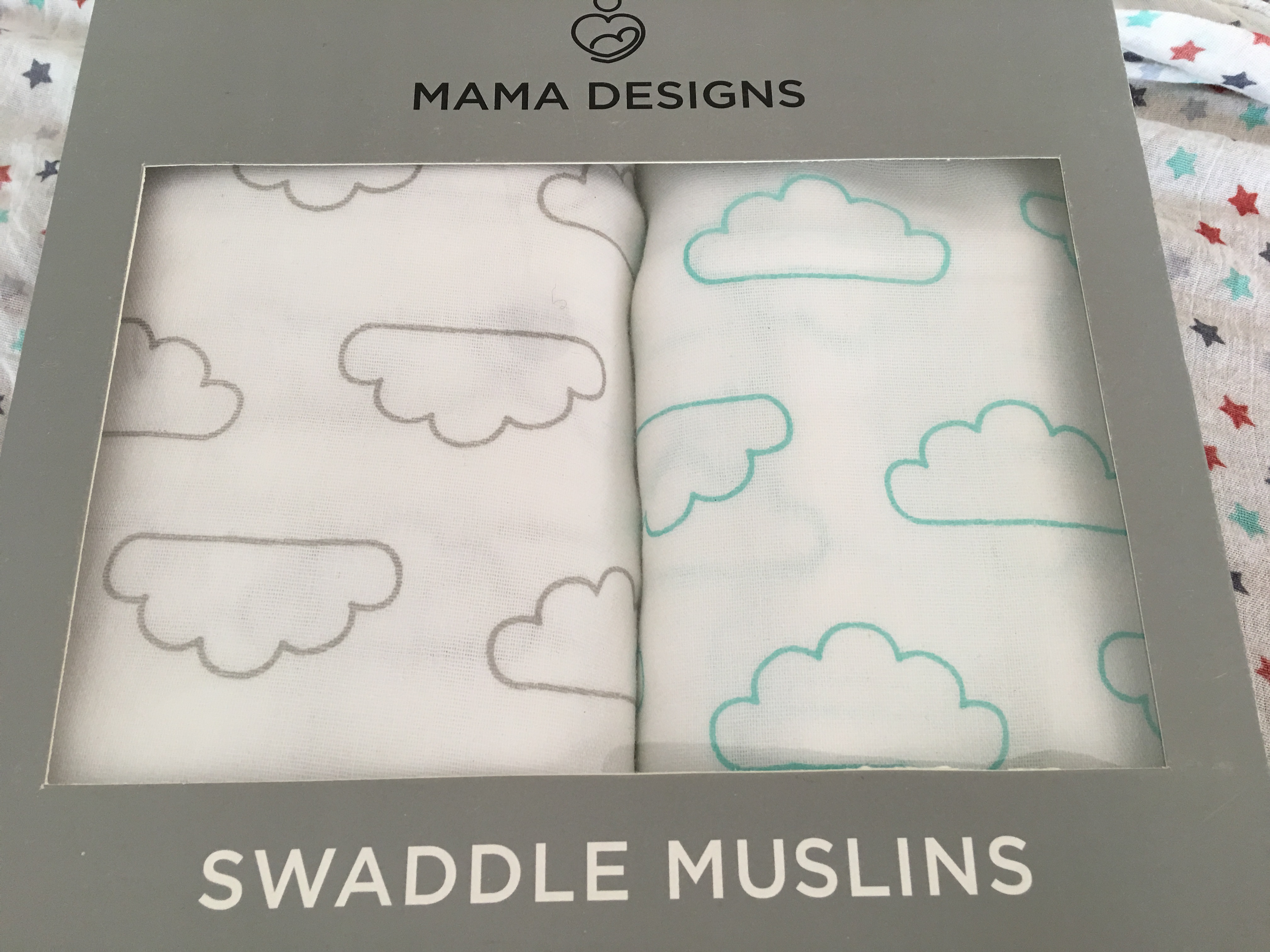 Recently I have used them to cover Edie from the sun on days out
To cover us not while Edie feeds but while she latches on
They can also be used for mopping leaks and spills
For lining cots and car seats
As a portable playmat
A light weight blanket or towel
So many uses for the marvellous muslin
And the Mama Designs giant cloud print swaddles
Are some of our faves!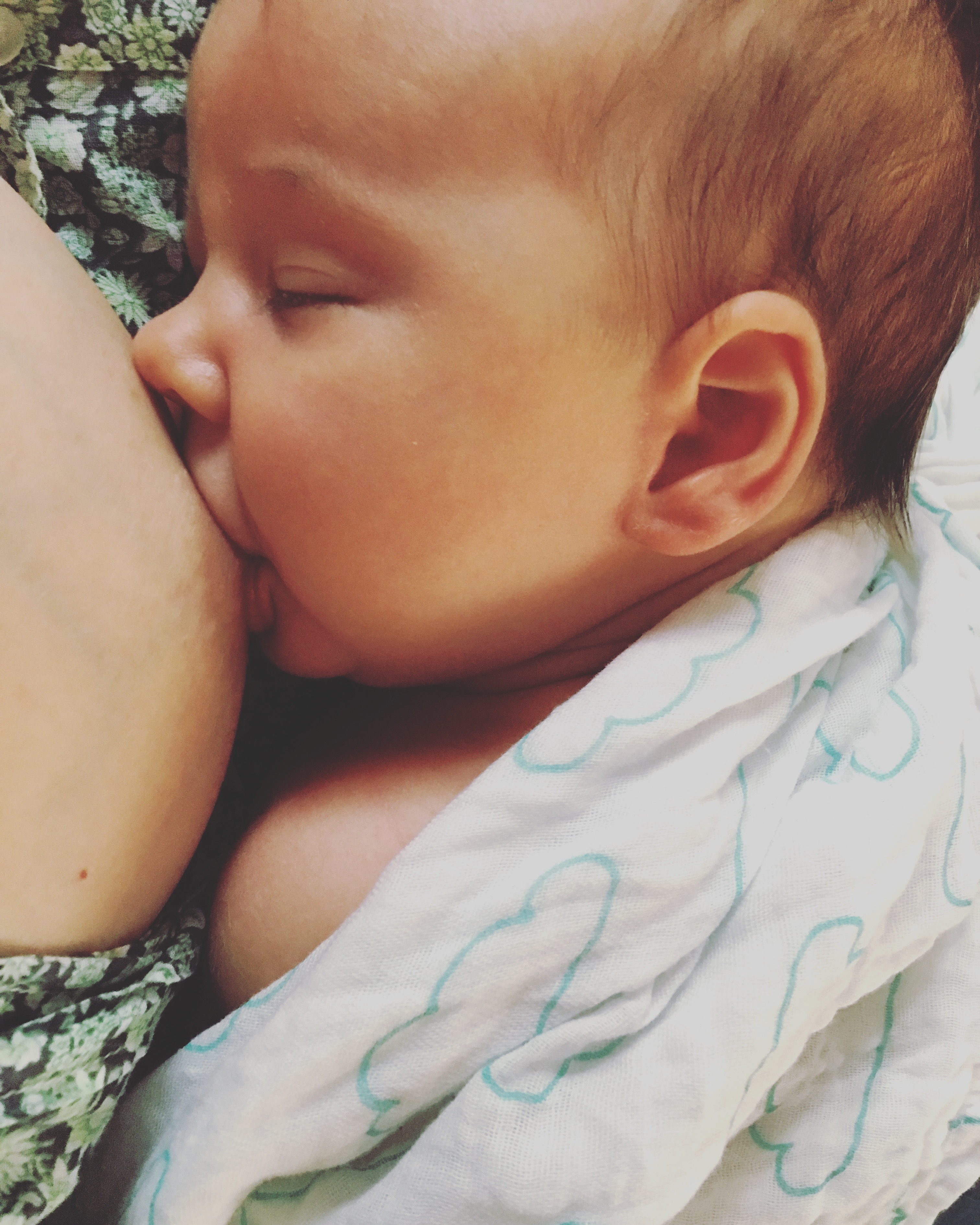 Cereal Bars
What is your go to breastfeeding snack?
An oat based cereal bar is mine
Preferably with a sprinkle of chocolate!
Sainsburys Chewy and Oaty
Chocolate and Raisin Cereal Bar
Is my latest addiction
Shnuggle Nightdresses
When is a nightdress not a nightdress?
When it is beautiful enough to be a day dress!
Shnuggle launched two nightdresses this year
And I am lucky enough to own them both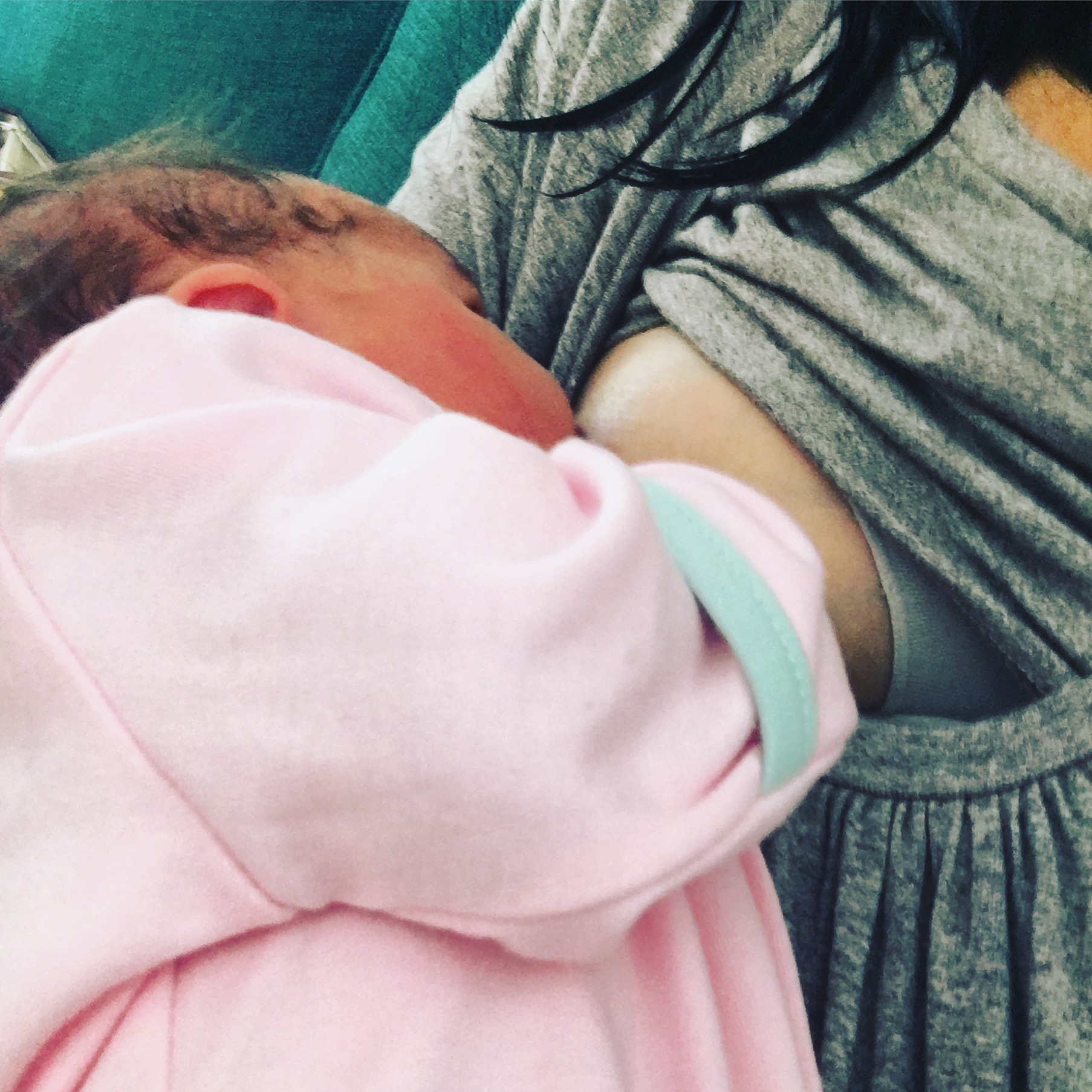 Both grey in colour
Made from bamboo fibre
Which is super soft and antibacterial
They have really easy discreet feeding access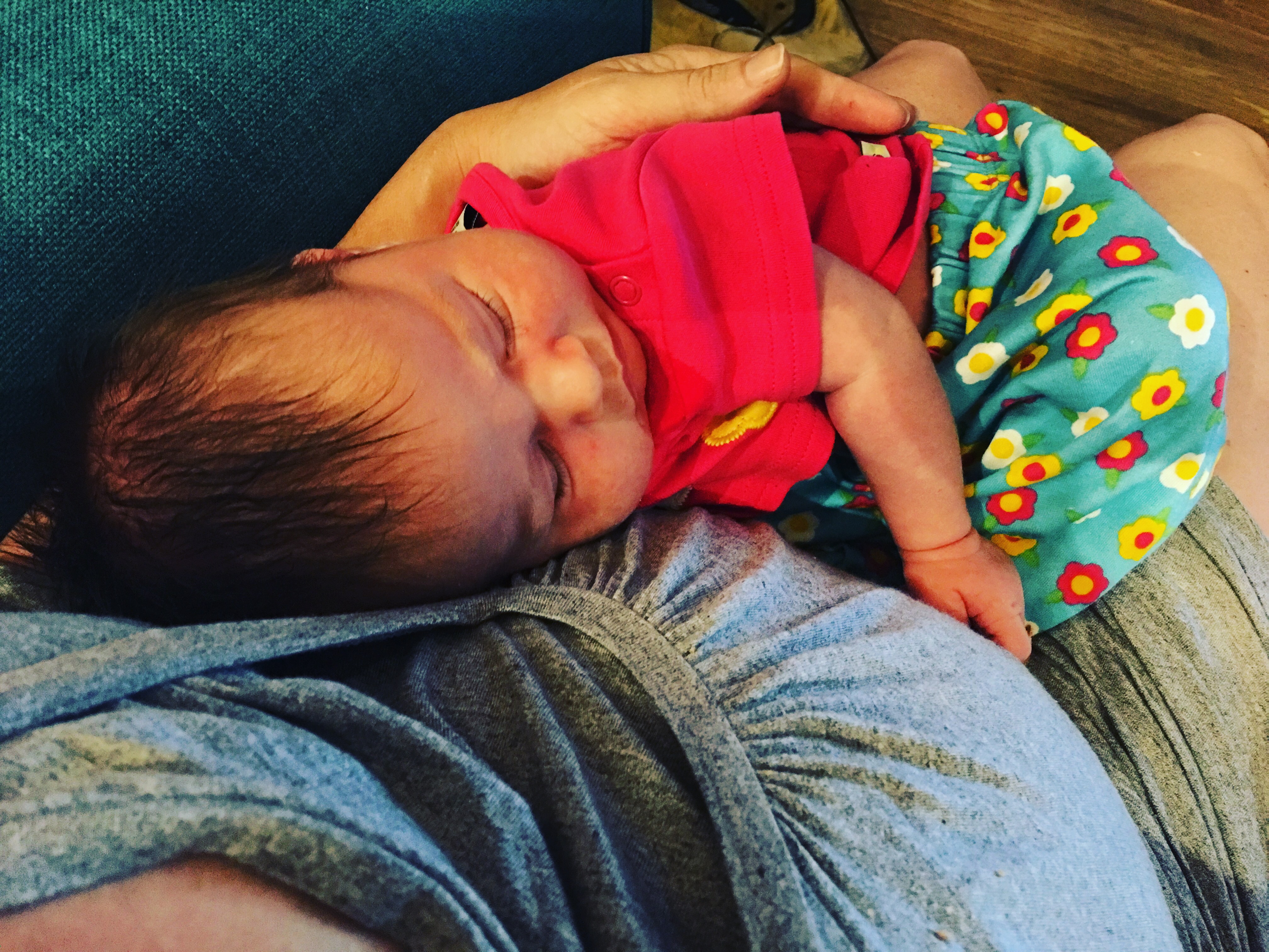 Both have pretty details in their designs
Flattering gathers and folds
Which mean I often wear these dresses as lounge wear during the day
Everyone always compliments me when I wear them
So much so I have seriously contemplated wearing them out of the house
But have not been brave enough … yet
David
David makes breastfeeding possible
He gets up with the older children in the morning
So Edie can have a really good morning feed when she wakes
David often does tea time and always does bath time
As Edie cluster feeds
David is happy to get me what I need
While I am sat feeding
He understands that nursing is not easy
That it takes energy and patience and time
He understands how much it means to me
To be able to feed our babies
David is my breastfeeding support
I could not do it without him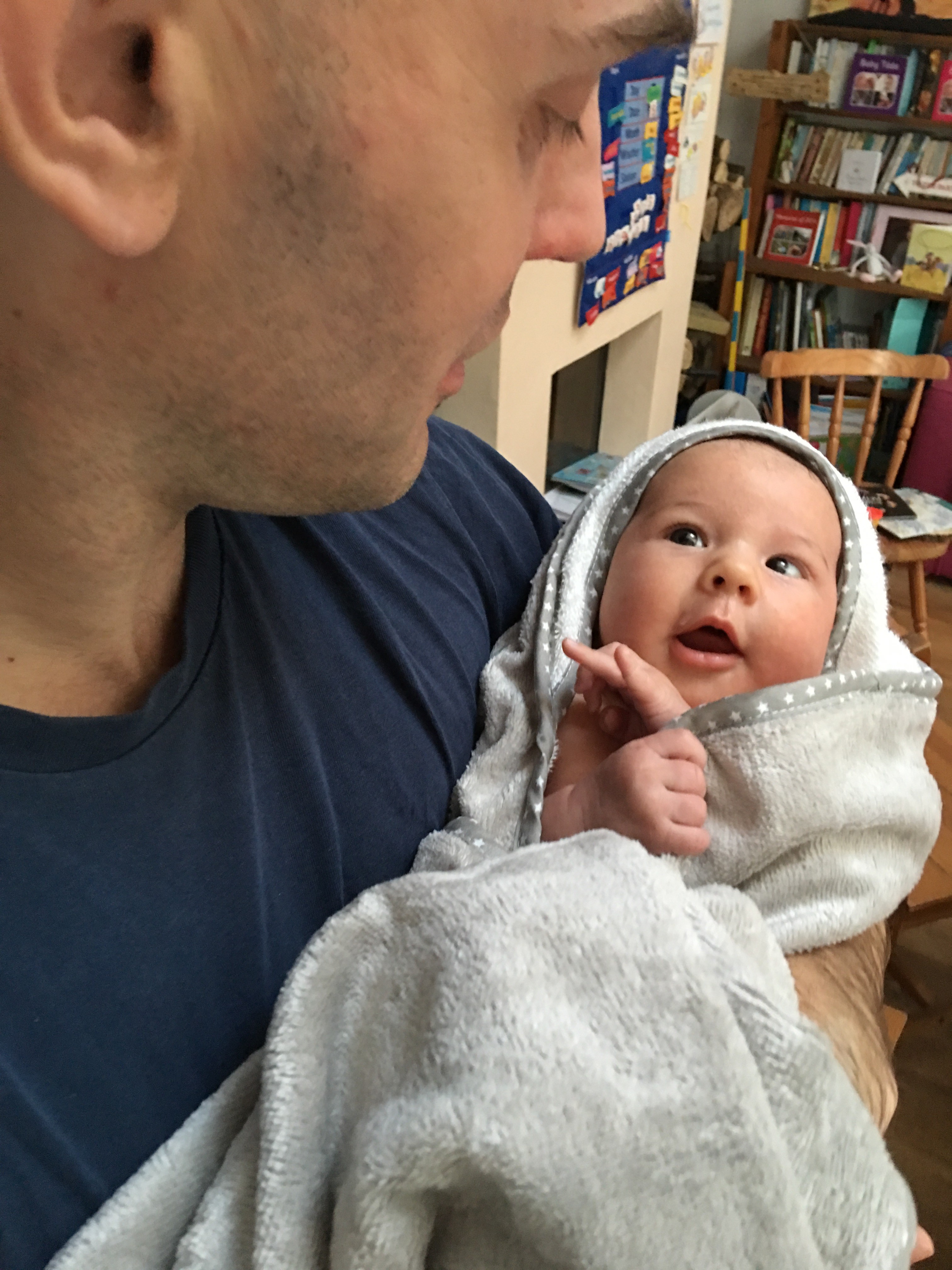 So those were my breastfeeding essentials
Not in any order
Here are some other things
Things that might be called
My essential extras
Things I do not really need
But that I like to have
My Essential Extras
No Harm Nipple Balm
Every breastfeeding mother
Should carry a nipple balm
To prevent cracks
To soothe sore nipples
To protect from damage
Is one of the best on the market
It is 100% natural
Safe for mother and baby
Can be applied with one hand
And does not need washing off before a feed
So as well as being healthy and healing
It is handy too!
Hush Cush
Everybody needs a pillow for a bosom!
Actually most of the time when breastfeeding
I do not use a cushion
But sometimes with Edie
When she is struggling with her latch
Or getting used to a new position
We use the Hush Cush
This is a nursing cushion with a difference
You wear it on your arm
It provides comfort and support for mummy and baby
The cushion supports my weak wrist
Which often aches when Edie falls asleep on it at the breast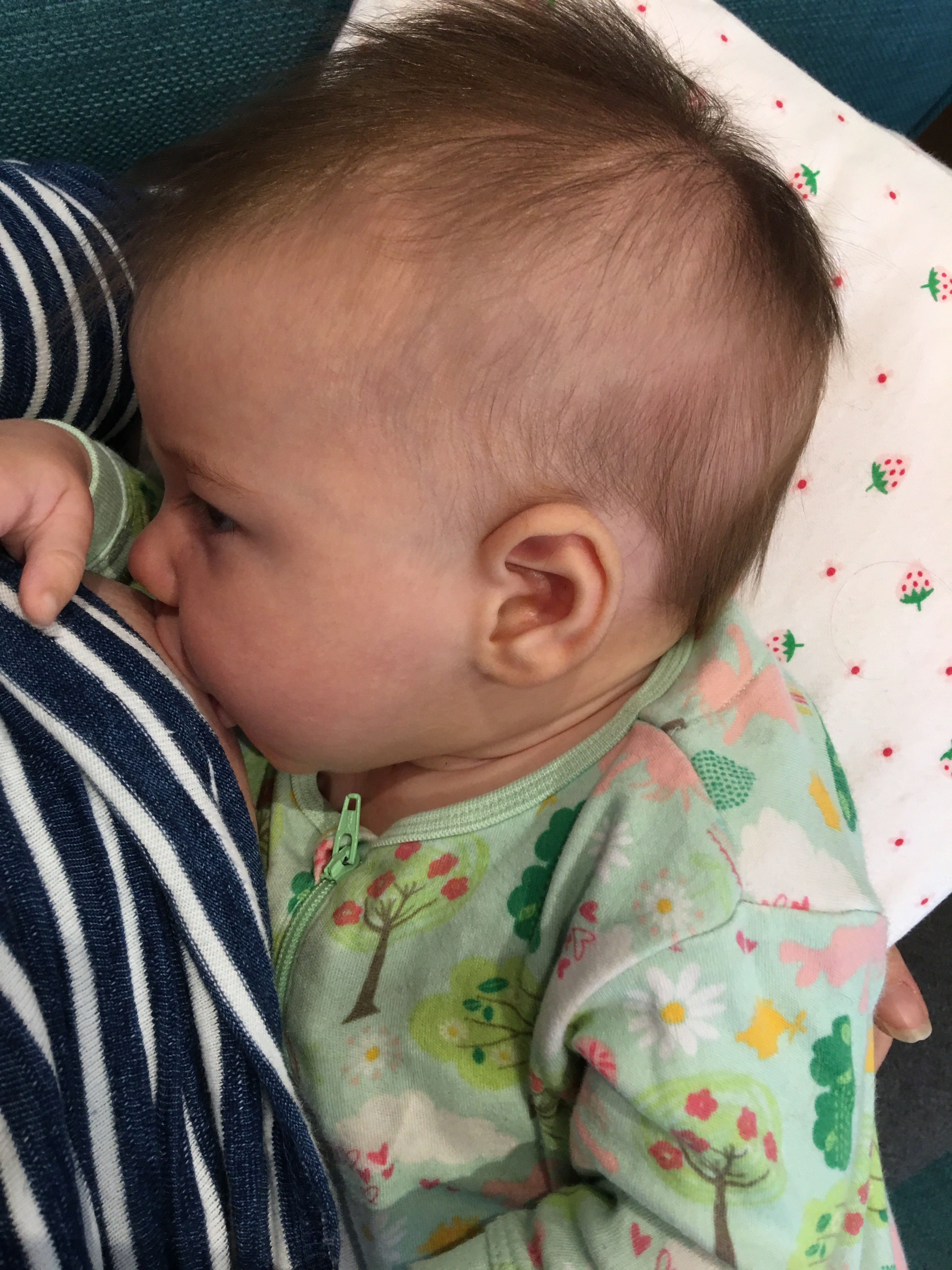 The cushion helps Edie be in and stay in the optimal tummy to tummy feeding position
It also raises her head higher than her tummy to aid digestion
I think this also means that she does not get too windy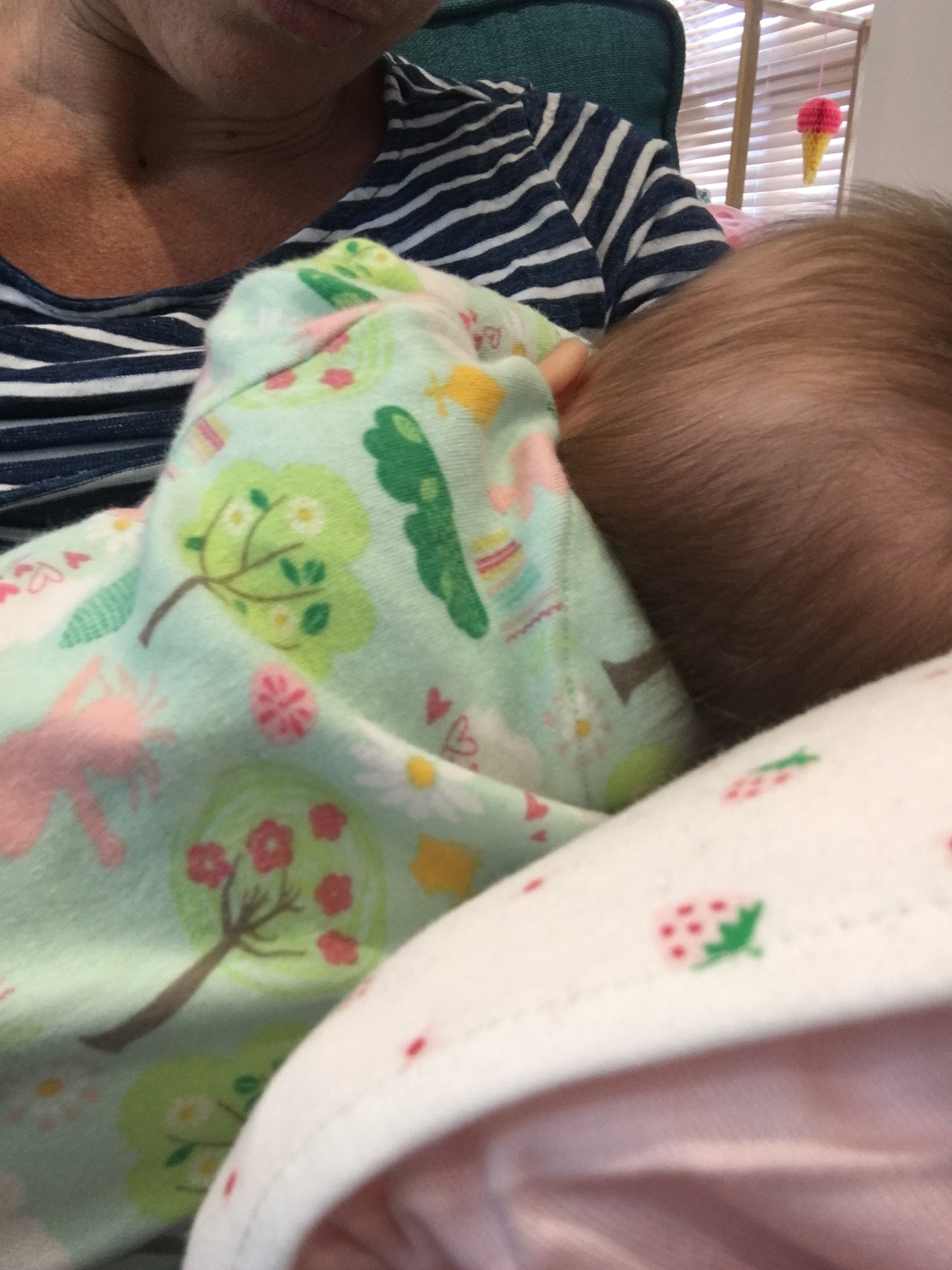 The Hush Cush provides a skin barrier to stop mummy and baby sticking to each other
Particularly on hot days
The cushion helps mummies to sit in a healthy position
Protecting and preserving postpartum backs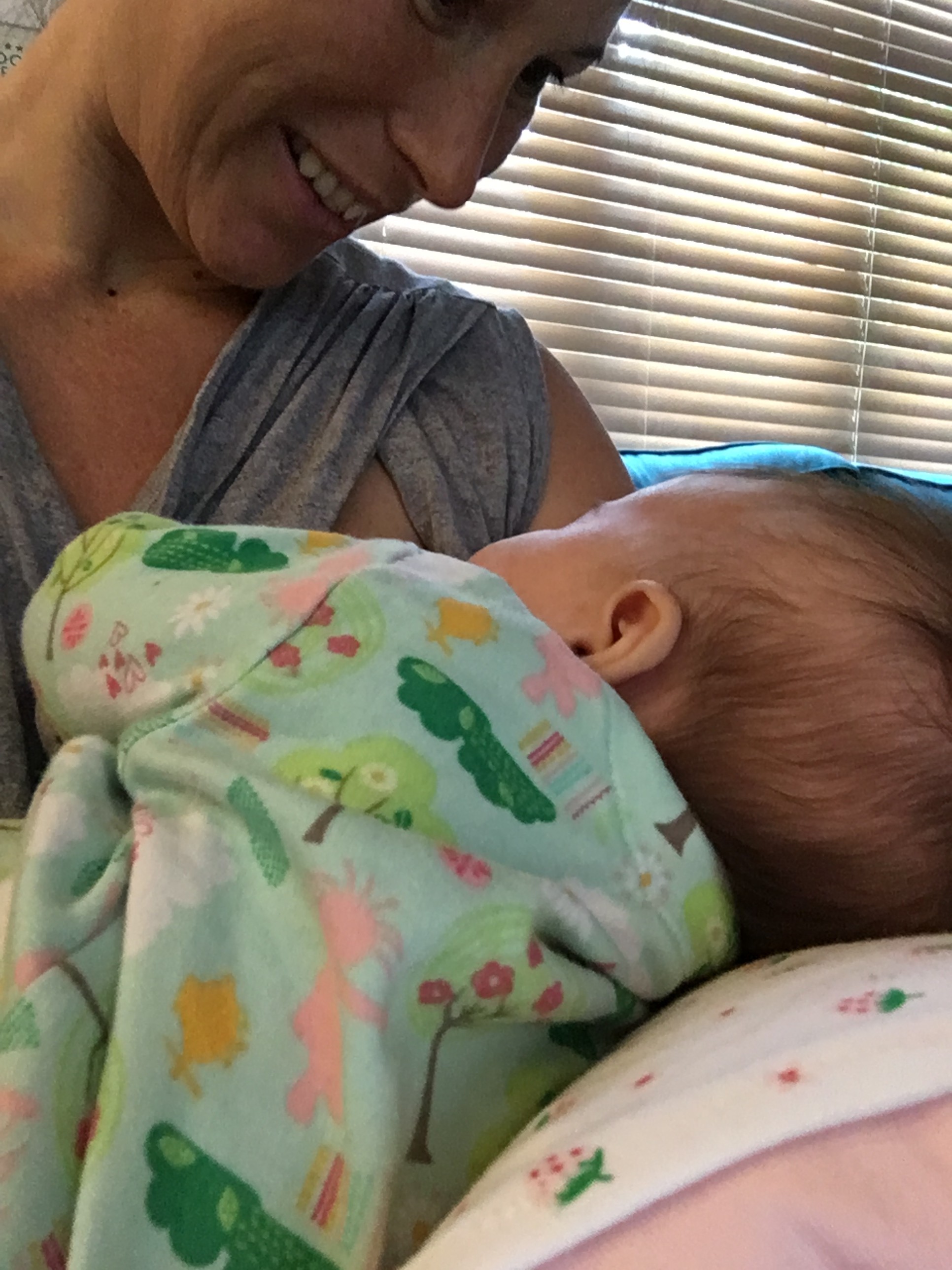 The Hush Cush is easy to keep clean
With detachable and washable covers
Perfect for milky spills and sleepy dribbles
This portable pillow makes a perfect present for new parents
No matter how they choose to feed their little one
Just look at all these benefits!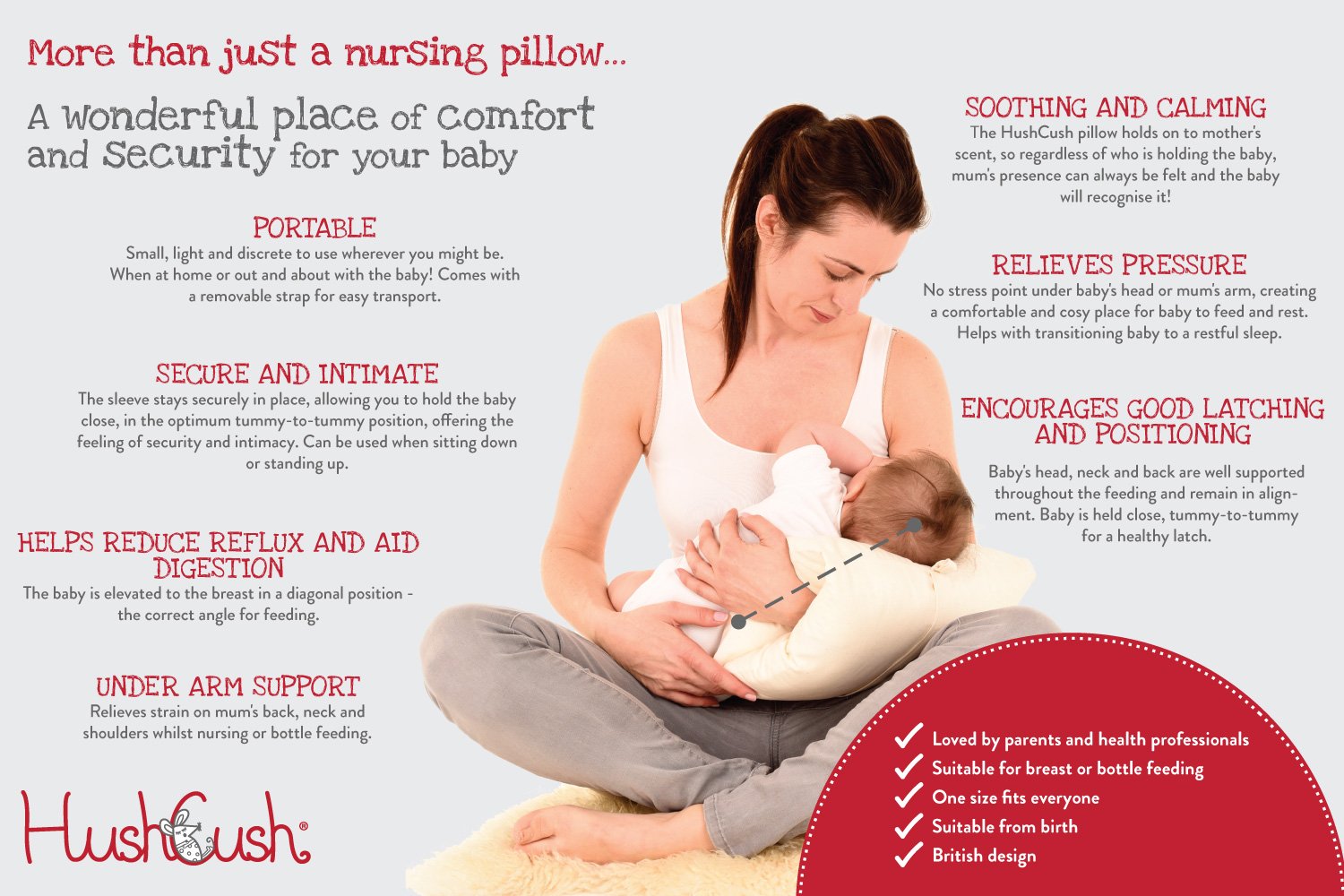 Essential One Nightdresses
I gave birth to Bea and Edie in the same nightdress
From The Essential One
These nightdresses are so soft and stretchy
Perfect for pregnancy, postpartum and beyond
I can often be found feeding in mine
The shape of the dresses flatters my curvy post baby shape
They make me feel pretty
And give me a boost
Bosom Buddies Breastfeeding Oils
Another product that has helped me
Breastfeed baby number 5
Is this set of oils from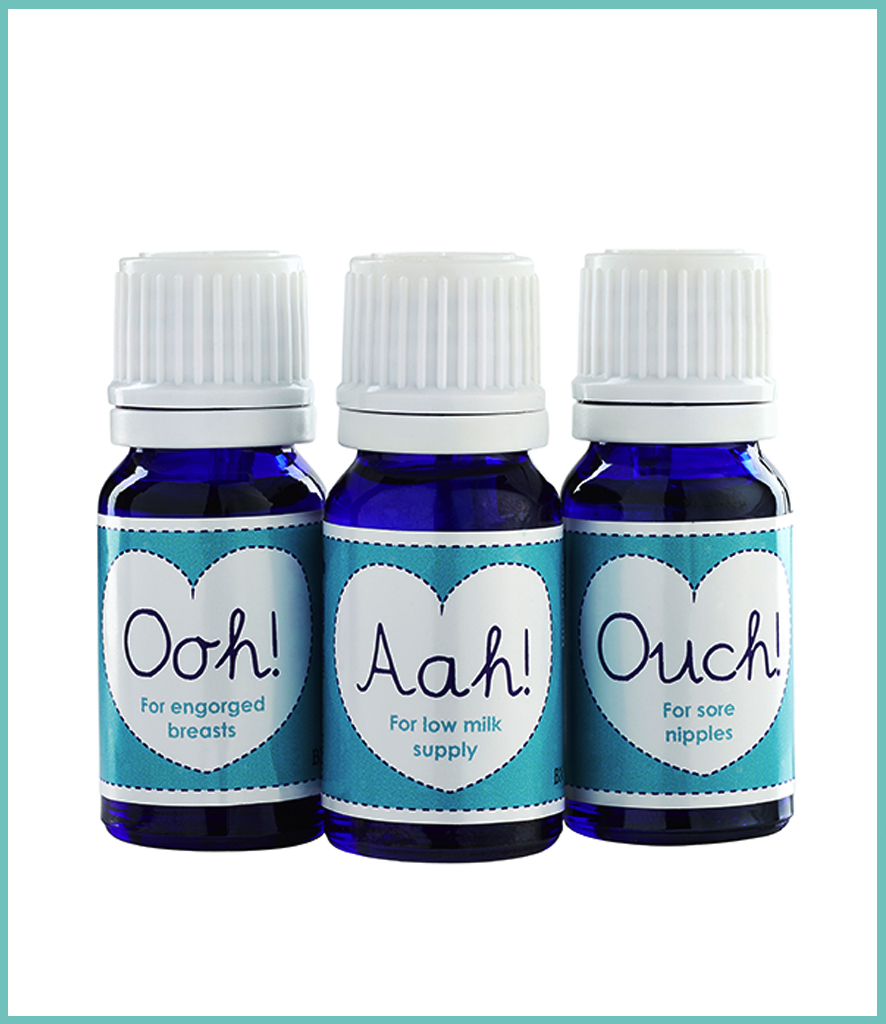 Key Facts
Bosom Buddies consists of three blends:
"Ooh"
Full heavy tender breasts
Engorgement
Mastitis (You must also seek medical advice if you think you have mastitis as you may need antibiotics)
"Aah"
Low milk supply
"Ouch"
Sore nipples
Painful nipples

All three blends also help with any low mood or anxiety/tension/stress as these factors also have a part to play in low milk supply and pain.

How to use
Add 2-3 drops of your chosen blend to a bowl of water. Hot water is best used for low milk supply, cold water on sore nipples, whereas heavy, full tender breasts would benefit from hot water to ease the flow or cold water to ease the discomfort/swelling so choose what feels right for you at the time.
Submerge a couple of flannels or muslin cloths into the water solution, squeeze them out and place the wet cloths over both breasts directly onto the skin.
Cover with a dry towel to keep warm and relax for up to 30 minutes. (During this time the cloths can be renewed in the water to maintain their temperature)
Prior to feeding baby clean the breasts with a clean wet cloth to help to remove any lingering scent from the oils.

Properties of Ingredients
Cypress: Calming and relaxing – has diuretic properties thereby reduces swelling
Geranium: Uplifting – Diuretic and astringent – induces tissue, muscle and skin to contract
German Chamomile – Lifts mood – antiphlogistic properties thereby reduces swelling & oedema
Peppermint – Relieves stress, depression and mental exhaustion – relieves pain, reduces swelling.
Mandarin – Boosts circulation – antiseptic properties, promotes healing, relieves stress
Fennel – Galactogogue – boosts production of oestrogen which plays a part in milk production
Lemon Grass – Galactogogue – increases self-esteem, confidence and uplifts spirits
Frankincense – Lowers anxiety and stress – promotes relaxation, antiseptic properties
Neroli: Relaxes and calms. Good for insomnia, nervous tension, headaches, depression, anxiety.
Lavender – Antiseptic – pain relieving properties, calming of nervous tension and emotional stress
At the first hint of a blockage
Or the faintest symptom of mastitis
I have used these Bosom Buddies on hot flannels on my breasts
The effect is immediate
The scent soothes my mind
And the active ingredients soothe my symptoms
The process feels like such an indulgent treat
One I rarely have time to enjoy
But I know that when I do
The physical, mental and emotional benefits are enormous
For me and for baby
Edie has been struggling with her weight
And I wonder as an older mum of five breastfed babies
If my supply is not meeting her demand
Some time with Bosom Buddies
Settles my anxiety and helps to boost my supply
This set would make a lovely gift for a new breastfeeding mummy
Try to give her the time out to use the products too
She will love you forever!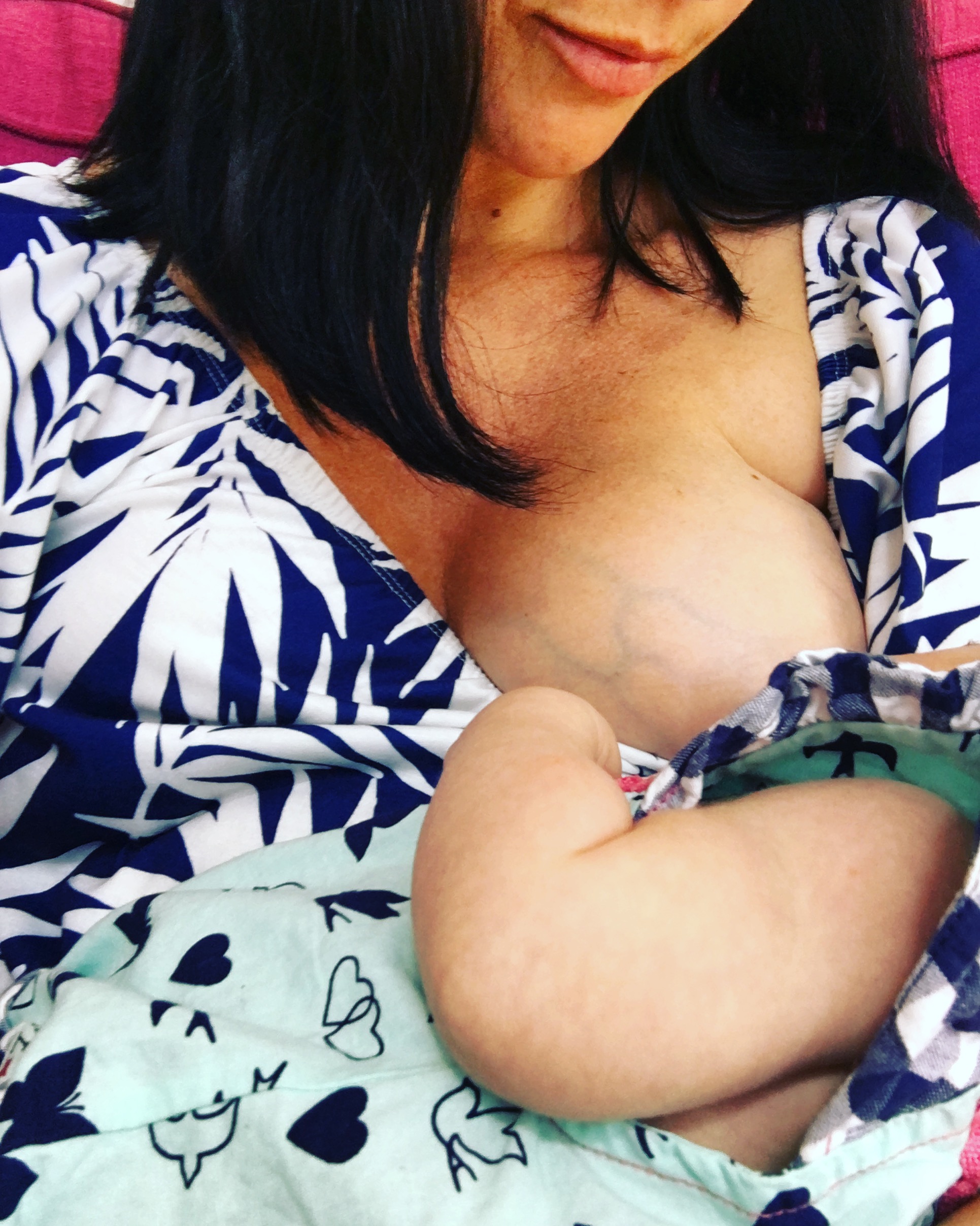 Being an older, experienced breastfeeder
I have my go to products
My breastfeeding essentials
And treats
In this belated World Breastfeeding Week post
I have shared my essentials with you
I hope that someone somewhere might find them helpful
Thank you for reading and travelling this journey with us