Today Edie had her second set of immunisations
She was a super star this time around
Gulped the Rota Virus oral vaccination down with ease
Albeit through tears
And screamed as the needle went in her thigh
But was easy to settle with a cuddle and a few renditions of
You Are My Sunshine
Every mummy should have this miracle soothing song in their repertoire!
While Edie was a trooper today
I was just a storm (Star Wars reference)
I had a panic attack
The first I have had in a long time
Leaving our house to go to the surgery
Was a fuss and a fumble
By the time we were ready to leave Edie was crying
She continued to scream all the way in the car
My nerves were frayed already
As I hate injection day
I have with all our children
And it never ever gets easier
I get very worried and emotional
I hate that I have to take them somewhere
Knowing that pain will be inflicted on them
I realise it cruel to be kind
But the whole experience really affects me
By the time we arrived at the doctors
Edie was screaming so much
Inconsolable
I just wanted to take her home
I called David in a crazy panic
Saying I could not take her in
Telling him that he should have come with me
I was in a panic that I could not stop
Edie would not feed
She would not be calmed
Which in turn meant I was in an inner turmoil
I tried to put her back in the car
To drive home
But that made her worse
So I picked her up and held her to me
And in the middle of a housing estate in the next village
(There are never spaces in the surgery car park)
I paced the streets
Like a crazy lady
Bouncing and swinging with Edie
Singing oh so quietly
You are my sunshine
My only sunshine
It took a few times through
But she calmed
I calmed
We both calmed together
Enough to go into the doctors
And go through with the vaccinations
We are home now
It has been an hour
Since the needle went in
I still feel sick to my stomach
I can still taste the adrenalin
But we made it
I did not give up and come home
I very nearly did
But today I beat my panic and anxiety … ish
And I did what needed to be done
Injection day is not a nice day
For mummy or baby
But here are some tips
To make the experience
As easy as it can be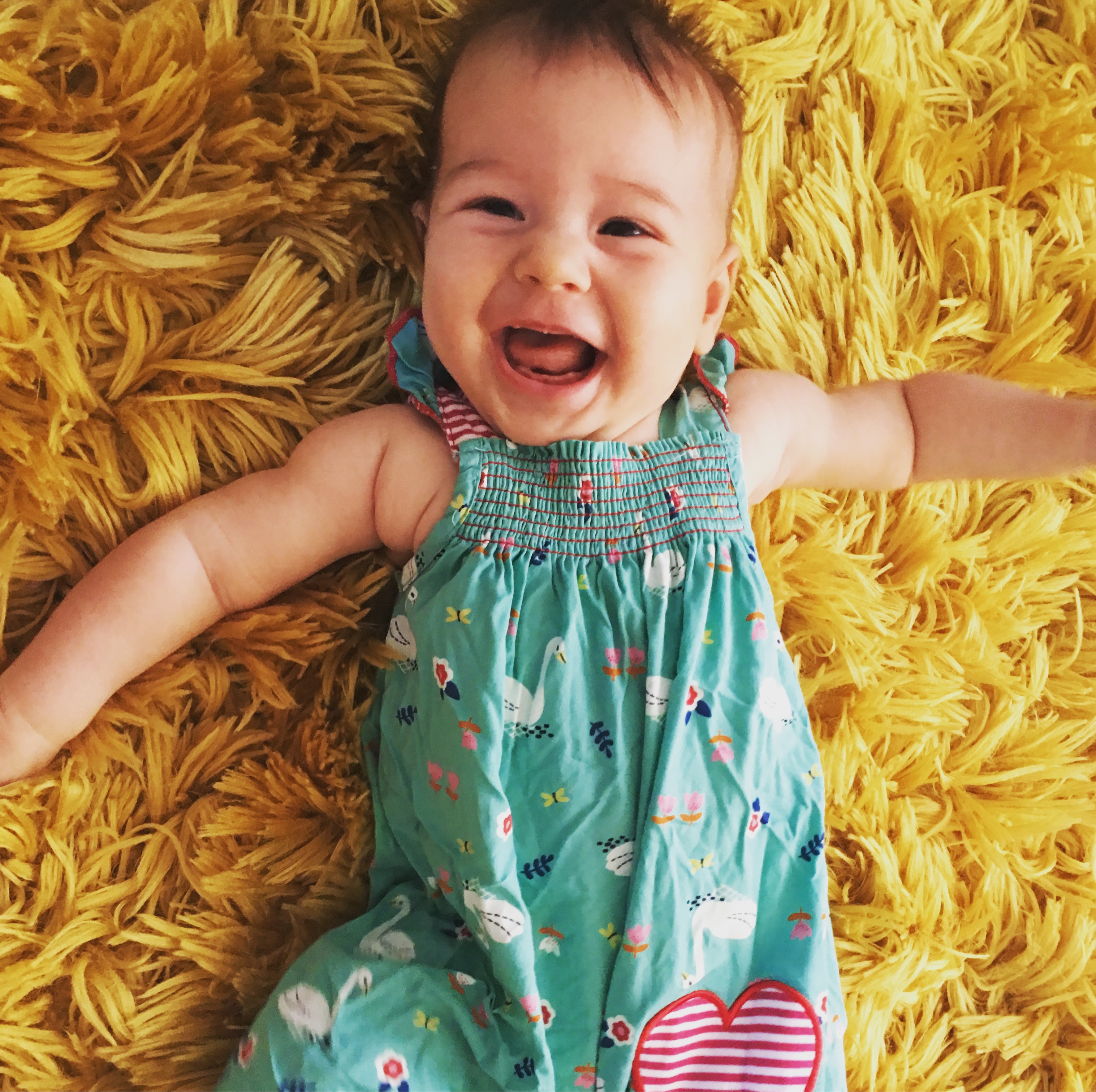 1. Book your appointment for early in the day so you can get it over and done with
2. If like me you are a worrier, you panic or are scared of the experience, take someone with you. Do not go it alone.
3. Leave plenty of time to reach the appointment so that you and baby are as calm as can be
4. The needles go into baby's thighs so wear clothing that gives god access without the need for popping poppers or undressing of any kind. Rompers and dresses are perfect.
5. Take your little one's red book with you
6. Hold your baby firmly as directed by the nurse. Try to stay calm.
7. Try not to feed your baby as the vaccinations are given. It is better to feed after pain to soothe baby rather than during when baby may associate pain with feeding.
8. Be aware that the nurse may ask you to give your baby the oral Rota Virus vaccine. Aim the syringe into the pouch of the cheek. Give baby a small amount at a time and wait for baby to swallow before giving any more.
9. Check with surgery their advice on giving pain relief for the 8 week and 16 week immunisations.
With Men B vaccination (given at 8 weeks, 16 weeks and one year) it's recommended that you routinely give your baby liquid paracetamol after the vaccination to reduce the risk of fever.
10. If there are any signs of fever after your baby's jabs it is safe to give them Calpol. Do ask for dosage advice if you are unsure.
11. Treat yourself when the experience is over and allow yourself to feel whatever you need to feel. It is not silly to be sad, feel guilty. It is not crazy to worry. However you feel is okay.
12. Plan a quiet day after the injections to see how baby reacts as it can be different each time.
13. Enjoy all the cuddles
14. Learn the words to You Are My Sunshine!