The best way to spread Christmas cheer is singing loud for all to hear. Elf
I love singing
I have always loved singing for as long as I can remember
I spent much of my childhood
Performing in musicals
Singing with a choir
And recording myself singing in my bedroom
I used to plug my microphone into my HiFi
Press record on the cassette player
And sing away
As a teacher I used to love leading hymn practice
And I loved directing the school play
Nowadays I do not get to sing as much as I would like
I am toying with a couple of ideas for our Home Ed community
Starting a just for fun singing group
And putting on a small scale musical show with a group of children
I have four children of my own
All of whom would love the opportunity to be in a show
It feels like a logical way to go
I am very aware that being home educated
My children do not know all the school hymns
And Christmas carols that I knew as a child
And so this Christmas
I have compiled a list of carols that I want my children to know
And we are going to have some singing time every day of advent
To learn some festive songs
I am also going to take them to a few church carol services
As we countdown to Christmas Day
Esther has a beautiful singing voice
And I think Bea is going to be a singer also
We just need some practice!
And so here are my
Top 10 Christmas Carols I Want My Children To Know
IT WAS ON A STARRY NIGHT
I adore this song!
It is one that I know from my own childhood
One I have used in a school nativity that I wrote when teaching
It is just a wonderful joyful song
That is easy to sing
It also now reminds me of our star in the sky
Matilda Mae
AWAY IN A MANGER
A song as old as time
A song I have sang so many times
At school
In church
On my own
With friends
With a choir
It is a song I have learned to sign
That Esther and William signed in a school nativity
It is the song that I could not sing
After Tilda died
I could not make the words
Come out of mouth
Only tears and sobs
As I heard the words of this beautiful carol
This is a children's carol
And it must never be forgotten
LIFT UP LIGHTLY THE STABLE BAR (CAROL, GAILY CAROL)
I remember the words and melodies
To every song in a A&C Black song called
Carol Gaily Carol
I was Mary in a nativity play
At Episkopi Primary School
In Cyprus
Many many years ago
And all the songs used in that play
Were taken from this book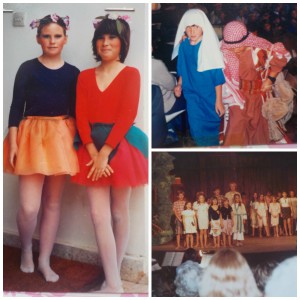 I have had great fun teaching my classes these songs
At Christmas times in recent years
And now it is time to teach them to my own children
I wonder if you know of any of them?
Some of my favourites are:
Now Tell Us Gentle Mary
the classic Little Donkey
Here We Go Up To Bethlehem (to the tune of Here We Go Round the Mulberry Bush!)
Joseph is Sad as He Travels the Way
Standing in the Rain (very funky for a school Christmas song of its time!)
There Isn't Any Room (Rat-a-tat-tat!)
Come They Told Me (Parum Pum Pum Pum!)
O Come Little Children (based on a German carol)
Go Tell It On The Mountain
Lift Up Lightly The Stable Bar (my absolute favourite to this day!)
Under Bethlehem's Star So Bright (Hydom, hydom, tidlidom!)
IN THE BLEAK MIDWINTER
I love this carol
There are so many hauntingly beautiful versions of it
I think is my favourite
LULLY, LULLA (COVENTRY CAROL)
When I was 9 years old
I sang this in my parish church
I wore a beautiful tartan dress
It was from Marks and Spencer
Bought for me by my aunt and uncle
I stood at the front of the church
On my own
And with no accompaniment
I sang the Coventry Carol
My Grandad was there
And I was so incredibly nervous
But so incredibly proud
I have loved this carol ever since then
Until this day
A very special Christmas memory
SILENT NIGHT (STILLE NACHT)
Growing up in Germany
This is another favourite
Laden with memory
I also used to sing this to Tilda as she was feeding to sleep
In German
ONCE IN ROYAL DAVID'S CITY
This beautiful carol I love to sing
I have sung the first verse solo before
Though it is usually a boy that does that
I remember a boy I was friends with
When we were Guides / Scouts
Singing this so beautifully
His name was Matthew Booth
THE HOLLY AND THE IVY
This is a family favourite
The children always ask for it
I have no memory of particularly liking it
Until my own children discovered it
O LITTLE TOWN OF BETHLEHEM
I love this carol
This and O Holy Night
Carols I often find myself singing
Without realising how or when I started
Songs to be sung by candlelight
Songs to sing softly
With heart and feeling
Magical beautiful carols
DING DONG MERRILY ON HIGH
LOVE this song!
So many memories of trying and failing to sing this
Particularly with a class of children
Such a wonderful carol
But hard to get right in the primary classroom
Really looking forward to having some fun with this one
With Esther, William and Bea
And one for luck?
JOY TO THE WORLD
This song is full of joy
Full of gusto
And never fails to make me feel festive
A wonderful Christmas tune
I actually want my children to know them all
As many Christmas carols as we can discover and enjoy and share
They are such wondrous and important songs
They have played such a huge part in my life
And I would hate for the tradition of caroling to be lost
I hope that I can play my part
In passing the music on
As for generations upon generations
The words and music of the Christmas story
Have been passed down before us
As they should be
As they should be
So, please tell me
What is your favourite Christmas carol?