And so Christmas is over for another year
People's thoughts are turning to 2019
Setting goals
Planning routines
Adding dates to new diaries and calendars
Booking holidays for the year
This autumn we travelled to Italy
With Bookings For You
We paid for the flights and days out ourselves
But were given our accommodation at a very reduced rate
In return for an honest review of our stay
We had a very busy 10 days
Exploring Lake Maggiore
You can read about some of our adventures

By following these links

http://www.edspire.co.uk/year_2018/08/20/lake-maggiore-with-lots-of-little-people-and-bookings-for-you/

http://www.edspire.co.uk/year_2018/09/25/one-week-in-italy-packing-our-case/

http://www.edspire.co.uk/year_2018/09/26/one-week-in-italy-hand-luggage-lists/

http://www.edspire.co.uk/year_2018/10/12/one-week-in-italy-delayed-departures-and-arrivals/

http://www.edspire.co.uk/year_2018/10/14/one-week-in-italy-lido-locarno/

http://www.edspire.co.uk/year_2018/10/16/one-week-in-italy-maccagno-and-calde/

There are more posts about our adventures to come
The children and I loved the area
But David was not so keen
We had a stressful journey from Gatwick
Which did not help with holiday harmony!
But we had some amazing experiences in Italy
And the children and I would very much like to go back one day
We made some magical memories
But any holiday abroad with four children aged 8 and under
Is always going to be hard work
With the benefit of hindsight
There is much we would do differently
If we were to go again
The main things being
That we would drive from England
So that we had our car and could take more of our belongings
Car hire for a family of six is very expensive
And though the children had booster seats
I think we would have all felt better if we had our car seats with us
I think we would also stay somewhere
With outside space and possibly access to a pool
As although the villa was absolutely stunning
It was not brilliant for young children
Edie was only just walking and we worried about her with all the stairs
We also lost shoes through the railings of the balcony
Which Daddy had to climb over and retrieve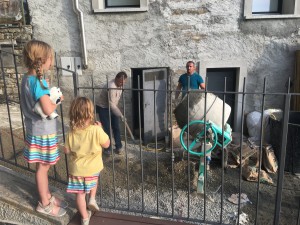 The hillside villa had wonderful views of the lake
But the downside of this
Was the steps to access the property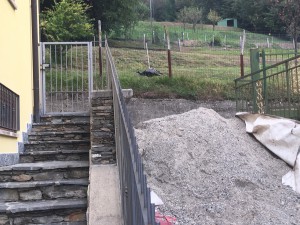 And the incredibly steep drive
Which we walked up and down several times a day
As David did not fell comfortable leaving the large hire car
Even with rocks at the wheels
It meant a lot of carrying bags and babies up and down the drive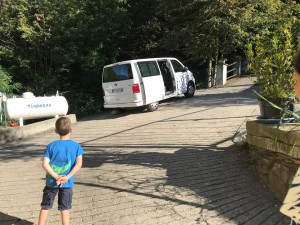 If your children are older than ours
Then this luxury holiday home
May just be perfect for you
And has availability throughout 2019
Here is our review
From the outset
We were all very excited about travelling to Italy
We knew the actual travelling would be hard with four young children
And we were not wrong
Once David had got to grips with the hire car
We set the Sat Nav for where we needed to go
To collect the keys for Villa Caruso
Our home for the next 10 days
Collecting the keys was easy
And with the help of detailed arrival instructions
From Bookings For You
We were able to find the hillside villa
Without a hitch
As we had been badly delayed at Gatwick
It was much later than we would have liked when we arrived
And everyone was tired
Especially the smaller people in our party
The road to the villa was windy and steep
And just as we had been forewarned
The drive down to the villa was very narrow and steep
I was in awe of David driving the Volkswagon Caravelle down there
And I insisted that the children and I were not in the car as he did it
He only drove down that very first night
After that we parked the car out on the road
My parents who joined us did the same
Once down the drive
There was a gate to go through
Then a flight of outdoor steps
Leading down to the ground floor patio area
And lounge diner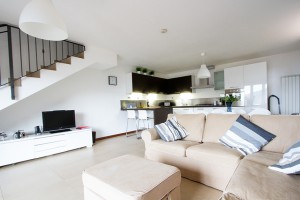 Stepping into the villa
Felt very familiar
As the photographs on the Bookings For You website
Are very true to life
This was very refreshing
As too often photos of holiday accommodation can be misleading
With Villa Caruso
We got exactly what we were expecting
An open plan living space
With double doors opening to a terrace
With that perfect view over Lake Maggiore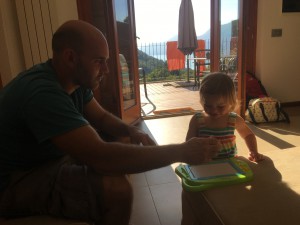 We did not spend very much time outside
As we were a bit nervous about the children on the terrace
Not because the railings were not safe
Just because Edie could fit limbs underneath and through
And more than once enjoyed posting shoes and other objects over the edge
Which were a challenge for David to retrieve
I was also eaten alive by mosquitos during our stay so was keen to keep the windows and doors shut
Esther and William did love reading on the terrace
And they loved painting the sunsets with their water colours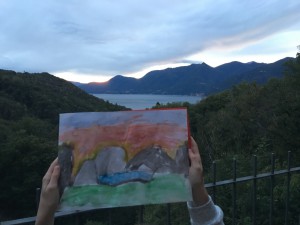 They still talk about their special Italian painting time now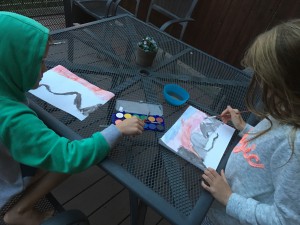 The living area was very comfortable for six of us
With my parents it was more of a squeeze
I think that the villa is definitely more suited to accommodate six people
Rather than eight
The villa is modern and finished to an incredibly high standard
A lot of thought has very obviously been put into styling and accessorising the villa
The large sofas were comfortable
There was a television and games console
An abundance of DVDs
Lots of in villa entertainment unused by our family
But I can imagine proving very useful on rainy days
And with older children
The villa is on the Eastern shore of Lake Maggiore
It is semi detached
And when there was a family staying next door
We were very aware of their movements
And so I am sure they must also have been aware of ours
Each of the villas has three terraces
One on each floor of the villa
And so it did feel like we could be overlooked
I think we were more aware of this than others would be
As our home is detached so we do not ever hears the sounds of others
The terraces were lovely spaces
And the top floor master suite felt very special indeed
I think I will try to structure this review
Room by room
Lounge / Kitchen / Diner
You enter the lounge through the main side door
Or through double doors leading from the terrace
The corner sofa is large and comfy with LOTS of cushions
There is a TV, DVD player. games console and WIFI
The kitchen is well designed with lots of mod cons
Dishwasher and washing machine being essentials
For a large family holiday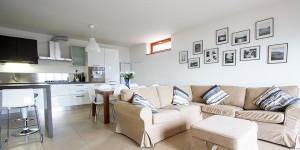 There was a good range of cutlery, crockery and cooking utensils
There were picnic blankets and a cool bag to use
There was a very complicated bin system to get to grips with
Italians are very HOT on recycling which was good to see
The property tries very hard to be family friendly
With a buggy, highchair, travel cot, bed guard and baby monitor all free to use
Our feedback as a family with young children
Would be to consider having a stair gate in the property
And to invest in an easier to clean highchair
I am not sure if Italy has Ikea
But something like the Ikea highchair would be ideal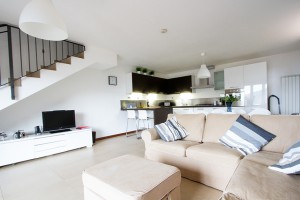 Terraces
The terraces were lovely and well equipped
Loungers, outdoor dining suite and BBQ were all there to be enjoyed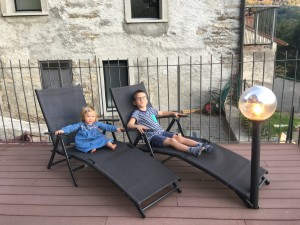 The villa is South Westerly facing and so enjoys sunshine for much of the day
The view really was one of the highlights of our holiday
I wish I had had more time to relax with a book and a glass of wine
More time to soak up that beautiful majestical view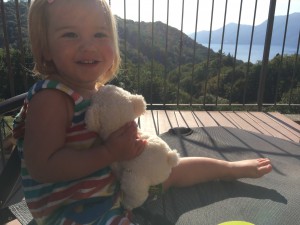 The upstairs terraces were lovely and I can imagine couples breakfasting there
On hot summers mornings
Or enjoying an aperitif there before dinner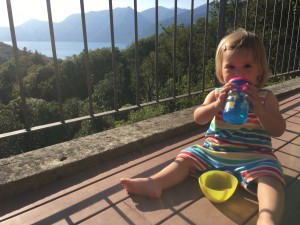 With our little people
We did not make use of the higher terraces
First Floor Bedrooms
The bedrooms were all lovely
On the first floor there is a twin and a double
Both rooms were spotlessly clean
With lots of storage space for clothes and other items
In the twin room there was a box of toys and books
That the children enjoyed exploring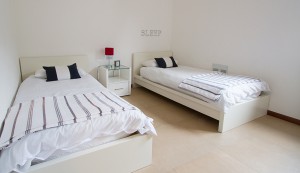 My parents slept in the double room
And enjoyed there floor to ceiling view over Lake Maggiore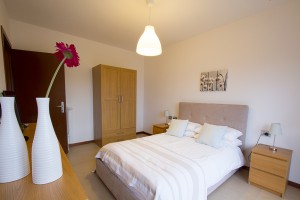 Bathroom
The first floor bathroom
Had a toilet, sink and shower
This was modern and stylish
And once again spotlessly clean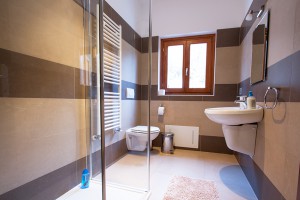 Second Floor Master Suite
This is where David and I slept with Edie and Bea
Edie shared our bed though there was a cot available for us
Bea had an inflatable bed that seemed very comfy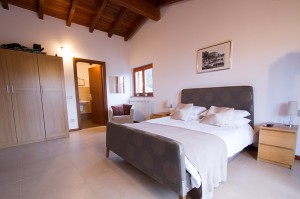 This room was incredibly spacious
With a lovely ensuite bathroom
This had a lovely walk in shower
A toilet and bidet
His and hers sinks
And a jacuzzi bath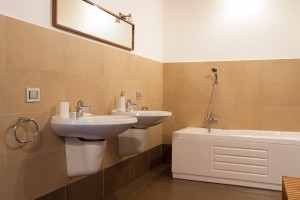 I am not sure whether I am a lot shorter than the average Italian person
But I was unable to use any of the mirrors in the bathroom
As I was too short to see into them
The second floor master suite would be perfect for a couple to enjoy
The terrace here has unrivalled views across the lake
And is perfect for sipping a cocktail whilst watching the sun go down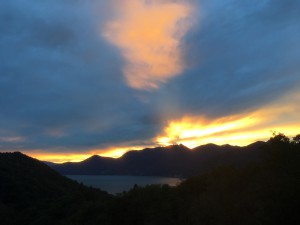 Having two small children sleeping up here was not ideal
As the stone stairs between floors were hard and steep
And slippery when wet
So we all had to be very careful coming out of the bath or shower
I think we were not the target audience for this accommodation
I can imagine this villa being enjoyed by a family with older children
Or by two young couples
Or a young couple with a baby and their parents
I think for us there were too many steps and steep bits
I do have to point out the the villa is excellent throughout
It is incredibly well designed
Finished to a very high standard
A lot of thought has been given to the little details
To make this a wonderful place to stay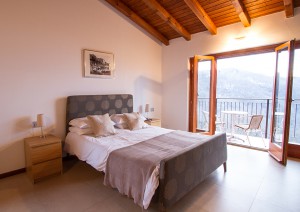 It makes a great base for exploring Lake Maggiore
I would highly recommend this villa to anyone travelling to this part of Italy
But can only recommend with caution to families with very young children like ours
I have to be honest in writing this
As I would feel terrible if someone booked this villa because of my review
And then found that they had similar worries to those we had during our stay
What I must say though
And will say many many times in upcoming posts about our trip to Italy
Is that I wholeheartedly
One hundred percent
Recommend booking a holiday with Bookings For You
Jo is incredibly knowledgeable and passionate
Her customer service is outstanding
Every day out that she suggested to us exceeded expectation
And because of her commitment and attention we had the most wonderful time
Exploring Italy and Switzerland
And making memories that will last a lifetime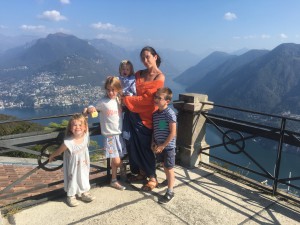 I know that if we go back to Italy again
It will be with Jo and her team at Bookings For You
If we were heading back to Lake Maggiore again
I think we would look to stay somewhere like this
Also from Bookings For You
This has a garden and lake access that would be good for kayaks
This would be a great option for us if we were driving
Think we would need longer than a week here though
Having that outdoor space would be perfect for a large young family
This villa looks lovely
Again it has outdoor space for play
And lake access perfect for swimming
Our children loved swimming in the lake
And it would be wonderful to come out of the water
And be at our accommodation
This is definitely a villa families should look at
This is the dream!
I could actually live here
Beautiful house
Beautiful gardens
And a pool!
We would never want to leave
Would never need to leave!
I think David would have been much happier here
Maybe in the future when we are a little richer!
So as we finish the last of our chocolate orange
And reflect on Christmas past and present
We begin to plan for holidays future
Where are you hoping to travel to this year?
If Italy is part of your plans
Do please checkout Bookings For You
They will ensure you have the best accommodation and itinerary
To make the very most of your stay
This is a collaborative post