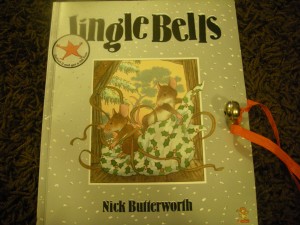 As a fan of good old fashioned Tom and Jerry I love this book about two mice and their arch enemy 'That Cat!'
Nick Butterworth is one of my favourite authors for young children writing Percy the Park Keeper and Stories Jesus Told among many others.
This story is a festive favourite that has all the makings of a Christmas classic to be enjoyed year after year by all the family.
Esther and William particularly like it as it does have an actual jingle bell attached to the book!
'Tis Christmas Eve!
Dear Santa Claus will bring
his gifts tonight.
We'll hang our stockings by the bed,
And wait until it's light.
I wonder what he'll bring for you,
And what he'll bring for me.
Ah! There! It's no use wondering,
You'll have to wait and see!
Anon
Lottie and Jack are two little mice who love Christmas. There is only one thing that may ruin their special day … That Cat!
Angus the Cat is Lottie and Jack's arch enemy. He steals their food and thwarts their plans. That Cat is trying everything that he can to ruin Christmas for the little mice.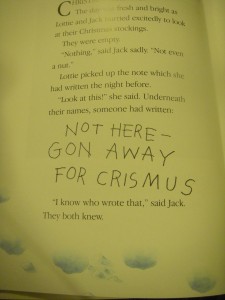 Lottie and Jack seek advice from a wise old rat. On their way to see Ton-Chee they find a single sleigh bell. When their meeting with the old rat is over the two little mice head home smiling, together they have hatched a plan to save their Christmas.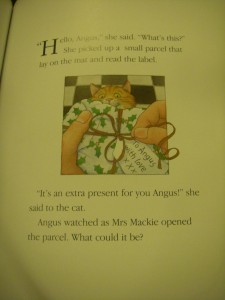 They use the sleigh bell to make a pretty collar for Angus the Cat which means they would always hear him coming.
Jingle Bells, Jingle Bells
Jingle all the way
Now Angus can't sneak up on us
When we go out to play!"

A feast of festive funnies for all the family!

Merry Christmas x