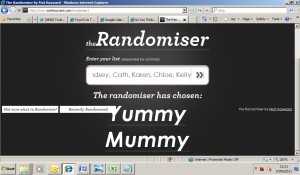 I am very happy to have won the opportunity to become a Guest Toyologist with the lovely Jennie here at Edspire. I would have loved to have been a Toyologist and made it to the shortlist but not to the top 10, so this is a fantastic opportunity for me.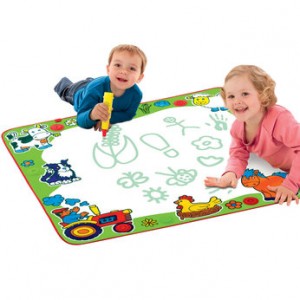 We have been asked to test the Tomy Aquadoodle with Animal Magic Sounds. It costs £24.99 at Toys R Us and is for children aged 18months+. My girls are one and almost three years. Although Rosie is officially too young for it, she did have a go and enjoyed herself.
Like me, Poppy and Rosie were very excited at the idea of becoming Toyologists and took their jobs very seriously. As soon as they saw the box, they were itching to get it out. Unfortunately it did not come with batteries though so we had to wait a day until we could get them.
Once we had the batteries and were ready to go, the girls had a great time. This product basically does what it says on the tin. Its a drawing mat and water pen. You simply fill the pen with water, choose one of the farmyard animals and doodle away to the sounds. Even if your little ones drawing isn't up to much, it doesn't matter because as they scribble they will reveal hidden images on the mat! As it dries, the pictures will fade and they can start all over again.
To help show how to use it we have a little video clip for you:
Your little ones will have great fun with this time and time again and Mums will like it too as there is no mess!
I am not sure the animal sounds really add to the experience but I think my girls would say differently. Also being very girly, we are not that keen on the colour green so would have liked to have revealed more colours. If I was being picky, I would ask for batteries and an extra water pen to be included too. However, we still give it a score of 8/10.
Here are a few photos of them enjoying themselves with it: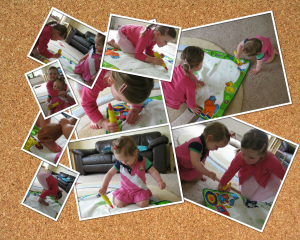 So there you have it a great toy for little ones especially if you don't like mess but if you do go out to buy one, don't forget your batteries!
Karen x
Thanks Karen for being a fantastic guest toyologist and providing us with a great review. If you would like to read Karen's blog you can find it at Would Like To Be Yummy Mummy. For more reviews from all the toyologists don't forget to LIKE the Toys R Us UK Facebook page and follow us here at Edspire.
You can read our review of the Aquadoodle here