I cannot believe that over a week has passed since our wedding day, the day I finally became Mrs Jennie Henley. Now our family is truly complete as I have the same name as my husband and our beautiful children. There is something I find wonderful in that.
The day was a huge success. So many people have told us what a great time they had and how much they enjoyed all the little details we had planned for them to help them to enjoy the day. The afternoon tea was a huge success and lots of people danced the afternoon away to traditional barn dance music and the odd children's classic thrown in.
The flowers, so beautifully arranged by my Aunty Carolyn and best friend, Michele, made the marquee come alive with colour and they added a real country feel to accentuate the hay bales and all the gingham.
Alongside our celebrations David and I wanted to do something to make a difference. We wanted to raise money for Bliss, a charity that supports premature babies and their families. We held a raffle on our wedding day, raffling prizes from Toys R Us, John Crane Toys and donations from family and friends. The raffle was a great success and we raised over £135 for Bliss. We also had a Kiss for Bliss box on our Kissing Booth so that people could donate money that way too. We are so grateful to our family and friends for their contributions and donations. It was a great way to mark our special day and give something back to a charity that had supported us through our earliest days with Esther and William.
In the evening instead of buying expensive favours David and I donated money to Bliss and gave each of the ladies a pin badge from the charity.
John Crane have been wonderfully supportive of our big day and we are so proud to have had them on board with us. In keeping with the afternoon tea theme of our wedding they allowed us to raffle one of their High Tea Wooden Shape Sorters to our guests. It was definitely our star prize.
John Crane are now offering one Edspire reader the chance to also share in the celebrations of our wedding by winning their very own John Crane High Tea Wooden Shape Sorting Set.
To win this set all you have to do is …
Follow @JohnCrane on Twitter
Follow @Edspire on Twitter
Tweet "Time for Tea! I would like a wedding win with @Edspire and @JohnCrane."
This competition will end with our honeymoon on Sunday 25th September 2011. It is open to UK residents only. The winner will be chosen at random on Sunday 25th September and will need to provide an email address so we can make contact to arrange delivery of the prize.
And the winner is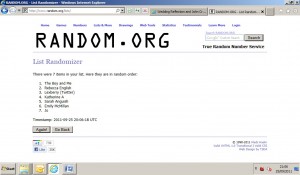 THE BOY AND ME!!!!!!!!! Congratulations!!!!!!!!!