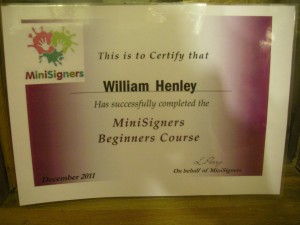 For the last six weeks Esther, William and I have been learning to sign using BSL with Louise Perry in Maidstone. Her company MiniSigners teaches babies and parents to communicate using BSL signs.
When Esther and William were younger we completed a Sing and Sign course which they loved and we had the DVD at home and started every day with it. They loved the songs and Jessy the Cat but did not really pick up many of the signs.
With MiniSigners we have enjoyed the songs and the games and the puppets but we have also learned a lot of signs and with the signs have come words. In the last six weeks Esther and William have learned to say and sign
all gone
finished
more
stairs
door
drink
bed
bear
bird
duck
horse
frog
friend
cat
dog
fish
star
bubbles
giraffe
elephant
zebra
… and so many more.
Some of these words and signs have been explicitly taught on the course and others we have learned independently but have been inspired by Louise and the progress we have made in her classes.
We started these classes because I thought they would help me be better able to communicate with Esther and William but also to enable me to communicate more with my nephew who is partially deaf. Everyone in the family has done some BSL training apart from me and so this was my introduction to the language and I hope will set me, and Esther and William, on the road to becoming proficient signers.
I am very proud to say that I am now able to sign the lyrics to Jingle Bells and Rudolph the Red Nosed Reindeer.
Thank you Louise!!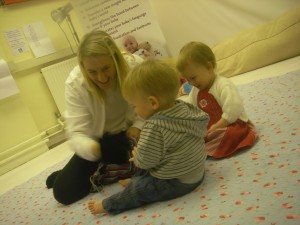 If you live in or near Maidstone and you are looking for a class to start with your little one, I cannot recommend MiniSigners enough. Louise is a fabulous teacher and quickly builds a rapport with the children and their parents. She was very patient indeed with Esther and William who are just into everything at the moment so liked exploring all of Louise's things and playing with her resources. She was also very kind to me when I broke her stairgate. I am still very sorry about that!
The great thing about these classes is that there is always lots for little ones to see and do. The highlight of the course I think for my two was singing Twinkle Twinkle in the dark with flashing star wands! For me, watching Louise make her wobbly reindeers dance on her headband in the Christmas session.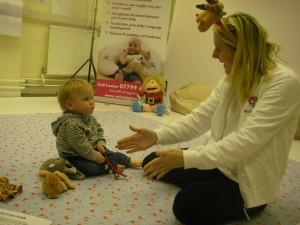 Esther and William also love Max, the friendly puppet with signing hands. Max starts every class helping the babies to warm up their hands ready for all the signing.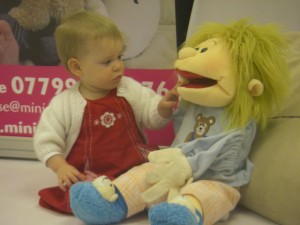 Esther and William love the MiniSigners songs and we quite often start our morning with them now.
Also when we watch Mr Tumble on TV Esther recognises his signing hands and is keen to show him her own.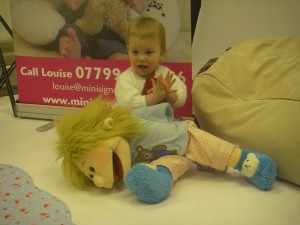 Mr Tumble causes us some confusion however as his signs are Makaton and we are trying to learn BSL at MiniSigners.
During a stage one class your pre-verbal baby is introduced to signs relating to a different theme each week and these are delivered through stories, songs and puppets. The songs are great fun and music can also help to stimulate your baby's language development and attention skills. While your baby enjoys the music activities, you can learn the signs. These signs can then be used at home in your everyday situations. Your baby will begin to use signs when he is ready and a better two-way communication with your baby can develop, making everyone's life a bit easier! Themes include; Bedtime/Bathtime, Farm animals, Holiday, The park.

The classes follow the same format every week, as babies love routine and familiarity. They will look forward to the beginning song with Max the puppet, songs and rhymes, a story, and a goodbye song and the famous bubbles!
Stage One Beginners is the course that we have just completed. I have found that it has really helped me to communicate with Esther and William and to understand what they want.
I am also finding that as time goes on they are letting me know what signs I need to learn next and quite often it follows the pattern of Louise's classes.
Esther and William are animal mad and they love nothing better than a story about animals. Our story times are now enhanced by the fact that we do not just read the stories and repeat the key words but we are also learning the accompanying signs. It is brilliant and effective because Daddy joins in too. He sends me to class each week with a list of new signs I need to ask for, hippo being the latest one!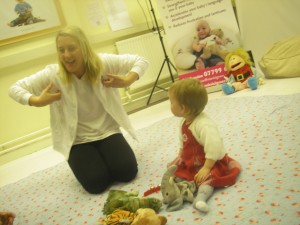 So we now have a break until the end of January when we will be beginning Stage Two!!
During a Stage two class, your baby will recap and revisit the useful signs learned from stage one. They may be using a few signs and speaking some words already, so new signs will be introduced to extend their signing vocabulary and accelerate their speech. Themes include; Feelings/Emotions, Colours, ABC/123, and Transport. As the children will be more aware and curious about the world around them, we learn our new signs through music, imaginative and explorative play.

As with Stage One, the class follows the same format every week, our stage 2 song, songs around the topic, the 'mystery box', a story and our goodbye song.
Over the festive period we will continue consolidating our knowledge and understanding of the signs we have already learned. We will also play with our star wands that Santa is bringing and I am sure we will have to have bubbles at least every other day to practise the bubble song and signing!!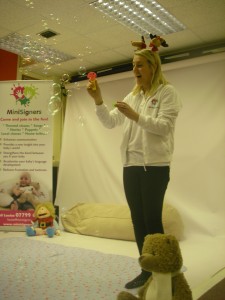 Revision will be easy as at the end of each session Louise provides a detailed handout showing the signs that have been introduced in the class. These are great to collect and look back on.
If you are looking for a signing class for you and you baby in the Maidstone area please check out Minisigners and give them a try. If you would like to find out a bit more about Louise and the courses you can pop along to a free Christmas taster session in the ELC, Fremlin Walk, on Tuesday 20th December just after 9.00am.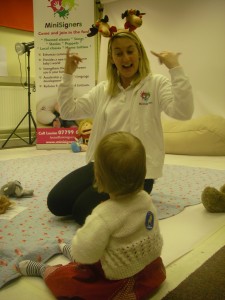 You can keep up to date with all the Minisigners News on their website and on Louise's Facebook Page.
We have loved every minute of our course and are very proud of our certificates.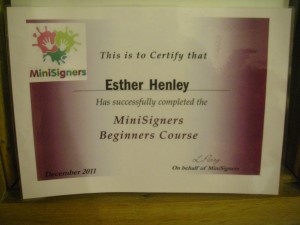 Thank You Louise and Merry Christmas!!
I chose to write this review because we loved the classes so much. I received no payment or reward apart from two very happy children who can now communicate with their Mummy and Daddy in signs.