When David and I chose our current house last summer for our forever house we knew that it would undergo many forms in its lifetime.
In the lifetime of our family.
As we grow.
As we change.
We knew straightaway that for the first years of it's life.
The largest room in the house would be a playroom.
A room for play for our three beautiful children.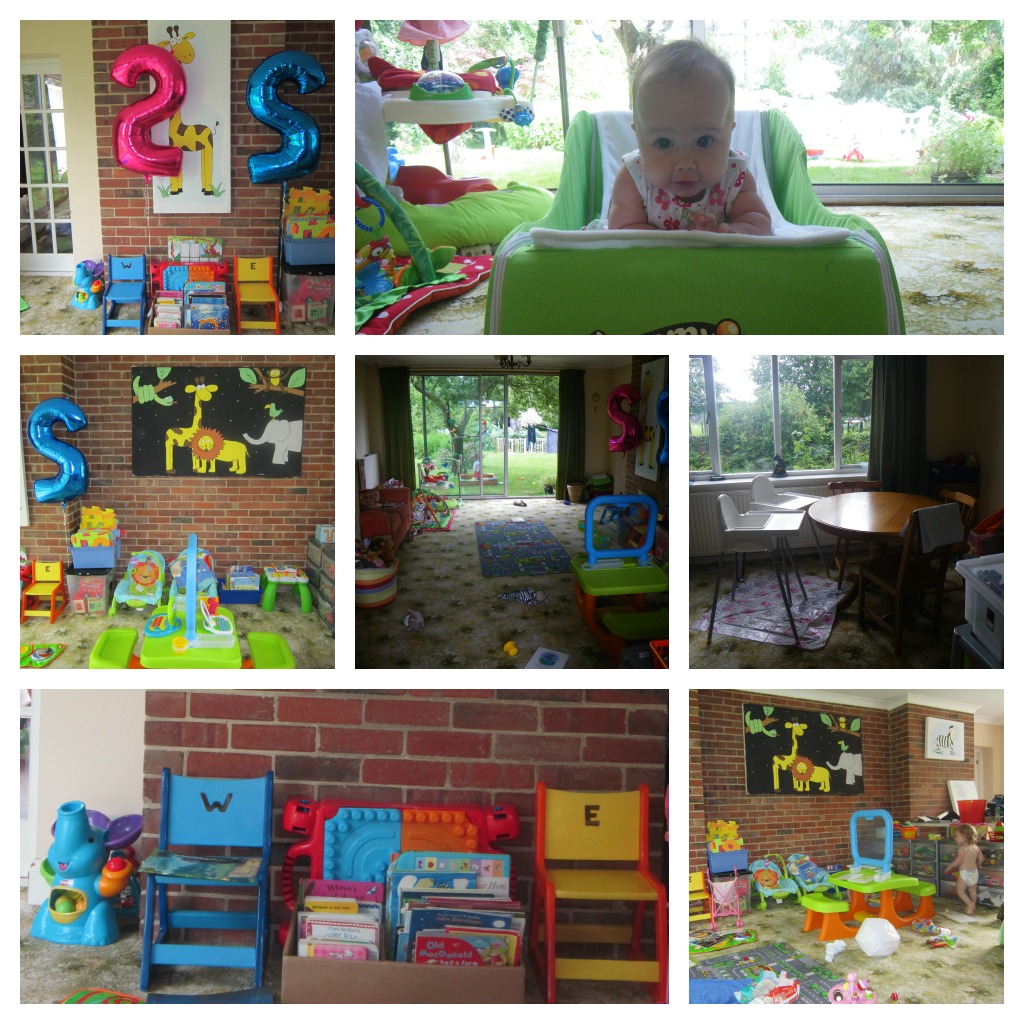 We are very lucky in that our large playroom opens up into our lovely garden where we have lots more space to play.
Though we did not know it in July when we moved in.
We would have only one perfect summer with our three children and that playroom.
Now it has to be something else.
A playroom still but also a place of memory.
The place where we can remember
The baby girl that we love so much.
That we got to know in that room.
Our playroom.
But though Tilda spent a lot of time in the room, obviously,
It has really always been a toddlers playroom.
Why don't you come on inside and see?
Our playroom is the largest room in our house and one of the things that I love the most is that in periods of bad weather, like we have had lately, there is plenty of space for biking and scooting inside.
I also love that you can see the day through the large windows at either end. We have breakfast in the playroom and we always talk about the weather of the day.
I like to think that our playroom is quite well organised. What is desperately needs is labels showing what goes where. This is on my very long to do list! But for now I just make sure that I know where everything belongs and to be honest Esther and William are now quite well trained.
As you walk into our playroom you will stand beside The Zoo and opposite The Car, both of which are Daddy's creations. One providing a fun form of storage and the other hours of imaginary play.
As you look around the playroom you will notice that the walls are adorned with stunning jungle character paintings by Daddy, Thomas posters and toddler artwork.
We do not do as much artwork as we should but that is going to change as we have everything you could ever possibly need to create a toddler masterpiece!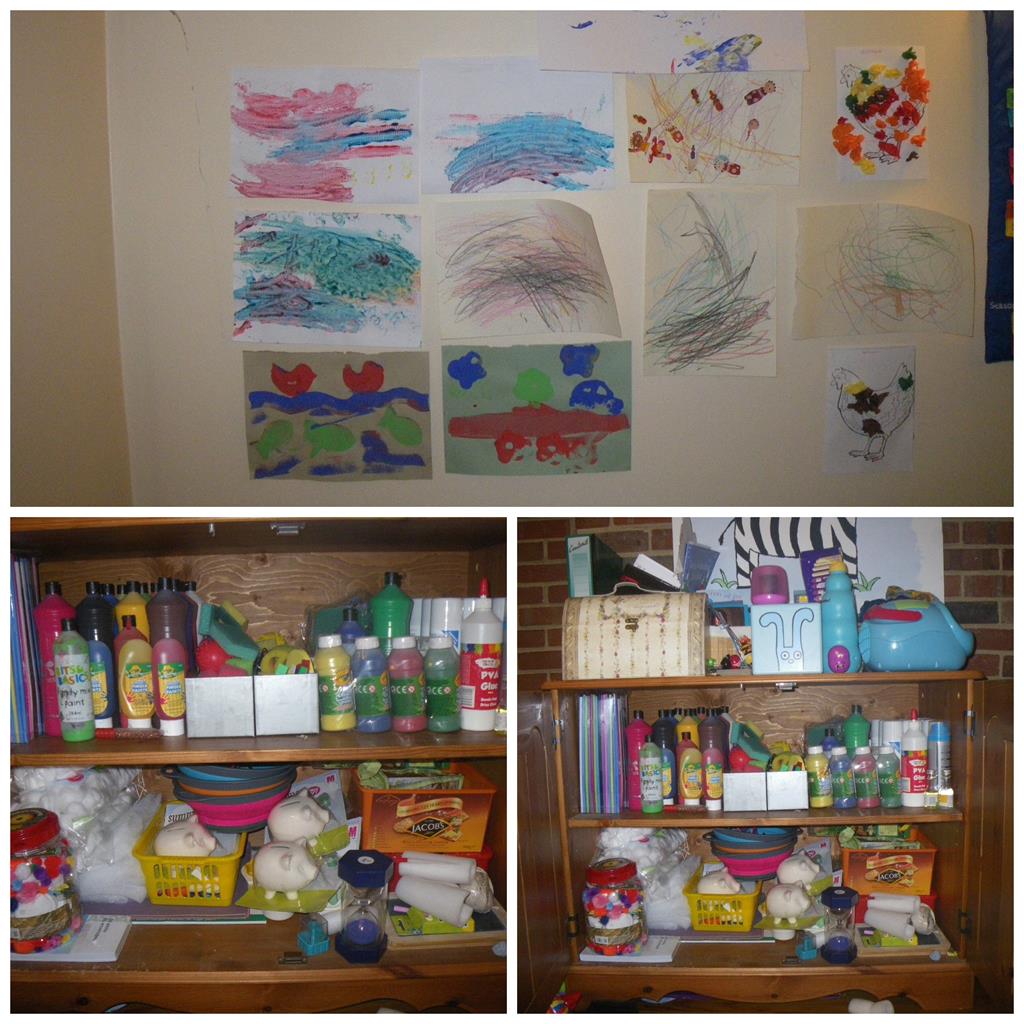 I love my art cupboard, it reminds me of my classroom cupboard when I was teaching.
Much of my playroom takes inspiration from a classroom.
There are lots of opportunities for real life role play, for example.
Esther and William love acting out stories with their Happyland sets. They also love pretend shopping for food, stocking their kitchen and cooking each other tea. They both enjoy acting like Daddy with their work bench. Daddy often used the playroom as a workshop so they have lots of opportunity to watch him work and copy what he does.
All our smaller toys are stored in plastic drawer units. Each unit has certain linked toys inside.
For example in one unit are all plastic vehicles, sorted by size in three drawers.
Next to the plastic vehicles I keep people, animals, wooden vehicles and also all our wooden blocks and threading toys.
In the same row of drawers I also keep musical instruments, electronic toys including toddler laptops and miscellaneous toys which includes kaleidoscopes, spinning tops, tea sets, ribbons, bean bags and other oddments that do not really fit anywhere else.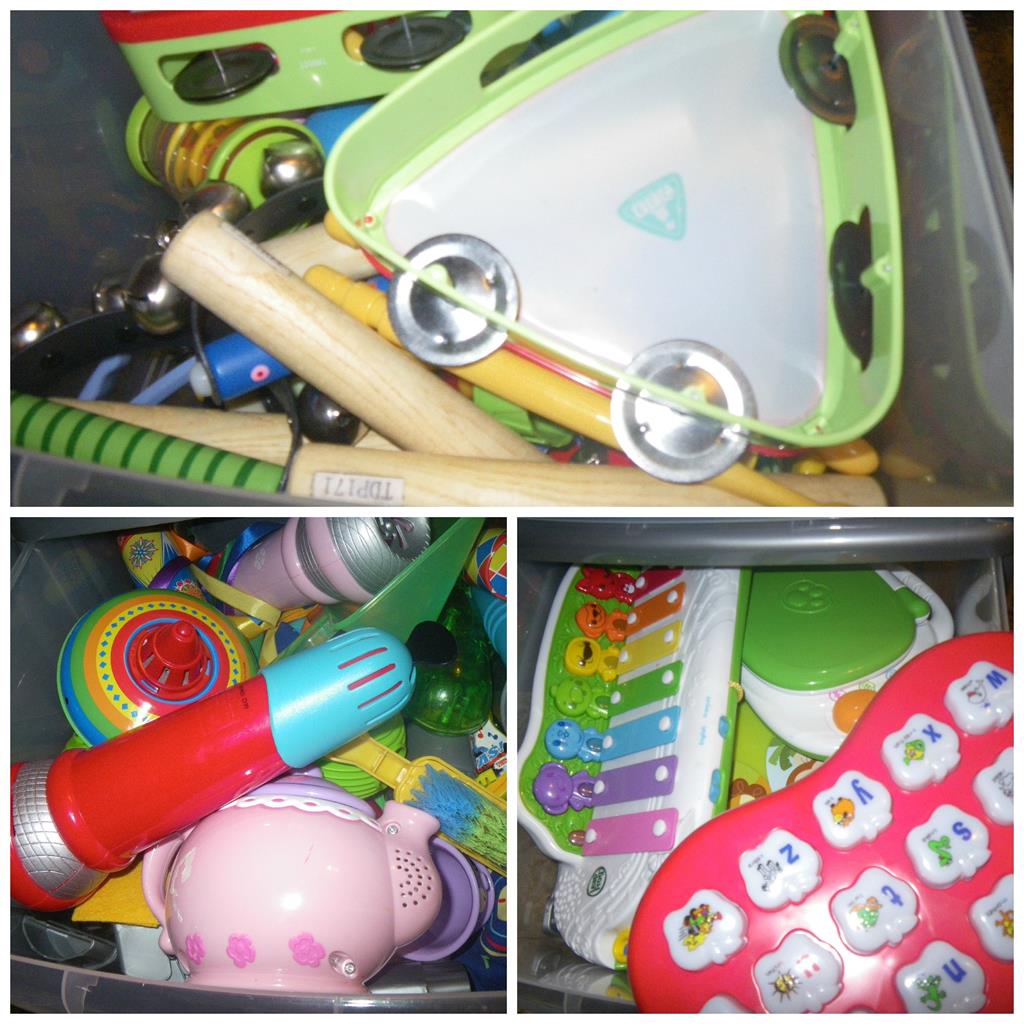 We have also have a unit of building and stacking toys where we keep the Play Mobile 123, Duplo, Mega Bloks and our beautiful wooden stackers.
Next to this unit we have drawers of puppets and puzzles such as dominoes and wooden dress up dolls. We also keep an every growing array of flashcards in these drawers that Esther and William love looking through.
There is one other set of drawers in which I keep playdough, colouring books, writing paper and extra craft materials to restock the art cupboard.
We have a lot off drawers!!
On the tops of the drawers I try to rotate what is on display. At the moment we have electric keyboards out and shape sorters including a cake stand one which is great for learning numbers! Esther and William mostly use it as a platform from which their trains can fall into the mine!!
Speaking of trains!! The big green box above houses our ever growing collection of engines, carriages, accessories and track. We have enough track to cover most of the floor in our playroom. Esther and William in particular are just starting to love the challenge of putting together new track designs and fixing broken tracks. They are both budding railway engineers!
Esther and William also LOVE books and we have books everywhere in our house. All around the playroom are different boxes of books to share.
We also have a red bucket in the playroom which is sometimes a dressing up bucket full of clothes and accessories but is often turned into a sensory bin. The last one was Valentine's Day and I am about to create a spring one.
I find that having something that changes regularly in the room is really good for Esther and William. Even something as simple as putting a new picture on the wall or putting some of the animals in places they should not be.
We have tried to make the playroom a family room so there is a beanbag for sitting on, a table to sit at for meals, snacks and to do art work. There is also a sofa for snuggles. Esther and William love it if you sit and watch them play or scoot around the room.
But what they love the most is when you get down on to the floor and play with them. At the moment they love puzzles and simple games so we are doing these alot. I keep these up high so that they can only be accessed with an adult. This works for us as it means we get out one puzzle at a time and keep all the bits together so that we know we can play with it again another time. Esther and William are good at packing away puzzles and games now but it has taken lots of training and supervision.
I am very proud of our playroom. It really is a lovely place to be.
But though I always expected to lose this
I did not ever think that we would lose this
We miss you Baby Tilda x
We miss you Matilda Mae x