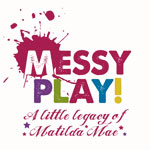 After Matilda Mae died we had a long time to wait until we were able to say goodbye.
The wonderful Lucy, from Capture By Lucy, invited us to use her holiday home near Bournemouth for a week.
We were so grateful to be able to take Esther and William away from it all for a while and to spend some quality time together as a family, remembering our Baby Tiger.
Our week at the seaside was a wonderful one albeit incredibly cold and the visit inspired today's messy small world play.
Today I got the Tuff Spot out and created a seaside scene.
I used moon sand (or cloud dough) for the sand and water beads for the sea. I also added some shaving foam to the water beads to make it look like white horses in the sea and also to make a sea water swimming pool. I used pebbles to create a rocky sea front path, the route which our Land Trains followed!!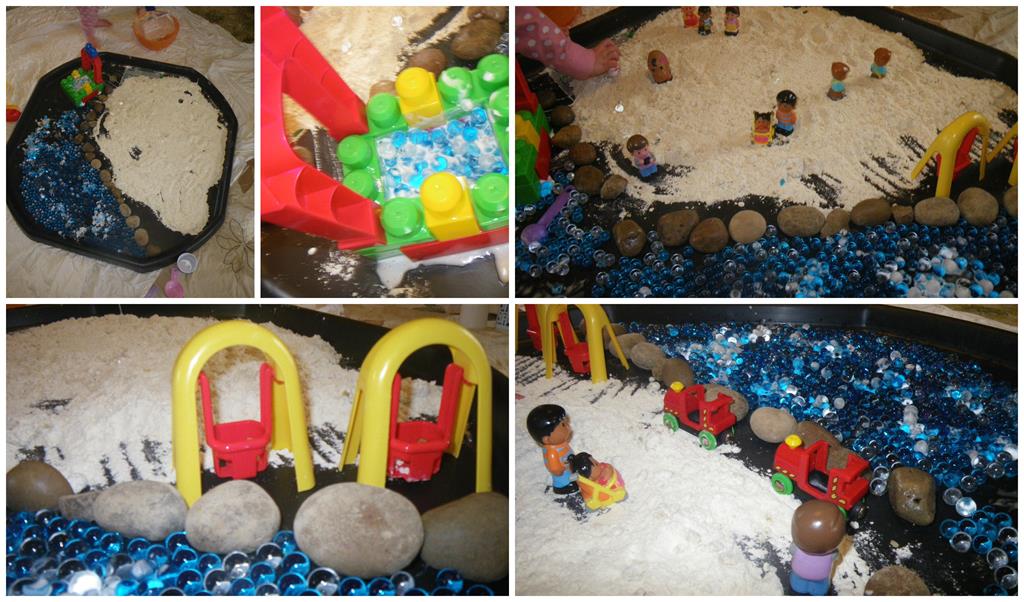 Our seaside scene had some swings overlooking the sea. It had dumper trucks and diggers just like the beach we frequented in Southbourne.
We had lots of people on the beach playing, walking, chatting, being.
There was an ice cream van and people queuing.
The land train as I have mentioned before, giving people rides along the seafront.
Esther and William helped to set the scene for our play today. We talked about the kinds of things we do at the seaside, the kinds of things we might see.
We looked at photos of our holiday by the sea.
We talked about how the sea is cold and wet while sand is often warm and dry except for right beside the sea.
The water beads created a sparkling, shimmering sea, the shaving foam helped us imagine the waves crashing on the shore. The moon sand was dry and warm and felt fluffy between our fingers and our toes.
Esther and William were not content with small world play for long, they wanted to be on the beach themselves and with no word from me they started to get their pyjamas off ready to get stuck in!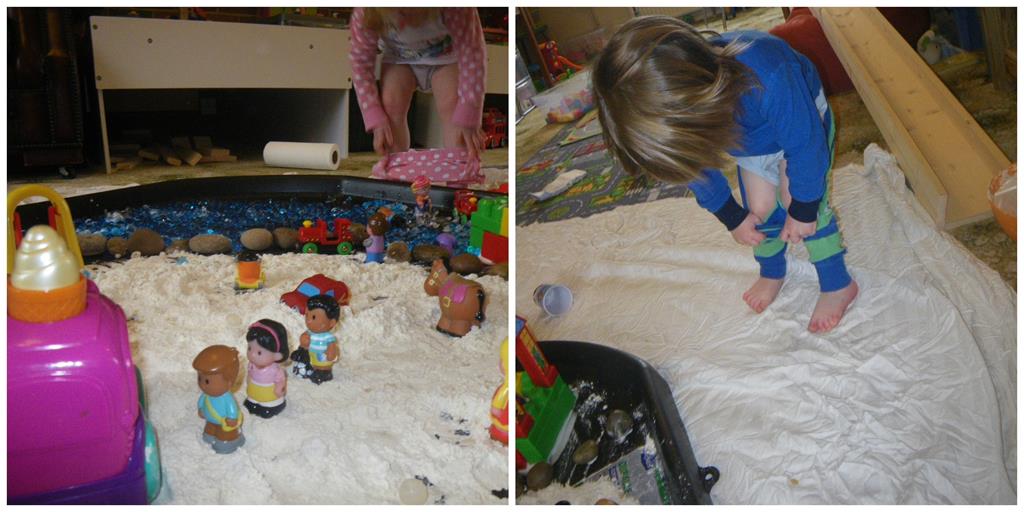 As soon as their legs were bare, ready for splashing in the sea, they put themselves into the scene.
Esther was putting people into the swimming pool. William was making tracks in the sand with dumper trucks and land trains then driving them into the sea.
It was lovely listening to Esther and William talk about how the sand and sea felt to them, how the different materials felt on their fingers and inbetween their toes. It was also funny listening to the voices that they gave the different characters on the beach and what they made them do. William spent ages loading people into the dumper truck and then dumping them in the sea. More like fun on a slide than a malicious act!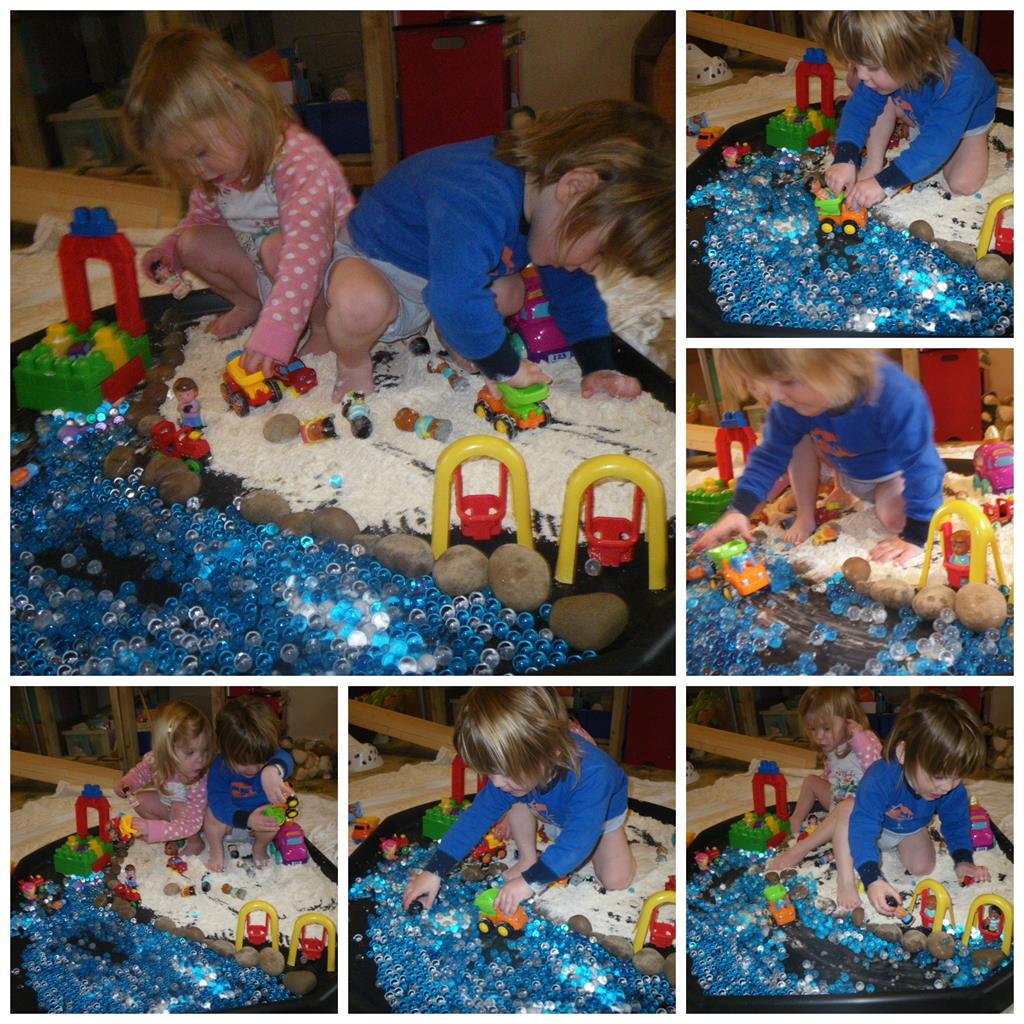 Esther and William are a lot of fun to be with at the moment.
Here they are at play.
I love how one of the twins starts an idea and the other first copies it and then develops it. I love how they find the strangest things funny. I love that when we do messy play they are so focused and busy and engaged that they forget to squabble and fight. I love that they bring their real life experiences and things they have seen in books or on television into their play.
I love how this messy, sensory play develops not only their sibling relationship but my relationship with them. I love playing with them creating scenes, acting out stories and making up imaginary worlds.
I love how through all of this Esther and William's language is becoming richer and their vocabulary is increasing all of the time.
Today we were having such fun together that I wanted to extend our play.
I had another activity ready but I thought I might combine to two.
I did.
I did a quick scene change.
From the seaside to a snowy mountain.
A snowy mountain with a hidden surprise!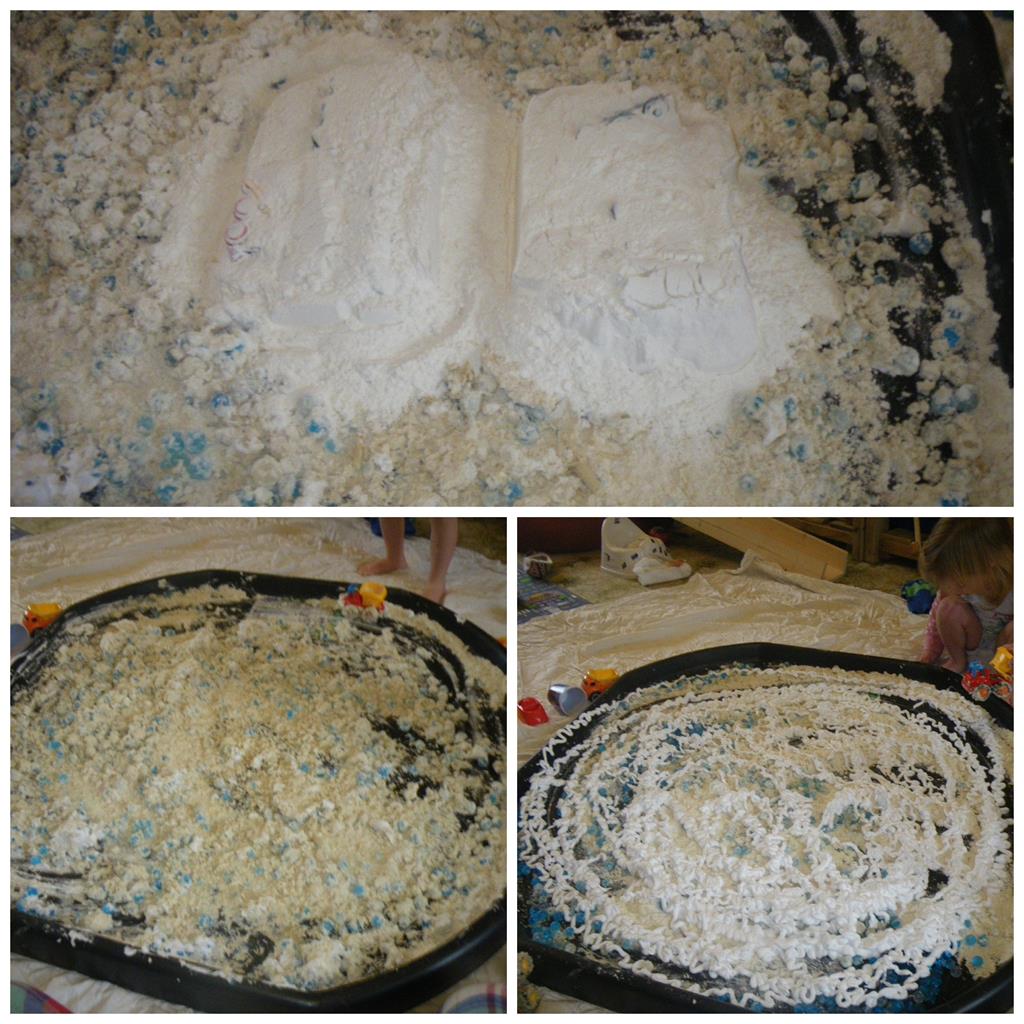 To change the scene I mixed the moon sand and water beads together and then covered them with a can of shaving foam. I then got Esther and William to help me mix it all together to create the base for our snowy mountain.
There were two peaks to our mountain scene, each made of plain flour and hiding some brand new ENGINES!!
Esther and William were so so so excited when they discovered the secret surprise.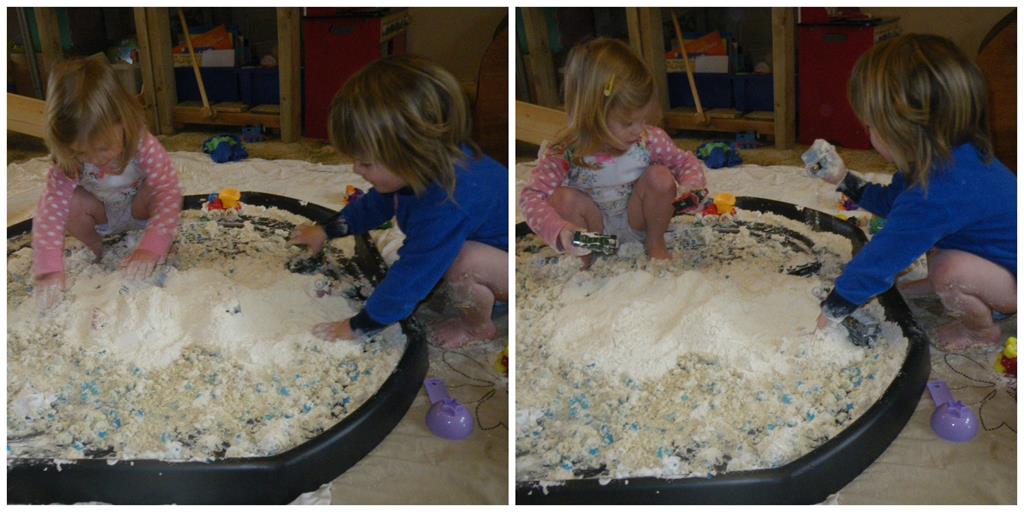 To complete the snowy scene we got out some penguins, polar bears, an arctic wolf and an arctic hare.
Penguins were soon driving engines while baby polar bears searched the mountains and snow drifts for mummy polar bears.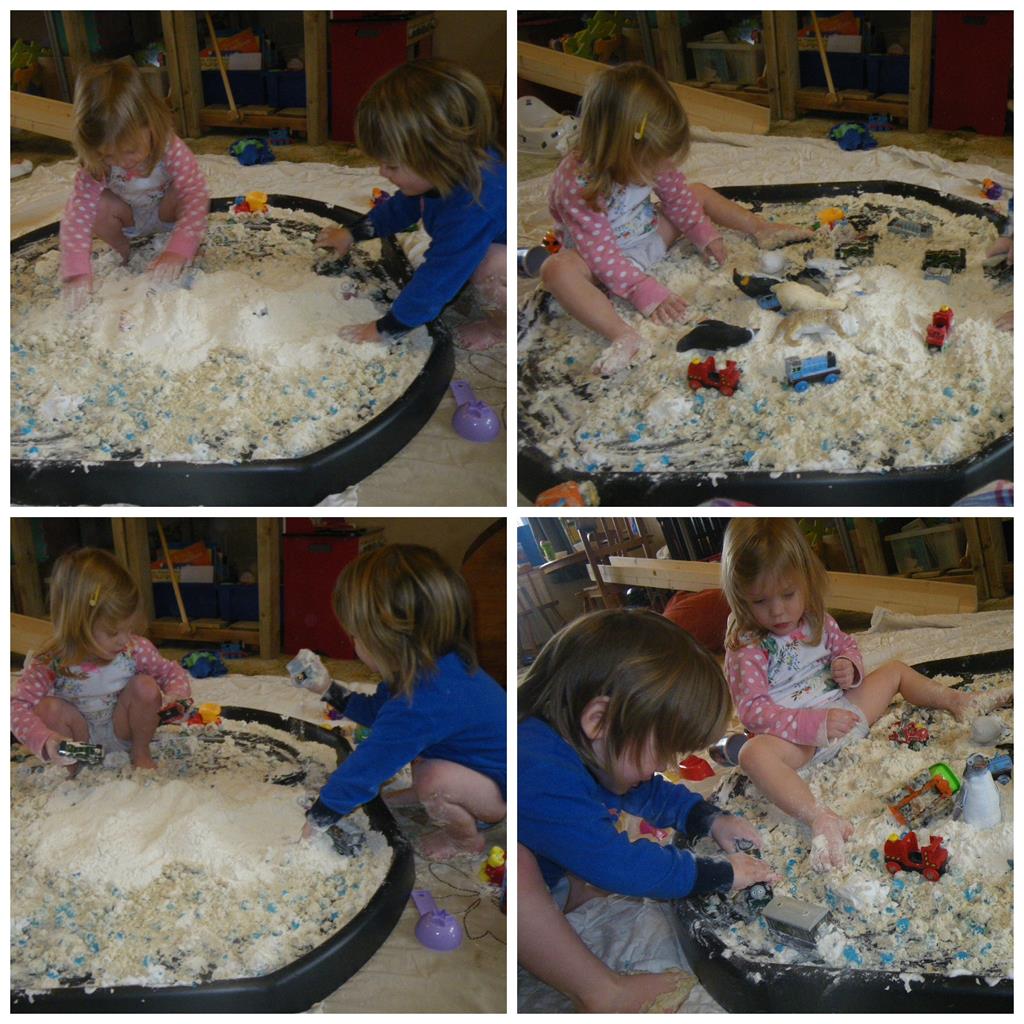 I acted out different situations of mummies searching for babies who were lost in the snow. Then babies who had lost their mummies. Esther and William stopped in their tracks and watched as I created the stories with different voices for the different animals. William only watched before carrying on with his trains but Esther really started to join in. I think she might really grow to like this dramatic element to our play.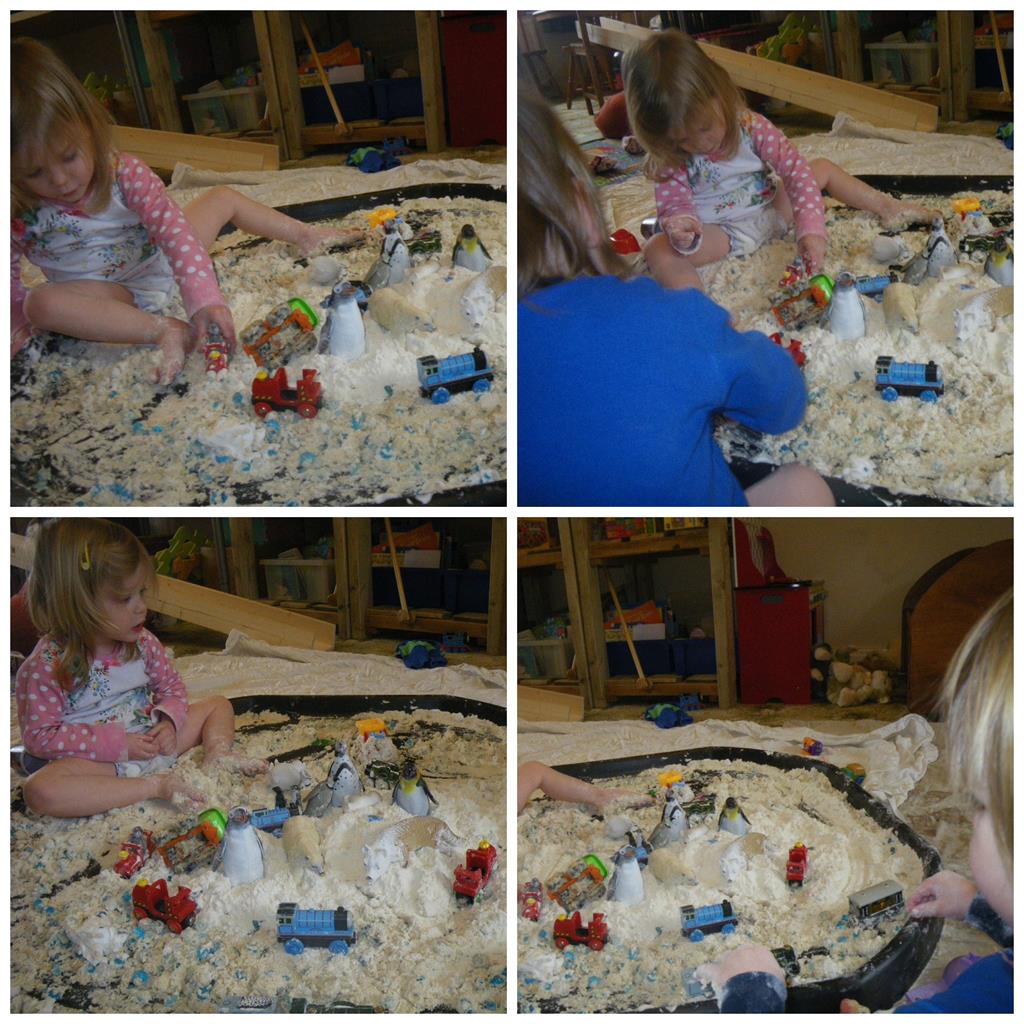 It was lovely to use the same materials today to create two very contrasting scenes. The seaside and the snowy mountain gave Esther and William very different experiences even though the basic ingredients were the same.
With both sand and snow there was a lot of scooping and pushing, packing and dumping, sifting and feeling, rubbing and squidging, squishing and squashing. Wonderful actions and words!
We also had great fun burying things in the snow and finding them.
The whole messy morning was just lots and lots of fun.
The only sadness was that our beautiful Baby Tilda was not here. She loved snow!
This was a very messy activity and we had to have baths in our big bowls at the end of it and all the toys needed soaking and scrubbing so we set up a toy wash in the kitchen, though Mummy and Daddy ended up doing most of it.
We have found the best way of cleaning our Tuff Spot is getting it up to the bath and washing it once the bulk of the mess has been removed.
Today we played with moon sand, water beads and shaving foam. Three things we use a lot in our play. Three things that can be used in so many different ways to make a very merry mess!
I am looking forward to sharing more of our ideas and inspirations with you, in memory of Matilda Mae x