There is nothing Esther and William like more than messing about in the water.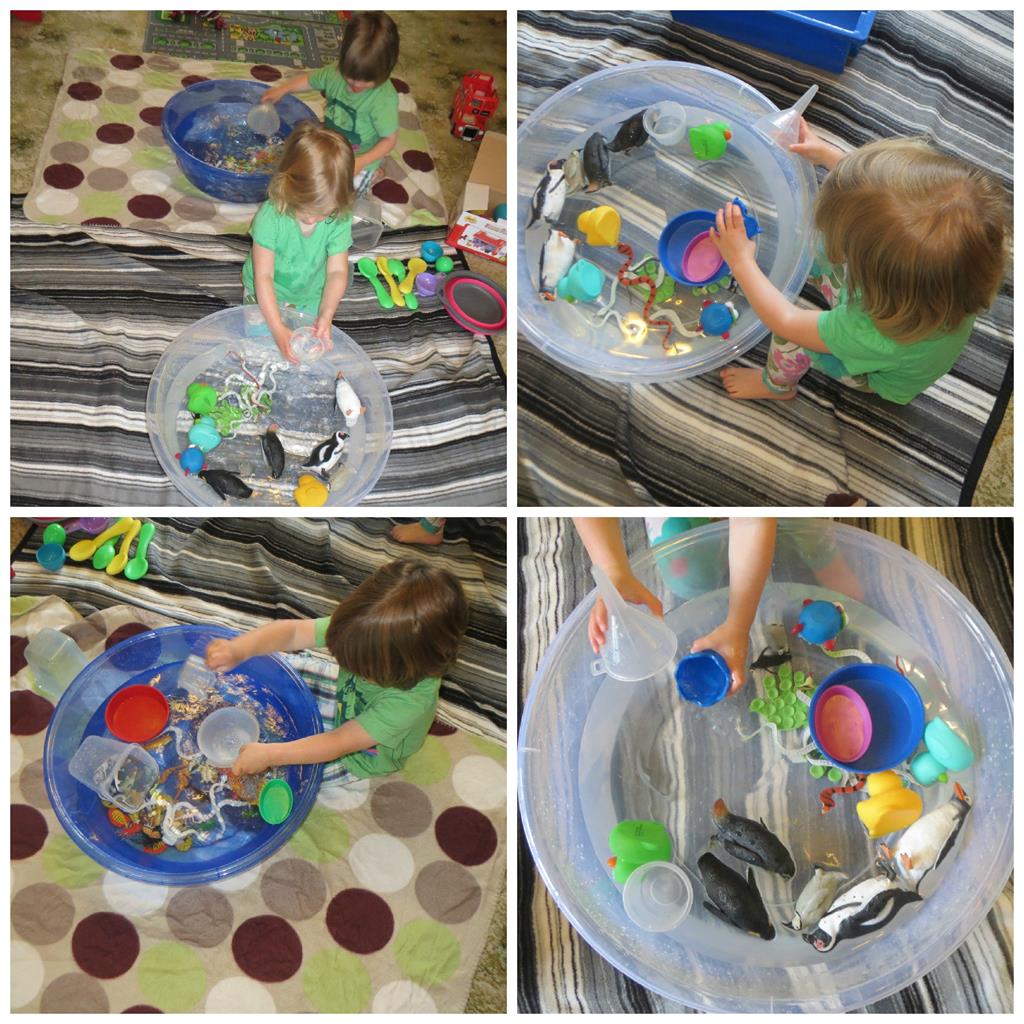 Be it bath, swimming pool, stream or sea.
Esther and William seem to be incapable of going outside without getting wet.
Puddle, pond, play table, tap.
The tiniest drop of water, Esther and William will find it
And find some way of enjoying it.
Whenever things are getting too much at home
Tantrums or tears, theirs or mine!
I know it would be a good idea to get the water out
And dilute, diffuse the situation.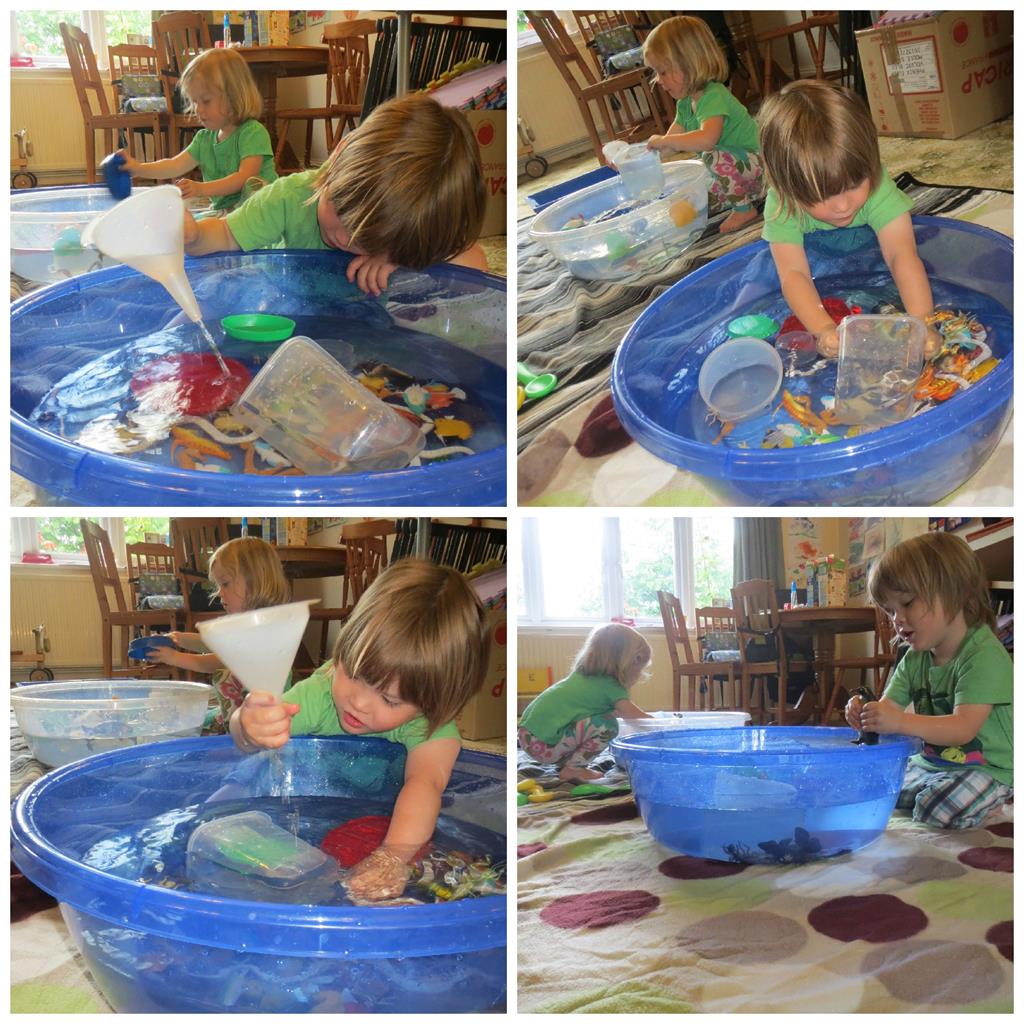 On Friday I got out two of our extra large bowls
And filled them up with warm water.
After our trip to London Aquarium
I thought it would be good to play with
And talk about
Some of the sea creatures we had seen.
I filled the bowls with plastic fish and sea dwellers
Including some penguins and some colourful ducks.
Esther and William were happy to play with the water
And its inhabitants
I also gave them some different sized and shaped containers
Including a range of funnels.
They seemed to really enjoy playing
Talking to each other
They loved it when I introduced some snakes to their play!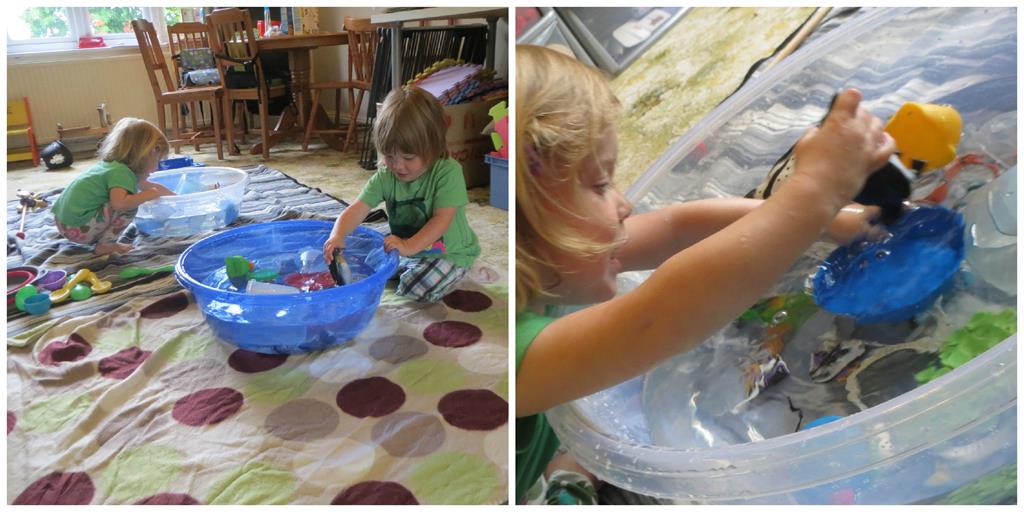 Esther and William played contentedly for quite some time
Before it descended into a mass water fight
And Mummy called 'Time' on their play.
Later in the day the sun came out
And we took our mega bowls outside
To continue our water play
What I wanted to do was change the consistency of the water
Using the magic that is Gelli Baff!

Esther and William were keen to help with the process of changing the water
We poured the powder into the bowls
And stirred and stirred with our hands
It felt lovely as the special crystals
Began to change the water
The liquid began to solidify
It began to glisten and shimmer in the sunshine
As it turned a rich royal blue.
A rich royal blue goo!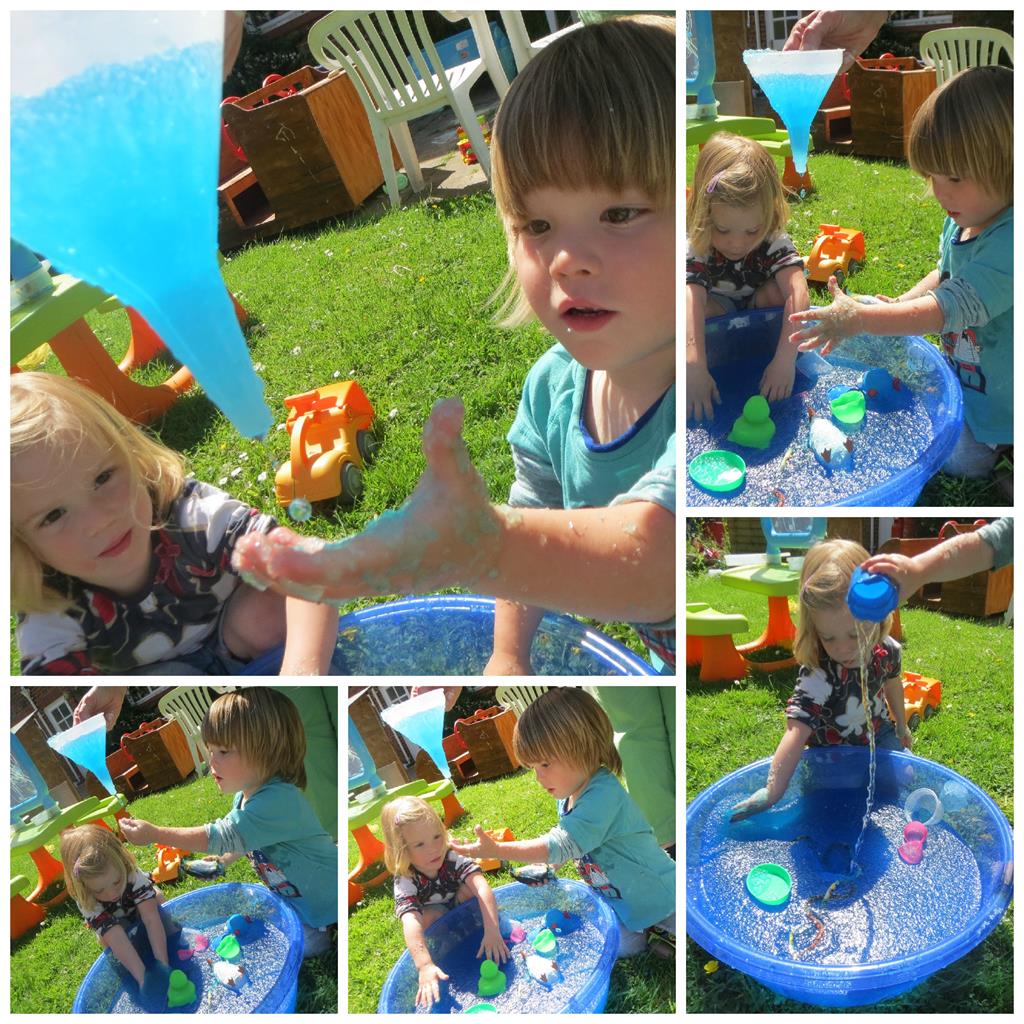 After a time of feeling the new substance
Letting it move through fingers
Rubbing it and pouring it, teasing it and testing it
It was time to put the animals back in.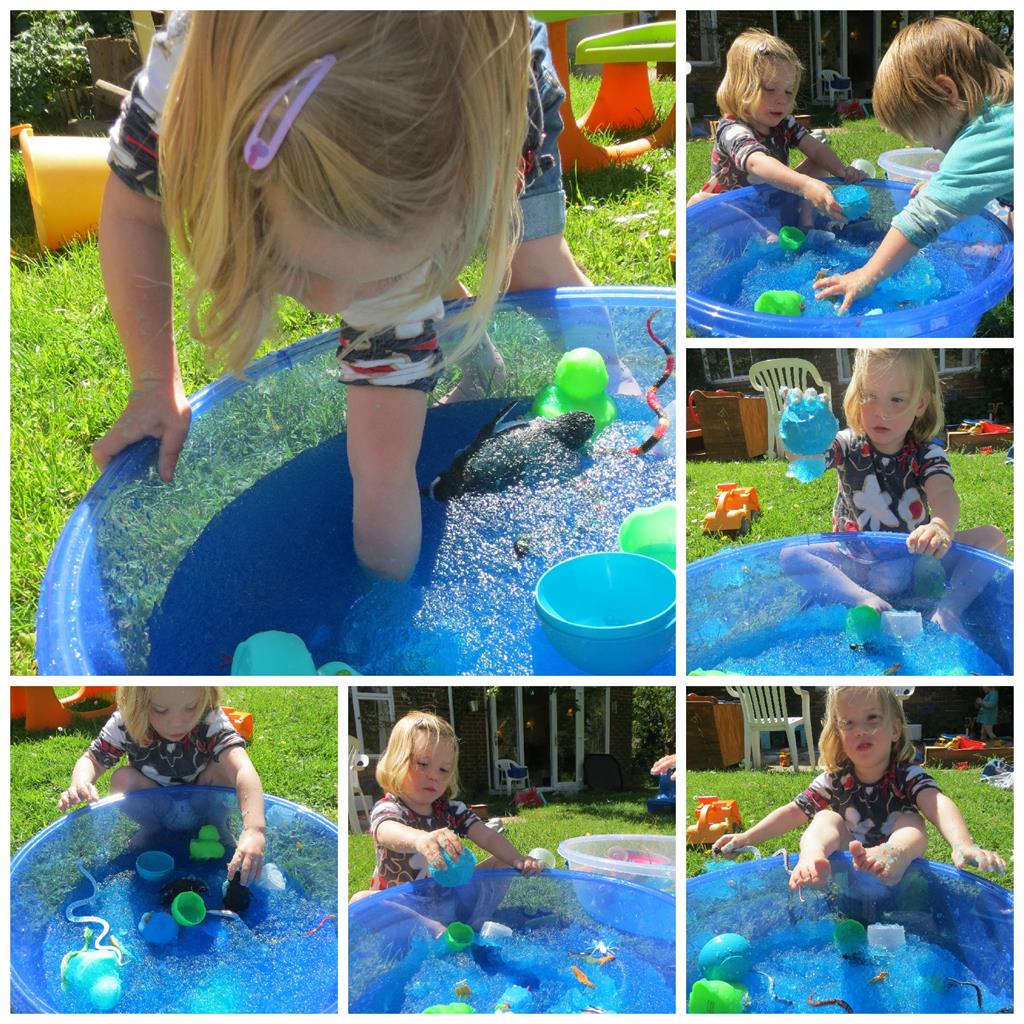 Using all the same toys it was interesting to see how the Gelli behaved differently to the water
Esther loved the Gelli and played with it for a long time
Scooping and pouring, transferring it from one container to another
Squelching it between her fingers
And her toes!!!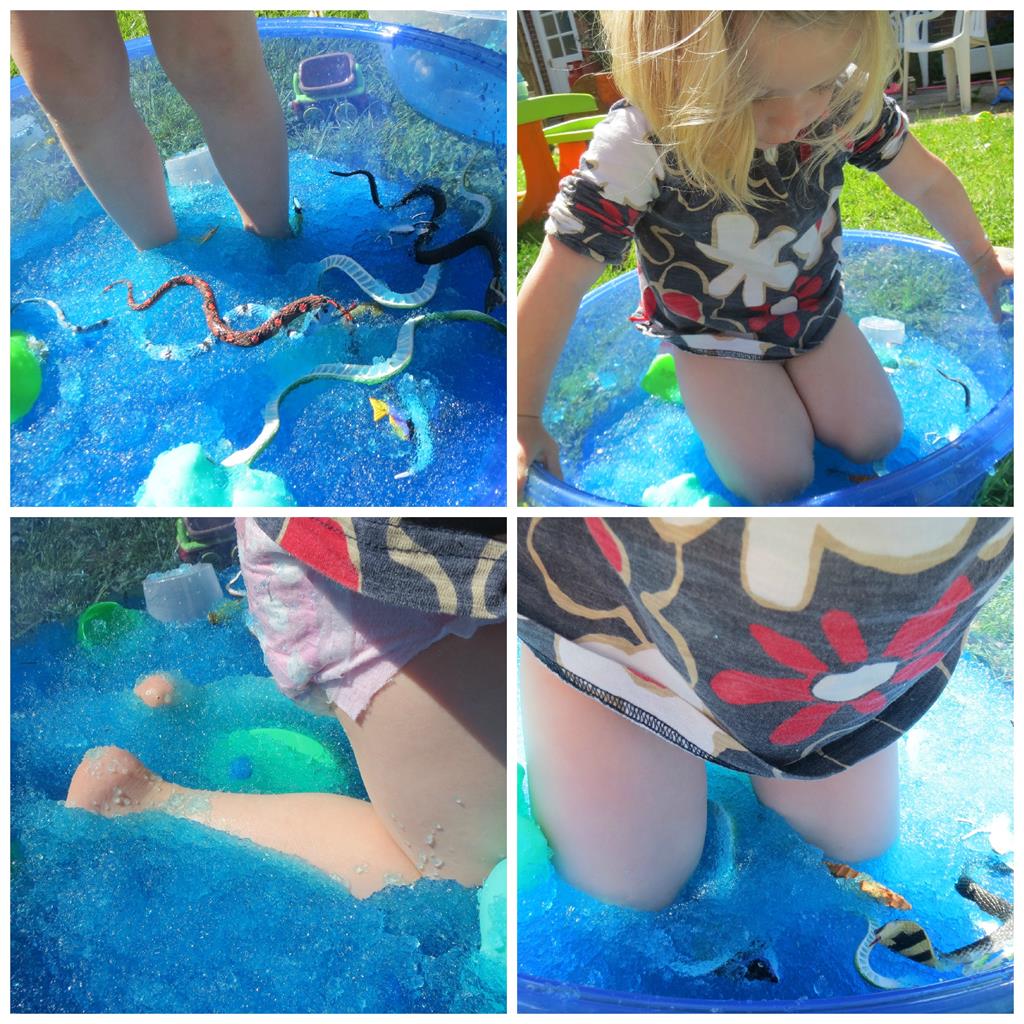 Watching the Gelli fall from different heights
Hearing the splat as sticky goo landed on sticky goo.
Using her body to move the Gelli and laughing at the funny sounds that it made.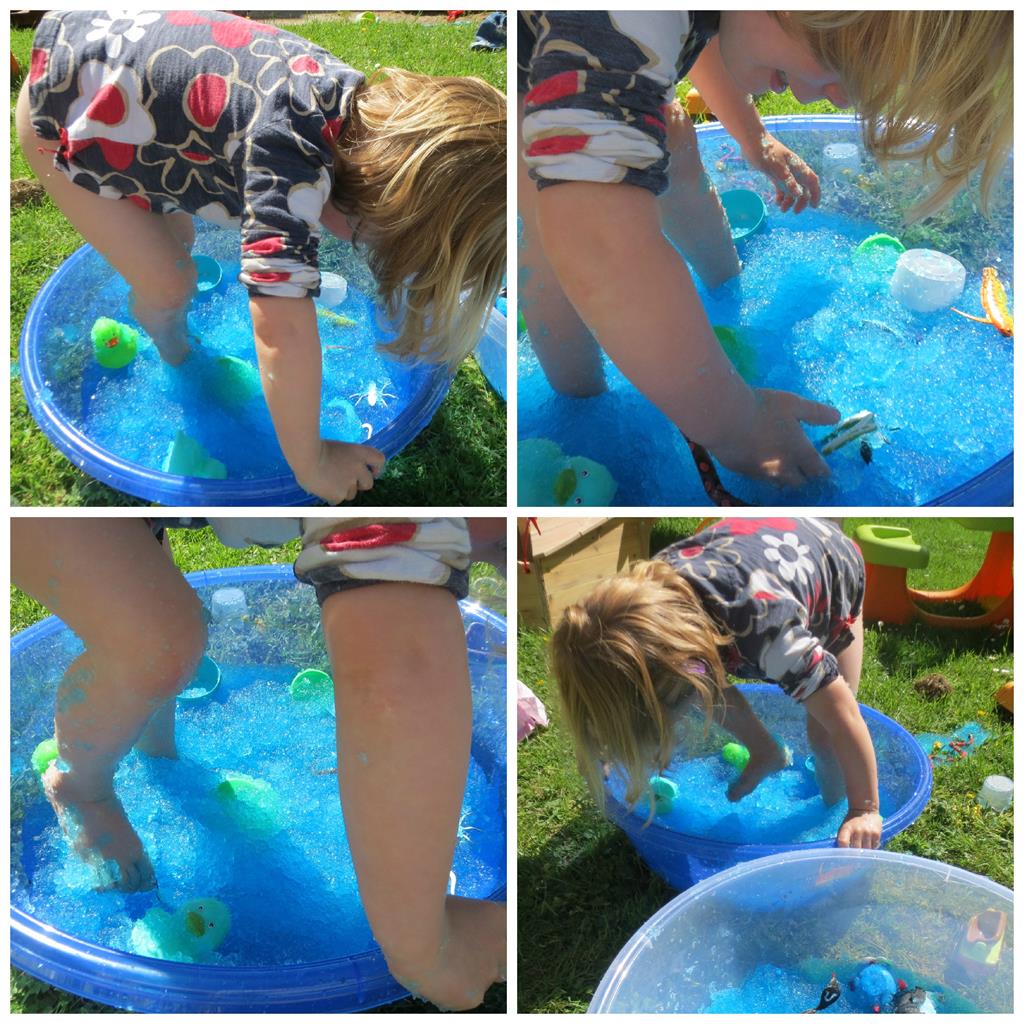 Esther loved sitting in the Gelli Baff and it did feel lovely on your skin.
The product claims to clean your skin if you use it in the bath.
Esther was able to make shapes in the Gelli with her different body parts.
She spent ages swishing and swirling,, stamping and squelching the Gelli around.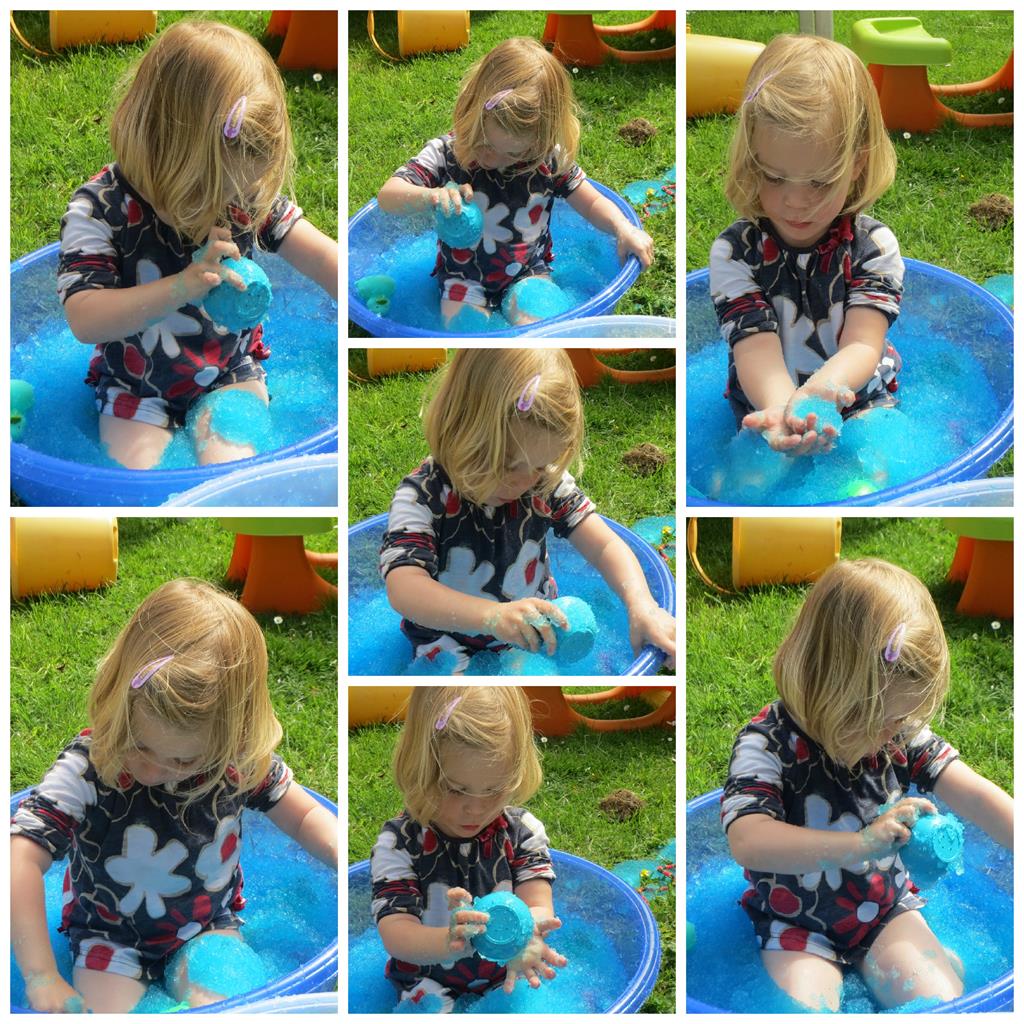 It was lovely today to use the Gelli Baff to add a new dimension to our water play.
It extended our play and tested our investigative skills.
A wonderful way to get messy with water.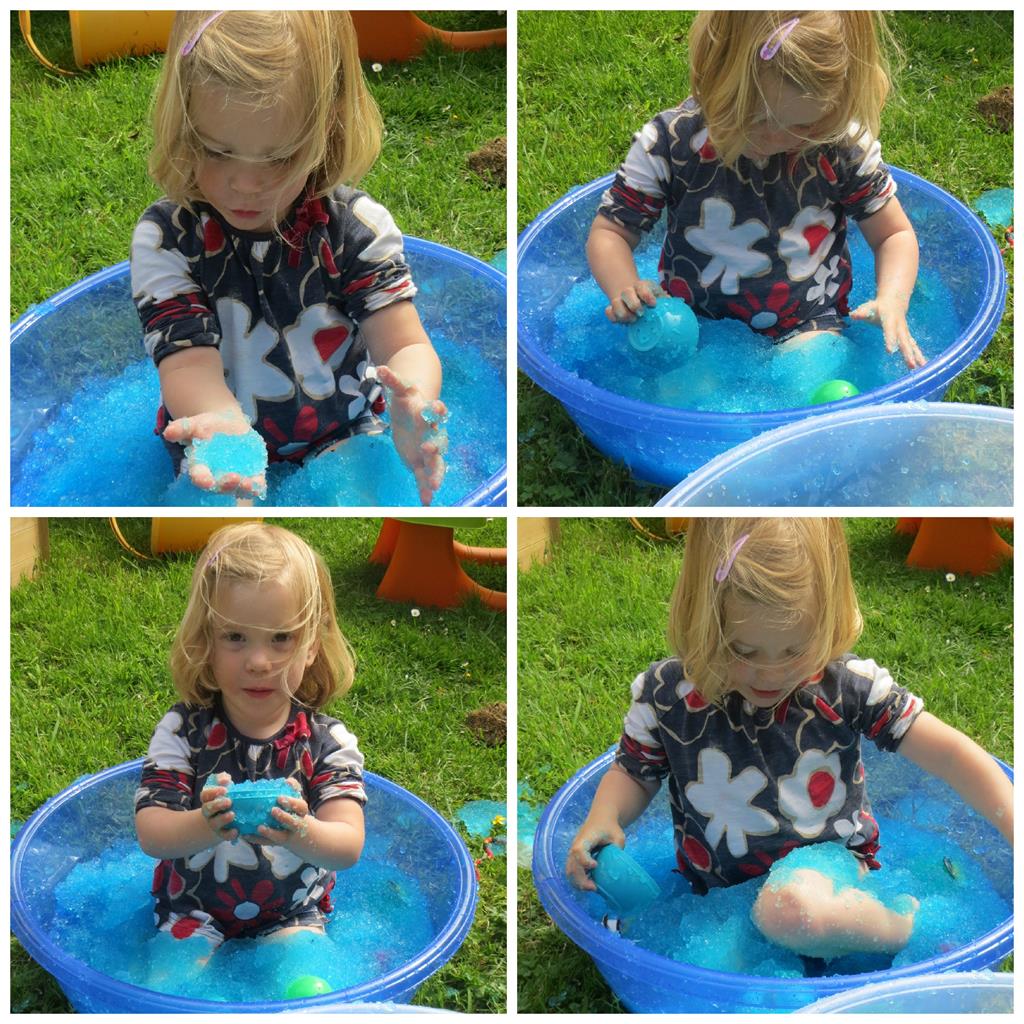 This is our messy water play for Matilda Mae.
What messy fun have you had this week?
We would love to know.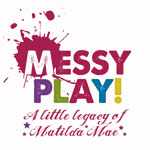 Please link up any messy or sensory play posts, old or new and especially anything with water as a focus.
Thank you x