On Wednesday 24th July 2013 Esther and William turned three.
Three!
We were invited to ZSL London Zoo to meet the penguins and have breakfast at the brand new Terrace Restaurant.
Esther and William loved getting up close to the penguins. It was a wonderful experience watching them at feeding time and seeing them splash in and out of the water, swimming at speed. A perfect start to a birthday.
After the very informative presentation we were led to The Terrace Restaurant for breakfast. We found a table on the terrace overlooking Penguin Beach and the carousel. Esther and William opened their first birthday presents of the day. Books to enjoy during breakfast.
The children were given beautifully decorated cupcakes for breakfast but we seemed to be missed out as our table was near the back and so Esther and William did not get to have cake for breakfast on their birthday. They did enjoy some fruit salad though and a lovely apple juice drink. For the adults there was a selection of breakfast themed canapes including smoked salmon and scrambled egg blinis and a mini cooked breakfast. We enjoyed our birthday breakfast while taking in our views across the zoo.
The Terrace Restaurant is a modern building with simple modern decor. It provides a range of food suitable for all the family including breakfast so that you can start your zoo adventures with a lovely meal inside you. Esther and William were definitely raring to go.
We did not get very far before they discovered one of the many highlights of their day, a coin operated double decker bus. And because it was their birthday I allowed Aunty Carolyn to use special birthday tokens to make the bus move. Usually we do not put money in and they are quite happy. But you do not turn three every day. And they loved their bus rides so!! It was wonderful to see their faces. Happy, smiling birthday faces.
Once we coaxed them off of the bus we started to explore the zoo. Esther and William had their toddle bikes with them which they used a lot to get around the animal park.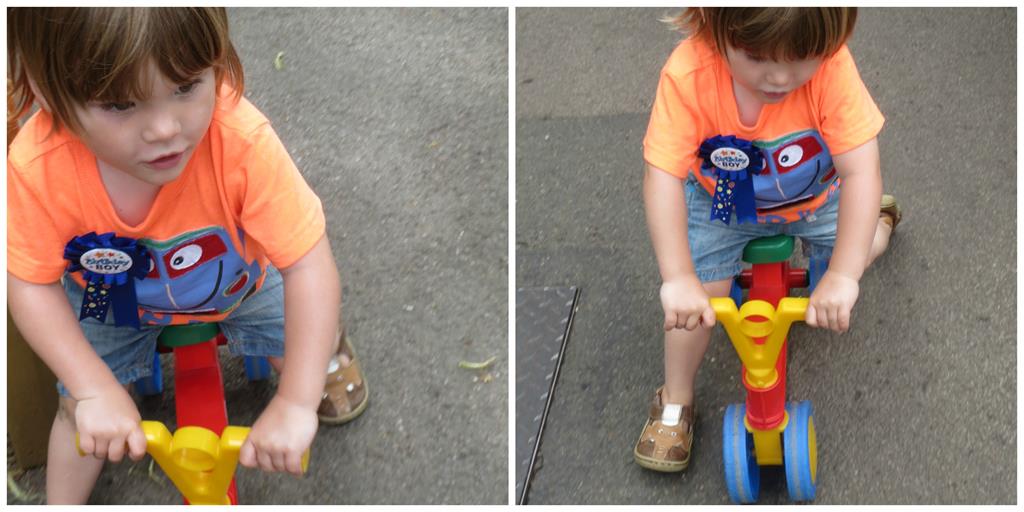 There were some definite highlights throughout the day.
The tiger territory was wonderful. As we walked through the zoo there were lots of stone tigers and tiger related challenges like leaping and running and creeping. Esther and William loved the statues. They cuddled them, photographed them and climbed on them. They also met every challenge that was set. They truly had a wonderful time. The zoo is very carefully thought out to ensure that there is always something for children to be doing as well as animals for them to look at. It makes for a very relaxed fun filled day.
Esther and William loved the splash play area which is a shallow river with sprinklers and squirters. Esther stripped right off and William just got totally wet but they had such fun and it is a lovely spot to sit and have a drink whilst the children play. I think that Esther and William would have happily stayed here all day.
They also loved the play area near to the Meerkats with tunnels to explore and a grassy bank to climb. This is again somewhere we could have spent much longer than we did. The challenge of new experiences really made this a magical toddler day.
There were lots of bridges to cross and houses to play in. Esther and William played for ages in the goats enclosure. They thought it was wonderful that they could see the Three Billy Goats Gruff so close to the Three Pigs houses!
They were also both very brave when they had the opportunity to stroke a slithering snake!
It was really good how close the children could get to the animals. It was also wonderful how the animals and play opportunities were interlinked. This is a great place truly geared up for families.
We had three generations of our family with and each of us had a wonderful day, all enjoying different aspects of the zoo. My Uncle and Aunty loved the feel of the zoo and enjoyed the talks and the presentations that we saw. They also loved seeing Esther and William having such fun. It was a really hot day and there were places to stop and sit and enjoy the shade.
When we were ready for lunch we headed back to The Terrace Restaurant. It was peak time and it was very busy. But it was organised chaos and the queues though long were moving.
I got Esther and William a lunch box each and they were surprisingly healthy and good value. They each had a drink, sandwiches, a pot of grapes, biscuits and a bag of dried apricots for around £5. I had a burger which was nice and cost less than £10 with chips, salad and a drink. My husband had fish and chips which he said was good. My aunty and uncle had salmon which they really enjoyed. The food seemed well cooked and was well presented. There was a large choice for everyone, with lunchboxes for children or special children's cooked meals. I was really impressed with the food and the service and I think if we returned to the zoo for a special occasion we would definitely eat in the restaurant again.
We ate our lunch inside and the air conditioning was very welcome on such a hot and sticky day.
The restaurant was clean and bright and very family focused with fast friendly service.
We had a lovely family lunch.
After lunch we headed back out to the animals. I wanted to see my favourites the giraffes and we wanted Esther and William to see the Komodo Dragons and the giant tortoises. They actually liked the stone tortoise statues best!
As the afternoon wore on and the weather began to take it's toll on our birthday toddlers we knew we had to head home. We went back to The Terrace Restaurant and bought some cold drinks for the car and then made our way back to our cars.
What a magical third birthday Esther and William had. A day at the zoo with breakfast treats on a tree top terrace and lunch in a comfortable cafe.
The Terrace Restaurant offers a tantalising dining experience in the heart of the Zoo, perfect for refuelling ready for the next adventure and with stunning al fresco terraced seating it's not to be missed.
The new restaurant seats up to 700 hungry visitors, and in-house caterer Ampersand, a branch of Royal Warrant holders CH&Co, are serving up a host of delicious meals from stone-baked pizzas to freshly prepared salads, designed to suit every taste bud.
We truly enjoyed our visit today and will be back to the zoo and the restaurant very soon.
We were given free admission to ZSL London Zoo and a complimentary lunch and breakfast to enable me to write an honest review.