On Sunday we had Esther and William's third birthday party.
It was a Gruffalo Party with a touch of We're Going on a Bear Hunt added in.
The party was for friends and family and we held it in our back garden.
I had been planning the party in my mind for months but all the work was done in the few days before the party and much of it was done on the day.
The party started at 2.00pm which was ideal as we had lots of time to get everything ready.
Getting ready was really enjoyable as we had lots of friends and family round us to help.
The whole day was wonderful.
A birthday party success story, and I would like to share it with you.
As people arrived we had signs and balloons leading through Baby Tilda's garden to the back garden, then a trail of balloons down to the bottom of the garden where we all were.
I wanted the afternoon to be relaxed for adults and children. I put out lots of things for the children to play with.
I added green and blue glitter to the water table to make a shimmering sea. Swimming in the sea were all sorts of fish and fun water squirters which the children loved. I also provided fishing nets so that they could find all the fishe hiding beneath the sparkles.
In the Tuff Spot I made a dinosaur swamp which was riddled with snakes and prehistoric creatures of the deep!
For the babies I filled our paddling pool with balls, there was also our normal climbing frame with swings and a slide.
I put out the Mega Ramp with a box of cars which was enjoyed by all the boys. Young and old!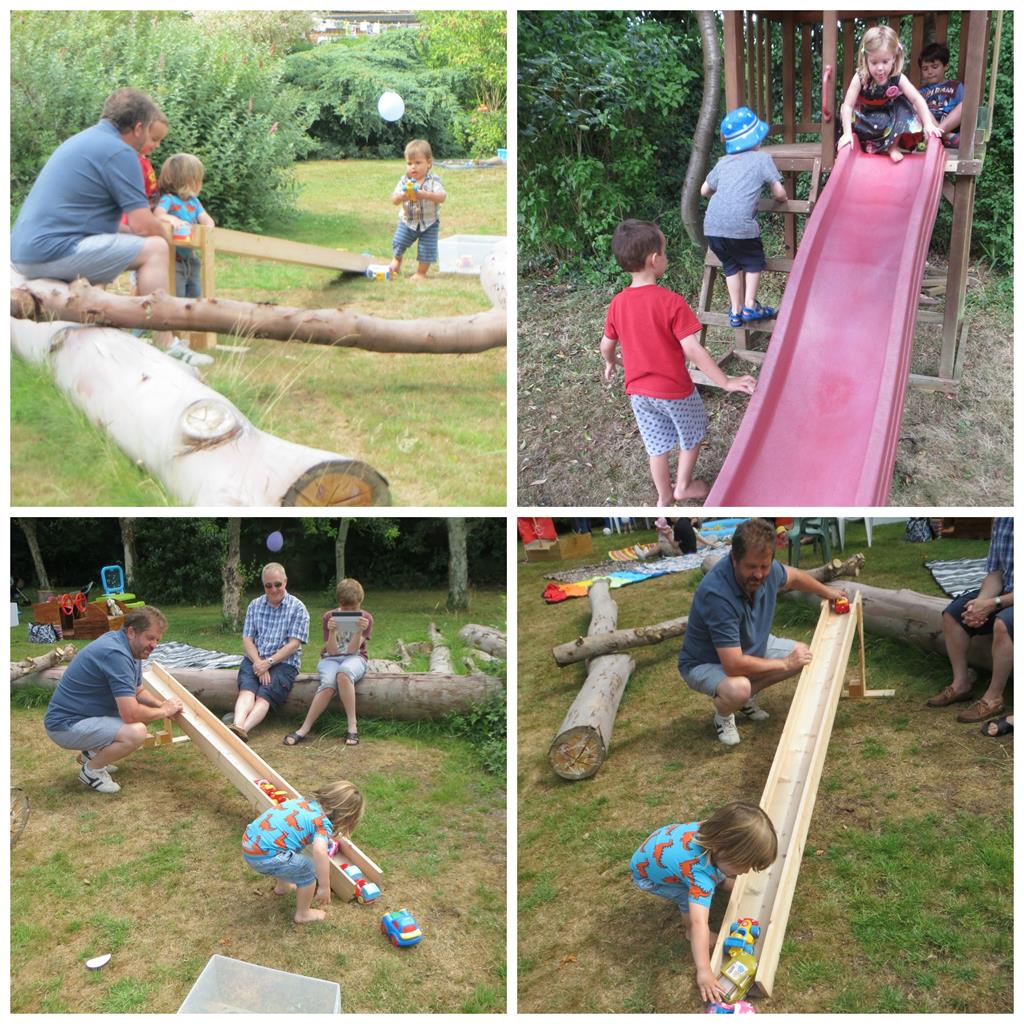 We also had the trampoline, a rocking horse and lots of tunnels and tents.
For quieter activities I put out two tables. One which had plasticine on it and some Gruffalo themed modelling challenges.
And one that was for painting. I put out lots of cardboard stars and different coloured paints, glitter paint and sticky jewels so that people could paint and decorate stars. The stars are going to be made into bunting for Esther and William's playroom as a souvenir of their party and as a tribute to Baby Tilda in the sky.
As the children finished their stars my friend hung them on a tree to dry and we called it the Matilda Memory Tree. It has made me think of perhaps varnishing some of the stars and keeping them in the garden permanently as they did look very pretty. Esther spent ages at the painting table. Carefully, delicately painting stars for Baby Tilda.
As everyone arrived Esther and William were keen to open their presents. They were very lucky children and received some beautiful gifts. My lovely sister in law made a list of who gave what so that we will be able to thank everyone and especially those who were not properly thanked on the day.
Esther and William totally get the idea of birthdays and presents this year!!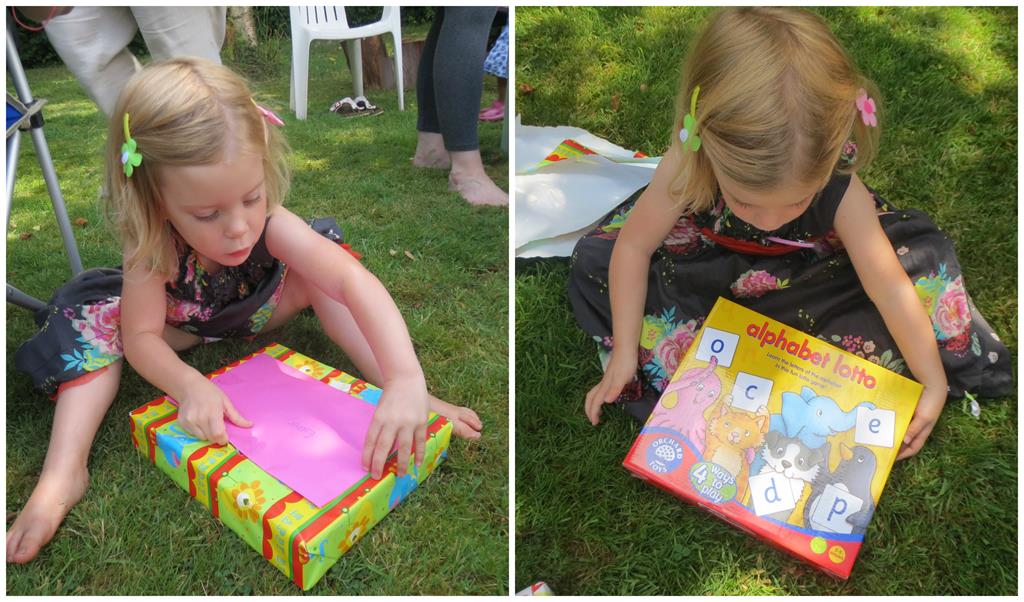 It was truly a wonderful afternoon. The sun was shining but we were able to find shade beneath the trees. The adults were able to mingle and chat while the children roamed free and played. I don't think I heard a single cross word all afternoon, there were no tantrums or squabbles, it was just a lovely peaceful afternoon.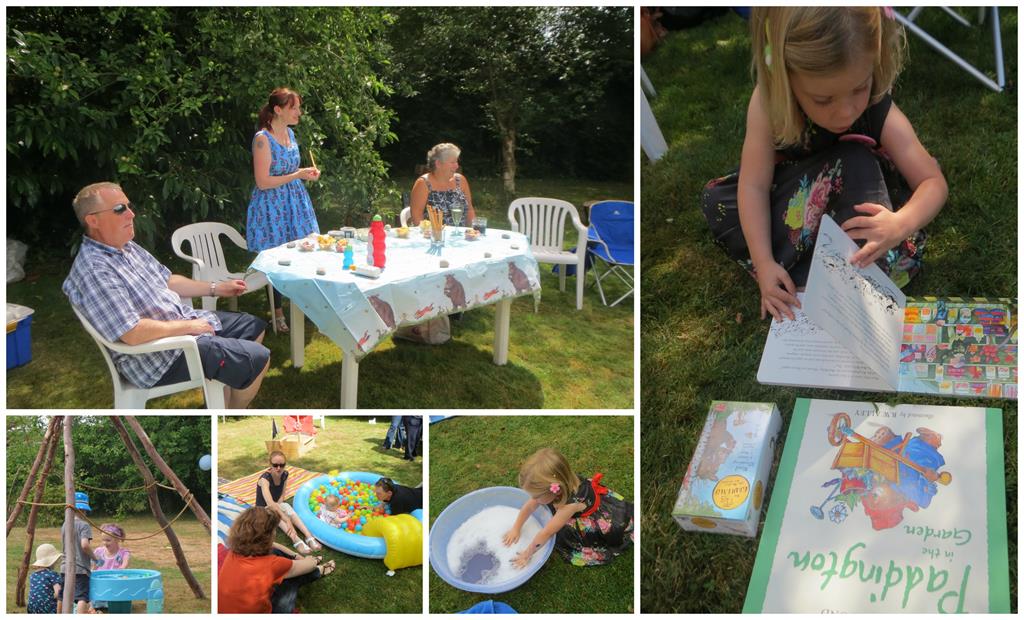 Interspersed with the free play we had a few organised games. We started with Pin the Poisonous Wart on The Gruffalo which was great fun. Everyone who had a go got a prize. A pot of bubbles and some stickers.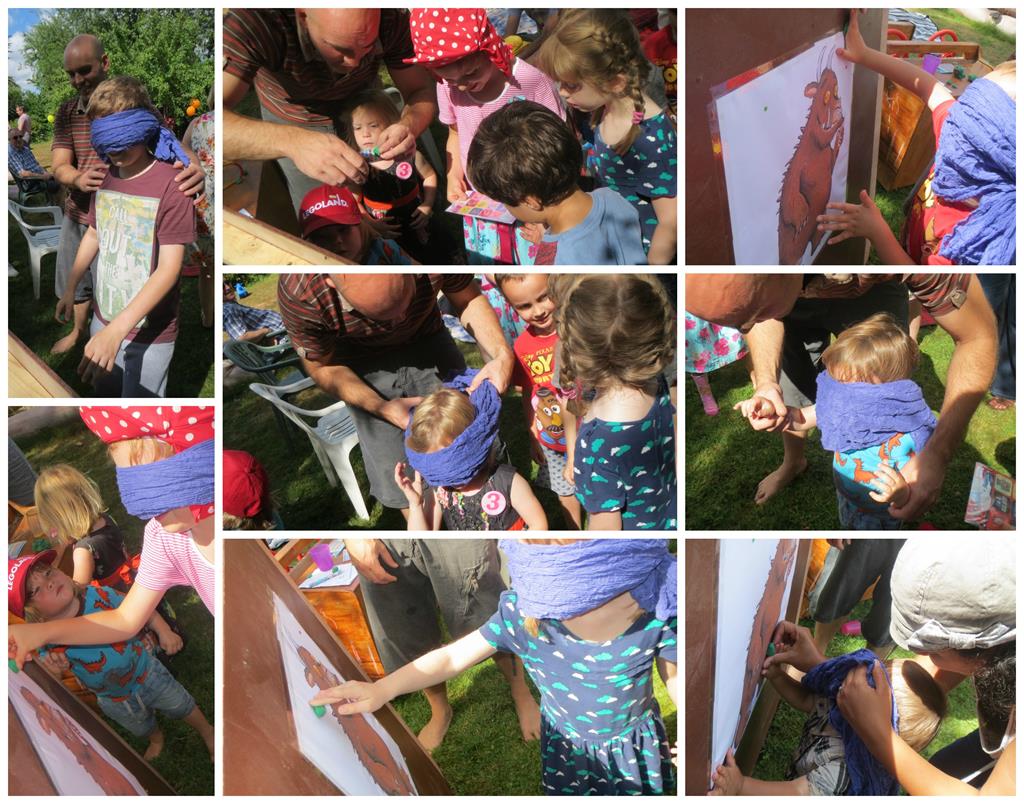 We also had a Gruffalo Relay, a running race which was really very funny to watch and again everyone that joined in was able to choose a prize.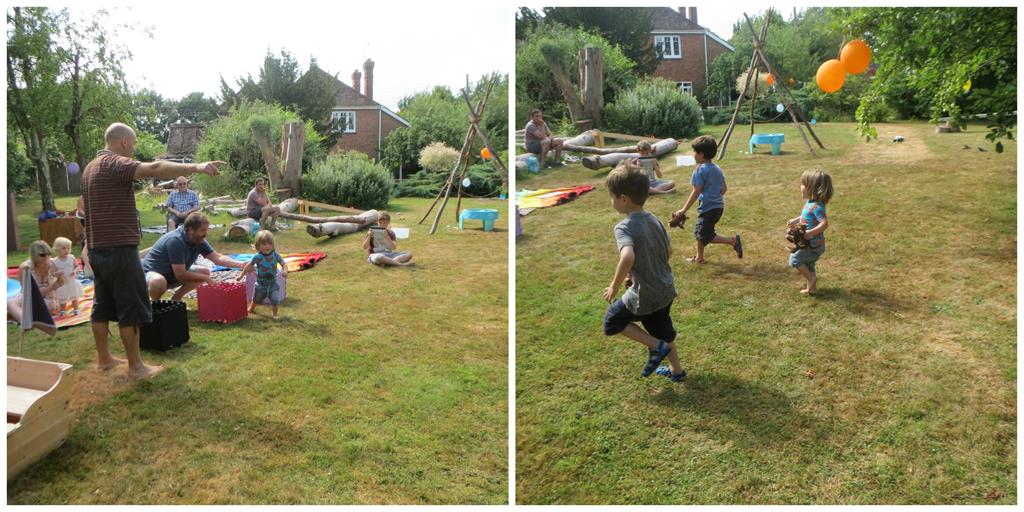 Esther and William really enjoyed the games and William is still talking about the running race today. He liked it so much.
After these two games it was time for food.
We cleared the activity tables and brought out the savoury fayre first.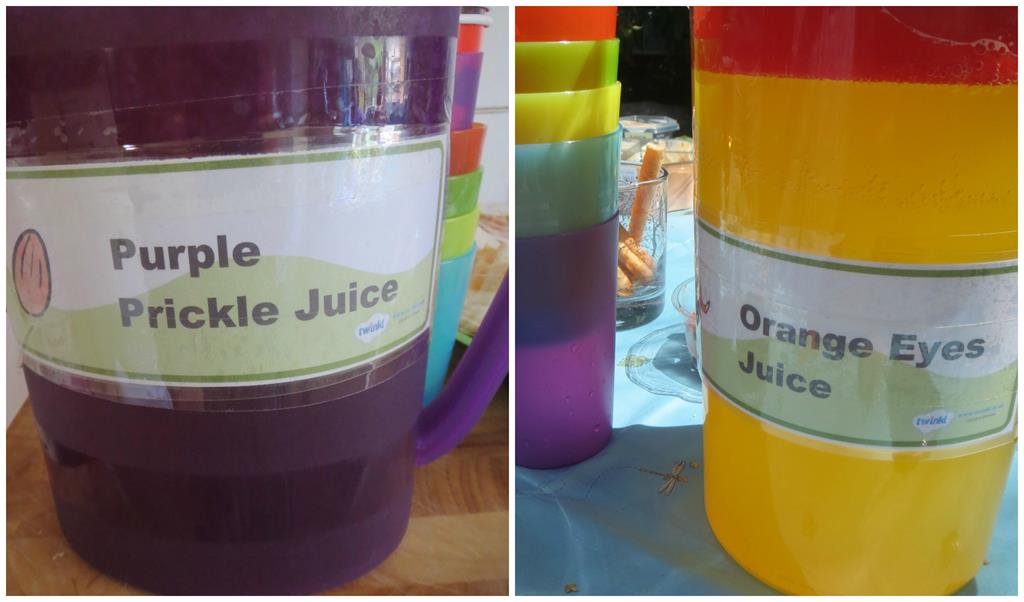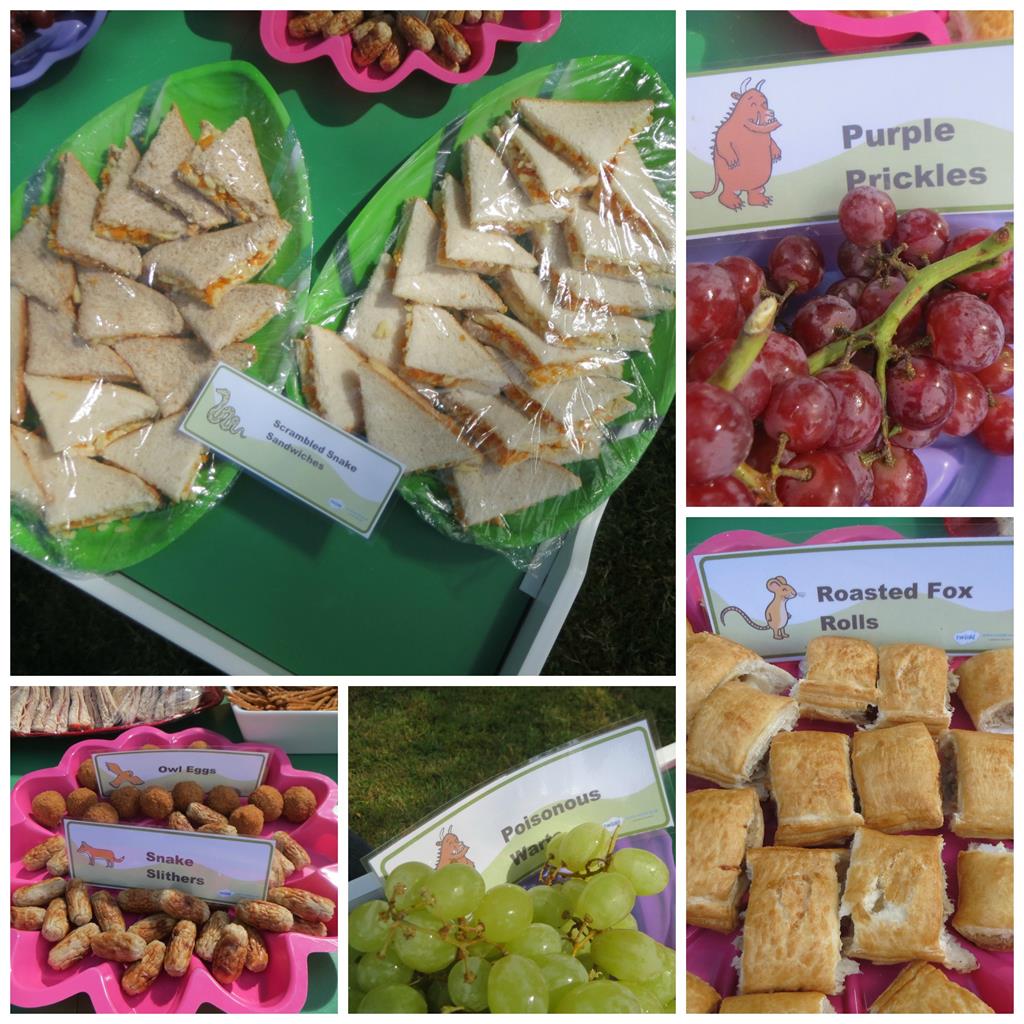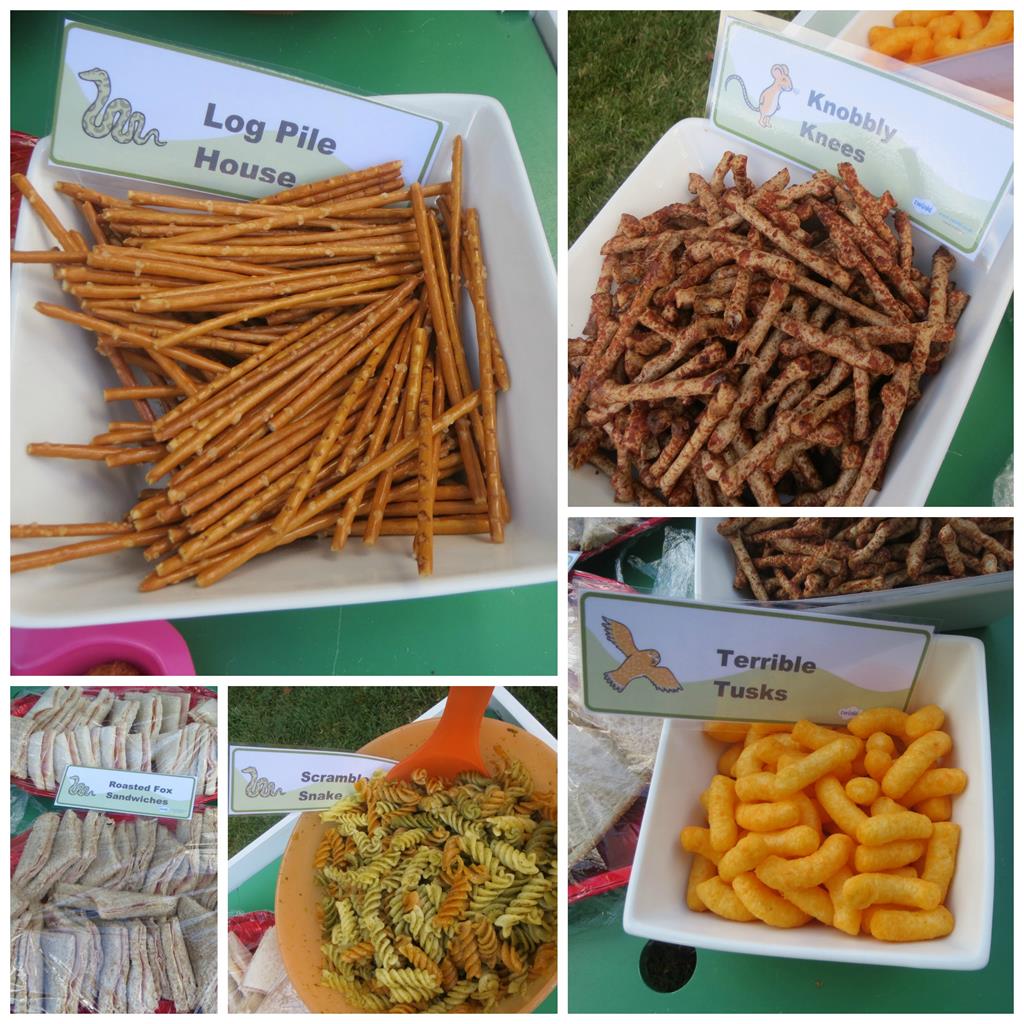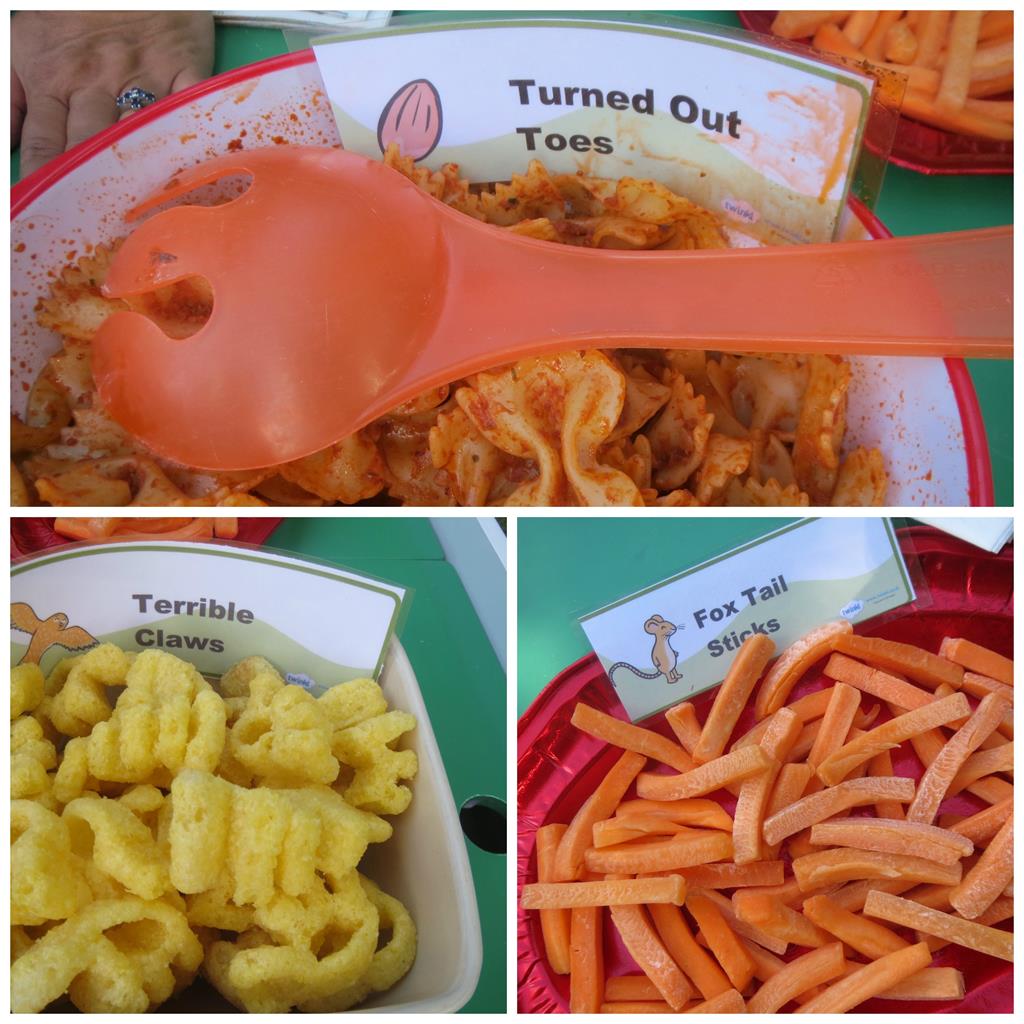 Everyone was glad to collapse onto a picnic blanket and tuck in to terrible tusks and roasted fox and much much more.
We sat and we talked and we feasted.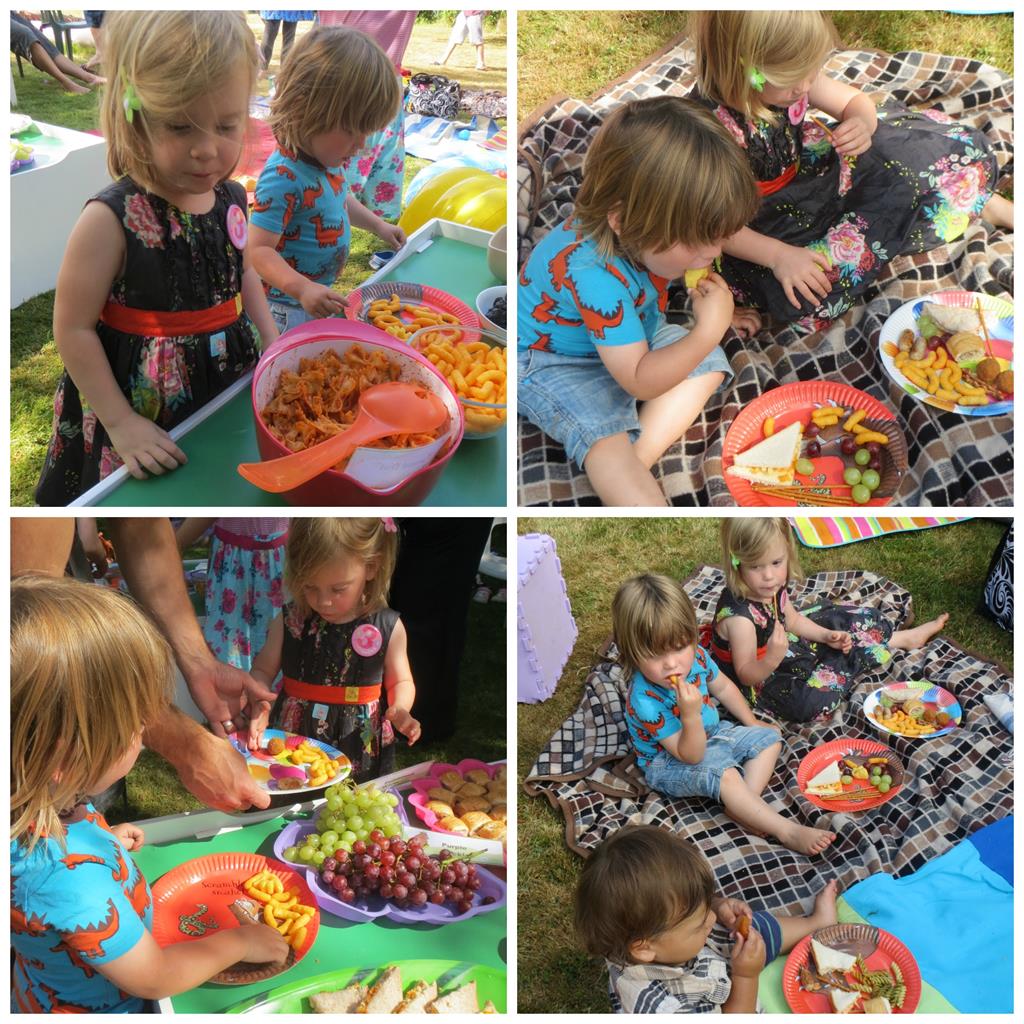 Between the savoury and the sweet the lovely Antonia from Classical Babies started to play the violin. The children were drawn straight to her and they sat around watching and listening and finishing their food. It was lovely listening to her play and seeing how enchanted and engrossed the children were. A little bit of magic added to the day.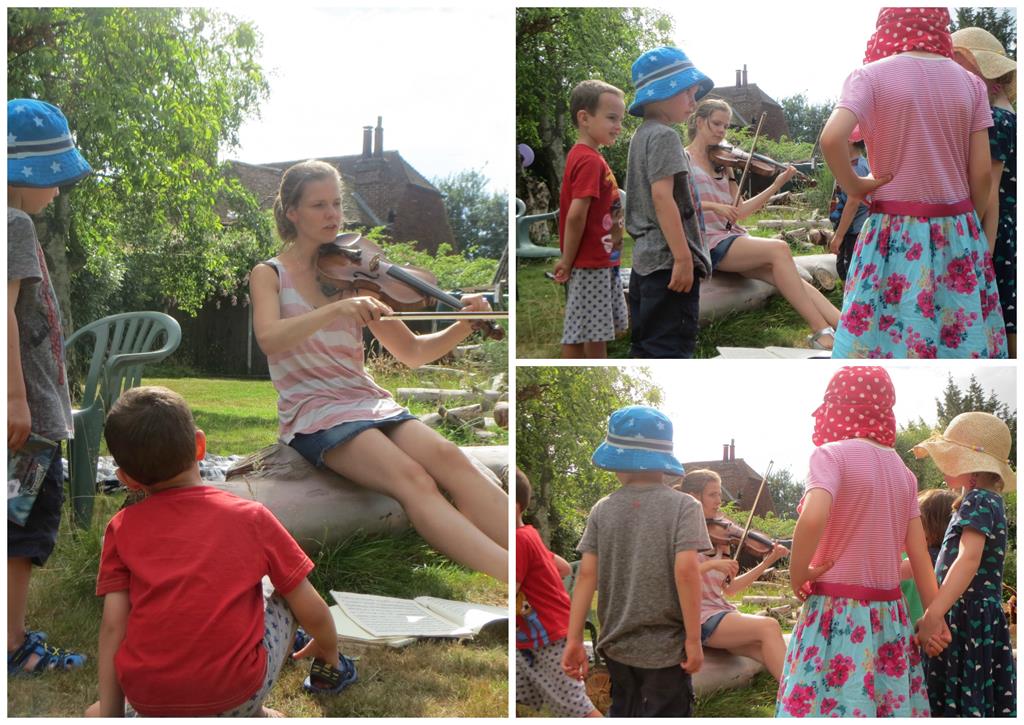 After the musical interlude it was time for sweets, cakes and Happy Birthdays. Seeing Esther and William's faces as everyone sang for them was the highlight of my day even though I was fighting back the tears for the one little girl who should have been there, beaming and truly believing that everyone was singing truly for her. We missed you today Baby Tilda.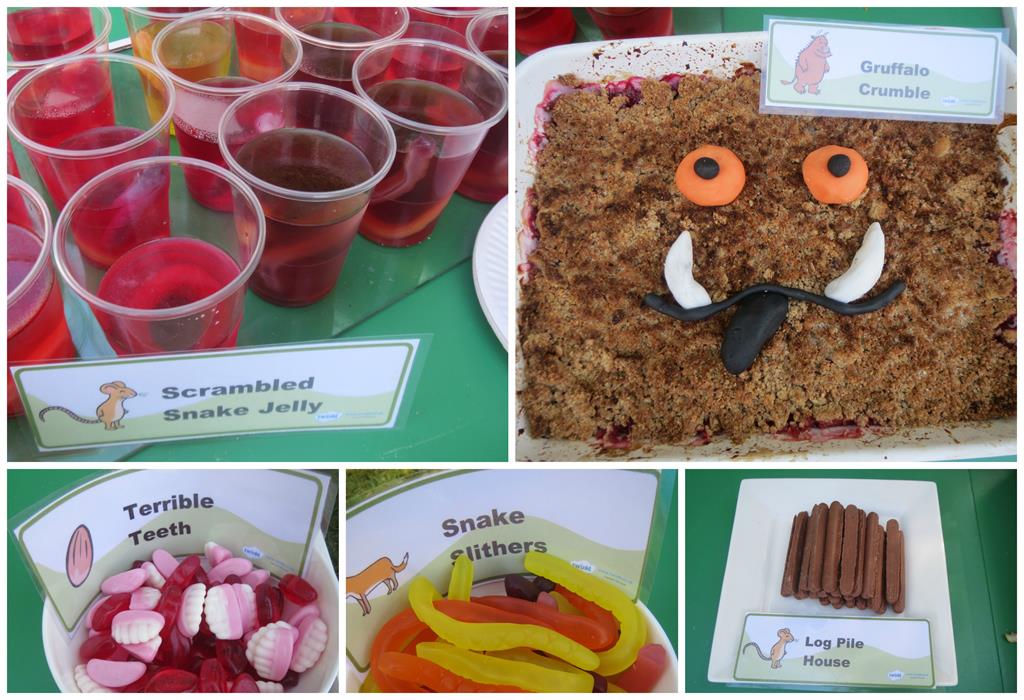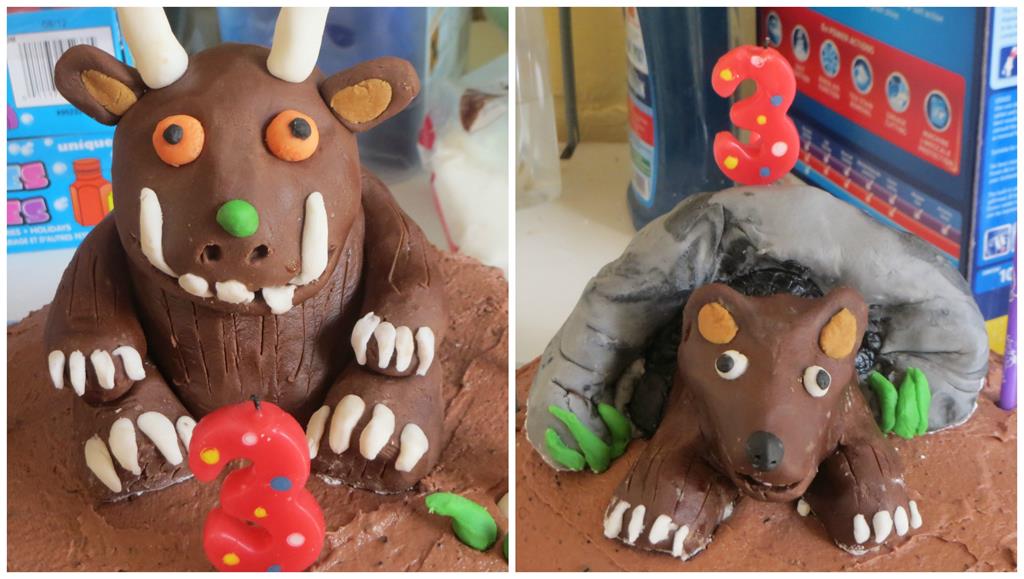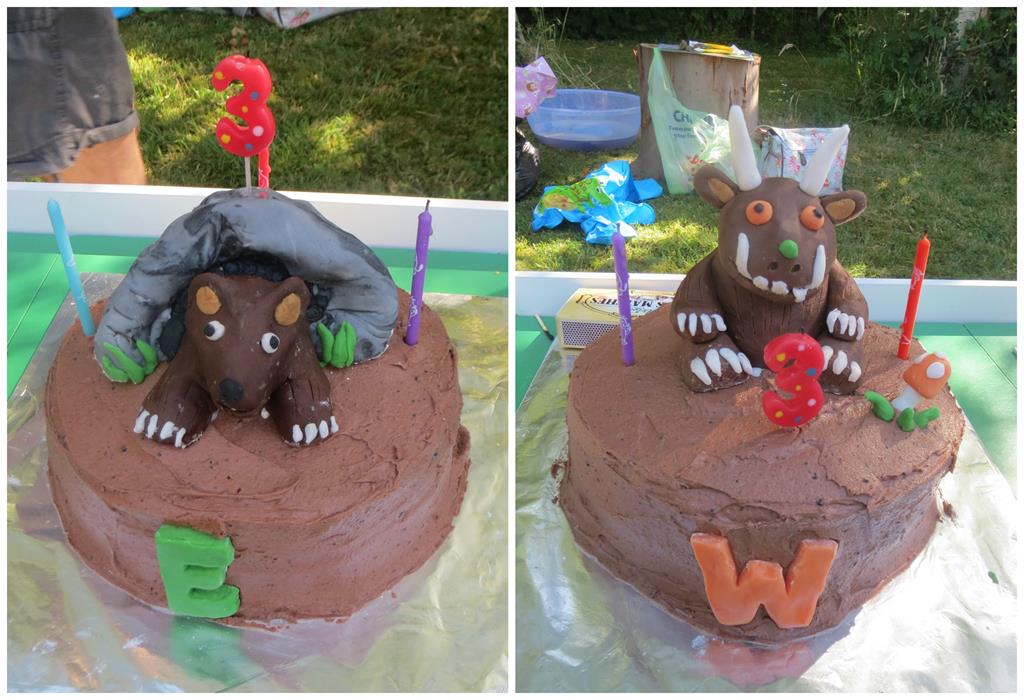 The cakes were a real family effort. Esther and William had the ideas, Aunty Clare made the cakes and Daddy made the fondant icing figures on the top. Just as the toddlers ordered, a Gruffalo cake and a bear. Birthday dreams do come true!
After the sweet things had been eaten it was time for the children to try their hands at playing the violins with Classical Babies' Antonia. She has such a wonderful way with children. Esther and William both love to play the violin with their 'Singing Lady'.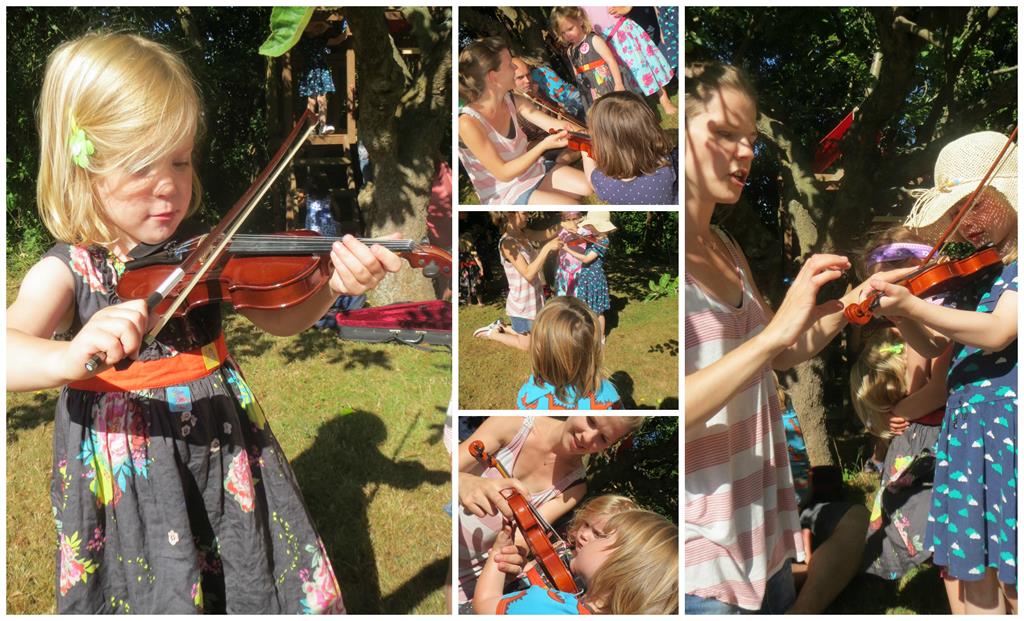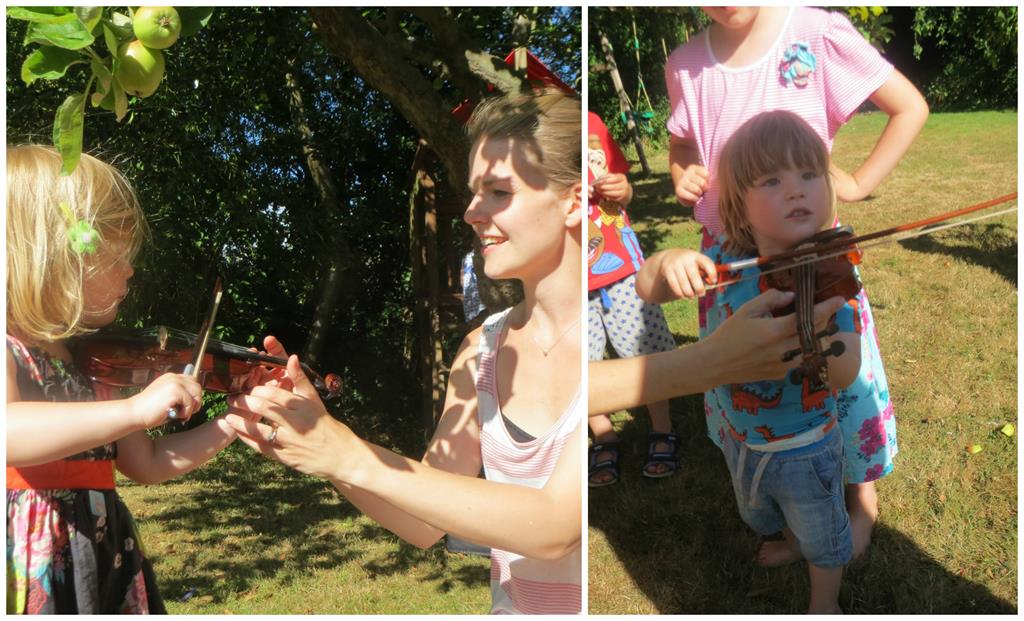 The main organised event of the party was The Gruffalo Hunt. We hid the characters from The Gruffalo around the garden with an adult guarding them. The children worked in teams to find the creatures and collect stickers from the adults. It was great fun and Esther and William have done the hunt so many times now. Today they did it in torrential rain to show Granny and Grandad. It was a definite highlight of the party. The Gruffalo Hunt.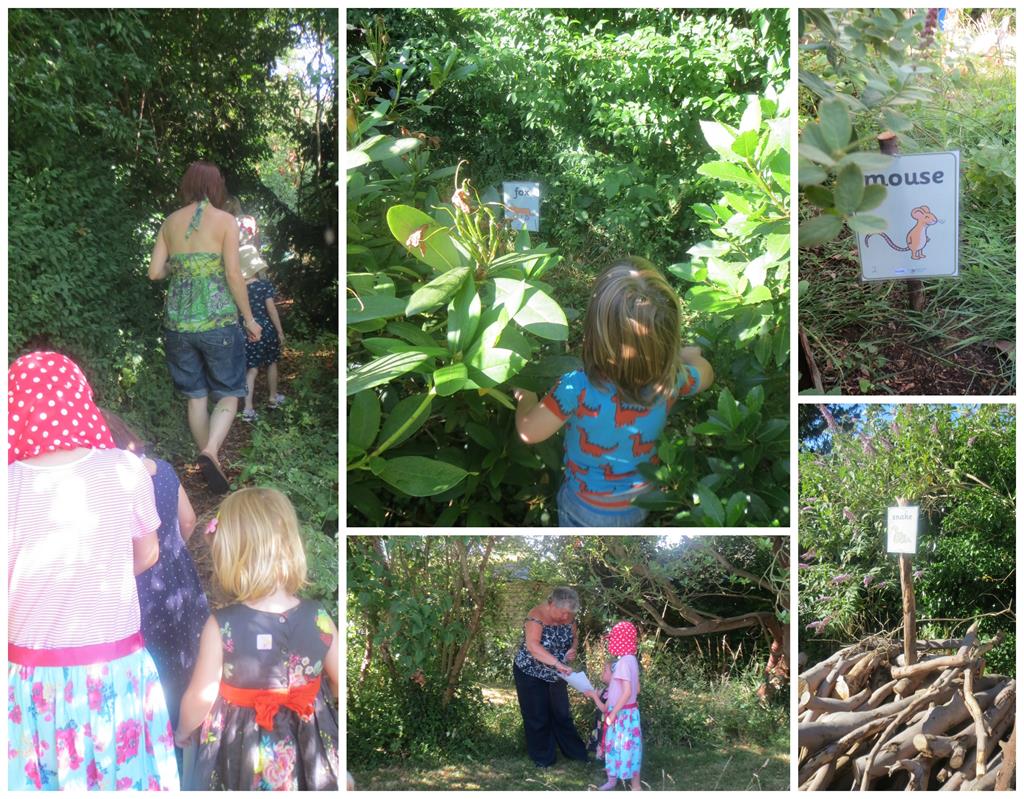 After the hunt and eating more cake, it was time to give out party bags and for people to go home. Every child that came to the party got a little bag of goodies, cake and a picture book. Inside the books I put a sticker saying that the book was given at Esther and William's third birthday party in July 2013.
As the house and garden emptied and the quiet drew in I started to feel so very sad.
I was so pleased and proud that we had given Esther and William the best of birthdays but my heart was breaking for Matilda who should have been there.
As I was drowning in my sorrow my sister in law gave me this, it was all I needed to know, that other people realised that Tilda should have been there too, that other people were missing her just like me.
"Amazing!" said The Gruffalo.
And it was. A beautiful, sunny party afternoon to celebrate two beautiful toddlers turning three.
We made their birthday dreams come true.
Happy Birthday Esther and William we are so so proud of both of you x