If you go down to the woods today you will find little piles of collected sticks, leaves coloured like jewels floating down the stream, dens and hides where we have sat, played and hidden.
If you go down to the woods today you might just find the hidden tracks of our adventures, the paw prints of a bear!
Over the last few days we have been truly making the most of the season.
We have been getting outside and bringing our autumnal treasures into our playroom, into our art, our craft and our play.
We have stopped in our tracks and treasured our time together.
And now I would like to share some of our magic with you.
Today we ventured into the woods where Daddy played when he was a boy.
We walked through the leaf litter and up into the trees.
William and Esther were commenting on the sounds beneath their feet, the scrunching and the crunching, the cracking and the snapping. We also talked about all the colours we could see. The reds, golden yellow, burnt orange, speckled green. We delighted in testing the depth of muddy puddles, making splashes and sploshes in the remains of the rain.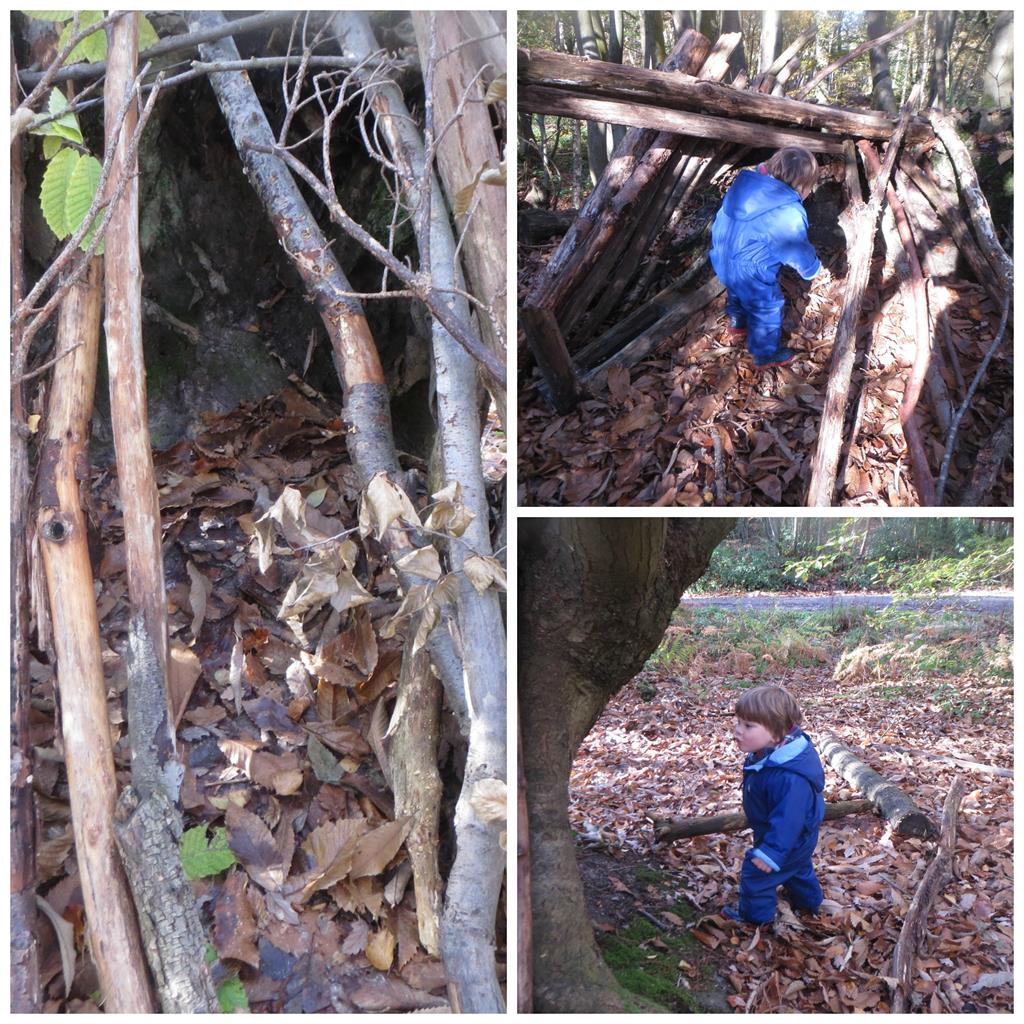 We slipped off the main paths to find the home of the Gruffalo, the log pile house of Snake and the tree top house of owl. We hid in hides and delved into dens. We peaked through windows and peekabooed by trees. We were all together and it was fun!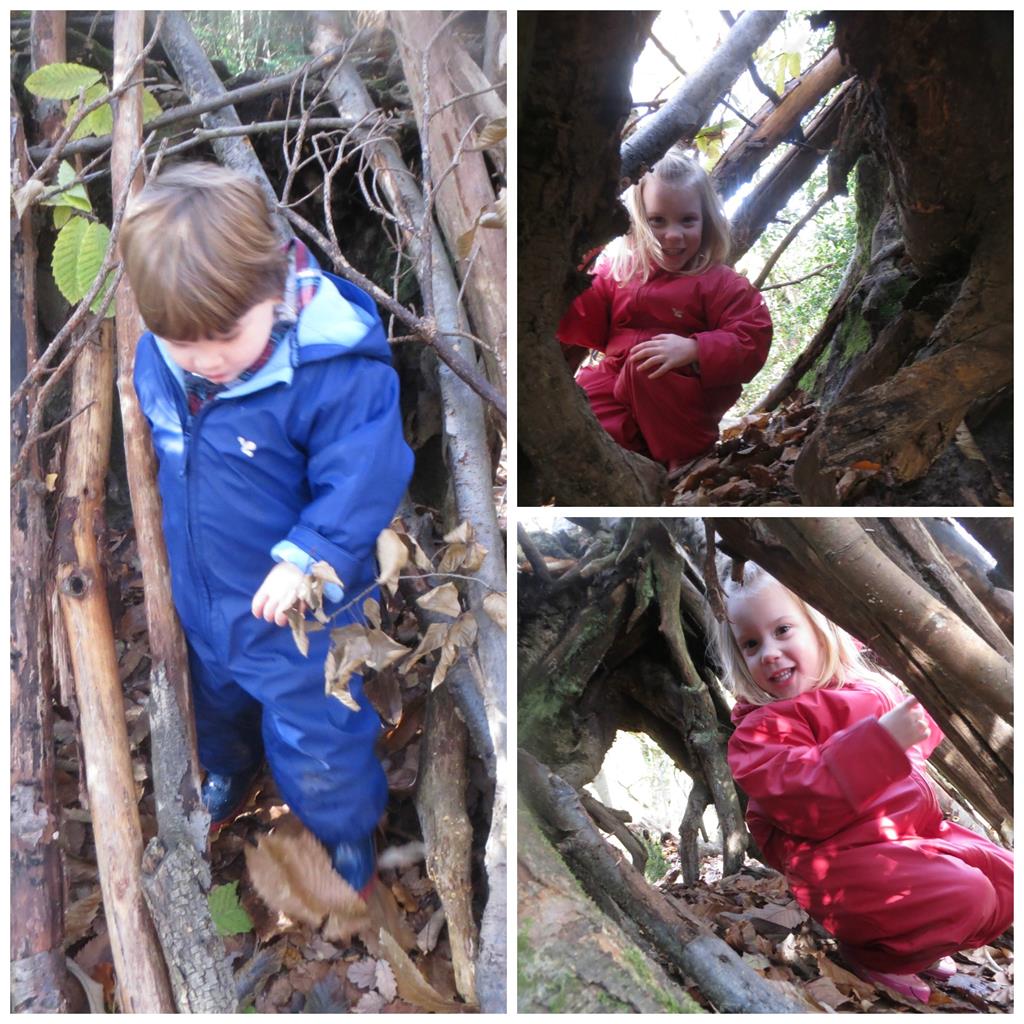 As we wandered further into the woodland we came to a golden sun dappled clearing where the floor was awash with acorns.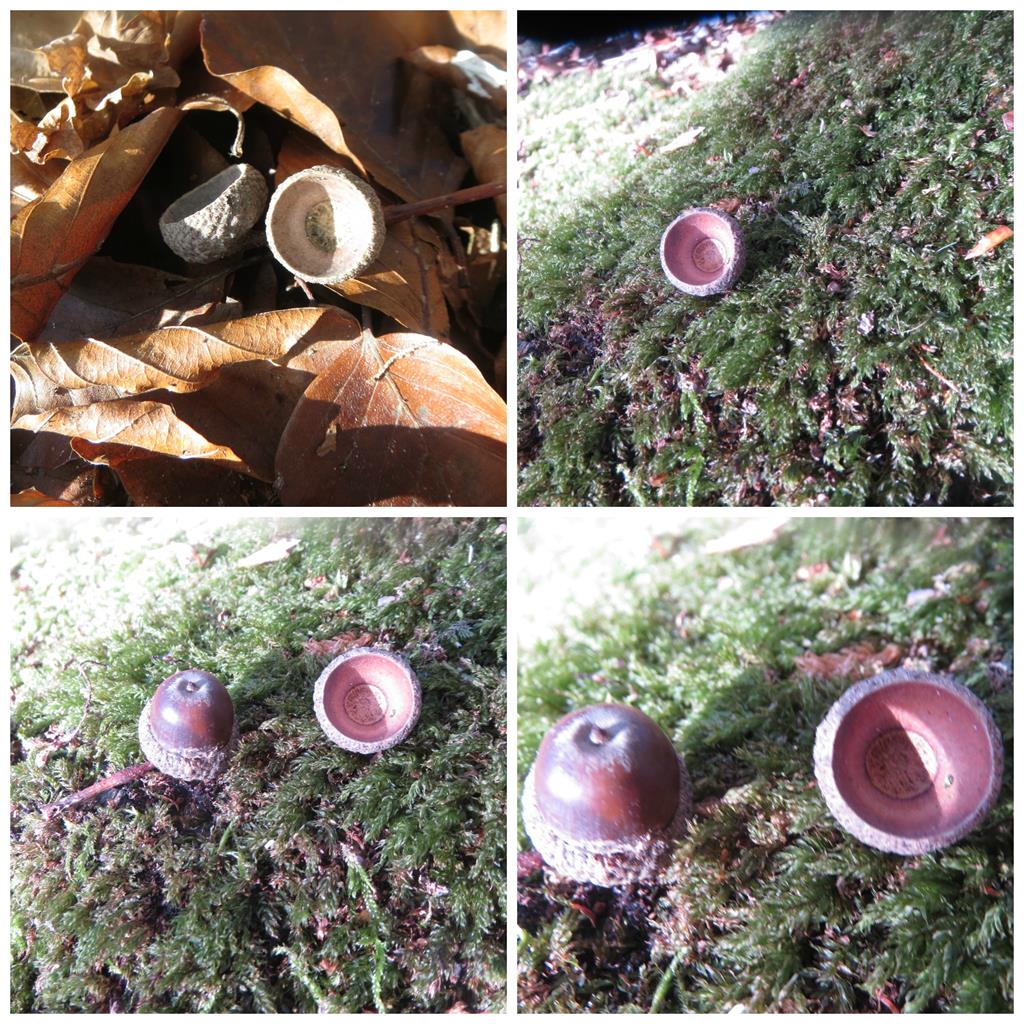 We collected some to bring home to plant in Matilda Mae's garden. Daddy showed Esther and William how to use the shell as a whistle. This immediately became a train whistle of course and signalled the start of a train hunt through the glistening autumn trees.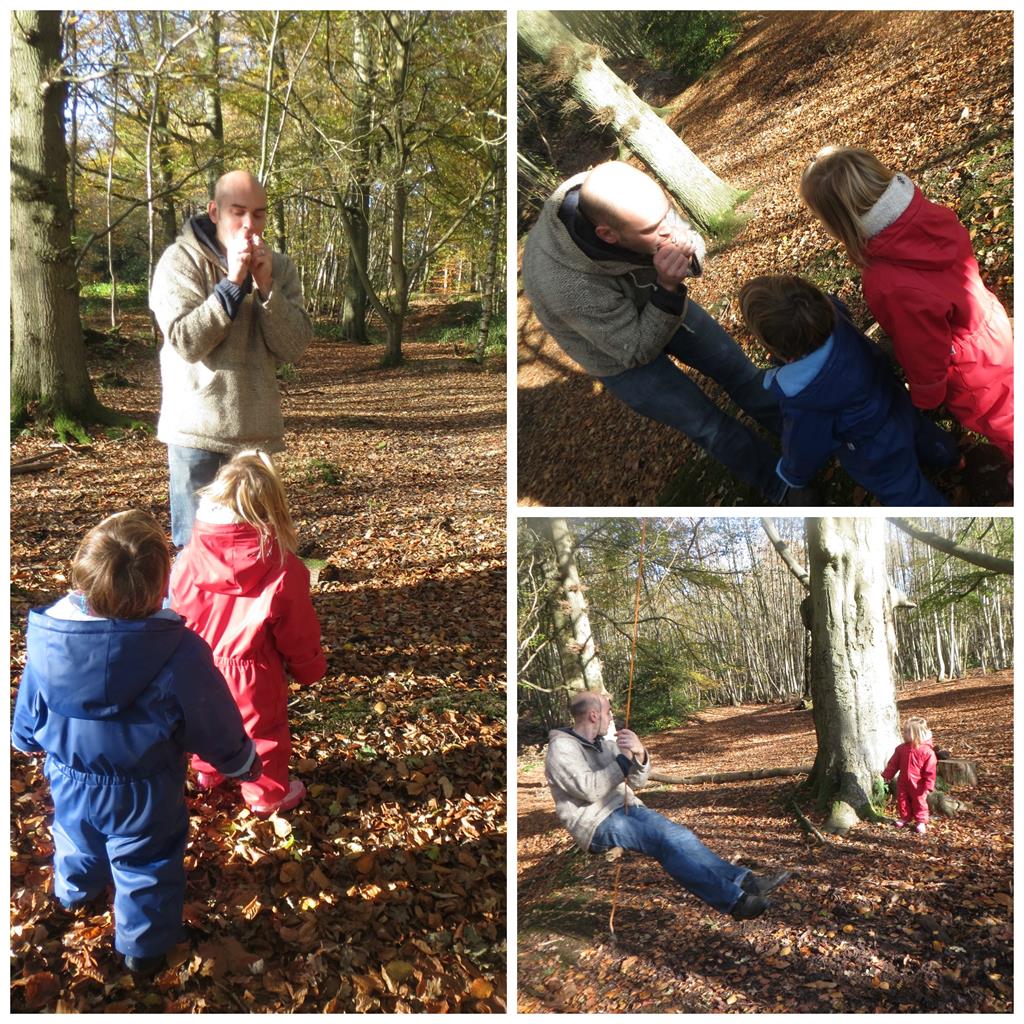 We had great fun with Daddy today, fondly known here as 'Diesel 10′. He found a rope swing to play on and knew the best paths to the secret lair of mummy and daddy and baby bear!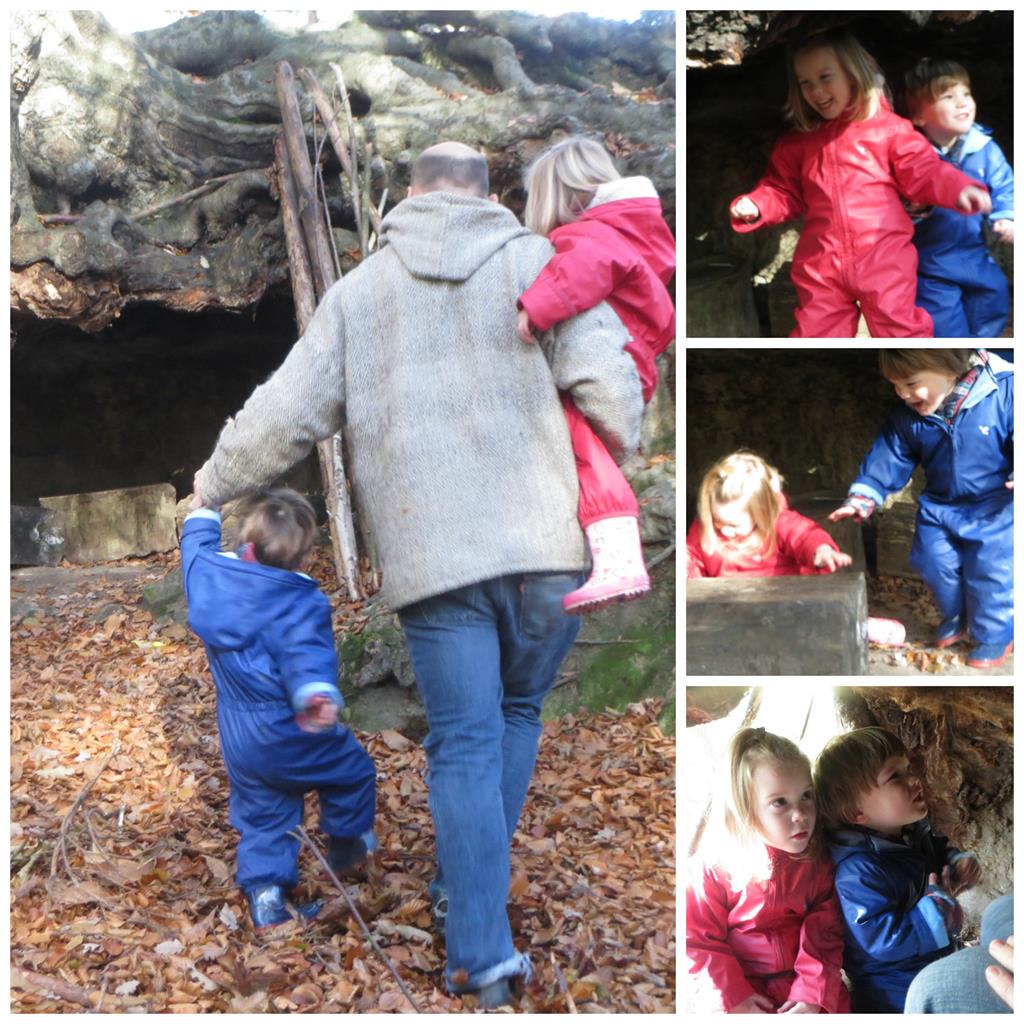 We climbed up the bank to the cave beneath the ancient fallen tree. We sat inside the cavern and rested little legs. We looked out over the branches and leaves bathed in the autumn sun. At times today the beauty of nature took my breath away and I could feel Baby Tilda near.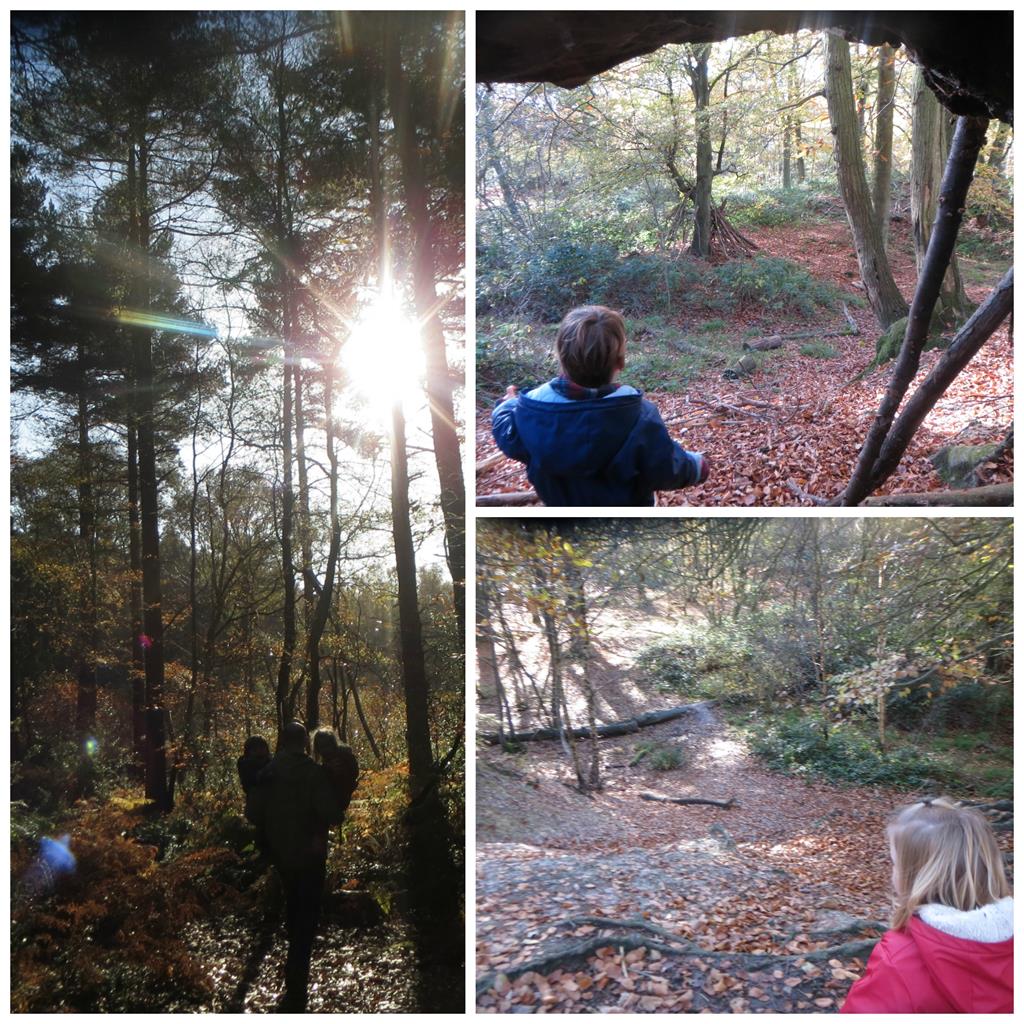 From the cave we ran down the banks and up the next little hill to what we call Baby Bear's Den. We played there for a while before heading off to explore the woods and find the stream.
William loves walking and exploring, adventuring. Esther is a little less keen and so today enjoyed lots of cuddles with her Daddy. William and I dillied and dallied along the way looking at the shapes of different leaves, throwing leaves into the stream and collecting sticks.
Sticks to be used as fallen trees across our autumn sensory track!
There were lots of fallen trees across our path today. Some we climbed over, some we crawled under, some we boinged and bounced for fun. We had lots of fun this morning and the look on our little ones faces makes every single second worthwhile. A magical morning together to treasure. Boing!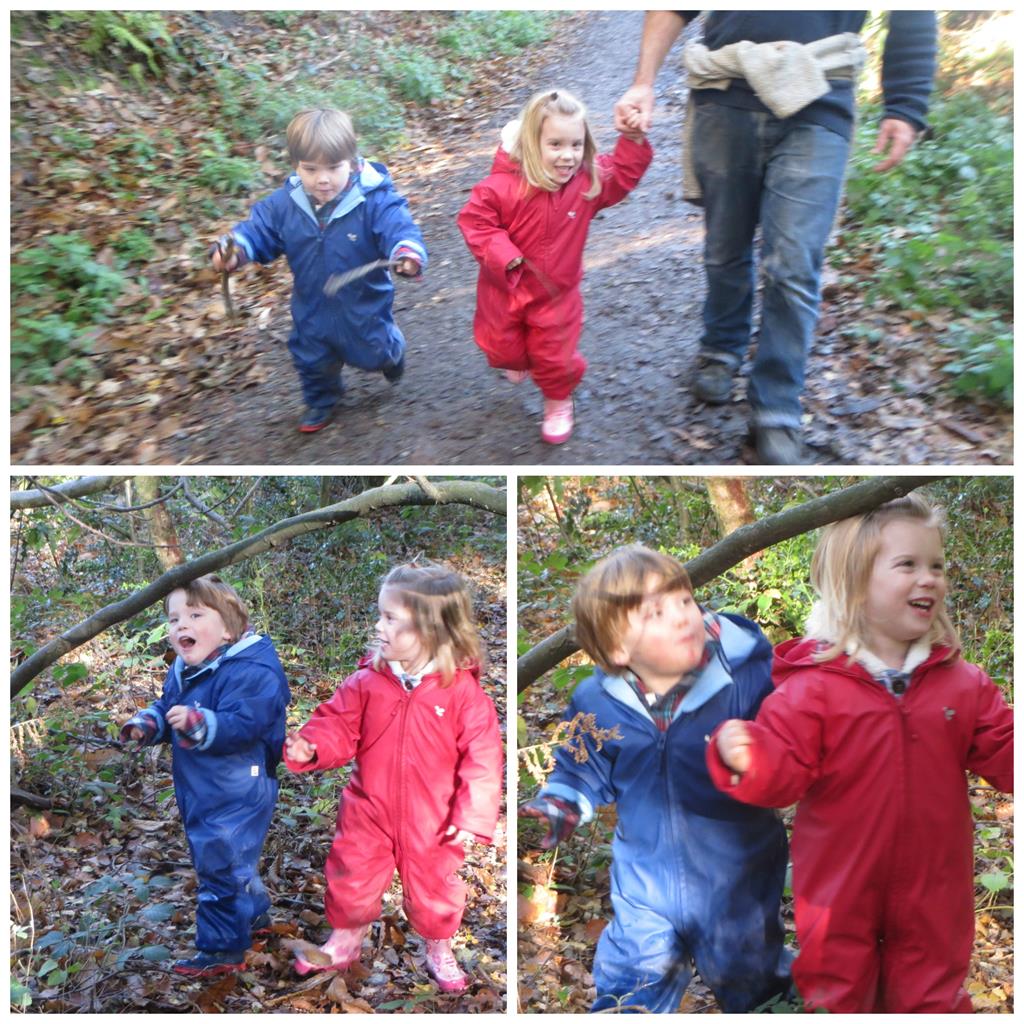 As we began heading out of the woods with our leaves, our grass wands and our bundle of specially selected sticks. Daddy and William went to play in an underground tunnel.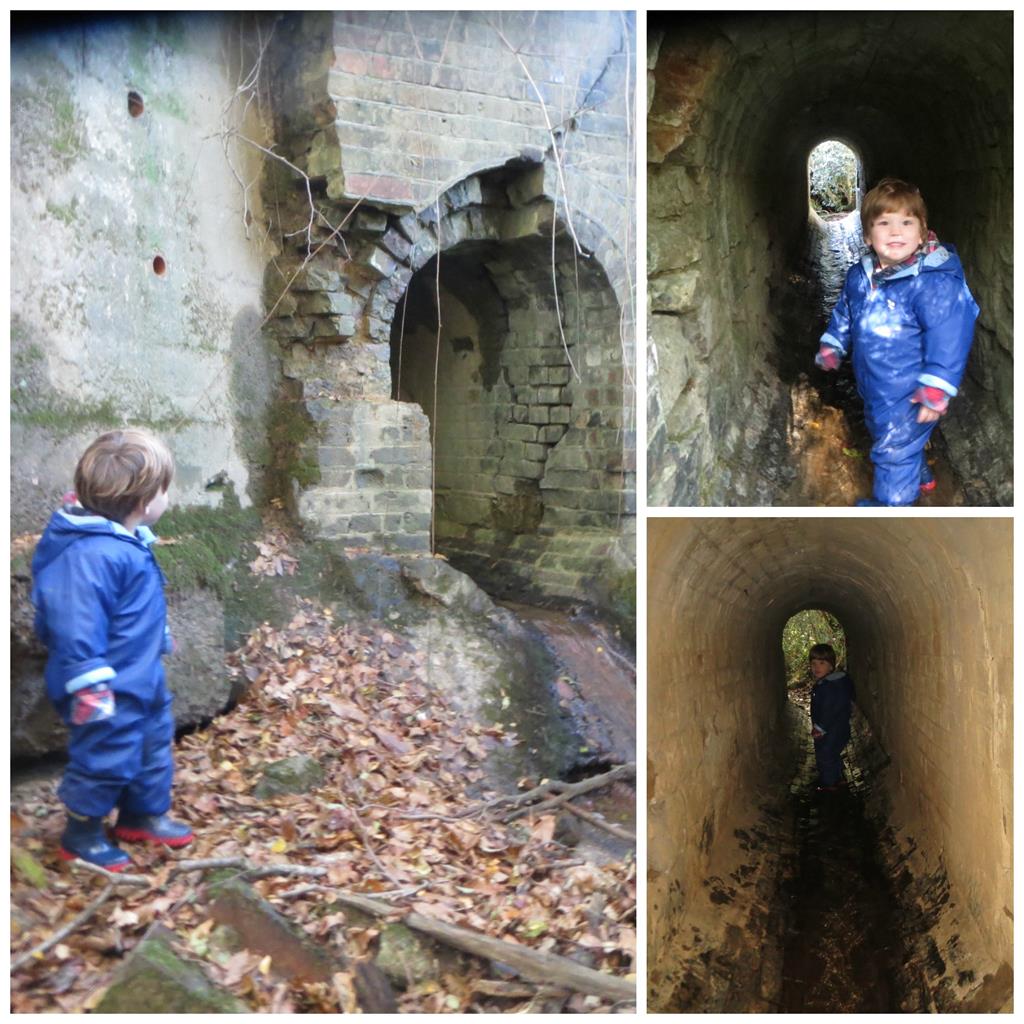 And then we saw it. The evidence of the bear! The bear that is really there, in the deepest darkest woods. We saw the prints of the bear! We saw the tracks of the bear!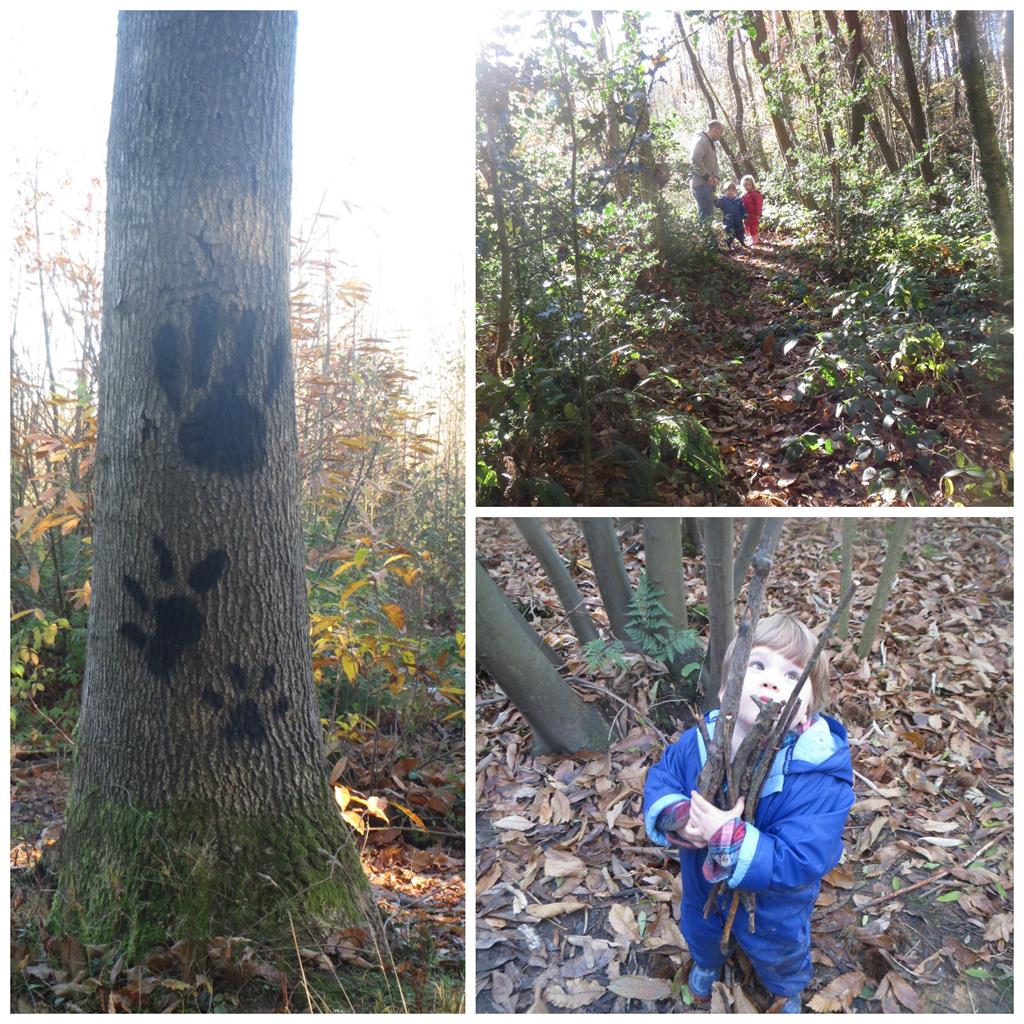 Satisfied that there was a bear living in the woods and all was well, we decided to head for home.
At home we talked about the tracks we had made and followed on our autumn walk in the woods and then we made some autumn tracks of our own.
Train tracks, of course!
For the last two weeks we have had a small train track in our Tuff Spot covered in snow (blog post to follow). I have been meaning to change it for ages for a more seasonal sensory track but my dear son, William, has not been ready to say goodbye to the snow. His words, not mine.
This weekend I have finally convinced him that given we have so little left of autumn having a leaf littered track and trees on the line would be a good thing to do. And now it is done.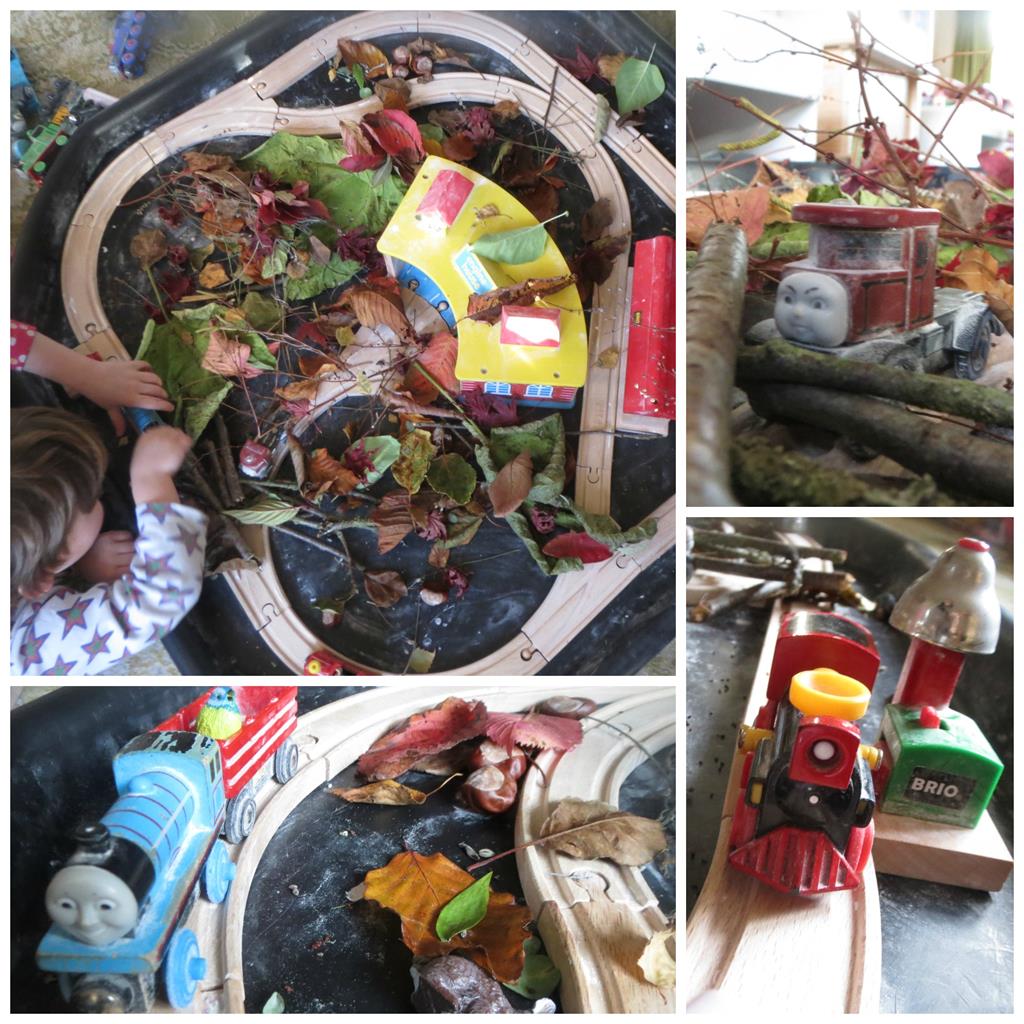 Our autumn tracks are ready.
Along with the trains and the track in the Tuff Spot are leaves collected from our garden, conkers from other autumn adventures, sticks specially selected from today's walk and some grass and plants from Baby Tilda's garden.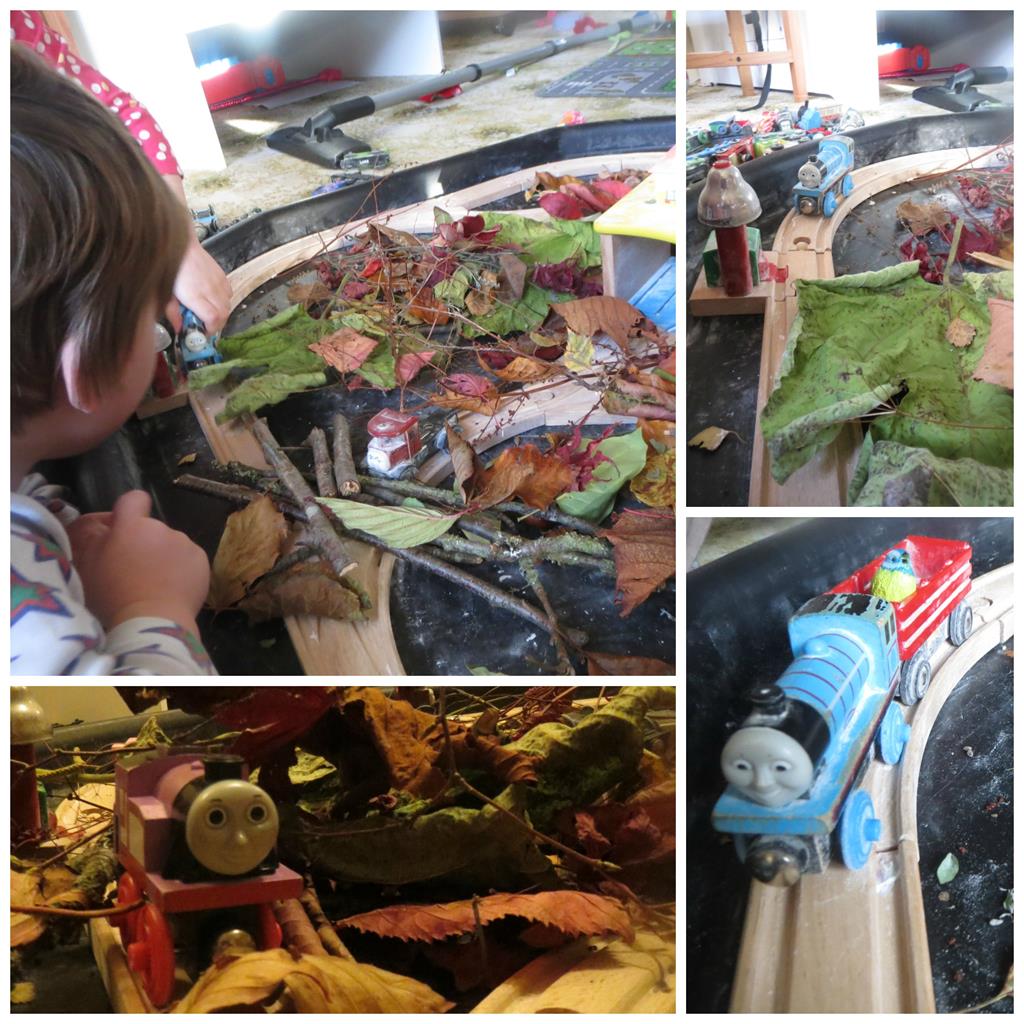 I have also added some small plastic woodland animals to encourage further discussion and imaginary play.
Esther and William love it and they play together for ages acting out stories from Thomas, creating rail disasters and rescue scenarios and creating very sweet stories with woodland creatures driving engines and travelling in trucks and coaches.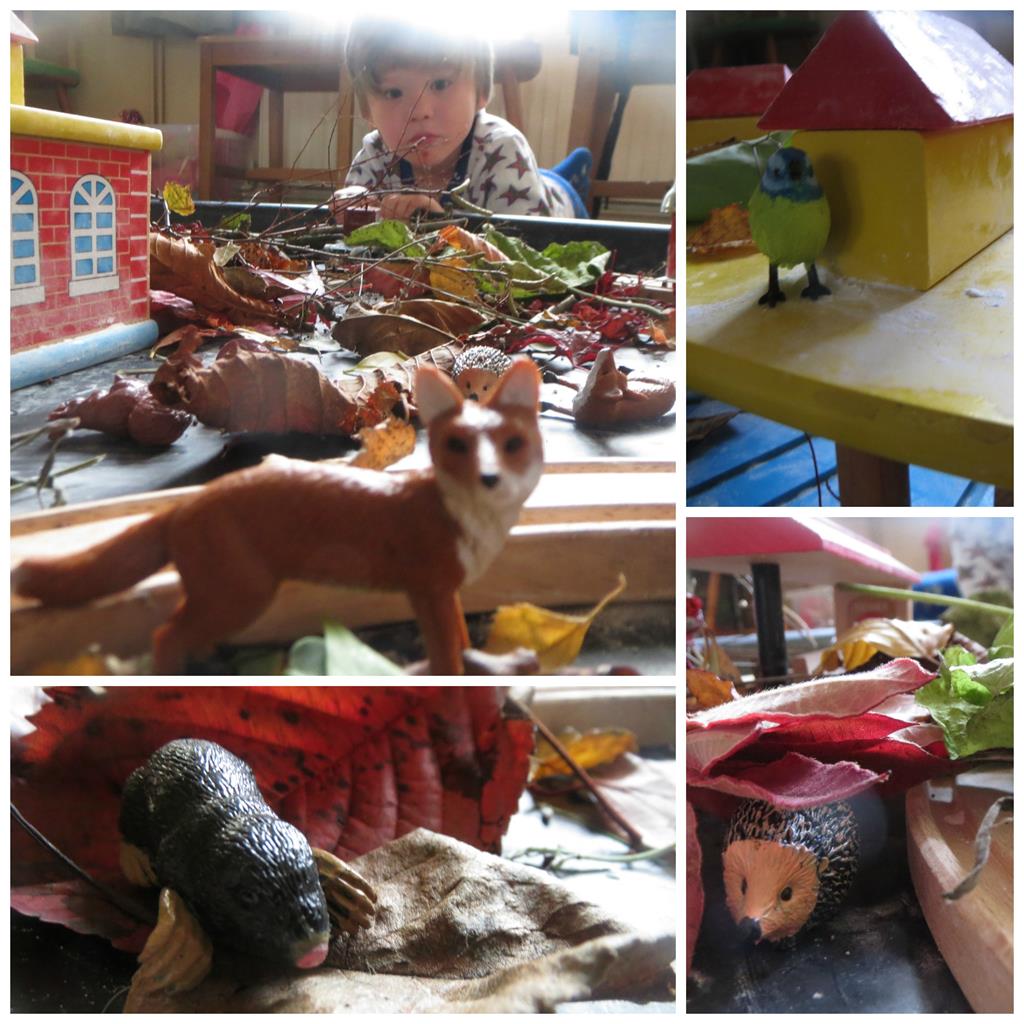 Adding a sensory element like this extends Esther and William's train play. it encourages them to tell stories and solve problems. The language they use is amazing as they talk about recovery operations and moving obstructions from the line. Television is clearly doing my children no harm! I find that watching something such as an episode of Thomas that relates to a play scene that we create can really add to the vocabulary they use during that play.
Books can be used in the same way to set a scene or pose a question that can be answered through creative and imaginary play.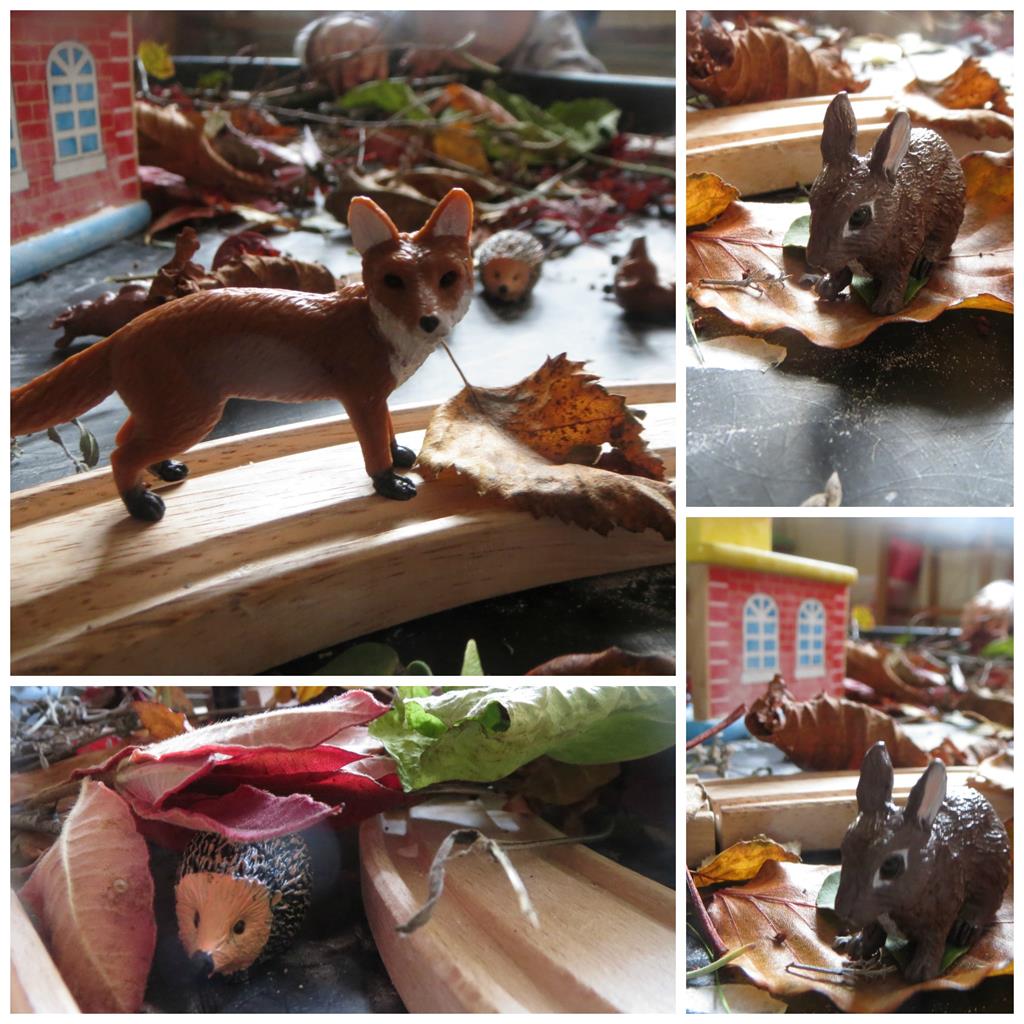 For autumn animals we have been reading stories from our Autumn Leaves book box and also watching episodes of Percy The Park Keeper on You Tube.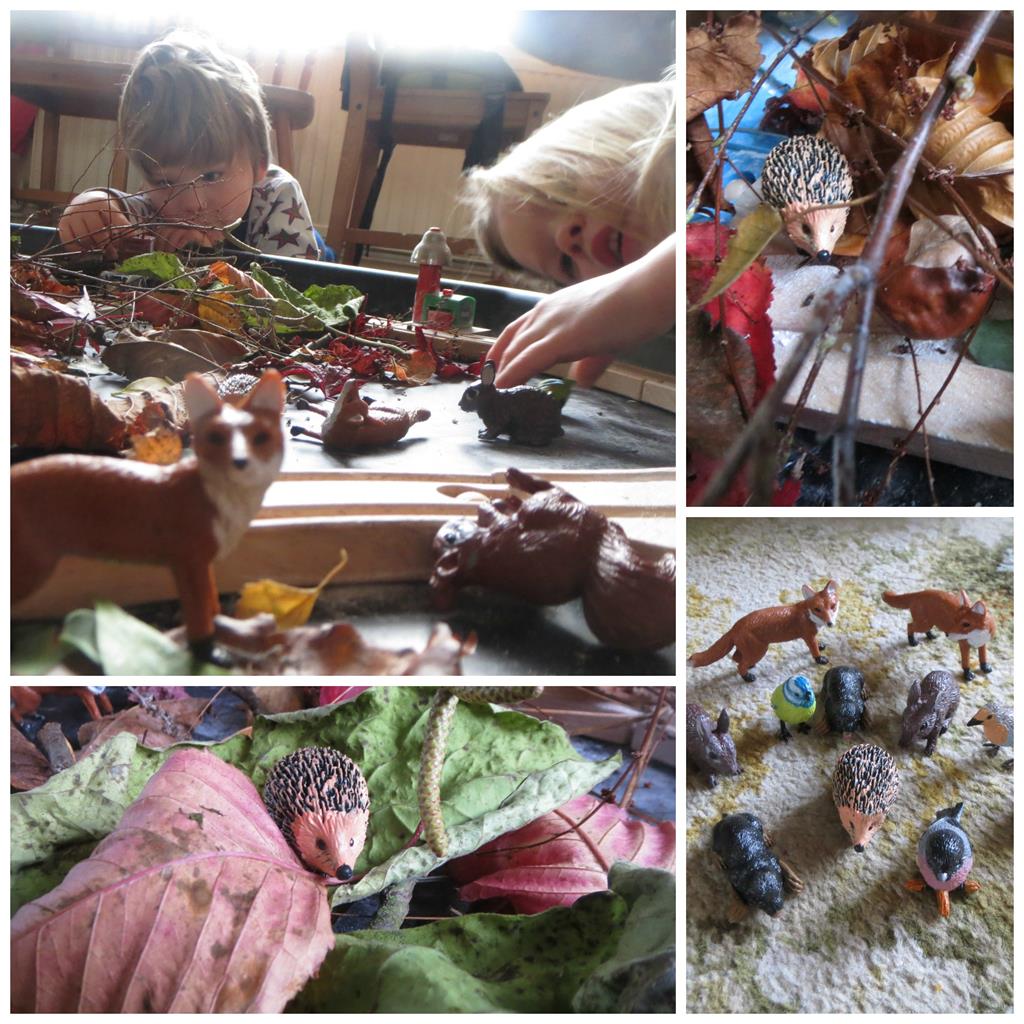 Just recently Esther and William have shown a real interest in filming or photographing their play so I think it will not be long now before we start using Zu3D for making some animated shorts featuring lots of engines!
Esther and William adore playing with trains. They enjoy the process of creating different tracks but what they immerse themselves in for hours on end is storytelling with trains and that is what I am trying to encourage through messy and sensory train play such as this.
Tonight sees the return of Messy Play for Matilda Mae. I have a feeling ours is going to be train themed for quite some time. I would love for you to link up a post that shows what messy and sensory play you enjoy with your children, who may not be quiet so as train obsessed as mine.
Please link up and spread the word about Messy Play for Matilda Mae.