Throughout June as part of our role as Asobi Ambassadors we have been testing out some plastic figurines from Safari Ltd.
Safari Ltd – the internationally loved, American born brand that is passionate about bringing nature closer to tots. For over 30 years, Safari Ltd have been committed to teaching children the importance of the world around them and caring for nature through the joy of imaginative play. The endless collection of Safari figurines have been a popular choice amongst children for years and aim to celebrate the planet's most fascinating creatures.

Safari has the biggest figurine offering in the world and have produced some fantastic products that are truly unique. Each figurine in the Safari collection is hand painted and is highly authentic. The brand is proud to be behind the largest dinosaur figurine collection in the world and are famous for their Carnegie collection, which has been authenticated by Carnegie Museum of Natural History. Not only does Safari Ltd promote imaginative play, the brand is passionate about teaching children the importance of conservation. A completely unique educational element to Safari Ltd is that each and every figurine has the name of the species on the side and on the tag, the name is printed in three different languages. The brand is consistently thinking of ways they can teach through imaginative play. As each figurine is incredibly realistic, the brand have ensured that children can really understand the differences of species. With other products including life cycles and bug jars, Safari have gone that extra mile to develop their range making it fun and interesting for every child. Safari Ltd also provide the perfect tools for school projects.
We were sent one Baby Sealife TOOB, Sea Turtle Life Cycle, a model T Rex, and a Good Luck Minis Fun Pack. We have had so much fun testing them out.
Safari is a brand that we are already familiar with and we use lots of their animal and science collections in our small world play. We love the quality of the figurines and the fact that they are so realistic. They enable true learning through play.
We have a woodland creatures TOOB which we used in our autumn explorations at the end of last year.
We also have a Space Toob which we have used lots in our space adventures, moon landings and starry, Matilda Mae, messy play.
And we have lots and lots of dinosaurs!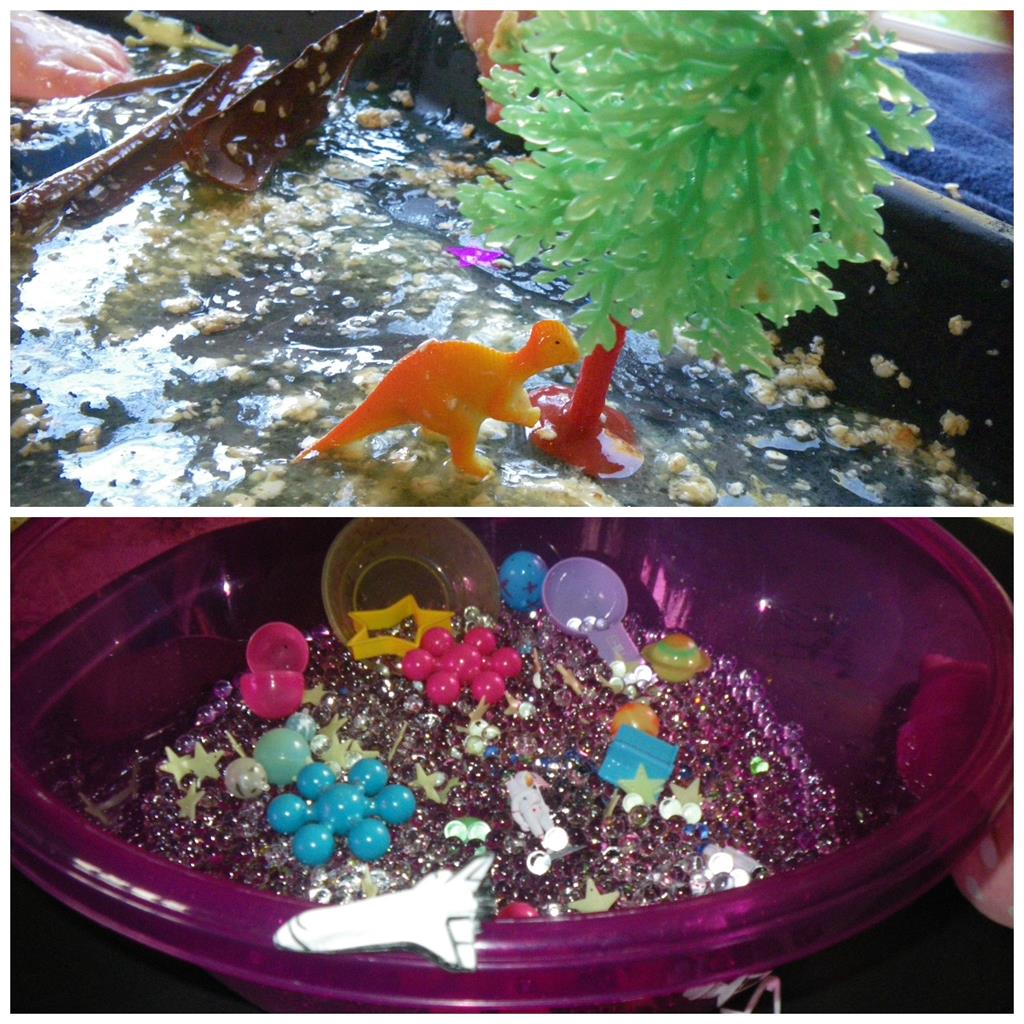 For this review we were sent a TOOB of baby sea creatures that included dolphins, sharks, whales, seals, walruses and more. Esther and William love sea creatures and thanks to Octonauts are able to confidently identify the different variations and describe some of their qualities. We used the sea creatures in small world play and water play.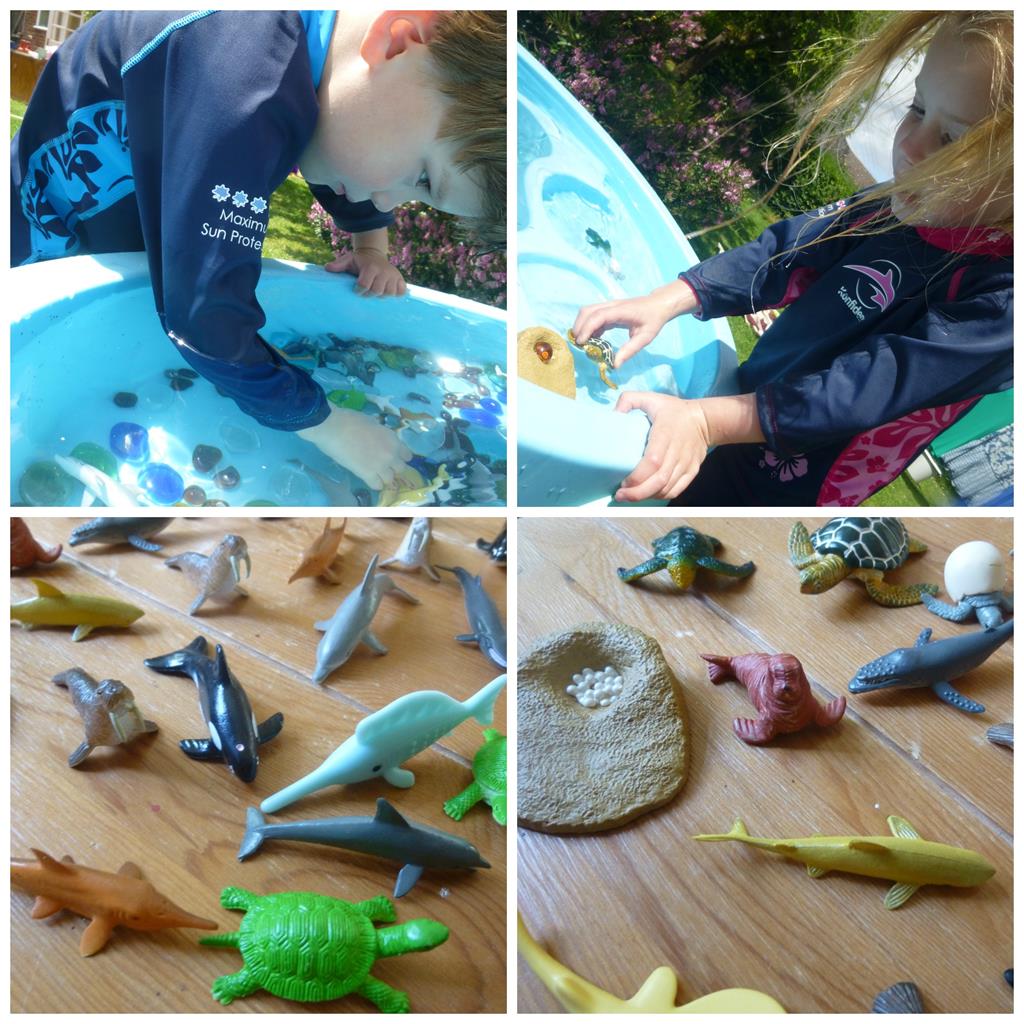 We set up our sensory small world sea in a plastic lid. I used felt to create sand and sea and sparkly green paper to create seaweed and kelp. Esther and William added stones and shells to make the beach more habitable for their animals.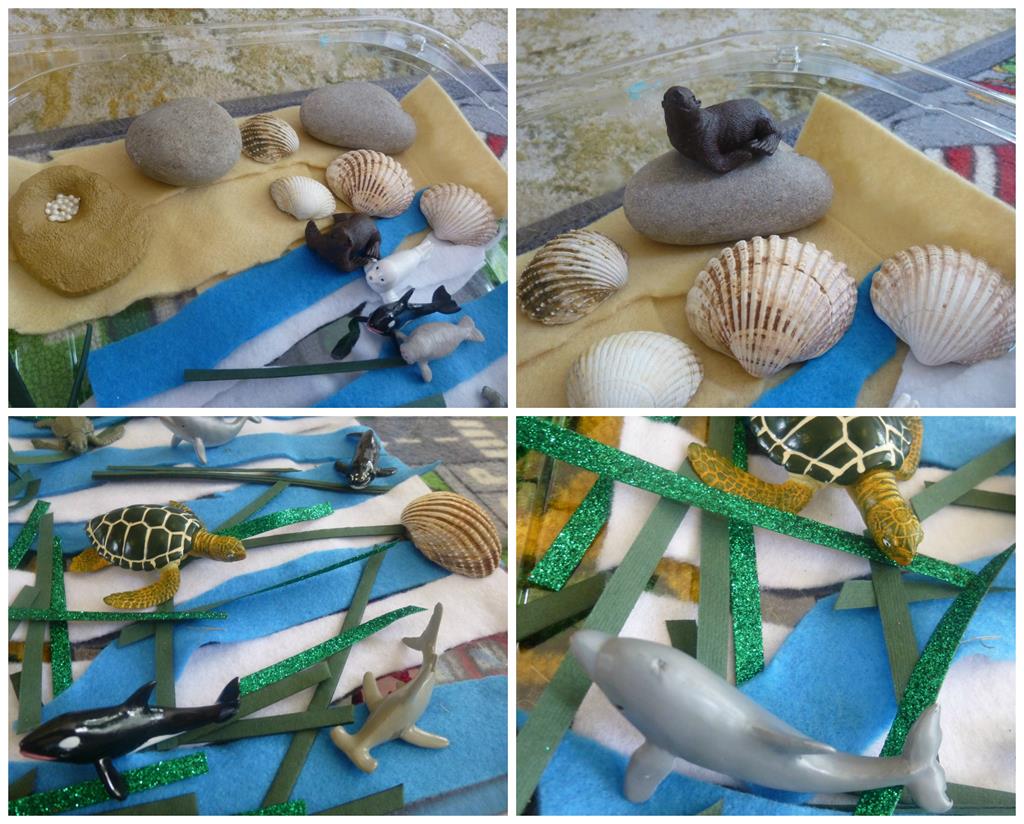 In the water table we added brown glass stones in the shallow area and green and blue glass stones for the deeper ocean.
Esther and William chose which creatures went into which part of the sea.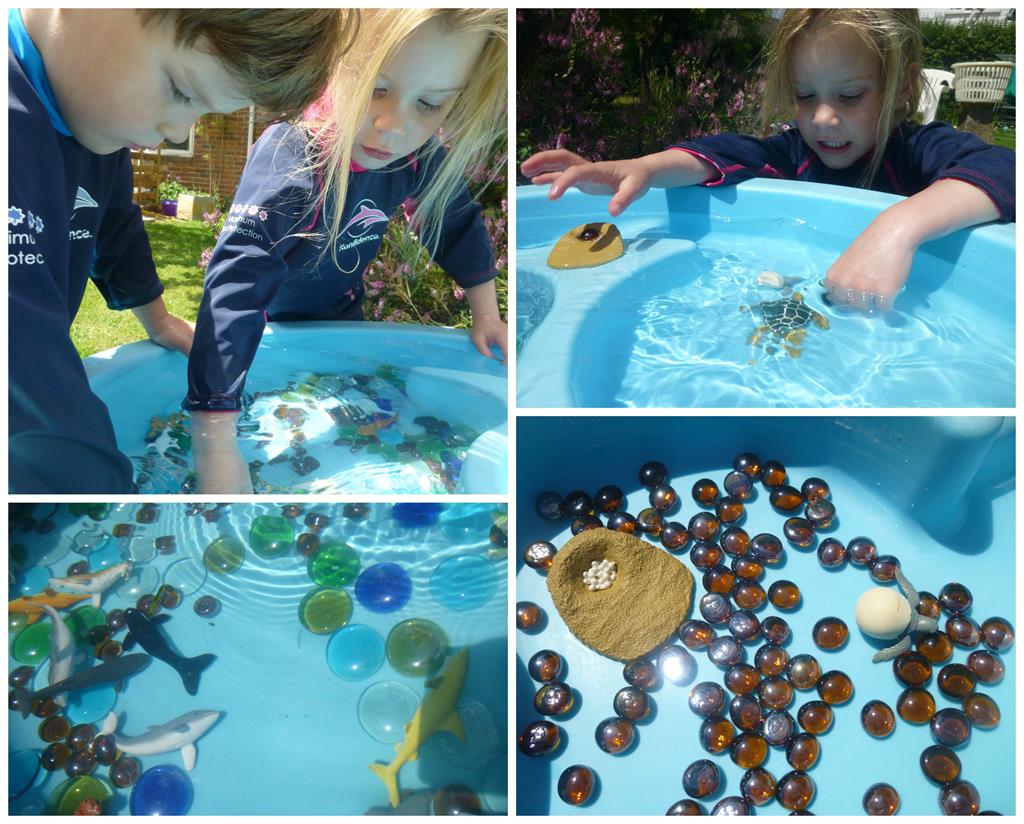 We combined this set with the Life Cycle of a Green Sea Turtle that we were also given for the purpose of this review.
The set includes a nest of turtle eggs, a hatchling, a juvenile turtle and an adult. Esther and William adore turtles, again because of Octonauts. They know that turtles swim hundreds of miles to lay their eggs on the shore. Returning to the beach where they themselves were born. They know that turtles lay over a hundred eggs. It is wonderful listening to Esther and William use these true facts in their imaginary play.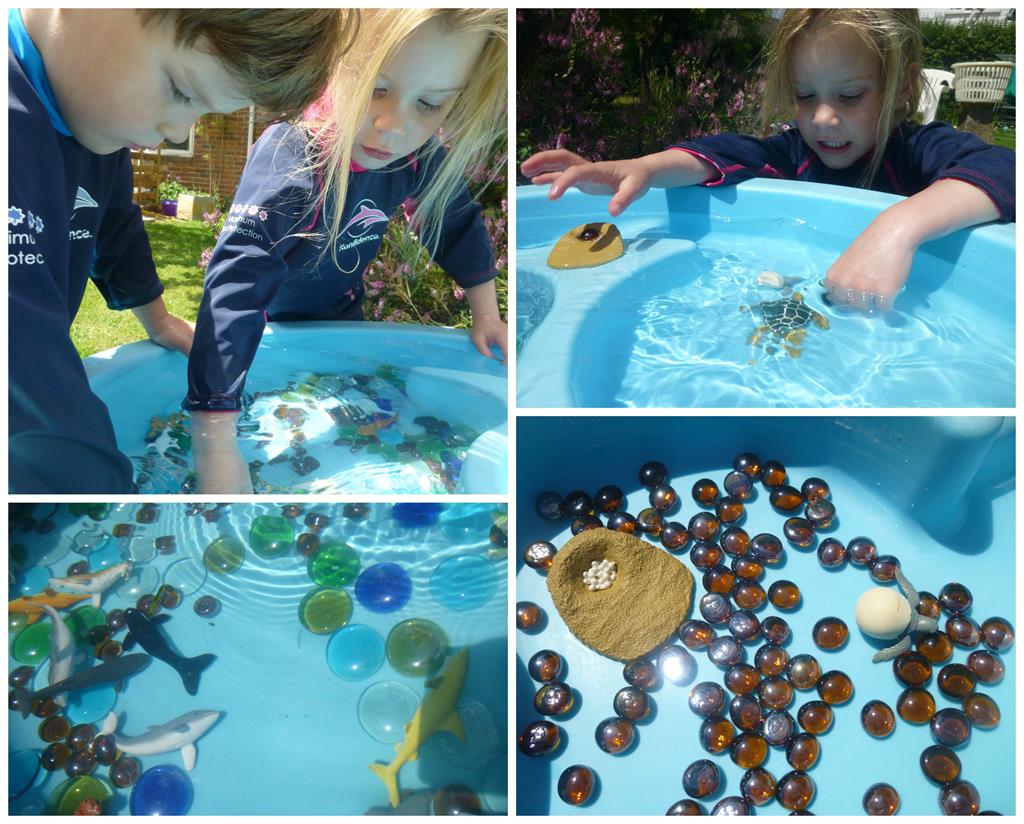 Esther was soon acting out a story about a family of green sea turtles while William was fishing for creatures that I asked him to find. He was able to pick out sword fish and dolphins, seals and walruses, hammer head sharks and Orcas.
He was also able to tell me some facts about the creatures, all knowledge gained from watching Octonauts.
Safari Ltd create and sell all kinds of creatures, real and fantasy, to be collected. They are great for creating small world habitats and for learning about different species, different places around the world. And out of this world! You can find a safari Ltd TOOB set for most habitats, fantasies and occasions including Christmas!
For the anniversary of Tilda's death earlier in the year I bought a TOOB of In The Sky Miniatures that Esther and William used for imaginary play, imagining what it might be like to live up in the clouds and to see these things floating and flying by.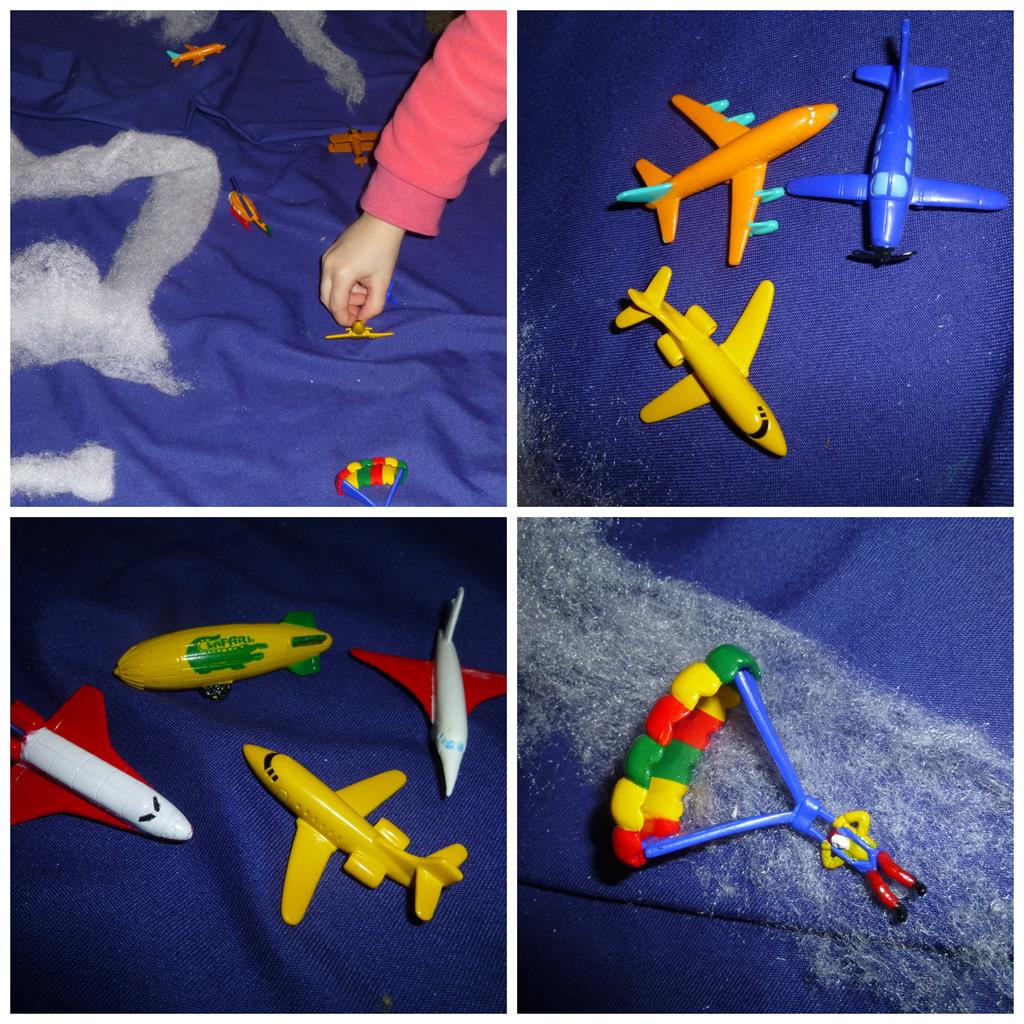 When we went on holiday to Ullswater we took a Life Cycle of a Frog set with us and a range of different books about tadpoles and frogs. Next year we are going to try growing some of our own. There will be more about this in this week's Minibeast Monday post.

The Safari Ltd Figurines are of great quality. They are accurate in their representation of nature and creatures, their fantasy figures are stunning and perfect for story making and telling.
As well as our TOOB and Life Cycle Set we were also sent an amazing TRex to play with a surprise pack of miniature figures including a teeny tiny ladybird that Esther fell in love with.

The Safari Ltd Good Luck Minis are tiny figures that would make a great gift for a birthday party or would be great to give to children to play with on a long journey. They come in a little paper envelope which would be also be perfect for a Christmas stocking or in place of a party bag at a children's party. Perhaps at a Minibeast Ball?
We have loved playing with our Safari Ltd Figures, the ways to play with these toys are endless, limited only by the imagination of the child.
Want to see for yourself?
One lucky Edspire reader can win a Baby Sea Life TOOB, a Green Sea Turtle Life Cycle, a TRex Model and a Minis Fun Pack.
All you have to do is complete the Rafflecopter form below.
Good Luck!
And check my Minibeast Monday post tomorrow for a great discount code to use when buying Safari Ltd products through Kind Toys Online