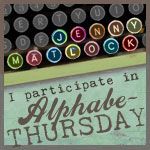 Oh I am so excited about our wedding I think that on this day of Bs I could literally BUBBLE over or BURST!!
Today is all about accessories – balloons, bouquets, button holes and bunting!
To be honest I am not really into flowers and I have never have been. If I could find an affordable alternative to create the look I want I would go for it straight away. But as things stand we are having flowers, simple flowers, to add colour and character to our day.
The main colours for our wedding are going to be brown (the men), navy (the ladies) and sunflower yellow. And white!
Our wedding reception is on one site but split between a hall and a marquee. The hall will be used for the evening and the marquee for the afternoon.
The marquee is where there will be afternoon tea and a barn dance. This wll be decorated with navy and yellow gingham bunting and hay bales covered in gingham material. On the long wooden tables will be jam jars filled with wild flowers.
The hall will follow the same colour scheme but will be decorated with large helium balloons. Above each round table I would like a 3 ft helium spherical balloon in yellow, white or blue The balloons will be weighted down with jam jars filled with pebbles and wild flowers.
Each table will have one sunflower and sunflowers will also be the main bloom in my bouquet and David's button hole. Because we are having an informal wedding only David is having a button hole and only I a bouquet. The bridesmaids will each have a sunflower wrist corsage to complement their navy dresses.
Outside the church and te reception venue I would like there t be buckets of sunflowers and also a walkway of helium balloons.
I have been collecting photos of ideas that I like that I am sharing with you today and would really welcome any comments, advice, ideas or feedback tht you think might hep me to achieve the look we want for our day.
Here are the ideas I have been collating for balloons, bouquets, button holes and bunting.