This competition is now closed and the winner is KATHRYN PHILLIPS!
I had been deliberating for a long time about how to wear Matilda. I knew that I wanted to wear her, that I would need to enable me to still be active with the twins but I did not know how.
With Esther and William David and I each had a Hug a Bub wrap but I found it very time consuming to to take on and off all the time with breastfeeding.
I wanted a carrier or sling that I could feed in so that I could feed Matilda and still be getting on with my day.
At The Baby Show back in February I met Mummy is a Gadget Geek who was wearing Bubby D in a Baba Sling and feeding her at times around the show and I did not know at all until she told me. It looked so simple, was so discreet and so I thought that The Baba Sling would be the way for me to wear Baby 3.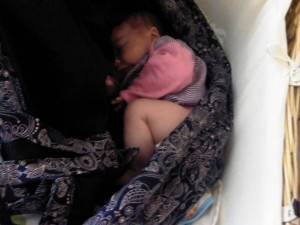 The very lovely Bradley at Baba Sling sent me a beautiful Baba Sling to review with Matilda Mae. The sling I have is a Daydream Floral Print – a limited edition. So if you want one you should get one quick as Baba Sling are already working on their next print editions.
The Baba Sling is a popular hammock style sling. It is very easy to wear. It is like a traditional ring sling but with buckles making it quicker, easier and perhaps safer to wear particularly with Baba Sling's safety buckle which lays beneath the large buckle.
It comes with an easy to read instruction booklet and has a page of step by step commands for getting started with you Baba Sling.
After the first time of wearing the sling is set to your size and frame. It should not readjusting each time you wear it as long as it has not been altered for somebody else to wear.
The Baba Sling is easy to get ready for use with baby. It is also incredibly comfortable wear with extra padding at the shoulders. I was pleasantly surprised at the lenghth of time I was able to wear our baby for and how secure she felt within the fabric of the sling.
What I struggled with was getting Matilda in correctly.
We started using The Baba Sling in the first week and so Matilda weighed about 8lbs. I found it really difficult to get her into the sling in a position that I felt and she looked comfortable in. I am certain that this was user error but I found it very stressful. Her feet would be higher than her head which was obviously not right or she would just look awkward in the fabric. Matilda did not like to be taken out of the sling and repositioned over and over again. So I did not have many chances of getting her settled correctly.
I was trying to use the Sleeping Tiger position. In the instruction manual you will find a range of different positions to try with your child and they are all suitable for children of different ages and sizes. The Baba Sling is suitable for use with toddlers as well as babies.
On the few occasions that we did get it right Matilda slept soundly in The Baba Sling. This allowed me to have my hands free to play with Esther and William in the garden, go for walks with the twins and their Granny without the need for a pram. I wore Matilda all the way round a wild animal park and around the zoo. I also did a food shop at Sainsburys without being helped out of the store!!
When we got it right it The Baba Sling improved our life one hundred percent.
I was even able to breastfeed Matilda at Esther and William's Jubilee Fancy Dress Parade without anyone being any the wiser. It was great. Standing in a rainy field watching the toddler king and queen whilst feeding my beautiful princess in the secrecy of her Daydream Sling.
But sadly, for us at the moment, The Baba Sling is not the simple solution for babywearing that I hoped it would be. I do not find it quick and easy to get the sling on and get Matilda settled, not as quick and easy as I need it to be right now (Fussy Baby!!!) but we will come back to our Baba Sling and try again in a few weeks so please do watch out for that.
For now we have stopped using The Baba Sling as Matilda prefers to be in an upright position as she suffers with a bit of reflux. This is actually possible in The Baba Sling (Koala Cuddle) and we will be trying it again over the summer.
The Baba Sling will look lovely on holiday in the summer with nursing vests and a maxi skirt!! I am excited about that!
When Matilda is a little older and a little happier we will be trying the Koala Cuddle and the Little Joey both positions which I think she will love.
One thing that has been fabulous right now with the sling is when she has fallen asleep in the sling I can just remove the sling and lay her still in it in her crib where she softy sleeps on. A great plus for The Baba Sling for Matilda and me.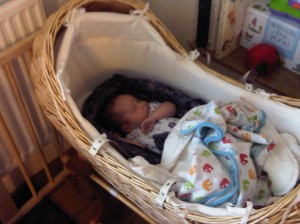 I am determined to stay committed to The Baba Sling as so many mummies cannot be wrong. Read these wonderful reviews!
Baba Sling Reviews
I'm A Baby … Get Me Out Of Here
The Mummy AdventureA New Addition
The Life and Times of The Working Mum
So many people cannot be wrong!
And it is not just mummies and bloggers who love The Baba Sling, it is winning awards too! To keep up to date with all things Baba you can follow them on Twitter, like their fabulous Facebook Page or read their very own blog complete with mummy wearing guest bloggers.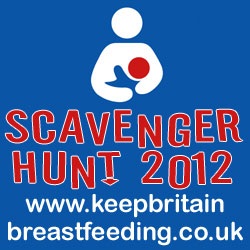 And if all that does not make you want to go out and buy a sling for your Baba, well, how would you like to win a Baba Sling? Thanks to Bradley and his team we have a Baba Sling to giveaway in celebration of National Breastfeeding Week. In fact it can be the sling of your choice!
All you have to do is visit The Baba Sling website, choose which sling you like best and why, then leave a comment below with your contact details. The winner will be chosen at random when the competition closes on Wednesday 4th July at 8.00pm. UK Entrants only please.
Good luck!