For the last few weeks I have been familiarising myself with the Twinkl Early Years and Primary Teaching and Learning Resource website.
As a mummy and a teacher I think it is fabulous. When I was teaching Year 2 I spent a lot of my time making resources for my classroom walls, cupboards and for children to use.
This website would mean if I were to go into a classroom now I would be able to print of most of what I might need from here.
But I was not really viewing Twinkl through my teacher eyes. I have been out of the classroom for a few years now. I was looking with my mummy eyes and I am seriously impressed.
I will definitely be using Twinkl over the coming years to brighten up our playroom, link to preschool learning and to enable learning at home.
I want to share with you some of the great things I have found on the site and how I might be using them in my home.
Firstly I have been really impressed with how easy it is to search and browse this huge library of resources. My children love stories and so I typed the names of some of their favourites into the search bar and was rewarded with a fast response and a plethora of relevant activity ideas and resources.
With Autumn now in full swing we will be colouring and collaging the Owl Babies characters one rainy day soon.
Almost every meal time in our house we read the story of The Gruffalo. It is also the DVD that Esther and William like to watch when they are a little poorly or feeling tired. Twinkl provides lots of resources to go with this book including stick puppets, colouring sheets and sequencing activities.
These Gruffalo cut outs are a fantastic resource that can be used in so many ways such as creating a scene from The Gruffalo, making a very simple 2D animation, predicting what happens next in the story. They are a great way of making the reading of the story come alive for young children.
Twinkl have not only made resources for popular stories but also for lots of songs. On a Monday we go to a wonderful music class called Fun Train and we often sing the songs from that class at home. One of our favourites is 5 Little Men in a Flying Saucer. The song has accompanying actions but now with resources from Twinkl we can act out the song with stick puppets and even make our own pop style video. Esther and William are going to have such a wonderful time once I am all organised. I am storing all these ideas for the long, cold winter ahead!
As well as activity ideas and resources Twinkl also provides labels for your home. Esther and William's language is wonderful and their vocabulary is growing every day. Today during puddle play I introduced the words shallow and deep. They can now confidently say the words and use them in the correct context. I have always planned to make labels for things around the house but with three children under three I don't have a whole lot of spare time. How wonderful then for me to discover that Twinkl have found the time for me. They have made labels for the main things found in each room of the house. I am going to start with the bathroom!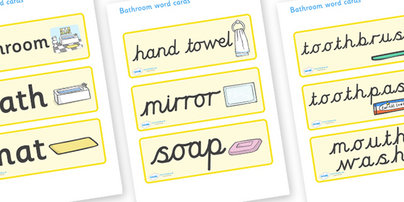 I love that the labels are in a cursive script so that the children can get used to the shape of the letters and the form of the words. Their Daddy is a visual speller and so I think by introducing the written word at such an early age will help them if they inherit this learning style from him. It is also just good practice I think to get children to interact with words.
Esther and William love words. They talk all the time. They also love numbers. They recognise numbers to ten and can count with one to one correspondence up to four. I am a very proud Mummy!
They also love shapes and can identify circles, squares, ovals, rectangles, triangles and pentagons. I love the playdough mats on Twinkl and love these creative shape activities. Using shape knowledge to add to pictures. What a great idea!!
As well as learning Twinkl has also thought about home and school routines and they provide one of my favourite things. A visual timetable. I have found a childminding routine timetable that will really work for us at home. Esther and William love routine. They are comforted by knowing what they are going to do and so I think a visual timetable could really work for us. The pictorial cards could also be used as a way of choosing what activity we might like to do next. Again a resource, I think, with lots of possibilities!
Because our playroom has a jungle theme we will be using this snake to display our timetable in. Love it!
Esther and William love imaginative play and in our playroom we have a castle. Inside the castle we have a wizard's hat, a princess hat and a dragon. With the role play resource pack from Twinkl we will be able to add a lot more and extend our ideas for its use. Twinkl has lots of role play packs for different settings and situations.
Twinkl also has lots of photos of classroom displays including children's artwork. I found this lovely fingerprint picture that I am hoping to recreate with mine this week. A perfectly pretty idea for pinkies!
I have really enjoyed my time browsing Twinkl and I am certain that there are still lots of things for me to find. Plenty that I will find useful with my own children at home and with pupils when I return to the classroom or tutor from home.
Twinkl is a community for parents and educators. The website is full to bursting with bright, colourful resources for children of primary age. Twinkl covers a huge range of topics and events. There really is something for everyone. And if they do not have what you are looking for, just tell them, and they will most likely be able to add it to their ever growing collection. Twinkl uses social media really well to get people talking about their products and sharing ideas and resources. They have an active Facebook page and a brilliant blog.
The vast majority of their quality resources for early years settings and schools are free but there are some things which you are only able to access with a Premium subscription. This membership is annual and costs just £29.99. Well worth the money I believe.
Twinkl Premium is a low cost subscription based service, giving you access to the following…

Over 10,000 fantastic new premium resources, including lovely new and unique role play and storybook and nursery rhyme resources

Download whole sections of our lovely resources quickly and easily using our resource packs feature!

You have full access to the complete twinkl range of over 65,000 resources for just £2.50 per month, payable as £29.99 over a year (this price is £24.99 plus VAT). We'll continue to add thousands of new resources to this collection.

Unlimited downloads, subject to acceptable use

Help to financially support both our work and also the twinkl community; your community.

First access to new and lovely resources. These will be released to twinkl premium users first

Benefit from first access to upcoming new twinkl projects.
Twinkl has so much to offer anyone looking to teach or learn with little ones I am sure I have barely uncovered the tip of the iceberg so please do go and explore for yourselves.
And watch this blog too as I am planning to write about some of our activities and flag up the resources that we choose to use from the site.
I am very excited about Twinkl and plan on making the most of the Premium subscription we were given in return for this honest review.